Inside the home of former HBO and Starz CEO Chris Albrecht – listed for $16.25 million
The house is an ultra-chic minimalistic sanctuary in the Pacific Palisades Riviera – take a tour of this impressive property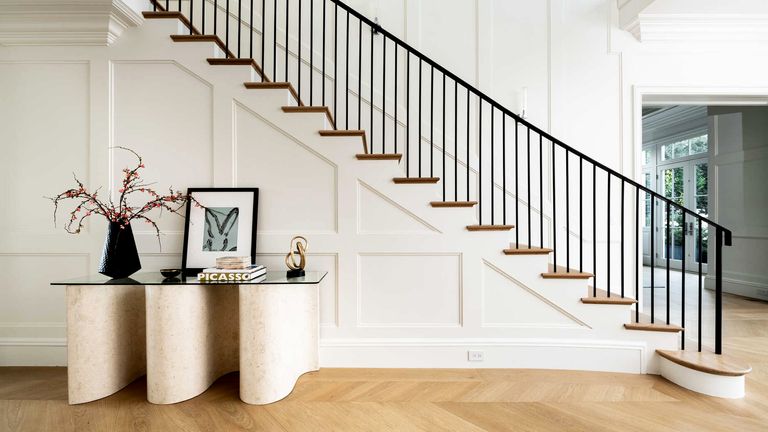 (Image credit: Nils Timm Visuals)
By Megan Slack
Former CEO of Starz and HBO, Chris Albrecht, and socialite Tina Trahan have just sold their cool Californian mansion for $16.25 million. 
Nestled in the esteemed neighborhood between the Santa Monica Mountains and the Pacific Ocean, the home mirrors a pristine East Coast estate design, despite its West Coastal setting. 
See: World's best homes – explore the most spectacular houses across the globe
The property was home to American media executive Chris Albrecht who is best known as the former CEO and President of Starz and HBO television networks. Chris also co-founded Comic Relief around 25 years ago, which has since raised over $50 million for the homeless. 
Chris lived in the home with his wife, socialite Tina Trahan who is recognized for her international property portfolio, including a home on the fringe of Lake Geneva. Together the couple purchased the property in late 2012 for $16 million whilst it was still under construction.
The home combines traditional American decor with a minimal contemporary palette – from the blonde hardwood floors to the crowing crystal chandeliers that epitomize Los Angeles luxury. This signature lifestyle is further exhibited through the sun-drenched indoor/outdoor living spaces, which are filled with fashion-focused coffee table books and pieces of modern art. 
Following its six bedrooms and nine bathrooms, the property boasts an open-plan chef's kitchen, spacious living room, and additional dining room. Meanwhile, other luxe amenities include a theater room, gym, sauna, and wine cellar. There is also an elevator to the elegant master suite with notable closet space. 
See: Kitchen ideas – decor and decorating ideas for all kitchens 
Large windows frame the equally chic backyard where the indulgent Pacific Palisades lifestyle continues through its swimming pool and exquisitely landscaped lawn. There is also an additional guest house in case the eight bedrooms are filled after the inevitable house-warming party. Zac Mostame of The Agency, Andreas Elsenhans with WEA, and Marcy Roth with Douglas Elliman held the listing. 
See: See inside the spectacular LA home of Patrick Moran, former president of ABC Studios
Beyond its secure gates, the Pacific Palisades neighborhood offers a world-class hiking destination in Temescal Gateway Park and the Getty Villa museum. There is also a stretch of ocean-front Italian and French restaurants which come alive when the moon appears above this star-studded postcode.