Interior designer Emma Sims Hilditch on using decor to create synergy between indoors and out
The designer of classic British country interiors lists her top tips for linking your decor indoors to the planting beyond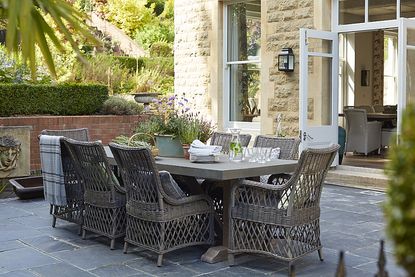 (Image credit: Sims Hilditch)
When designing any room – and particularly when looking for living room ideas that overlook a garden – it's vital to ensure synergy between the decor indoors, and what's beyond the windows and doors.
'When designing a home, it is important to consider the exterior space to ensure that it fits harmoniously with the interiors. In order to bring the whole home together, the garden space should be an extension of the indoor space,' says interior designer Emma Sims Hilditch of Sims Hilditch.
'When seeking colors for the garden, just think of creating flow between the two spaces to create cohesion. These are my top tips for creating synergy between garden spaces and the interior.'
1. Pick your indoor-outdoor color scheme
'Consider the colors you are going to surround yourself with, whether inside or out. If you enjoy vibrant colors then it is likely that you will choose hot pinks, oranges and reds for your decor and your planting.
'I have always tended towards greens, whites and blues in my garden schemes as there are so many beautiful cottage garden plants with these tones. It doesn't mean you can't introduce sunny yellows or gentle pinks for example inside your home as they will still complement the garden scheme.'
2. Choose curtains that complement planting
'When choosing curtains to frame a window, consider the colors visible from the view from beyond. For example, where a climbing blue wisteria may be visible, or perhaps a strong pink rose, I might choose curtains with soft greens and whites that would complement either of these plants outside without trying to compete.'
Country curtain ideas offer plenty of opportunities for this type of decor.
3. Limit your color palette for balance
'Using too many colors within the interior and exterior scheme can become distracting and work against each another. I believe in creating spaces which have a sense of calm and balance.'
Using a color wheel can help you create the balance you need in a calm, relaxed scheme.
4. Lay the same tiles indoors and out
'Try choosing a floor tile which is suitable for both indoor and outdoor use. This will allow two spaces to flow seamlessly together. Our favorite is Buscot Limestone from Artisans of Devizes.'
5. Choose prints that echo your planting scheme
Using florals indoors is a perfect way to create a visual link between indoors and out.
'Botanical prints are a wonderful way of bringing the garden into the home. We love some of the garden series from Trowbridge Gallery. They can be bespoke colored to your palette which is a wonderful service and means you can really tailor your art to reflect your garden.'
6. Be sure to reflect your personality in your color scheme
'Finally, don't be afraid to have a garden that is predominantly greens of all tones, with just accents of whites and blues. The structure that evergreen planting offers can be just as interesting as flower bed ideas full of perennial flowers.
'It all depends on your taste and preference; are you a soft and romantic person who loves hollyhocks, foxgloves and ox eye daisies or do you prefer structure and order with topiary, rose gardens and lavender beds?
'Your garden and your interior are where you can reflect your own personality, so enjoy it and design most importantly for you in mind.'
Sign up to the Homes & Gardens newsletter
Decor Ideas. Project Inspiration. Expert Advice. Delivered to your inbox.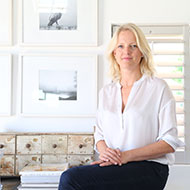 Founded in 2009, the Sims Hilditch design practice has become one of the most trusted and respected in the industry. Its couture approach combines interior architecture, interior design and procurement management within one concept-to-completion, fully bespoke service. Creative Founder, Emma Sims-Hilditch is passionate about her belief that good design can transform not only how people live but also how they feel.