Gifts for pets – festive treats for your furry friends
Indulge in pet gifts this Christmas to pamper your best friend...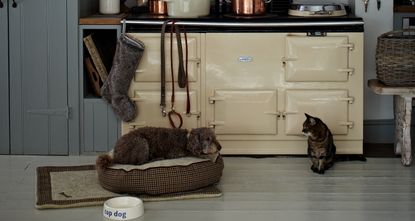 (Image credit: Future)
We're on the lookout for gifts for pets right now. After all, we just can't help but want to spoil them. It's fair to say that we're a pet-mad world. In fact, in 2018 alone, the USA spent an incredible $70 billion (yes, with a 'B') on our pets. With that in mind, it should be no surprise that treating our pets for the holidays has become expected.
Whether you have a stocking for your animal, or you're gifting to a pet-loving friend, we've found a gift for you. Plus, many of the gifts are currently discounted for Black Friday, so now's the time to snap up a deal.
Read on below for our curated list of the top pet gifts for both our US and our UK readers.
Walk on!
Make everyone on your list happy this year with our gift guide for homebodies
Best US gifts for pets
All the best buys for your pets... right here...
1. Play time
2. A step up
3. Chic storage
4. Scoop in style
5. Drink up
6. Puppy package
7. Sleek screen
8. Stay fresh
9. Chicken Run
10. Two in one
Best UK gifts for pets
Don't miss the best gifts for pets and fur babies, UK-wide.
1. Take away treats
2. Tipi time
3. A fancy feast
4. Engraved with love
5. Mini me
6. Cozy for Christmas
7. See in the dark
8. Paw-trait
Thea Babington-Stitt is a Content Editor at Future. She has been an interiors journalist for nearly 10 years and has held positions at LivingEtc, Country Homes & Interiors and Homes & Gardens. Currently, she is writing for Ideal Home and Style At Home's websites and magazines.