Kitchen extension trends — inspiration for a functional and fabulous addition
The latest kitchen extension trends will inspire your own home improvements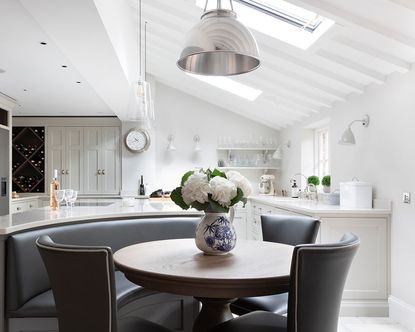 (Image credit: Paul Craig)
To get the best possible addition to your home, you'll want to know what the latest kitchen extension trends are.
They'll reveal how architects and interior designers are meeting the needs of today's households, and allow you to adopt the strategies that suit the way you want to live.
All kitchen extension ideas increase the size of your room, but this is only one benefit. The addition can link home and garden more effectively, and allow a more open layout where the kitchen isn't isolated from other spaces.
It can also make the kitchen a more light-filled space, but a good design should also take into account the daylight in existing rooms. 'Whatever style of extension you choose, it's important that it doesn't cast the existing rooms in darkness or make them redundant,' says Neil Tomlinson of Neil Tomlinson Architects.
'The most efficient way of mitigating this is to include glazed roof sections or roof lights as part of the design. Think holistically about how the new and old spaces will work in harmony together.'
Kitchen extension trends
You may want to embrace these kitchen extension trends for your own addition. They will help you achieve a room that's light filled, and spacious-feeling even when the addition itself is relatively modest in terms of the square footage it occupies.
Our kitchen ideas will provide all the other inspiration and expert design advice you need for a successful project.
1. Kitchens in light-filled orangery extensions
Box-style glass extensions are a trend that shows no signs of going away, but an orangery kitchen extension is worth considering as an alternative. An orangery can be well suited to an older home, complementing existing materials and design features to create a sympathetic addition.
One of the practical benefits of an orangery kitchen extension is that it provides more wall space against which to position cabinetry than is available in more highly glazed additions. However, a successful design will still feature extensive glazing so that the room is light filled.
An orangery kitchen extension is also ideal as the venue for a dining area with backyard views, making them valuable entertaining spaces.
Effective temperature control can be achieved in one of these highly glazed additions by incorporating roof vents and those with both thermostatic and rain controls are recommended. French doors and opening windows can ensure effective cross ventilation for the kitchen, too.
In this orangery, which is fitted with the Macassar kitchen from Smallbone of Devizes, standard height windows allow a full elevation of base units along the rear, and there are two large islands to accommodate cooking and entertaining.
2. Unusual shaped kitchens
Kitchen extension trends include a departure from simple rectangles for more unusual shapes that create the best floorplan without sacrificing the utility of outdoor space.
This home was extended at both the side and the rear to transform a small, dark kitchen while retaining maximum room outside. It's a tactic often necessary for city-dwellers to avoid the affect on property value of making the backyard unacceptably small.
In this design, which features a Shaker kitchen from Harvey Jones, the preparation and cooking area is located in the narrowest part of the room. This provides panoramic views, while the prime garden outlook belongs to the dining area.
Bi-fold doors opposite the island open on to a sun-trap terrace, effectively doubling the size of the kitchen and blurring the boundary between indoors and out.
3. Lean-to kitchen extension designs
Lean-to style extensions often take advantage of the space afforded by the narrow passageway at the rear of the house that's typical of some period properties. But this isn't the only situation in which a lean-to addition can transform an existing kitchen into a room the whole family can share.
If there's space available, a lean-to extension can be sized up sufficiently to fit a dining table where there wasn't one before.
The result can be a kitchen that has room for all the activities demanded of today's kitchens, including space for home working and kids to study as well as generous room for cooking and sharing meals.
To fit all you need into an addition like this, take a cue from this design, which features seating and dining as a focal point.
'A banquette at the island can prove a real star when you're trying to maximize every inch,' explains designer Kate Counihan of Humphrey Munson. 'It's more comfortable than bar stools but you still get all the storage and prep space of a regular island.'
The room includes white-washed beams on the sloped ceiling, adding a chic, beach house air that complements the fresh, painted Nickleby kitchen.
4. A ton of glazing
There are a variety of kitchen extension trends that seek to boost the natural light enjoyed by the room, and one of them is to opt for a two-story addition that has a mezzanine floor in order for double-height windows to be incorporated.
Consider also the daylight-maximizing alternative of fitting pivot doors at the rear of an addition. These can be made with extremely large glass sizes to create a tall and wide opening that will boost light in the kitchen extension, plus provide backyard access.
Connected to a traditional Victorian property, this glazed side return extension was primarily built to create a sun-filled home for the kitchen.
The spacious addition includes room for dining, but most of all, wonderful views across the garden.
5. Clerestory windows to allow in extra light
Clerestory windows – a row of glazing well above eye level – offers another solution for boosting daylight in a kitchen extension. These slim windows are particularly effective on south and south-east facing walls, where they can let in vital shafts of daylight that make all the difference to a kitchen.
Bear them in mind for any addition where wall space is at a premium, as they still permit wall cabinetry and tall floor-standing cabinetry to be fitted below. They're also a great solution if your home is overlooked, as they won't compromise privacy.
6. Seamless transitions from old to new additions
Thoughtful design that avoids awkward transitions between the original house and the new addition are among the latest kitchen extension trends.
Without this, new additions run the risk of appearing awkward and this can be particularly the case if structural beams (I beams or RSJs) are not recessed in the ceiling. Thus leaving a clear visual divide between old and new.
The layout of the kitchen cabinetry can avoid a disjointed result. 'Island units can be particularly useful as they draw attention downwards, away from architecture. You can also use wall cabinets to disguise vertical joists,' says Simon Bodsworth, Managing Director, Daval Furniture.
7. Roof lanterns to make the kitchen extension feel lofty
A roof lantern is a design alternative that can optimize the natural light in a kitchen extension.
What distinguishes it from a roof light is that it's not flat, but three dimensional. An impressive feature in its own right, a roof lantern gives the addition's ceiling extra height, creating a grander feel. Plus it offers expansive sky views.
Unlike a roof light, a roof lantern allows kitchen lighting to be suspended, and a large chandelier in a traditional or more contemporary style can add drama to the addition.
However, it's not just for aesthetic reasons that this is beneficial. It can provide task kitchen island lighting located below for safe preparation and cooking.
Opening panels can be incorporated into a roof lantern design, adding to the ventilation options for the busy room.
8. Space to entertain
Creating a space that's large and open enough to welcome a crowd is one of the kitchen extension trends that's now well-established. And one that shows no sign of diminishing in favor.
A generous addition will allow large groups of friends and family to socialise, eat and drink, as well as circulate around the room comfortably. Here, a rear extension with 10 foot (3m) high ceilings and wall-to-wall industrial-style glazing creates an open plan kitchen with more than enough space to entertain.
However, opting for a big area brings its own issues. 'The biggest challenge in such a large space was to create furniture that was perfectly balanced.
Being too minimal would make the room look stark and empty. But too extravagant would make it feel crowded and over-powering,' says Scott Nicholson, designer at Chamber Furniture.
9. Bi-fold doors for indoor-outdoor living
Constructing an addition that can be completely opened to the outside is one of the biggest kitchen extension trends around, and fitting bi-fold doors is the way to do it.
The design of these doors means they can be concertinaed together to leave the opening completely unobstructed. This means the kitchen and patio become one uninterrupted space whenever the doors are open.
Off-the-shelf bifold doors are sold in widths of up to around 20 feet (6m), but custom designs can span wider openings to fit a larger addition. Check the individual panel sizes, too.
A larger panel size equals a more uninterrupted view when the doors are closed, but many manufacturers offer a maximum width of around 4 feet (1.2m) and some less. For the slimmest framing, go for doors in aluminium.
Bi-fold doors can open inwards or outwards, but opting for the latter will frequently be preferable, ensuring they don't interfere with the floor space available in the kitchen.
10. Zoned kitchen extension layouts
Kitchen additions are often zoned with a change of flooring, but one of the latest kitchen extension trends is to distinguish the different areas of the space at ceiling level.
Embracing the potential of what designers know as 'the fifth wall' can help create the desired ambience for kitchen, dining and relaxing areas, and make for a more characterful extension.
In this addition a vaulted ceiling provides drama in the kitchen.
Sign up to the Homes & Gardens newsletter
Decor Ideas. Project Inspiration. Expert Advice. Delivered to your inbox.
Linda graduated from university with a First in Journalism, Film and Broadcasting. Her career began on a trade title for the kitchen and bathroom industry, and she has worked for Homes & Gardens, and sister-brands Livingetc, Country Homes & Interiors and Ideal Home, since 2006, covering interiors topics, though kitchens and bathrooms are her specialism.