Roost episode 6: WIN Fiskars garden tools – plus green decor and kitchen worktop ideas
Roost episode 6 has lots of priceless home improvement advice, including green living room inspiration and kitchen worktop materials. Plus, win a Fiskars garden tool bundle in this week's competition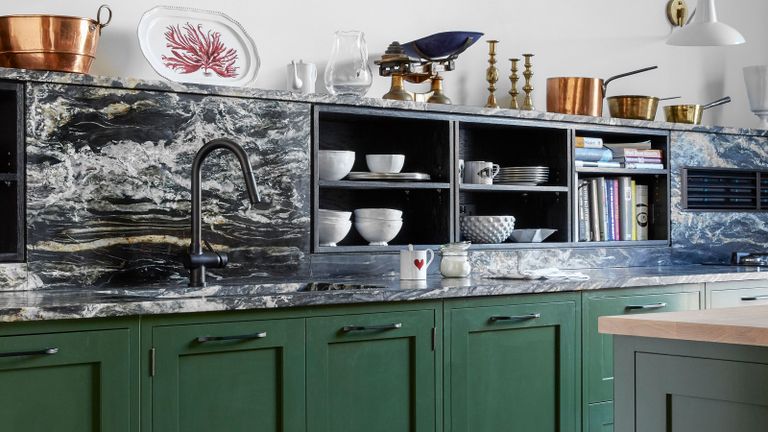 (Image credit: Paul Massey/Future PLC)
Roost episode 6 is here and it's time to take in all the home inspiration, including decorating with green and the best materials for kitchen countertop ideas.
Whether you opt for wood or stone, concrete or composite it's important to find a surface that will not only suit the look of your new kitchen, but is also fit for purpose.
And, for UK viewers, four lucky winners have the chance to win a Fiskars garden tool bundle, including a PowerGear telescopic tree pruner, an ergonomic garden fork, an X-Series PowerGear Bypass lopper, Xact standing bulb planter and recycled scissors in this week's competition.
Entering couldn't be simpler – all you have to do is watch and then answer the question below.
Watch Roost Episode 6
So what exactly is in Roost episode 6?
Green kitchens have been a big kitchen color trend for a while, but we walk you through decorating with green in your living room. We'll show you how versatile this color is, and how a few simple ideas when using it can go a long way.
Find out how to introduce green furniture to maximum effect, how to mix different green tones and we bust the blue and green colour pairing myth.
After green room ideas? Of all the cool colors, green is perhaps the most versatile
Next up, we uncover how to choose kitchen worktops at the stunning Martin Moore Muswell Hill Showroom so you know just what will work for your family's needs.
As choosing a kitchen worktop is a crucial part of kitchen design, you'll need to be completely honest about how you and your family will use your worktops.
Are you likely to take the time to look after it or do you want a low-maintenance option? Are you likely to put hot pans directly onto the worktop? Do you have young children that could give it a good bashing?
Once you have examined this and have found out each materials' various properties, you'll be well equipped to decide what'll work best.
If you know how, designing a kitchen island is a simple step-by-step process. Here are the key things you need to consider, according to our experts
So, put your feet up and get ready to get inspired by Roost episode 6:
In the sixth episode of Roost, we're giving away four Fiskars garden tool bundles worth £263.
All you need to do to enter is watch the episode and fill in the form below.
I'm Jenny McFarlane and I'm Senior Digital Editor working across five amazing interiors titles, including Livingetc, Homes and Gardens, Ideal Home, Gardeningetc and Real Homes. I also work on the brands' homes video show, on the Future Homes Network, which is packed full of ideas to help you make the most of your home and garden.
My love of interior design began way back when I was, at a tender age, glued to Changing Rooms on BBC. Fast forward 10 years and I was studying for a degree in textiles at university. After my degree, I lived and worked in the arts in Washington DC. On returning to the UK I kickstarted my career on women's and lifestyle titles such as InStyle, Red, Handbag.com, SUITCASE and LUXE City Guides. Fast forward 5 years on and I was heading up the content strategy and digital presence on interiors brands Good Homes, Grand Designs and ICON.
When it comes to my home's style, I relish finding unique pieces and collecting wall art. I love finding bits that remind me of home (Ireland), places I've visited and things that inspire me or make me feel happy, interspersing them with photos of my favourite humans and postcards from here, there and everywhere.
I'm not interested in my home being really trendy but I want to be surrounded by gorgeous things that remind me of points in time or a good memory or somewhere I want to go. It's more connection for me than looking of-the-moment. Saying that, I pick up a lot of amazing bits and bobs from wonderful high street stores, like Zara Home, Anthropologie, Arket, Habitat, H&M Home, Rockett St George, Trouva... the list goes on...
On a personal note, I'm still really into travelling the globe whenever I can and I have a baby daughter who keeps me on my toes on the daily.