Green is 2021's biggest kitchen color trend – here's how to get it right
Green is the most Instagrammed kitchen color trend of the past year. It is so easy to get right if you know how, but just as easy to get wrong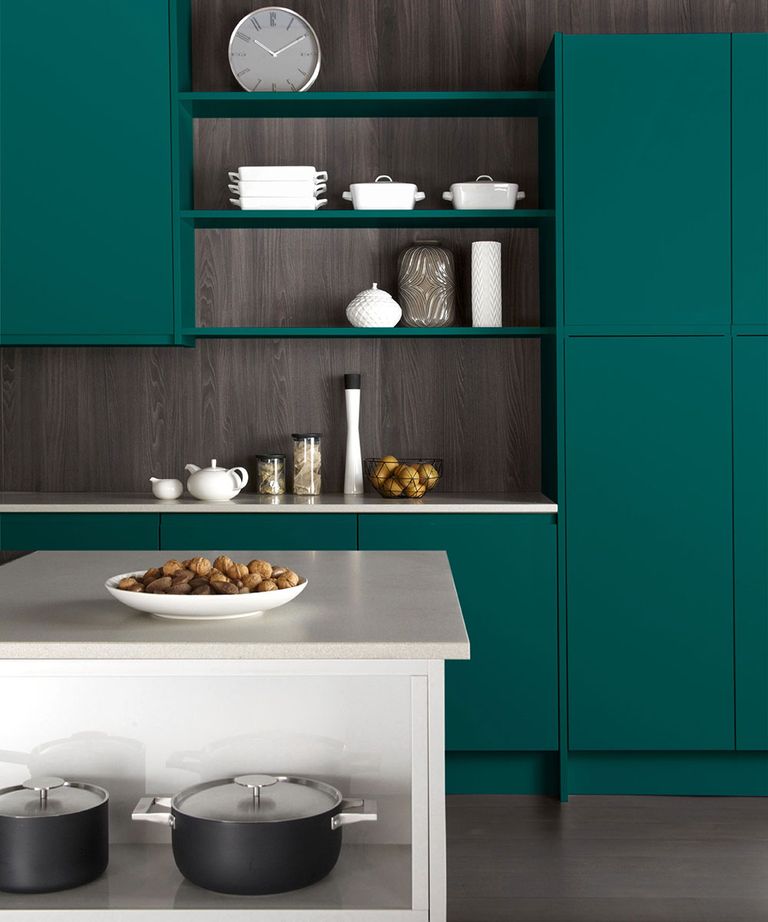 (Image credit: Burbidge)
By Lucy Searle published
Kitchen color trends are an element of kitchen design that we are watching carefully at the moment. This year, green kitchens have taken the 'kitchen' hashtag on Instagram by storm; kitchen companies have been introducing bolder, darker shades of green to their collections; and paint companies have inspired us with beautiful images of green-painted cabinetry.
For many years, white kitchens have dominated our homes – and for good reason: they are easy to live with, timeless and promote light-reflection and calm in what can be a busy (chaotic?) space.
Green, on the other hand, is a difficult shade to design with – and you can easily get key elements of the design drastically wrong. So, we have gathered together five of our favorite green kitchen ideas, each with a different approach to the use of green to demonstrate how to get it right.
1. Designing with a dark green kitchen color
Designing a kitchen with dark green cabinetry needs a careful hand. The deep tones of the green may be dramatic but they will not reflect light, nor will they create a warm, welcoming appeal for the room.
How to get it right? Maximize light and warmth in the room by keeping windows undressed, by choosing pale color for backsplashes, by picking warm metallic fittings – think brass, gold or copper – over cool ones, such as silver. Furthermore, work warm wooden tones into your scheme, and work hard to create a practical – if attractive – lighting scheme that highlights dark spots.
What not to do? Avoid black worksurfaces and backsplashes with dark green units, unless your kitchen is flooded with light during the day.
2. Dark shades too bold? Pick a gray-green
Warmer than a steely gray, a very pale cool green can look beautiful in a kitchen, creating a calm, peaceful feel for such a busy space.
How to get it right? Again, we would advise adding in woody tones for warmth. White fittings, such as sinks and wall cabinetry, add relief, while black fittings, such as cabinet handles, can create a wonderful contrast, as you can see in the kitchen above.
What not to do? Pale green cabinetry in a high gloss finish will look dated very quickly.
3. Make the kitchen island the focus with green
Highlighting a kitchen island as the central focus of the room is a clever design trick. Originally designed as practical extra work and storage space, the kitchen island has evolved into the hub of the kitchen – and often the home – being used for everything from cookery to home-working.
How to get right? Choosing the color of the rest of the kitchen cabinetry to complement the kitchen is the biggest decision you will make: the key is to ensure that they do not compete, so keep the rest of the room as neutral as possible to allow the island color to shine.
What not to do? Picking out the same material in a different color or finish for the kitchen island worktop is not nearly so effective as choosing a contrasting material, as shown in the kitchen above.
4. Pick out your kitchen's architecture with a green accent shade
Green on a feature wall or used as an accent color on just one element of your kitchen's architecture can be very effective.
How to get it right? Consider your room's orientation: a north- or east-facing room that receives little warm daylight will benefit from a green with a hint of yellow in it, such as the one in the room above; a south- or west-facing room can take a cooler, bluer green.
What not to do? Green on all four kitchen walls can be overwhelming – unless you pick a very pale shade.
5. Accessorize with green for an easy update
If you love the idea of embracing the trend for green in kitchens but are not planning a remodel right now, adding it as a minor accent shade can make a big impact.
How to get it right? We find that one element in a strong green will make enough of an impact – and be more impactful – on its own.
What not to do? Introducing green as an accent? Ideally limit yourself to one shade of green, two at the most.
See more: Kitchen ideas – decor and decorating ideas for open-plan, galley, U-shaped and L-shaped kitchens
My first job was writing a DIY column for a magazine for the over 50s (which seemed a long way off back then). I then moved to a DIY magazine as deputy ed, then freelanced my way around the homes departments of most women's magazines on the market before working on Your Home and Family Circle magazines as homes editor. From there, I went to Ideal Home magazine as associate editor, then launched 4Homes magazine for Channel 4, then the Channel 4 4Homes website before going back to freelancing and running a social media business (you can see where I had kids from the freelancing gaps!). I was tempted back to the world of big business by the chance to work with the great team at Realhomes.com, where I was Global Editor-in-Chief for two and a half years, taking it from a small website to a global entity. I've now handed the reins of the website to our American managing editor, while I take on a new challenge as Editor-in-Chief of Homes & Gardens.