Upholstered walls are trending – experts reveal how to bring this timeless look into your home
Designers explain why it's time to play dress-up with your walls – and how every home can benefit from this extravagant craze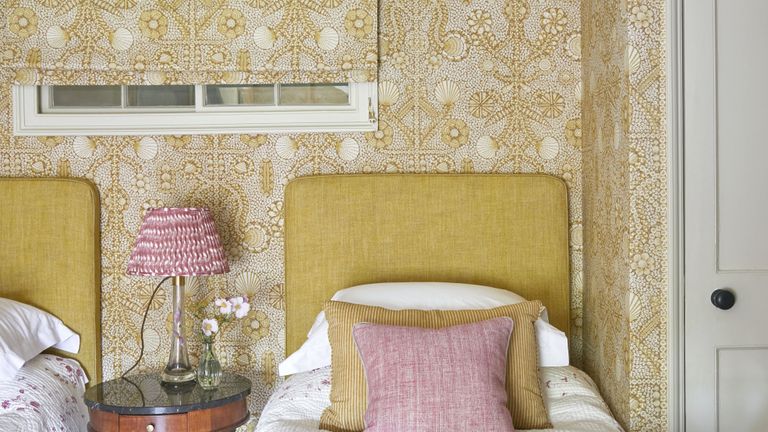 (Image credit: Fermoie)
By Megan Slack published
The most dramatic way to elevate your home is by changing your walls – but interior experts are urging us to delve into a world beyond conventional paints and wallpaper and experiment with the most luscious trend to date. Yes, we can create the ultimate statement of opulence and luxury through upholstered walls – the craze that drenches the room in nothing but pure, unrivalled style.
See: Interior design trends – top looks for the year ahead
Creating a look that's reminiscent of a boutique hotel and giving a nod towards modern maximalism, upholstered walls have never looked – or felt – quite so current. But this decorating technique has already kissed the walls of the most fashionable homes throughout the centuries. So, what does the process involve? And how can we bring this enduring trend into our homes?
Here, the experts reveal everything we need to know before going all-out indulgent across our walls.
What are upholstered walls – and why are they trending?
'Upholstering walls is a highly complex and specialist process, dating back hundreds of years, where fabrics are stretched over battens attached to the wall, which as well as adding pattern and color, creates a wonderfully cozy, cocooning, textured feel,' begins Arte's Managing Director, Philippe Desart.
But why are upholstered walls trending now? According to Philippe, new technologies that have created alluring 'textile wallcoverings' are bringing the indulgence of upholstered walls into an increasing number of homes, as they are 'far easier to install and create the same warm and welcoming feel.'
He continues: 'From light silks and satin to heavier fabrics like boucle, corduroy, cashmere or velvety chenille and suede, there are a number of real textiles, as well as innovative and clever imitations to suit all styles and budgets in both traditional and contemporary spaces.'
How to bring upholstered walls into your home
With so many textures, patterns, and emerging techniques, designing an upholstered wall that is suitable for our homes can be tricky. However, we've spoken to the people at the top of the interiors industry who shared how to make the process more seamless – and how to make these luxurious walls work for you.
1. Experiment with flat wall upholstery
It is possible to indulge in the aesthetic of a wall upholstery without the overindulgent pin cushion effect – according to designer Miles Redd of Redd Kaihoi.
'There is nothing like fabric and batting on a wall for an extra layer of luxury and comfort. I favor very tailored flat wall upholstery – with just the thinnest layer of batting, to avoid the pincushion effect. I love a rich-colored satin on walls as it gives more depth than paint, but also a fan of patterns,' Miles shares 'Walls can be expensive, so if that is not in the budget, I always love to upholster a banal door with leather and nailheads,' he adds.
See: Wallpaper trends – the most stylish ways to dress your walls
2. Play with paper-backed fabric
Perhaps one of the biggest obstacles in upholstered walls is the timely installation process. However, the Director of Fermoie, Jamie Shawcross, offers an alternative in the shape of paper-backed fabric.
'Paper-backed fabric can be hung on a wall in the same way as standard wallpaper, but the effect is far from average. It adds a layer of luxury to a room, it's tactile, and it's warm and cozy. It is not a DIY job to attempt over a wet weekend, however.'
3. Indulge in wallcoverings with depth
In all their glorious colors and patterns, upholstered walls exude maximalism – especially when selecting real textiles wall coverings with depth. Philippe recommends choosing luscious deep coverings that boast 'striking contemporary patterns,' such as the Monstera, Palma, or Panthera (above) from Arte's Yala collection.
See: Wallpaper ideas – gorgeous decor for every room
4. Upgrade your walls to works of art
The unparalleled aesthetic and the craftsmanship behind upholstered walls rivals any artwork while adding 'warmth and texture, as well as an imposing presence that establishes and grounds a room, a corridor or a stairwell,' shares Camilla Clarke, Creative Director at Albion Nord.
Camilla also suggests that patterned textiles bring 'an old-world charm to the most contemporary of rooms, and the contrast between more contemporary pieces in close proximity can be really arresting.'
5. Create upholstered walls – with a twist
See: Accent wall ideas – inspiring feature wall ideas and creative focal points
For the ultimate contemporary twist on this century-old trend – get creative – and design a scheme reminiscent of a boutique hotel by creating upholstered walls using curtains. Choose curtains that run the course of the walls, and match your soft furnishings to bring the luxurious scheme together in style.
While we may be able to return to a hotel, we've never felt so inspired to bring its allure into homes. Maybe we'll just have to do both.
Megan is a News Writer across Future Plc's Homes titles. She has a background in national newspapers in the UK and has experience in fashion and travel journalism, which she previously practised whilst living in Paris and New York City. Her adoration for these fashion capitals means she particularly enjoys writing about upcoming styles and trends for Homes & Gardens. Megan also loves discovering vintage pieces in her spare time, meaning her decor is largely influenced by the beauty of the jazz age.