5 ways to work the new zigzag trend, according to interior designers
Ride the wave of this cool print, which is adding a vibrant twist to our interiors...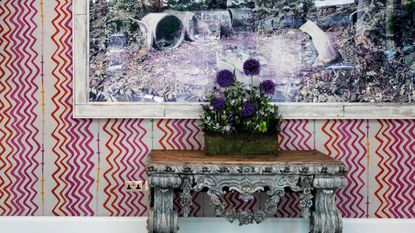 (Image credit: Kit Kemp / Firmdale Hotels)
Sign up to the Homes & Gardens newsletter
Decor Ideas. Project Inspiration. Expert Advice. Delivered to your inbox.
Thank you for signing up to Homes & Gardens. You will receive a verification email shortly.
There was a problem. Please refresh the page and try again.
Time was, you could rarely walk into a house without seeing a chevron print. But, while you may have thought it had its day, the zigzag trend is an interior design trend that's back with aplomb – albeit with a modern new look.
From Ikat prints to modern glamor waves, the contemporary zigzag gives traditional looks a contemporary twist. From zigzag print lampshades to wall coverings and rugs, we've tapped a handful of top interiors designers to show you how to incorporate the zigzag trend into your home, the most stylish way possible.
Why are zigzags trending?
Noemie Deed, founder of Cosy Coco, says zigzags are an easy way to add life to a room, explaining: 'Zigzag designs are great for dipping your toe into pattern in the home, a print which doesn't command too much attention that can easily blend and complement other textures within the space. More interesting than your basic linear stripes, however more subtle than opting for a floral or heavily geometric pattern.'
Clara Ewart, Head of Design at Kitesgrove, agrees that the zigzag is a simple way to make a bold statement, but the roots of the design offer extra significance. 'A zigzag is a popular design at the moment as not only is it a bold and geometric pattern, but the form of a zigzag can also be seen as synonymous with tribal design,' she explains.
It's this global influence that offers an interesting and exciting aesthetic, says David Harris, Design Director at Andrew Martin, adding: 'People are inspired by travel and wish to have permanent reminders of where they've been or would like to go. Many of us like to bring articles from far-flung places back into our homes. I don't think the Ikat zigzag design will tire – we've seen it continuously in fashion and interiors for decades.
'This look spans all areas of the globe; from the Aztecs of central, and south America, Kilims from Turkey and Morocco, and Ikats from the mountain villages of Indonesia.'
How to style zigzags in your home
'The patterns of zigzag herringbone and chevron have been a staple in classical French design dating back to the 1600s but a new interest in the grand millennial classic style is bringing these floor patterns back with a fun accent,' says Cara Fox, Owner and Lead Designer of The Fox Group.
Here's how to style zig-zags on your floor, walls, and beyond.
1. Use a modern rug as an easy way to add zigzags
Replace your chevron rug with a new take on zigzags, and choose Ikat print for a 70s nod.
'Ikat prints are some of my favorite in the world of textiles,' says Matthew Williamson. 'The diamond-like, zigzag shape can add a graphic jolt to any room in the house, merging color and pattern to an almost psychedelic effect. You can introduce Ikats into the home with cushions, lampshades from my collection with Pooky, and rugs including my new line with Obeetee (see above). Ikat prints are a staple for my interiors, adding interest and style effortlessly.'
If you're looking for a more streamlined, minimal look, opt for a simple take on the diamond print.
Noemie Deed, founder of Cosy Coco, says: 'Combined with other neutral tones and layered with varying finishes, we love seeing zigzag designs in rug form, it adds a touch of rustic, boho style to a space in an instant. When integrated into a more contemporary scheme with woods, rattans, and lots of greenery – it really is a textural match made in heaven.
'We are increasingly seeing customers combine the zigzag pattern with bold color, using vibrant green or warm orange tones in the detailing of the zigzag designs we offer – this gives a whole new refreshed look to our classic Berber zigzag rug designs.'
2. Introduce zigzags through soft furnishings
Whether it's cushions or curtains, your soft furnishings offer a great place to start with chic zigzag prints.
Tiffany Duggan, of Studio Duggan, says: 'I love zigzag patterns - they add a really playful element to a space and are really easy to combine with smaller scale patterns. Zigzags work excellently on larger items such as curtains or headboards.'
And, if you want to experiment with smaller items, cushions are a great choice. 'Don't be afraid to mix pattern – cushions are a great way to introduce pattern into a room,' says David Harris, Design Director at Andrew Martin.
'Ikat patterns can instill a sense of adventure into your scheme. Its beautiful hand-woven nature is an age-old feat of traditional craftsmen and women that is very hard to replicate. Whilst we live in a world full of commercial throw-away things, an ikat design reminds us that somethings are made with the utmost care, which can last for generations to come.'
He continues: 'Ikat patterns can be pretty bold, but a lot of the handmade weaves use subtle space-dyed yarns which radiate a much more faded and vintage look, easier to tie in with things around them.'
3. Liven up any room with zigzag wallpaper
Not just for accessories, why not go bold and breathe life into your walls with zigzag print wallpaper ideas? Clara Ewart, Head of Design at Kitesgrove, says: 'Introducing this pattern as the wall covering within a scheme is a fantastic way of adding visual impact as part of the foundation of a space.
If you're more of a maximalist, take a leaf out of Kit Kemp's Design Thread blog, and embrace color, as seen in her Rick Rack design.
Want a minimal look? 'Keeping the colors of a zigzag wallpaper neutral and tonal enables the natural linear design of the zigzag to stand out without overpowering or competing with any other elements of the scheme,' says Clara.
4. Zigzag lampshades and accessories are a bright idea
If you want to dip your toe into the zigzag water, try starting small with little accessories or lampshades. These are the perfect hallway idea to make a statement as soon guests walk into your home.
Rohan Blacker, Pooky founder, says: 'Bold lampshades – whether it be bold in color, in a statement Ikat pattern, or a bit of both, have been so popular of late. It's all about adding that pop of print, and Ikat shades are the style chameleon zigzag that can fit into many existing schemes.
'You don't have to think too much about whether zigzags match cohesively with the other accessories in the room as they very often do, it's the complementary print that ticks all the popularity boxes.'
Rohan explains that the pattern can be paired with neutral schemes, or complementing playful wallpaper. As long as it is curated carefully pattern on pattern can be the ultimate style trick.
5. Weave zigzag into a modern country look
Zigzags don't always have to be about the furnishings. A classic herringbone tile is a trendy yet timeless way of including the zigzag trend into your bathroom tile ideas.
Louise Wicksteed, Design Director for Sims Hilditch interior design, says: 'At Sims Hilditch we love to thread pattern and texture through our designs to create depth and interest. Zigzags are a great way to do this. Patterns such as this paired with a mixture of natural materials, antique pieces, and a calming color palette keep an interior rooted in timeless English style while adding a more contemporary element of fun.
'We often use zigzag patterned fabrics for the soft furnishings in our bedroom and living room designs, or even for the marble flooring in a bathroom.'
Cara Fox believes zigzags are perfect for flooring explaining that they can add interest and pattern, whilst still creating a neutral and classic floor.
Her top tip? 'Keep the pattern within the same color palette so it doesn't become too distracting or too trendy. Flooring is ideal for this pattern whether in wood, tile or marble.'
Sign up to the Homes & Gardens newsletter
Decor Ideas. Project Inspiration. Expert Advice. Delivered to your inbox.
Ruth Doherty is an experienced digital writer and editor specializing in interiors, travel and lifestyle. With 20 years of writing for national sites under her belt, she's worked for the likes of Livingetc.com, Standard, Ideal Home, Stylist and Marie Claire as well as Homes & Gardens.