Breville Super Q review: is this $550 blender worth the investment?
There's no denying that the Breville Super Q is a serious investment, but it combines the power of the most amped-up blenders with a user-friendly design that the whole family will love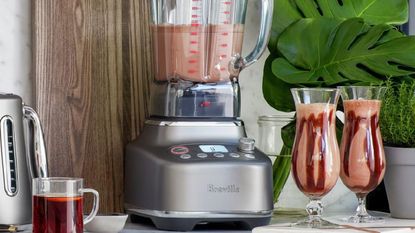 (Image credit: Breville)
While it's a little cumbersome, the Breville Super Q is one of the most powerful blenders you can buy, and comes with a more user-friendly design than similarly-priced alternatives from Vitamix and Blendtec.
Reasons to buy
+

Impressive auto settings

+

Easy cleaning

+

Plenty of power

+

Can handle wet and dry ingredients
Reasons to avoid
-

Doesn't fit under countertops

-

Expensive choice

-

Lid is a little stiff
You can trust Homes & Gardens. Our expert reviewers spend hours testing and comparing the latest products, helping you choose the best for you. Find out more about how we test.
Sign up to the Homes & Gardens newsletter
Decor Ideas. Project Inspiration. Expert Advice. Delivered to your inbox.
Thank you for signing up to Homes & Gardens. You will receive a verification email shortly.
There was a problem. Please refresh the page and try again.
For most family kitchens, a good blender is an essential. From making soups and sauces to blending up healthy smoothies or not-so-healthy frozen cocktails, buying the best blender possible is a choice that will certainly pay off over the years.
If you take a look at the very top-of-the-line blenders, you'll see brands such as Vitamix and Blendtec, and among that lineup is the much-loved Breville Super Q.
Without any discounts, the Breville Super Q will cost you $550. It's not cheap, but it's at a similar price to my favorite blender I've ever tested, the Vitamix A3500 Ascent Series Smart Blender. Like the Vitamix, the Super Q has a display screen and a dial for easy controls.
Specifications
Swipe to scroll horizontally
| | | |
| --- | --- | --- |
| Dimensions | 10.5" x 8.1" x 18" | Row 0 - Cell 2 |
| Power | 1800 Watts | Row 1 - Cell 2 |
| Weight | 18lbs | Row 2 - Cell 2 |
| Material | Brushed Stainless Steel | Row 3 - Cell 2 |
| Capacity | Jug: 68 oz, Cup: 24 oz | Row 4 - Cell 2 |
| Settings | 12 speed settings, 5 one touch programs | Row 5 - Cell 2 |
First impressions
The Breville Super Q arrived in a very large box, securely packaged in polystyrene. We always look for sustainable materials in packaging, so I have to dock a few points for that. On the plus side, the brushed stainless steel base feels very sturdy and well-made, and while the jug and cup are made of plastic, it's not flimsy in the slightest.
There's a tamper and a spatula included, the latter of which is well-shaped to scrape out the inside of the blending jug. The main jug is 68oz and the included blending cup is 24oz. It also comes with a very sturdy blending lid that screws into the top of the cup, and a to-go lid that came in pretty handy for taking my morning drinks to work.
It's worth noting that I tested the Breville Super Q in the UK, where the brand is known as Sage, and I was sent it by UKJuicers.com who are one of the retailers that sell the blender to customers in the UK. In the US though, the Breville Super Q is exactly the same as the version I tried, just with Breville written on the front of the machine.
What is it like to use?
The blender is incredibly user-friendly, but it's a bulky choice that's better suited to big kitchens. At 18 inches tall, it was a tiny bit too tall to fit underneath my kitchen cabinets, so I had to store the Breville Super Q without the lid in place in order for it to slot into the corner of the counter. This will be true for most kitchens. 18 inches is the average distance between countertop and cabinets, so this blender will either fit incredibly snugly or not at all.
The controls are very easy to use. There's a setting for pulsing/ice crushing, a setting for smoothies, one for green smoothies, one for soups and one for frozen desserts. These settings differ in length and the frequency of preset pulsing, but you can also manually control the blender and use the dial to the right side of the control panel to set your own timer.
Test 1: Berry Smoothie
To make my berry smoothie I combined frozen strawberries and blueberries with a banana and some oat milk. I used the smoothie setting, which runs for just under a minute, and was instantly struck by the power of this blender. It made light work of blending through frozen fruit, and by the end of the minute timer I had an almost-perfectly smooth drink. When pouring the drink out, however, I noticed that there was one strawberry which was still whole, so it could've benefitted from more pulsing to ensure that it was blended with the rest of the berries.
Berry smoothies can often contain chunks of un-blended skin and a lot of bitty seeds that can make the drink a less enjoyable drinking experience. Despite the whole strawberry that the Breville Super Q left at the bottom of my glass, it did an excellent job of achieving a creamy, almost-whipped consistency that integrated seeds and blended through berry skin without any trouble.
Test 2: Crushing ice
Crushing ice is a big test for any blender. While most blenders can handle liquid ingredients, it takes a decent amount of power to turn ice into the soft powdery consistency you'd want for a frozen margarita. The Breville Super Q achieved this in seconds. The ice crush setting blizted ice cubes into powder, and the spatula made it easy to scoop the ice from the edges of the pitcher, meaning I didn't miss anything.
One thing I noticed from testing this blender is that the lid is very stiff to get in and out of place. It wasn't any trouble for me, but I could see it being difficult for those who have less arm strength because of how securely the rubber stoppers wedge the lid into the top of the blending jug.
Test 3: Green smoothie
Blending tough stems from leafy greens is a big task for any blender, but the Breville Super Q has a dedicated green smoothie option, so I was confident that it'd handle my ingredients without too much trouble. For this test, I decided to use the personal blending cup in order to see how it performs for single servings.
To my green smoothie I added frozen papaya and mango, as well as half a bag of kale and some ice. After topping the smoothie up with apple juice I let the green smoothie setting get to work. I noted throughout using the Breville Super Q that it's quite a noisy blender, but not as noisy as the comparable Vitamix A3500, which made me a bit embarrassed to make a morning shake. I recorded highs of 92dB on my sound meter, which is tolerable for the amount of time needed to pulverize a smoothie or some ice.
The green smoothie setting did a brilliant job of tackling my kale and frozen fruit, and unlike my berry smoothie I didn't have any ingredients left un-blended when I poured out my finished drink. If you're making a drink for one, I'd recommend opting for the blending cup to achieve the smoothest possible result.
Cleaning, Storage, and Maintenance
Storing the Breville Super Q is quite demanding. It's bulky, and it also comes with a blending cup, lid, tamper, and spatula that are all destined to end up in the back of a cupboard somewhere. They're handy, so I'm glad Breville includes them, but they did look a little messy when scattered next to the blender while testing.
Cleaning is particularly easy because the blender comes with a cleaning button. To use it, the brand advises that you add some warm water and a few drops of detergent to the blender and put the lid back on before activating the cleaning cycle. For the smaller blending cup, don't add the detergent but simply run a cleaning cycle with cold water to remove residue from the inside and blades before washing by hand.
How does it compare?
The most comparable blender to the Breville Super Q is the Vitamix A3500 Ascent Series Smart Blender, which I tested last year. It's probably one of the best appliances I've ever tested, and I was particularly wowed by its ability to make hot soup when left running on the soup setting. While there's a soup setting with the Breville, the recipes included with the blender all require pre-cooking. If you're not as interested in using a personal blending cup, I'd opt for the Vitamix, but if you'd use the personal blending cup that comes with the Breville, it's a more savvy investment.
If you want a cheaper alternative to the Breville Super Q, I'd recommend taking a look at the Ninja Professional Plus Kitchen System with Auto-IQ. It's a surprisingly powerful option with three chopping attachments to choose from, and although it's a lot flimsier than the Breville blender, it's also a fraction of the price
Should you buy the Breville Super Q?
I wouldn't hesitate to recommend the Breville Super Q as a brilliant blender, but depending on what you're shopping for, it may not be for you. This blender is large, powerful, and imposing. It still has the charm of any good Breville appliance (and would partner perfectly with many of the best coffee makers we've tested) but the Super Q did struggle to fit into my smaller kitchen because I had to remove the lid to fit it under my kitchen counter.
If you've got a generous kitchen and you want a capable family-size blender with easy pre-set options and an additional blending cup, the Super Q could well be the best option for you. If you're solely looking for blending power and don't mind a noisier option though, the similarly-priced Vitamix could be a better option for you.
How We Test
At Homes & Gardens we test appliances in our dedicated test kitchen. We also test them in our homes to see how products perform in real-world conditions. We test blenders on a wide range of common tasks.
We make berry smoothies to see how blenders handle seeds and skins. We make green smoothies with tough, leafy stems like kale and spinach to see if a blender can cope with these textures, and we also make protein shakes to see if a blender can incorporate gritty, powdery textures. Our other basic test is to see if the blender can crush ice for frozen cocktails and hot weather drinks.
Where relevant, we also see if a blender can make soups or sauces. We also test them on dips like hummus. In some rare cases, we can also test if a blender can handle making alternative milks like oat milk or almond milk.
All of this is on top of more fundamental tests into how it is to set up a given blender, how loud it is, how easy it is to use and store, and how easy it is to clean. All the blenders we test are then judged against each other for capacity, price, warranty, and value for money to find the very best.
Sign up to the Homes & Gardens newsletter
Decor Ideas. Project Inspiration. Expert Advice. Delivered to your inbox.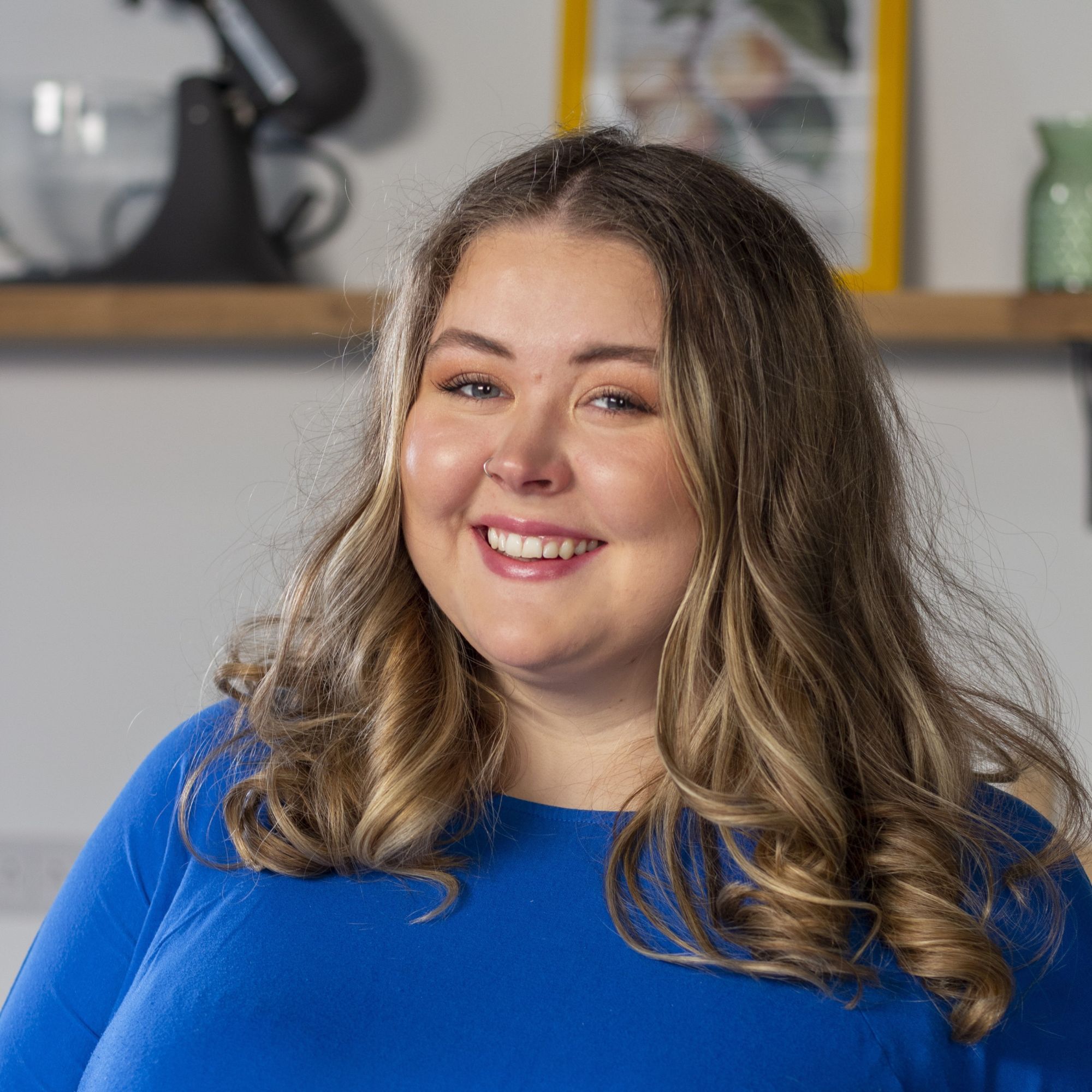 Millie Fender is Head of Reviews on the Homes and Gardens Ecommerce team. She specializes in cooking appliances, such as the best kettles, and also reviews outdoor grills and pizza ovens. Millie loves to bake, so she will take any excuse to review stand mixers and other baking essentials. When she's not putting products through their paces in our dedicated testing kitchen, Millie's reviews are conducted at home, meaning she uses these products in her own day-to-day life.