Christmas shipping deadlines 2022 – for those last-minute gifts
Wrap up last-minute holiday shopping with these retailer Christmas shipping deadlines for guaranteed delivery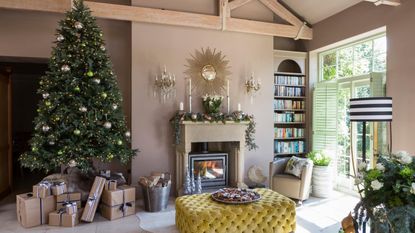 (Image credit: Future)
To make sure your holiday gifts arrive in time, these are the Christmas shipping deadlines for guaranteed delivery before Christmas from your favorite retailers.
We have also included general shipping cut offs from USPS, UPS, and FedEx. Fortunately, we have more delivery options than ever, with most offering a variety of last-minute in-store and same-day delivery options.
Though, if you've found you've missed a Christmas shipping deadline, there are always gift cards for your giftee to pick out what he or she desires in the after-Christmas sales.
Prime Members can take advantage of features like Next-Day Delivery on Friday, Dec. 23rd, and Same-day delivery on Saturday, December 24 (free for Prime members in select areas with $35 purchase; $2.99 for orders below $35).
Estimated shipping times vary based on product type and delivery location.
Holiday Deals run through Wed, December 21st.
Look for gifts denoted with the tag 'Arrives Before Christmas'.
Standard Delivery: Order by 11:59 PM PST Tuesday, December 20th for standard delivery.
Express Delivery: Order by 9 AM EST Thursday, December 22nd.
Standard: Order by December 19th.
Expedited: Order by December 21st.
Express: Order by December 22nd.
Same Day Delivery and In-Store Pick Up available on certain items in certain markets.
You can see each product's estimated arrival date on the product page and shop based on delivery speed.
Store pickup/curbside pickup: by Saturday, December 24th at 5pm local time.
Same-day delivery: by Saturday, December 24th at 2pm local time.
Next-Day shipping by Friday, December 23rd.
Order by Thursday, December 22, to be sure your gifts are delivered by Christmas with two day delivery
Buy Online, pick up in-store through December 23 across more than 30,000 items
Standard and Premium Shipping by Wednesday, December 21st at 5pm ET.
Express Shipping by Thursday December 22nd at 12pm ET.
Same Day Delivery (in certain markets) by Saturday December 24th at 10am local time.
In-Store Pick Up by Saturday December 24th at 3pm local time.
Order by Saturday December 17th, at 5pm PST for free standard shipping.
Enter your zip code when shopping for items available today or next-day with Buy Online and Pick-Up In-store or Curbside options.
Ground Shipping order by December 13th.
Most orders of $35+ qualify for free two-day shipping (no minimum for Red Card holders); recommended to make purchases by Wednesday December 21st.
Same Day Delivery with Shipment and In-Store Pick up through 5pm. local time on Saturday, December 24th.
FedEx and UPS: Order by December 19th.
Home Delivery: Order by 4pm on December 24th, fees apply.
Curbside: Reserve a pick up time through December 24th.
FedEx Ground: Wednesday December 14th.
FedEx Express Saver: Tuesday, December 20th.
FedEx 2-Day: Wednesday, December 21st.
FedEx SameDay: Friday December 23rd.
USPS Ground: Saturday December 17th.
First-Class Mail: Saturday December 17th.
Priority Mail: Monday December 19th.
Priority Mail Express: Friday December 23rd.
UPS 3-Day Select: Tuesday December 20th.
UPS 2nd Day Air: Wednesday December 21st.
UPS Next Day Air: Thursday December 22nd.
Jaclyn is H&G's eCommerce editor and oversees all things shopping. She's also a bonafide sleep expert, and previously managed all sleep content on Homes & Gardens and Real Homes– in fact, she has passed our five-step certification process to become a verified customer advisor on mattresses. She regularly scouts out the best of the best for buying guides to help you fill your home with only the best. She joined the team in January 2021. She has previously worked with Apartment Therapy, The Kitchn, The Spruce, The Spruce Eats, and MyDomaine. When Jaclyn's not working, she loves browsing real estate listings, unwinding with a chilled glass of Rosé, and entertaining her Cavapoo, Reese.