There's still time to shop Anthropologie's Halloween collection – and some of it is now on sale
Halloween is creeping up on us but you still have time to buy Anthro Halloween decor before it sells out for the season.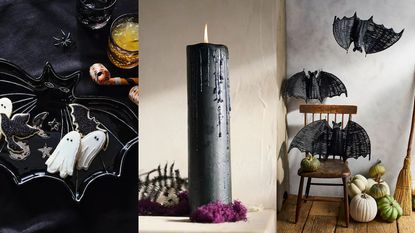 (Image credit: Anthropologie)
We are getting scary close to the end of October, which means Halloween is creeping up. As a shopping writer, I've seen some pretty bad Halloween decor this year, but I've found this year that most of Anthropologie's Halloween collection hits the right mix of spooky and elegant.
Whether you're decorating a tablescape for an upcoming Halloween party or looking for decor pieces for an entryway credenza or side table, Anthro's Halloween decor can help you transform your space with some spooky style. However, this is pretty much the last to get the products delivered before Halloween weekend.
That's why I scoured what's left of the Anthropologie Halloween collection to find the best spooky decor items, many of which are now on sale. From tablescape decor to textiles (yes, that means Anthropologie dish towels), these are my picks of the very best.
The best last-minute Anthropologie Halloween decor
These are my choices of the chicest pieces you can still buy on Anthropologie to be delivered in time for Halloween, but you have to move fast.
Anthropologie Halloween Dishes and Serveware
Anthropologie's Halloween dishes and serveware add a mystical touch to your charcuterie and cheese spreads and tablescapes. From candy dishes to serving platters, you can still find several stunning options for all of your spooking serving needs.
Anthropologie Halloween Candles
It's impossible to talk about Anthropologie holiday decor without discussing Anthro candles. For the spooky season, Anthro still has several good options, including a few that work for both Halloween and Thanksgiving, so they'll last you throughout the fall season.
Anthropologie Halloween Accents
Add a sprinkle of spooky to your holiday decor with Halloween accent pieces from Anthro. From pumpkins to bats to moths, Anthropologie still has some super cute Halloween accent pieces that can spice up your decor for the season.
Anthropologie Halloween Textile Decor
It's no secret that Anthropologie dish towels are some of the best of the best—especially when it comes to holidays. From whimsical Halloween dish towel designs to mystical cocktail napkins, Anthro's textile decor brings a chic touch to functional decor items.
Lauren McIntosh Cocktail Napkins, Set of 4
If you're looking for ways to reduce waste while hosting a Halloween cocktail night with friends this season, the Lauren McIntosh Cocktail Napkins are an excellent solution. These chic reusable cocktail napkins come in a set of four and are constructed from durable cotton material with mystical designs in black, gold, and white.