Annabelle Holland's top 5 tips for festive decorating – inspiring looks to copy
Be inspired by how the Creative Director of Anbôise decorates her home for the holidays
(Image credit: Anbôise)
Sign up to the Homes & Gardens newsletter
Decor Ideas. Project Inspiration. Expert Advice. Delivered to your inbox.
Thank you for signing up to Homes & Gardens. You will receive a verification email shortly.
There was a problem. Please refresh the page and try again.
At H&G, we love to see how interior designers and creatives decorate their homes at Christmas – and our newest contributing editor has some inspiring insight.
'Christmas decor ideas needn't be over-complicated, fussy or expensive, if we draw inspiration from our ancestors,' says Annabelle Holland of luxury interiors brand Anbôise.
'Decorations in the festive season have always centered on the use of evergreens. Church records as far back as the Middle Ages even include entries for the purchase of holly and ivy. They did so because they symbolized eternal life and the promise of the spring to come. However, I suggest you do so because they can be absolutely beautiful and will transform your home into a calm, festive and welcoming oasis – calm, in my experience, being something which is often in low supply at Christmas!
'You should always consider the home as a whole when decorating at Christmas. When you only decorate the main reception rooms, for example, it can feel like it is not Christmas in certain parts of the house. It should feel special the moment you arrive at the house and there should be a festive flow as you go from room to room.'
1. Match the door wreath to your Christmas decor indoors
Christmas wreath ideas, says Annabelle, should reflect – and hint at – the style your Christmas decor inside the house – whatever that is.
'Originally know as 'welcome rings', front door wreaths are a must in my book!' says Annabelle.
'Anything goes when it comes them – whether it is wild and whimsical or formal and neat – it is the first impression before you enter your home. Consider your overall festive look and adorn the front door with a similar feel.
'I personally like to make a day of it in the run up to Christmas, joining friends for a festive wreath making day at Dorset Flower Co.'
2. Decorate the mantelpiece with seasonal foliage
Garlands make for traditional Christmas mantel decor ideas – and Annabelle likes to make a Christmas garland for hers that nods to tradition but which is informal, too.
'Charles Darwin is perhaps not the obvious 'go-to' for decorating tips… However in 1877 he wrote about decorating the Christmas hearth at his home with holly. A trend setter if ever there was one!' says Annabelle, who likes to use seasonal Christmas foliage ideas for her mantelpiece.
'I like to start with a layer of fir as the foundation for the mantel, building up with layers of ivy, holly and eucalyptus, placed in an ad hoc way but adding height and fullness to the mantel. Sprigs of ivy can drape happily off the edges which provides a whimsical feel.
'I also like to add antique candlesticks with modern tapered candles in pinks and golds which will glow through the greenery.
'Christmas decorations that are slightly wild add an instant festive feeling but in a playful and relaxed way.'
3. Make the Christmas table simple – but stylish
For Christmas table decor ideas, Annabelle likes to keep the settings simple.
'A white tablecloth is always a good starting point. Like a mood board for a room, you can pull together your table from colors you like and work them into different aspects of the table setting.
'Consider layering the table with different textures – tapered colored candles in glass candlesticks can sit alongside pretty fabric crackers and velvet napkin ties. Warm colored flowers add a colored water glass will add a contrast to the crisp white tablecloth.
'Consider autumnal colors for your table which work well without being too full on and "Christmas themed".
'Most households love a cracker but the miniature pieces that get thrown into the "drawer of doom" at the end of Christmas has never really appealed. Handmade crackers have always felt like the better option, but if time isn't on your side, there are many lovely handmade reusable ones out there. A liberty print fabric cracker, for example, instantly adds color and pattern to your table. Fill with a personal Christmas table gift for your guest and then reuse for years to come.'
4. Adorn the staircase with a garland of greenery
If you are looking for Christmas stair decor ideas, a garland is the most impactful.
'Decorating the staircase is a great way to achieve the "festive flow" I mentioned earlier. Not only do they literally connect the two floors, but they are often the first thing you see when you walk into the house. They also provide a not to be missed opportunity to decorate on a grand, two level scale,' says Annabelle.
'For a relaxed classic look, hang loose garlands along your staircase and finish off with large amounts of velvet ribbon at the joins. For the garland, go for around 1.5 times the length of your banister to allow for a loose swag and relaxed feel.'
5. Create a welcoming feel with a decorated console
Christmas hallway decor ideas are vital for making guests feel welcome.
'Together with the staircase, a console table is often one of the first things guests will see when they enter your home. Give it an instant Christmas update with a scattering of greenery and flickering candle light,' says Annabelle.
'A garland made with fir, eucalyptus and ivy can be woven amongst your existing pieces – it will also smell amazing when you walk in the front door.
'Make it extra long so that it hangs loosely over the edge of the console. Where possible put Hallway lights on dimmers to soften the lighting in the evening and consider decorative wall fixtures with candles for a warm welcoming glow.'
Annabelle Holland is founder of @annabellehollanddesign and Creative Director of @anboise_official
Sign up to the Homes & Gardens newsletter
Decor Ideas. Project Inspiration. Expert Advice. Delivered to your inbox.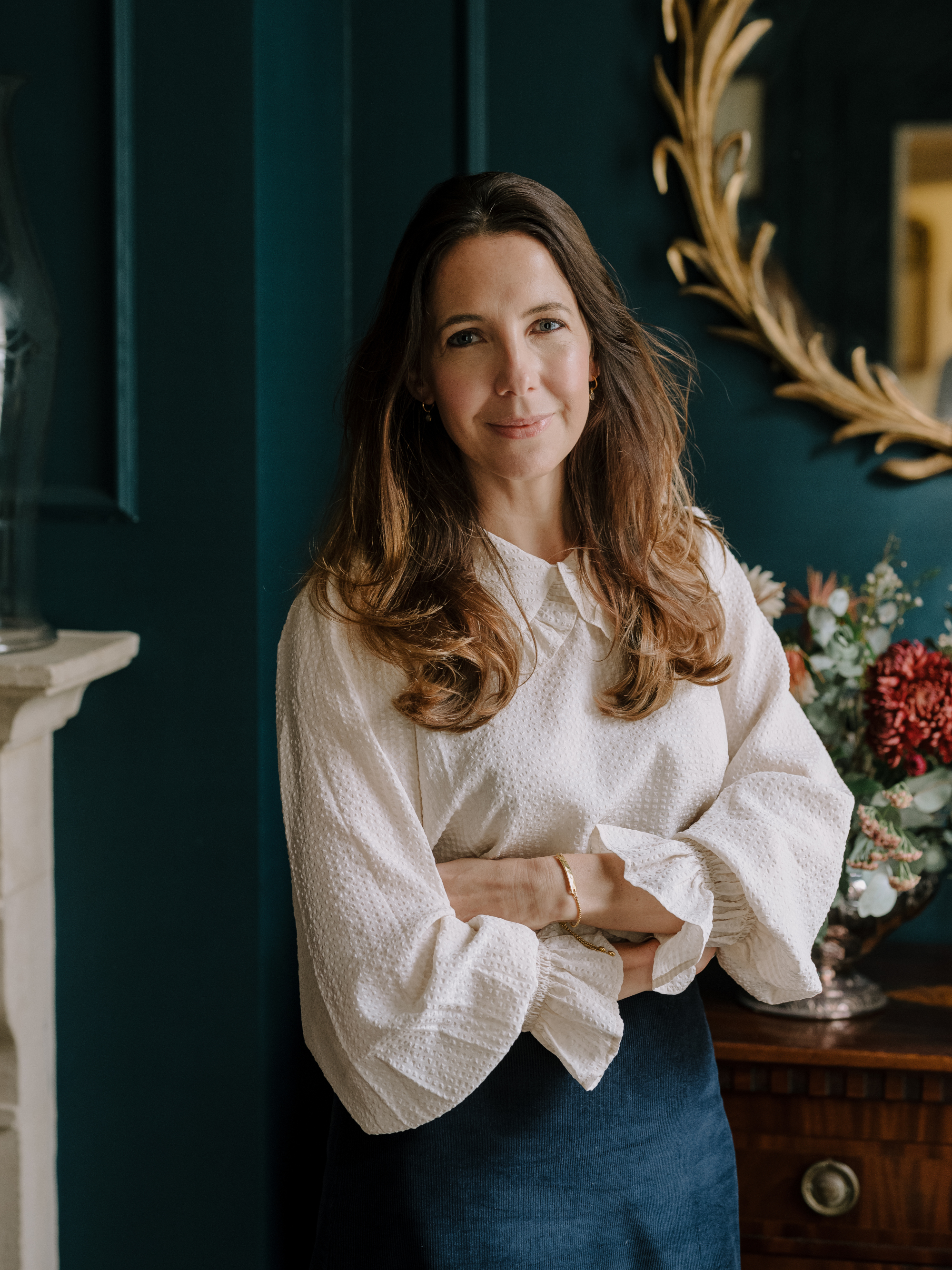 Anbôise is a luxury interiors brand which combines contemporary designs with curated art and antiques, creating unique interiors with character and atmosphere. Their collections are curated by Creative Director, Annabelle Holland, founder of the award winning eponymous design studio – with the assistance of an experienced team of art and antique experts.