How to make elderflower cordial
Use this fail-safe recipe to make elderflower cordial – summer's most iconic drink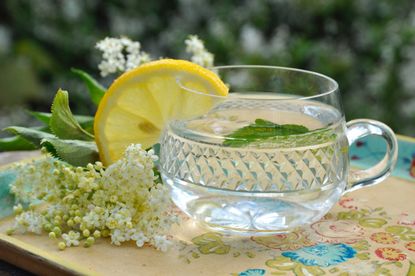 (Image credit: Peter Mason/Unsplash)
Elders are at their best from May to June, when they abound in our hedgerows. So, if this weekend will be spent outdoors, why not forage for their distinct white flowers to make elderflower cordial with?
Picking elderflowers in the morning will give you the best results – but really, you can't go wrong with this easy-to-make drink. And, of course, it's the perfect non-alcoholic accompaniment to your summer lunch recipes – add tap water for a flat cordial or sparkling for an elderflower pressé. And yes, it can be added to wine – sparkling or otherwise – to create a refreshing summer cocktail. You can even freeze it in ice cube trays – with decorative fruit – to add to any of the drinks above.
Just a note: ideally, you'll need to let the flowers steep for a day to garner the best flavor, so don't expect to pick and sip within a few minutes.
How to make elderflower cordial
This recipe will makes 1000ml of elderflower cordial.
Ingredients:
900g granulated white sugar
Flowers from 10-15 elderflower heads
1 large oranges, zested and sliced thinly
1 lemon, zested and sliced thinly
20g citric/powdered tartaric acid (opens in new tab)
You will also need a piece of fine muslin – or a fine, clean tea towel
Method:
1. Rinse the elderflowers under a cold tap and let them drain in a colander.
2. Pour 750ml of water into a heavy-based saucepan and add the sugar.
3. Turn the pan to a low heat, stirring the mixture until the sugar dissolves.
4. Increase the heat to bring the mixture to a gentle simmer. Add the flower heads and watch the pan until it begins to boil, then turn off the heat.
5. Put the fruit zest and slices into a large bowl, sprinkling it with the tartaric acid powder.
6. Pour the hot water/sugar/flower mix over the fruit/tartaric acid powder. Cover it with a clean cloth and leave for at least 24 hours to infuse.
7. The elderflower cordial will need to be poured into sterilized jug or bottle, so prepare this while you wait.
8. Once the steeping stage is over, strain the cordial through a muslin/cloth or very fine colander to remove the fruit and flower debris. Then transfer into your sterilized container, and put in the fridge.
Like our cherry recipes, this elderflower recipe is incredibly versatile. Use it not just for drinks, but to drizzle over salads and desserts, too.
How long does homemade elderflower cordial last?
Homemade elderflower cordial will last for six to eight weeks if kept in the fridge.
Why do you put citric acid in elderflower cordial?
Citric acid is added to elderflower cordial to stop it from fermenting – which means it will last longer. It also adds a tasty tang to the cordial.
Lola Houlton is H&G's long-term intern. Currently student of Psychology at the University of Sussex, she began writing content for Real Homes around the subjects of children's and teenagers' bedroom, in particular covering the psychology of teens and their approach to tidiness. From there, Lola expanded her knowledge of a broad range of subjects and now writes about everything from organization through to house plants while continuing her studies.