Christmas gift wrapping ideas – 18 styles and the best places to shop
Wrap your presents in style this holiday season with our favorite Christmas gift wrapping ideas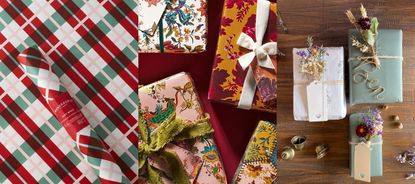 (Image credit: Target | Anthropologie, House of Hackney | Etsy)
Christmas gift wrapping ideas can not only create an element of thrilling surprise and intrigue, but they are an opportunity to enhance your gift giving with added color, pattern, material and texture; creating a pretty and unique design that can sit beautifully under the Christmas tree.
It's safe to say that presents often become part of our Christmas decor ideas, with the exchanging of gifts leading to our homes becoming filled with colorful bundles of joy to open over the holiday period.
For many of us, the act of wrapping presents, and exploring how to wrap gifts, is a fun and creative experience that helps us to get in the festive spirit, and creates an uplifting atmosphere where we feel excited at the prospect of sharing meaningful gifts with loved ones.
With so many styles of gift wrap to choose from, we have curated a collection of our favorite Christmas gift wrapping ideas to help with that all important part of preparing your presents for Christmas.
Christmas gift wrapping ideas
Why you can trust Homes & Gardens Our expert reviewers spend hours testing and comparing products and services so you can choose the best for you. Find out more about how we test.
From beautiful printed paper, to gift bags and accessories, explore our 18 Christmas gift wrapping ideas below.
Classic gift wrap
From traditional, festive color palettes, to the timeless simplicity of using brown paper, see some of our favorite classic Christmas gift wrapping ideas.
(opens in new tab)
1. Target Wondershop Plaid Gift Wrap Green/Red
Sometimes, you just cannot go wrong with a classic Christmas print and color palette. This gift wrap roll from Target comes in a timeless plaid pattern and embodies, for many, the traditional colors of Christmas.
(opens in new tab)
2. Etsy Brown Kraft Paper Sheets
Using brown paper for your Christmas gift wrapping ideas can create a simple, minimalist and timeless look. A current favorite for Christmas gift wrapping ideas, brown paper can be easily recycled and can be beautifully enhanced with ribbon, twine and bows to create a classic look.
(opens in new tab)
3. Selfridges & Co Christmas Trees Christmas Gift Bag
As fun as gift wrapping can be, sometimes it is simply easier to use a gift bag - especially if you have oddly shaped presents! This stylish Christmas tree printed gift bag from Selfridges & Co is part of their 'Our For Nature' edit, which includes products made using at least 50% environmentally certified materials and with processes that reduce pollution and waste.
Contemporary gift wrap
Bright colors and striking, bold patterns and shapes take center-stage in our collection of contemporary Christmas gift wrapping ideas.
(opens in new tab)
4. Anthropologie House of Hackney Wrapping Paper Book
House of Hackney is renowned for its beautiful, maximalist collection of printed fabrics, with this assorted wrapping paper book from an exclusive collection with Anthropologie, containing a collection of their bold and eye-catching designs. Includes twelve wrapping paper sheets and one sheet of gift tags.
(opens in new tab)
5. Rifle Paper Co. Holiday Garden Party Wrapping Roll
This colorful and contemporary gift wrap design from stationery brand Rifle Paper Co. is made from eight feet of metallic gold paper with pretty floral illustrated accents – not all Christmas gift wrapping ideas need to be Christmas themed!
Unique gift wrap
Make your Christmas gift wrapping ideas a talking point this holiday season with a more unique style - from elegant pressed flower designs to bright neon colors.
(opens in new tab)
7. Paper Source Pressed Flowers Handmade Paper
Pay homage to the beauty of the outdoors with this elegant, handmade design from Paper Source. Containing delicate pressed flowers, the wrap is made from renewable Lokta paper, crafted from the fibers of the Lokta plant. The result is a truly distinctive design that feels rustic, organic, and unique.
(opens in new tab)
8. Zazzle Trendy Marble Granite Stone Texture Wrapping Paper
For a luxurious look inspired by the beauty of marble, a marbled gift wrap can create an elegant Christmas gift wrapping idea. This design by Zazzle, defined by a natural, neutral color palette, can add a unique element of visual texture to your gift. Available in a matte or glossy version.
(opens in new tab)
9. Bright Fluorescent Green Neon Wrapping Paper
Your presents will definitely stand out beneath the Christmas tree with a fluorescent, neon wrapping paper. A fun and unique design, Society6 have a collection of bright colors to choose from for your Christmas gift wrapping ideas - guaranteed to make an impact.
Personalized gift wrap
Personalized gift wrap, whether that's a name, photo or drawing, can create a joyful element of fun before the recipient has even opened the present!
10. The Handmade Christmas Co. Winter Forest Personalized Gift Wrap
For a Christmas gift wrapping idea that has an extra special personal touch, why not choose a gift wrap design that can be personalized with a name. The Handmade Christmas Co. have a collection of gift wraps that feature fun festive scenes and spaces to add in the name of a loved one.
(opens in new tab)
11. Not On The High Street Personalized Child's Drawing Wrapping Paper
We've explored named wrapping paper, but why not take personalization one step further and have your very own drawing added to a gift wrap design? Not On The High Street seller, HoobyNoo's design, features subtle green and red polka dots with space left for a drawing to be added, creating a truly one-of-a-kind Christmas gift wrapping idea.
12. Christmas Lights Gift Wrap
Take personalized holiday wrapping paper one step further with an added photo! Whether it's a photo of you, the recipient, or a meaningful family photo - there are many options to choose from. This design from Gift Wrap My Face unites an individual photo with a classic Christmas light pattern - Gift Wrap My Face even create smart gift wrap (opens in new tab) where your chosen photo moves - with the help of your phone!
Furoshiki gift wrap
Furoshiki is the traditional Japanese art of cloth wrapping, and is becoming an increasingly popular Christmas gift wrapping idea due to it being both beautifully elegant and eco-friendly.
13. unwrp Square Up Fabric Wrap
Using fabric wrap for your Christmas gift wrapping ideas is not only a more sustainable wrapping choice, but can create two presents in one! Unwrp have a beautiful collection of dynamic fabric designs that can be used to wrap gifts, worn as fashion accessories or even framed and displayed as artwork.
14. Toast Furoshiki Block Print Wrapping Cloths
These eye-catching, red and blue patterned cloths from Toast have been crafted from cotton, and are handmade by artisans in Jaipur. The colorful patterns are created through hand-block printing, with each block hand-carved and lined up by eye onto the fabric. Includes two fabrics.
(opens in new tab)
15. Furoshiki Gift Wrapping Cloth
These Furoshiki cloths from Anthropologie feature two beautiful, colorful patterned designs, and have been crafted from 100% cotton. Elevating your gifts with tactile texture and visual interest, this sustainable cloths can be used again and again.
Best gift wrapping accessories
Accessories such as name tags, bows, ribbons and even Christmas foliage can add that unique, pretty final flourish to your Christmas gift wrapping ideas.
(opens in new tab)
16. Etsy The Letter Loft UK Gift Wrap Kit
This unique, eco-friendly gift wrap kit from Etsy seller, The Letter Loft, contains everything you need to create a beautifully bespoke wrapped design. The kit contains gift tags, string, petals, dried flowers – and bells!
(opens in new tab)
17. Not On The High Street Initial Wooden Gift Tag
Instead of using a paper gift tag to label your presents, why not choose a delicate initial tag? A wooden initial, such as the design by Cloud and Currents on Not On The High Street, can add a unique personal touch and can also be kept as a small token.
(opens in new tab)
18. Amazon Vitalizart Handmade Fringe Chiffon Silk Ribbon Gauze
Whether you use bright, colorful patterned paper, or prefer the understated look of brown paper, a ribbon is an easy way to add an extra layer of texture, color and interest to your wrapped gift – and it creates an easy place for you to tie on a gift tag or tuck in a Christmas card.
What is a unique way to wrap presents?
As we have explored, there are many unique ways to wrap presents for your Christmas gift wrapping ideas.
From traditional brown paper to modern, artistic printed designs and fun accessories, there are many options to choose from to make your wrapped gift utterly unique.
In recent years we have seen a shift in individuals making more sustainable, eco-friendly decisions with their gift wrapping, so choosing a design that can bed used again and again, such as a fabric cloth, or purchasing easily recycled wrapping paper, can create a gift that not only looks good - but is better for the environment too.
If you're thinking of creating your own, home-made gift wrap design, explore how guide on how to decorate wrapping paper.
Why is wrapping gifts important?
A wrapped gift is one of those Christmas traditions that will continue to create moments of joy throughout the holiday season.
Creating a fun element of surprise and keeping you guessing until your Christmas celebrations begin with your friends and family, a wrapped present may not seem important to some people – maybe they're just not that good at wrapping - but for many, it is a chance to reflect on meaningful purchases for loved ones, and spend time creating a unique wrapped design that looks almost too good to open.