Cuisinart EvolutionX Cordless Hand Mixer review: an essential for convenient baking
Does the cordless ease of the Cuisinart EvolutionX Cordless Hand Mixer live up to expectations? We put it to the test to find out.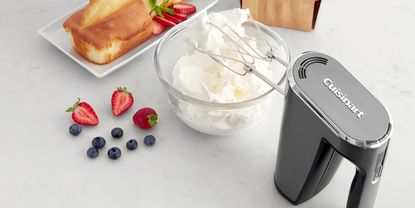 (Image credit: Cuisinart )
The Cuisinart EvolutionX Cordless Hand Mixer has five speeds, one set of attachments and is available in one color in the US, gray/black. We put it to the test creating a series of bakes to see how it measured up.
Reasons to buy
+

Genuinely pretty kitchen appliance

+

Cordless nature is ultra-convenient

+

Great for quick bakes and mixes

+

Lightweight and no hassle to hold

+
Reasons to avoid
-

Doesn't feel as powerful as corded models

-

Limited to five speeds

-

No eject button for attachments

-
You can trust Homes & Gardens. Our expert reviewers spend hours testing and comparing the latest products, helping you choose the best for you. Find out more about how we test.
When it comes to baking, one of the best hand mixers can go a long way. Thanks to their handheld nature, you can really smoothen out your chosen mixture and eke out any rogue pockets of flour and sugar in order to create a well-combined batter or egg-white mixture.
In a world of convenient hand mixers, this Cusinart RHM-100 EvolutionX 5-Speed Cordless Hand Mixer goes one step further, with the added bonus of being free from the restraints of a cord completely. There are plenty of hand mixers on the market making this turn towards cordlessness, including the KitchenAid Cordless Hand Mixer, known for its iconic retro look. It's an especially handy feature for those lacking plug sockets around their kitchen, but does it appeal to every home baker?
We wanted to establish if the Cuisinart RHM-100 EvolutionX 5-Speed Cordless Hand Mixer is a standout choice, and importantly whether it captures the essence of convenience that it claims to. We put it through its paces in a series of tests to see how it stood up, and directly compared it to the other big competitors on the market during our testing process to give you the vital buying information you need.
*Though we tested this mixer in the chrome pink color, it's worth noting it is only available in the US in the Black/Gray colorway.*
Specifications
Colors: Black/Gray
Type: Hand mixer
Weight: 3.13 lbs
Speed settings: 5
Dimensions: 27.5 x 19.3 x 7.6 centimetres
Included: Cordless hand mixer, two whisk heads, USB charger and wall plug
Getting started with the Cuisinart EvolutionX Cordless Hand Mixer
Due to the fact that there's only one type of attachment with this mixer, the unboxing process was smooth and quick, with minimal styrofoam accompaniments and neat little compartments that each of the components sits in. Within the box, you'll also find the USB charger and wall plug for giving your mixer the power it needs.
The box for this mixer is also fittingly light, seeing as it's not exactly brimming with attachments. When we weighed the mixer with the whisks affixed, we found it weighed in at 926g, making it the lightest mixer we tried. The lightweight design will be especially valuable to anyone with dexterity issues, or for those who struggle to hold kitchen tools for long periods of time.
It can also stand up solidly of its own accord on your countertop, making it easy to set it down in a hurry when you're mid-mix. The overall design is sleek and clean, and likely to appeal to minimalist tastes.
When it comes to the business of mixing, this model was a breeze to get to grips with. It can be operated with one hand with one long press to the power button to turn it on, as well as a slow start to help you keep control.
Making whipped cream with the Cuisinart EvolutionX Cordless Hand Mixer
The first hurdle we decided to test the Cuisinart Cordless Mixer with was whipping cream. This was an interesting test of the mixer's abilities due to the fact that it doesn't have a separate whipping whisk attachment available. With this and other tests, this mixer was being tested in tandem with four other hand mixers, so the results when it comes to timings and performance are directly comparable with the other models in the Homes & Gardens buying guide.
To operate the mixer, we had to allow it to get a little charge first, which was easy enough to do after plugging it in at the wall. Once it had power, simply long-press the power button and begin pressing the button underneath with a symbol of different levels, which controls the speed. There are five speeds to get through, and the mixer has a bit of a delayed start, which is great for giving you time to insert it into the mixture.
In a timed test, we established that it took around 33 seconds using the mixer on speed three to form stiff peaks out of whipped cream. The whipped cream itself was nicely formed, especially considering that some of the other batches looked quite frankly like unappealing scrambled egg. Plus, because nobody wants a noisy appliance while they bake banana bread, we also took a decibel reading, which was around 74dB. We didn't find it too noisy at all, and the lightweight design made the actual mixing a walk in the park.
Making cake batter with the Cuisinart EvolutionX Cordless Hand Mixer
The all-important test was up next: how does this cordless wonder fare with making cakes? We followed a super simple Victoria sponge recipe, so as not to get bogged down by any extraneous complications.
The feel of the mixer on this particular test definitely left us feeling as if there was less power to get behind the activity compared to the other models in our line-up. Especially when you're battling against a bread dough or substantial cake mix, that power can feel quite important. Importantly, despite the way it felt, the actual mixing of the batter went smoothly and yielded a lighter, fluffier-looking batter than the other contenders.
Though the Cuisinart mixer only has one set of attachments, it's a versatile tool when it comes to creating a cake batter. Using the mixer yielded a fluffy batter in under a minute, and the consistency was impressively bouncy. It also excelled when it comes to quietness once again, with a decibel reading of just 66dB.
Making cookie dough with the Cuisinart EvolutionX Cordless Hand Mixer
The final frontier that we wanted to evaluate the Cuisinart EvolutionX Cordless Hand Mixer on was cookie dough, as we figured it was both a test of its dough capabilities as well as how neatly it can integrate additional ingredients. In this case that was chocolate chips, as we followed a simple chocolate chip cookie recipe.
With this test, we found that once again the Cuisinart adeptly handled the task in quick time, and also did an excellent job at combining in the chocolate chips. That's thanks to this mixer having a miniscule delayed start, which lets you adjust to how the mixer is going to move in your hand, and goes a long way to prevent mixture spilling out of the bowl and onto the countertop.
Cleaning
As we've stated previously within this review, there aren't a lot of parts to contend with when it comes to this mixer. One huge benefit of this is that there's not a lot to wash up when your baking is all done. The beaters themselves are in fact made from stainless steel and have a distinctive design that does away with the central spindle. That makes getting in and manually cleaning excess mixture away really simple, even more so thanks to the fact you can also just pop them into the dishwasher.
How does the Cuisinart EvolutionX Cordless Hand Mixer compare?
I put the Cuisinart EvolutionX Cordless Hand Mixer to the test alongside a range of other mixers, and tried to keep the difference between testing conditions to an absolute minimum in order to get the most reliable results possible. The contender on the cordless market and arguably the leader when it comes to style is the KitchenAid Cordless Hand mixer.
To make a direct comparison between the two, the KitchenAid Cordless Hand mixer certainly felt more powerful, and has a much wider range of speeds and colorways, covering both functionality and style. It also benefits from a freestanding design and a hassle-free charging experience, which is always a bonus. It is however up to $20 more expensive, with an RRP of $99.99.
To set these two mixers apart, it has to be said that the Cuisinart model takes precedent when it comes to securing a better deal. On the other hand, if you really want a range of speeds, and to pick a color to match your cabinets, then the KitchenAid is likely your winner, with this Cuisinart mixer still an absolute stand-out contender.
Should you buy the Cuisinart EvolutionX Cordless Hand Mixer?
The central selling point of the Cuisinart EvolutionX Cordless Hand Mixer is the fact that there's not a cord in sight. Whilst naysayers might say this is purely a gimmick, I find it genuinely useful to not have to use up one of the (already occupied) two sockets in my small kitchen when I want to give something a quick mix, whether that's pancake batter or a Yorkshire pudding mix.
So, if you love the idea of cordlessness, then I'd say this mixer is great for taking that problem away entirely. There is also a range of wonderful features to sweeten the deal, from the fact you can operate it easily with one hand to the simplicity of the design and clean-up process. After testing it for a few weeks in my own kitchen as well as our test kitchen, I also found that it's held charge immensely well and that I reach for it frequently whilst baking and cooking.
However, if you love to feel the power behind your mixer, then this might not be the one for you. Though it performed well in all of our tests, it didn't quite feel like it had the push behind it that some of the contending mixers did. However, with an RRP of $79.95, and with such a lovely sleek design, the Cuisinart EvolutionX Cordless Hand Mixer definitely takes the edge for me and will remain in my favorite kitchen tools line-up for a long time yet.
About this review, and our reviewer
Molly is the Ecommerce Writer across Homes shopping content, spending time reviewing products to see if they can earn a place in buying guides. She has turned her hand to testing stand mixers, hand mixers and more in order to pick out the features that matter the most to readers.
This hand mixer was tested alongside a range of other hand mixers at a Future testing facility in Reading, as you'll see from the photos. This particular mixer was also available to be kept for long term testing, so this review will be updated in the future to reflect what it's like to have the appliance in your kitchen long-term.
Sign up to the Homes & Gardens newsletter
Decor Ideas. Project Inspiration. Expert Advice. Delivered to your inbox.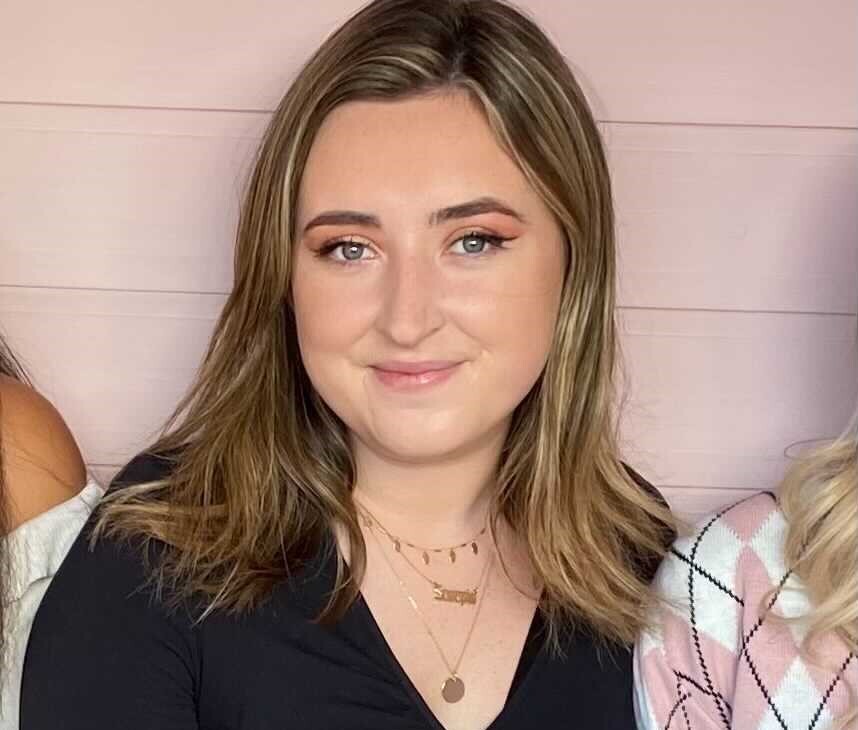 Molly is the Ecommerce Writer for Homes & Gardens and spends her time searching the internet for the next best thing for your home, with a focus on shopping edits and buying guides. Before joining Homes & Gardens, Molly graduated from the University of Exeter with a degree in English Literature, with previous internships undertaken at The Economist in her summer breaks.