Best drought-tolerant flowering perennials – 12 beautiful blooms that need little water
Drought-tolerant perennials are a wise option for any gardener living in a zone that's experiencing long periods without rain. And if the plants have beautiful blooms, even better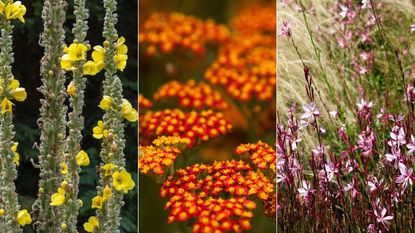 (Image credit: Alamy)
Sign up to the Homes & Gardens newsletter
Decor Ideas. Project Inspiration. Expert Advice. Delivered to your inbox.
Thank you for signing up to Homes & Gardens. You will receive a verification email shortly.
There was a problem. Please refresh the page and try again.
Many plants that are a familiar part of our home gardening landscape may not cope with the hot dry summers and excessive winter wet that are becoming more common with changing weather patterns. Whether we're looking to replace lawns or future proof borders, we need to consider using plants that have proven themselves in tough conditions.
Drought-tolerant plants have evolved over millennia and many have adapted to cope with high temperatures and lack of water. They know when to slow down and simply conserve energy and water and when to flower to make sure they set seed for another generation.
Tony Hall, Head of Temperate Collections at the Royal Botanic Gardens, London and author of Gardening with drought-friendly plants, at Amazon says to look to the desert or the Mediterranean for inspiration.
'Mediterranean plants will all cope as long as they are established. Plants with narrow leaves like lavenders and rosemary reduce their water loss through transpiration so are also good choices. Plants like Santolina and Stachys with silvery, hairy leaves reflect the sun's rays so are able to cope with higher temperatures.'
As gardeners, we need to learn from these plants and how to use them effectively in our yards. Tony advises that it's important to allow time for plants to develop a good root system to allow them to cope with lack of watering. 'Establishment is key as plants come across extreme weather conditions. Plant them in fall while the soil is still warm and water well. This will ensure the plants are well established by the following summer, and should have a good source of groundwater to rely on.'
Drought-tolerant flowering perennials we love
If you're looking to develop a more climate appropriate approach to your yard, it's still possible to create a garden full of color and texture by choosing the right plants.
1. Baptisia
Best for: slightly acid, sandy soils
Height: 3ft/90cm-4ft/120cm
Spread: 3/ft90cm-4ft/120cm
Hardiness zones: 3-9
This North American native prairie flower is similar to the lupin and is also a member of the pea family. Baptisia australis is also known as false indigo for its blue summer flowers and has attractive glaucous green leaves, that make it a tall, bushy perennial.
It looks good planted at the back of a mixed border and contrasts well with flat-topped achillea, or the strong verticals of kniphofia. But its seasonal charm goes beyond the summer as the seedpods make a great a winter silhouette.
Recently, it's become increasingly popular, with new cultivars being introduced in different colorings. Plants in the Decadence series are more compact and come in shades of yellow, maroon and pink, including 'Cherry Jubilee', 'Pink Lemonade', 'Dutch chocolate', 'Vanilla Cream and 'Lemon Meringue'.
2. Salvia nemorosa
Best for: sunny, well-drained front of borders
Height: 2ft/60cm
Spread: 20in/50cm
Hardiness zones: 5-9
This ornamental sage is a great compact perennial perfect for adding intense summer color to yards, combining well with a wide range of summer flowering plants.
If you're growing salvia, know that it thrives in well-drained soil and full sun – use it in borders or containers. Once established it needs little watering. There are many cultivars to choose from in shades of rich purple through to pink. 'Caradonna' and 'Amethyst' remain hugely popular and are guaranteed to perform well.
3. Verbascum
Best for: gravel gardens, cottage gardens
Height: 2ft/60cm - 5ft/150cm
Spread: 18in/45cm – 3ft/60cm
Hardiness zones: 5-8
Verbascums are short-lived hardy perennials or biennials that add vertical spires of color to mixed borders, often accompanied by attractive felty grey-green foliage.
Colors range from acid yellow to pinks and purples and plants span an even wider range of heights. This is a classic cottage garden plant, but it can take on a more contemporary feel in sparsely planted gravel gardens too.
Some species are good self-seeders, so will naturalize in the right conditions – you need to get good at spotting seedlings. Recommended varieties and cultivars include the gigantic species Verbascum olympicum, and the shorter pastel colored 'Southern Charm'.
4. Lychnis coronaria
Best for: poor dry soil
Height: 3ft/90cm
Spread: 18in/45cm
Hardiness zones: 3-8
Lychnis coronaria has the typical silvery-grey foliage that is a key indicator of tolerance for heat and sunshine. It thrives in dry, poor soils and is a good choice for tolerating drought conditions.
With felty foliage that adds interest in winter, the flowering stems carry bright magenta pink flowers right through the summer. The 'Alba' cultivar offers a white option. Although it's a relatively short-lived perennial, it will self-seed and naturalize in borders. It's an easy-care plant.
5. Agapanthus, African lily
Best for: containers
Height: 20in/50cm – 4ft/120cm
Spread: 20in/50cm – 2ft/60cm
These south African plants are made to cope with tough growing conditions, but look supremely elegant with long stems carrying large heads of tubular flowers and smart strappy leaves that are often semi-evergreen.
They enjoy full sun, well-drained soil, less watering and having their roots restricted, which makes them good for growing in pots as well as sunny borders. There are many different cultivars of different sizes in either blue or white variations, from the tiny 'Brilliant Blue' or 'Poppin Purple' to the larger RHS AGM winning 'Midnight Star'.
Mulch in fall and in harsher winters, they may need protection from frosts and snow. Tony Hall says: 'Agapanthus includes a wide range of species and colors, but it's the deciduous ones that are hardier and more drought-friendly. Heads of trumpet-shaped flowers make these beauties a great addition to the borders in your garden, and they can also be planted in pots.'
6. Gaura
Height: 3ft/90cm
Spread: 15in/35cm
Hardiness zones: 5-9
Now known as Oenothera, these fluttering blooms look more delicate than they really are. They are very capable of coping with periods of drought and rarely disappoint.
The bees and hummingbirds will be delighted by the continuity of flowers as the they keep coming right through the summer. In shades of white through variations of pink, this a very pretty mid-height perennial. It looks great planted among grasses and complements Salvia nemorosa.
7. Achillea, yarrow
Best for: pollinators
Height: 36in/90cm
Spread: 24in/60cm
Hardiness zones: 3-8
The flat-topped flowering umbels of yarrows from early to late summer make the perfect landing place for pollinating insects. With colors from pale white and pink species to warm reds, oranges and zingy yellows, this is a really attractive plant for drought tolerance that will combine with a whole range of color schemes.
Plant in a sunny, dry border with grasses and combine with red valerian, thistles, fennels and salvias for an airy mixed planting scheme. Recommended cultivars are the acid yellow 'Moonshine', and orange 'Walter Funcke'.
8. Red valerian, Centranthus ruber
Best for: dry, sunny borders
Height: 3ft/90cm
Spread: 18in/45cm
Hardiness zones: 5-8
You will almost certainly have spotted red valerian growing out of walls, gravel and in very dry conditions, which gives a clue as to its water preferences. This is a very hardy flowering perennial that is tough, good for pollinating insects and will naturalize confidently.
It's not the medicinal Valeriana officinalis, so has no healing properties, but it does make a good plant for adding to mixed borders or pots. The flowers are usually a pinkish red, although there is an elegant white variant 'Albus'. Once red valerian starts blooming it will keep going right through the summer.
9. Phlomis russelliana, Turkish sage
Best for: middle of sunny borders
Height: 3ft/90cm
Spread: 2ft/60cm
This herbaceous phlomis is very tolerant of dry, drought conditions once established and combines handsome foliage with unusual yellow spring and summer blooms. The whorled flowers appear along tall stems in a very architectural fashion and make good autumn and winter silhouettes.
Although known as a sage, it's not an edible plant and has no scent or taste similar to the culinary sages, or the shrubby salvias. It's a hardworking ornamental.
10. Echinops, globe thistle
Best for: sunny, mixed borders, gravel gardens
Height: 4ft/120cm
Spread: 2ft/60cm
Hardiness zones: 3-8
The globe thistle brings structure to summer borders with its bright blue spherical flowers on tall stems and grey green foliage. It's a good pollinator-friendly plant, and is also good for cutting – it's a non-prickly thistle.
Add to this a long season of interest, as the dried seedheads continue to look good well into the fall and winter months. Choose from different shades of blue through to gray-white. Cultivars include intensely colored 'Blue Glow', 'Taplow Blue', 'Veitch's Blue', or the ghostly 'Star Frost' and 'Arctic Glow'. Plant in well-drained soil, water to establish and encourage the first flowers and once it's settled, it will tolerate extremely dry conditions.
11. Fennel
Best for: full sun, gravel beds and mixed borders
Height: 3ft/90cm
Spread: 2ft/60cm
Hardiness zones: 4-9
With tall, branching airy stems and light feathery foliage, this edible herb makes a great drought tolerant ornamental perennial, either combined with salvias, rudbeckias and other summer flowering plants, or as a stand-alone specimen.
The airy quality makes a good contrast with more dense or intensely colored planting and the purple form, Foeniculum vulgare 'Purpureum' combines beautifully with silvery foliage such as artemisia, santolinas, lavenders and other Mediterranean plants. It will die back each year, but you can save the seeds for cooking and re-sowing.
12. Echium
Best for: full sun, gravel beds and mixed borders
Height: 16in/40cm – 18ft
Spread: 8in/20cm - 3ft/90cm
Hardiness zones: 3-9
This fantastic vertical plant is easy to grow and really stunning. As Tony Hall says, 'Echiums will really add the wow factor to your garden. There are around 70 species, and some of the showiest come from the Canary Islands and Madeira. Echium pininana, and Echium wildpretii both produce towering spikes of flowers that are a magnet for bees.'
Echiums vary wildly in height and are biennials or short-lived perennials, but in both cases will self-seed readily. Echium 'Red Feathers' is an exciting introduction, compact and more hardy, with raspberry-red flowers that bloom all summer into fall, so good for adding verticals to mixed borders.
FAQs
What is the most drought tolerant perennial?
It's tempting to just look at deserts for examples of plants that can stand extreme heat and lack of water. For example, many plants in the Euphorbia genus will tick boxes for drought tolerance, and there are desert species as well as great garden examples too. However, it's just as important to look at the conditions in your zone and neighborhood and see what plants thrive when the going gets tough. Native plants are a good indicator too.
Cricket Riley at the Ruth Bancroft Garden says: 'Look at what natives are doing well in hotter areas. If resources are harder to find in any region you need to look at plants that naturally do well.'
What summer bedding can I plant that is drought tolerant?
Traditional choices for adding bright summer color to borders, baskets and containers such as primroses, petunias, pansies, stock, busy lizzies and begonias need regular watering and feeding to put on a good display and as such are not really sustainable in prolonged dry periods. If you're looking for plants to cope with drought conditions and minimal watering you might have to adjust your perception of bedding plants and look at drought tolerant perennials and annuals that provide great summer color such as osteospermum, calendula, dianthus, verbenas, cosmos and pelargoniums.
What plants like hot dry conditions?
Plants have evolved in different ways to cope with heat and lack of water. Typically, plants with silvery, glaucous foliage, fleshy leaves or dark, shiny evergreen foliage, are good at withstanding prolonged periods of drought. The foliage adaptations mean they can conserve water and prevent evaporation – plants that wilt are showing signs of lack of water and often these have larger leaves that lose moisture easily. Look at native plants from California or other dry states, the Mediterranean, South Africa, Australia or other tough climate areas that might be able to cope with the soil conditions in your garden.
---
As hotter weather and lower levels of rainfall continue to make drought-tolerant flowering perennials a better option for our backyards, look to ensure that those you choose attract pollinators and suit local wildlife. Plants that thrive in your zone are always a better option than those that have to fight to survive.
Sign up to the Homes & Gardens newsletter
Decor Ideas. Project Inspiration. Expert Advice. Delivered to your inbox.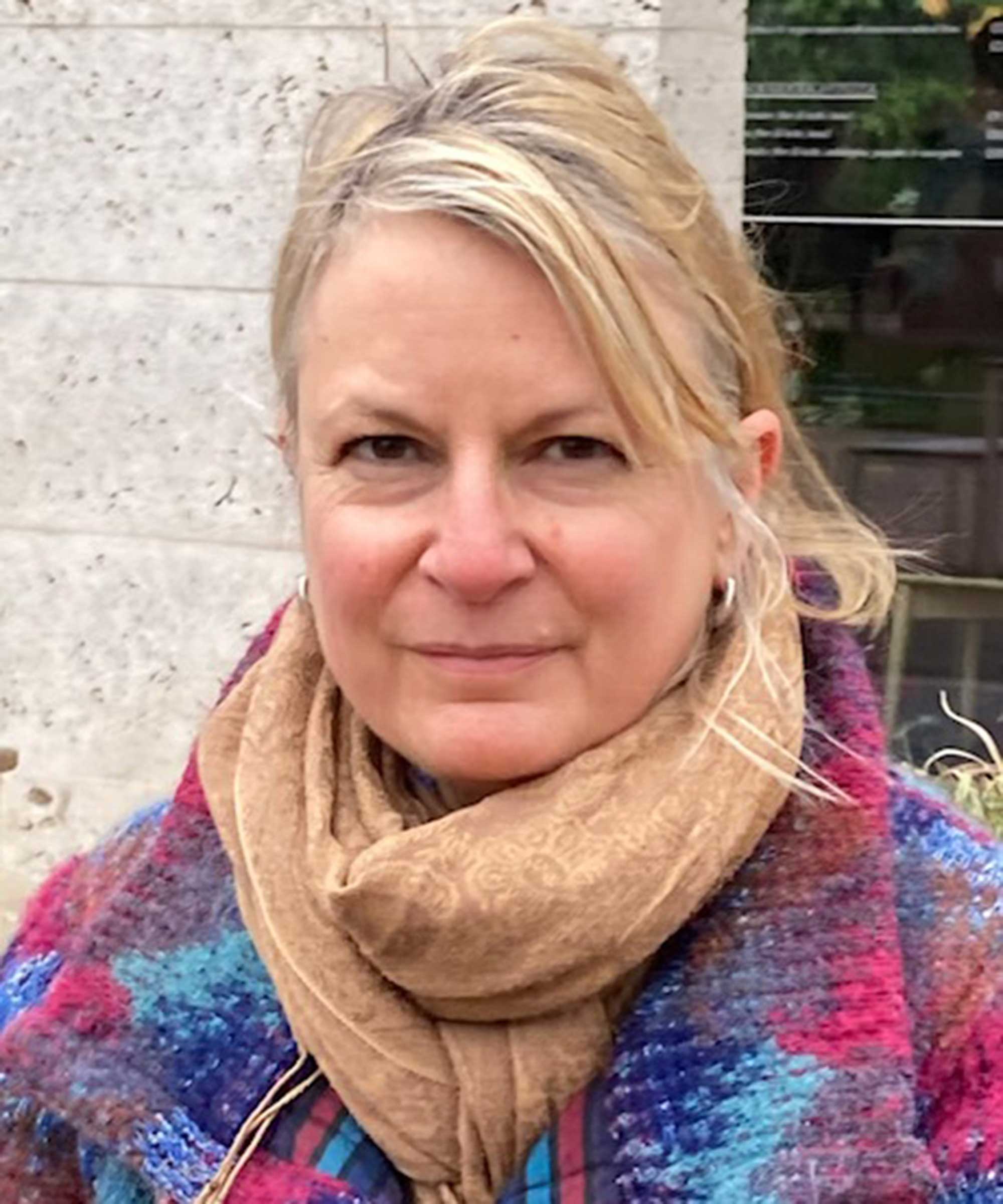 In her years of gardening, Camilla has designed planting schemes for gardens large and small in and around London, written about plants and how to grow them, and worked on BBC gardening TV shows in the UK. She's also works as a therapeutic horticulturist, teaching growing for wellbeing and mental health.