How to grow daylilies – step-by-step
Beautiful and bulletproof, daylilies (Hemerocallis) are must-have plants for the border. Here's how to grow them successfully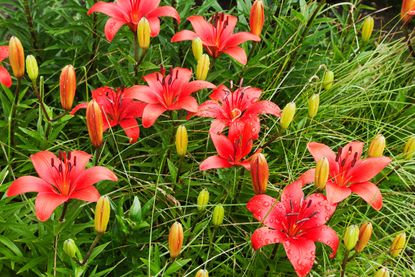 (Image credit: Alamy)
If you want to know how to grow daylilies, it's likely that you've been lured by their cheerful colors; however, these hardy perennials are also really easy to look after.
If you like flower bed ideas that you can forget about, you will love daylilies. Tough in a wide range of conditions and long-flowering, they are one of the stalwarts of the perennial border.
'Daylilies are long lived and relatively pest free,' says Maryland-based landscape architect and designer Kirsten Coffen. 'As long as your garden is protected from deer, they are rewarding to grow. Choose the repeat-blooming varieties that will provide color for several months, such as light-yellow 'Gail's Fragrant Treasure', rose-pink 'Rosy Returns', and coral-pink 'Strawberry Candy'.'
How to grow daylilies
As we said above, it is really easy to grow daylilies. Generally, they are grown as container garden ideas, but you can buy bare root daylilies online that can be planted from November through to March.
To plant a potted daylily dig out a hole that just an inch or so deeper than the roots so that the crown of the plant will be level with the soil of your border, add an inch or so of compost or other organic matter at the bottom of the hole, and carefully position the plant.
If you are planting bareroot daylilies in a container, keep them in a warm, sheltered position, such as a greenhouse, until they have matured a little; a few leaves is a good sign. Transfer them once the last frosts have passed.
Where to plant daylilies
In sun Daylilies are sun worshippers, so plant them in full sun if possible. 'About two thirds of the day in sun is acceptable,' says Pollie Maasz, who holds a National Collection of Hemerocallis and sells a huge range of them at her daylilies nursery. 'Any less and the taller varieties may lean towards the light.'
In moist, well-drained soil Dig in organic matter (such as compost) on planting and mulch annually with it, in order to boost moisture retention and drainage.
'Daylilies appreciate moisture-retentive conditions to bloom at their best,' says Pollie. 'If watered and mulched in late spring, so that they stay reasonably damp, the difference is amazing. However, we garden on gravel and as long as they are planted with a good layer of compost, they seem to be very happy.'
According to height 'There are so many daylilies that can occupy so many different places within any sized mixed perennial border, from the edge to the back of the border,' says Connecticut-based landscape designer Richard Schipul. Check how tall your new daylily gets before deciding where to place it.
What to plant with daylilies
Companion planting is worthwhile. Pair with other summer perennials, such as salvia, cranesbill, and monarda, for a long flowering display. What to plant with hydrangea? Daylilies.
Daylilies are available in an incredible range of warm shades: from velvety claret and deep vintage pink to sun yellow and fox red. Combine these rich hues with the hot flowers of helenium, kniphofia, rudbeckia, and persicaria for a cheering display of fiery color.
'One of my favorite combinations for sunny spots is Hemerocallis 'Bela Lugosi' and Rudbeckia fulgida 'Little Goldstar',' says Illinois-based landscape designer Carolyn Gange. 'Bela Lugosi' has deep wine purple flowers with yellow throats that span 6in (12cm) across. The black-eyed Susan is the opposite, with beautiful gold petals and a deep purple cone. Combined, they play off each other and provide a long bloom season.'
Daylilies also work well with ornamental grasses and evergreen shrubs to create a variety of texture, shape, and structure.
'I'm fond of using daylilies such as 'Hyperion' with broad-leaved companions, such as panicle hydrangeas,' says Ohio-based garden designer Ethan McGory. 'But they are also great massed with other daylily varieties.'
Since there are well over 50,000 cultivars, you could easily create an incredible tapestry of color with nothing but gorgeous daylilies.
When to plant daylilies
When to plant daylilies? You can actually grow them in spring, summer and fall, though spring and fall are the best times to allow them to establish themselves before more extreme weather arrives.
How to care for daylilies
Daylilies are very tolerant of neglect, but if you mulch them in spring, they will enjoy the moisture retained in the soil and you will get better results.
While daylilies can tolerate short periods of drought, they will be happier if watered.
To get the best results with flowering, don't feed them but do deadhead daylilies. Cut right back in fall if you like a neat-looking winter garden. Otherwise, leave this job until spring, as beneficial insects will seek shelter in the daylily clumps.
If your daylilies start to produce fewer flowers, they probably need dividing; doing so will give you extra plants for free, and should help them to produce more blooms.
Sign up to the Homes & Gardens newsletter
Decor Ideas. Project Inspiration. Expert Advice. Delivered to your inbox.
Rachel is senior content editor, and writes and commissions gardening content for homesandgardens.com, Homes & Gardens magazine, and its sister titles Period Living Magazine and Country Homes & Interiors. She has written for lifestyle magazines for many years, with a particular focus on gardening, historic houses and arts and crafts, but started out her journalism career in BBC radio, where she enjoyed reporting on and writing programme scripts for all manner of stories. Rachel then moved into regional lifestyle magazines, where the topics she wrote about, and people she interviewed, were as varied and eclectic as they were on radio. Always harboring a passion for homes and gardens, she jumped at the opportunity to work on The English Home and The English Garden magazines for a number of years, before joining the Period Living team, then the wider Homes & Gardens team, specializing in gardens.