How to grow indoor cyclamen – for months of bright blooms
Fall and winter are prime seasons for indoor cyclamen displays, with the right care they might even last to spring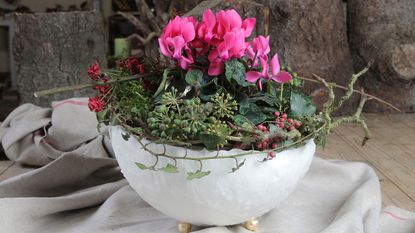 (Image credit: Agencja Fotograficzna Caro / Alamy Stock Photo)
Indoor cyclamen add a real focal point to your home throughout fall and winter. With the right plant care and growing conditions, they have even been known to last into spring.
Their beautiful blooms and attractive foliage make them one of the prettiest houseplants around. The larger, showier cousins of hardy garden cyclamen, their delicate petals come in a huge range of colors. From palest blush pink to darkest red, as well as luminous white.
The blooms sit above layers of marble-patterned heart-shaped leaves. Making them one of the most rewarding winter houseplants for your home. As long as you remember a few key things.
Expert advice on cyclamen indoor plant care
How to grow indoor cyclamen is a different process from the cyclamen you grow out in the backyard.
From where to position one to how often to water it, we've rounded up all the expert tips you need on growing cyclamen as an indoor plant.
Light and temperature conditions
'The most important point I can give is to try and avoid hot spots in your home,' says Tom Knight, owner at Ourhouseplants.com. 'Find somewhere cooler to prolong the flowering period, which will also help the foliage stay attractive.'
According to Gene Caballero, co-founder at GreenPal, the temperature should ideally be between 60-70°F during the day and slightly cooler at night. If the room is too warm, the leaves will go yellow and the flowers will fade. Cyclamen are similar to poinsettias in this way.
To care for houseplants in winter you should avoid areas near radiators. For cyclamen ensure this cool spot is away from direct sunlight. Rooms with east or north-facing windows will be ideal.
Too much sun and heat will mean your winter flowers will fade faster. Cooler conditions could see them flowering into spring.
A houseplant enthusiast that has run Ourhouseplants.com for the last 10 years. A popular website for anyone looking for success with indoor gardening or help getting their houseplants to thrive.
Watering
'Water cyclamen from the base to avoid wetting the leaves and stems, which can lead to fungal diseases,' says Gene. 'Allow the soil to dry slightly between waterings, but don't let it become completely dry.'
For ease, opt for pots with saucers, or you can buy tray bases like these Homemaxs pot trays from Walmart. Don't allow water to collect in the pot tray.
'They ideally want their potting soil to be constantly moist, without drying out too much,' adds Tom. 'Equally, they don't enjoy sitting in soggy soil, which can cause yellowing leaves and rotting.'
If water does collect in the base of the saucer, tip it out and don't water it again until the compost is almost fully dry.
Fertilizer
If you're planning on your potted cyclamen becoming more than just Christmas plants, it's important to treat them with a houseplant fertilizer. If not, needn't bother.
If you decide you want longevity then Gene suggests using a balanced, water-soluble fertilizer. 'Feed every couple of weeks during the growing season,' says Gene. This will keep your plant healthy for years to come.
Co-founder of GreenPal, Gene has over 25 years in the landscaping industry. In addition to his work, Gene is also a sought-after speaker and industry thought leader. He frequently speaks at conferences and events on topics related to entrepreneurship, technology, and the landscaping industry.
Tips for keeping your cyclamen blooming
Your plant will normally come home from the shop or garden center in full flower and continue to do so for up to eight weeks, perhaps longer if you treat it in the right way. Make sure you choose a plant with lots of buds.
If the room is too warm you will stop getting flowers as your cyclamen will go into early dormancy, tricked by the warm temperature.
Deadheading will avoid a build-up of wilted material around the base of the plant, which could lead to mold.
In spring, your cyclamen will stop flowering naturally. If you repot your cyclamen to keep it going for another season, don't plant the tubers too deep in the soil or they may not flower. Use fresh compost to give your plant all the nutrients it needs. Similar rules apply for how to repot a Christmas cactus too.
If you look after your cyclamen plant properly it will reward you by flowering again the following season, and then hopefully many more afterwards.
FAQS
How do you keep indoor cyclamen alive?
Don't put your cyclamen plant on the compost heap once it finishes flowering. As soon as it starts to fade, stop watering it and allow the leaves to go yellow. Put it somewhere cool and dry out of the way.
'With proper care, a cyclamen can last several months,' says Gene. 'After flowering, the plant will go dormant. You can encourage flowering again next season by reducing water, and placing it in a cool, dark place for a couple of months before resuming regular care.'
When fall comes around again, repot them in a slightly larger container. Make sure the new pot has drainage holes and ensure the top of the corm sits just above the soil surface.
Take care not to disturb the roots too much. Water sparingly, keeping the compost just moist. Bring them undercover if they've been outside.
Do cyclamen like sun or shade?
Cyclamen plants don't like extreme heat, drafts or dry environments. Unlike kalanchoe, they don't like being positioned in direct sunlight. Put them in a cool shady spot that's well away from any radiators and they will thrive for weeks.
Why is my cyclamen dying?
'If your indoor cyclamen is dying, it could be due to overwatering, excessive heat, or lack of humidity. Yellowing leaves often indicate overwatering, while wilting can be a sign of dry soil or too much heat,' explains Gene.
How long do cyclamen last indoors?
Cyclamen generally last around eight weeks indoors, sometimes longer if you're lucky.
Just as with a Christmas cactus, if you treat cyclamen well they will last longer than if you put them in a stuffy overheated room, or overwater them and leave them sitting in water for too long.
---
Cyclamen are dainty alternatives to other seasonal blooms, like poinsettia and amaryllis. Their range of colors and ornate leaves are a winning combination that will look beautiful when added to the pots around your home.
Try potting them up in a winter container with trailing ivy, for added foliage interest, which will soften the edges of your pot.
Sign up to the Homes & Gardens newsletter
Decor Ideas. Project Inspiration. Expert Advice. Delivered to your inbox.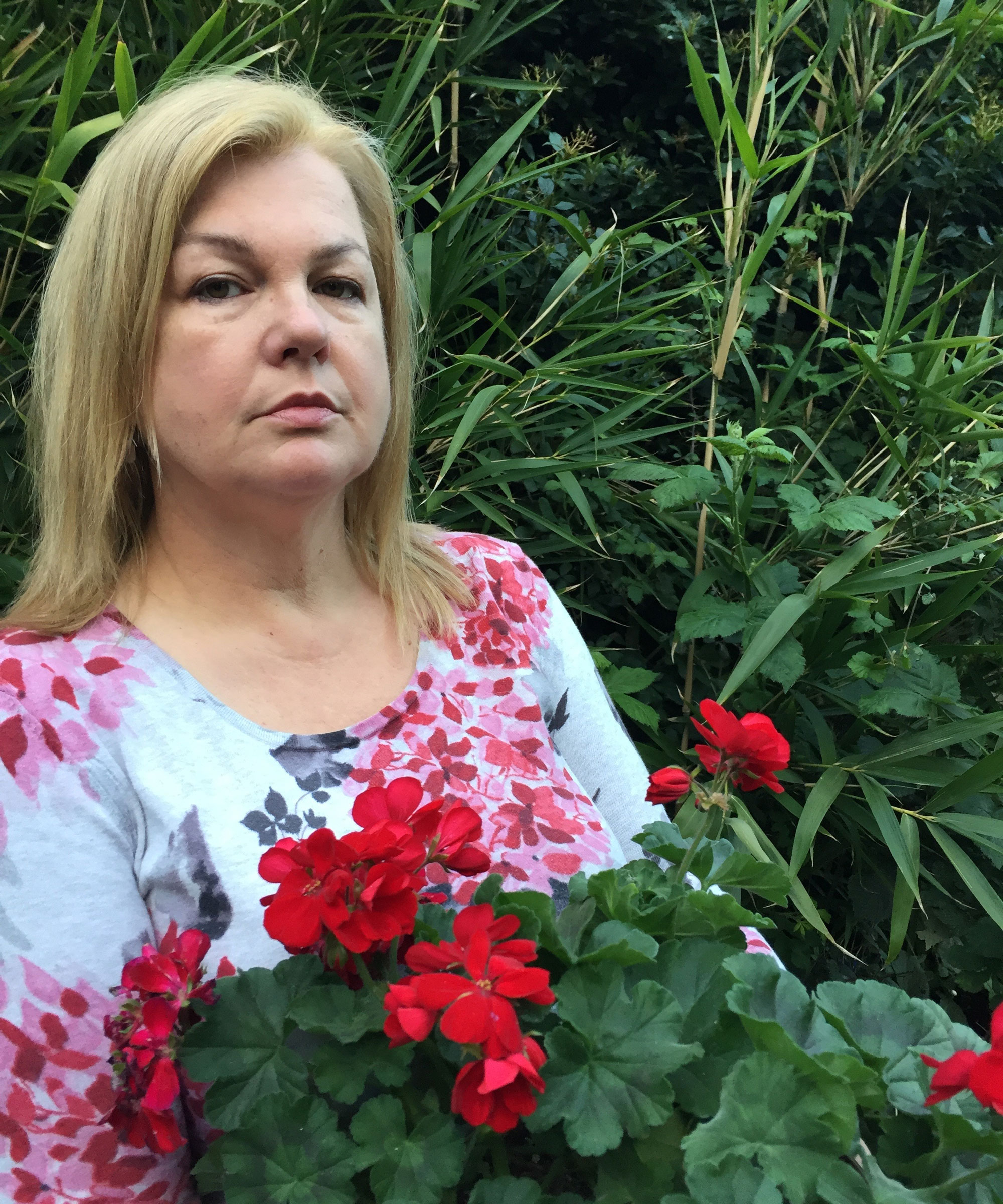 Lifestyle journalist Sarah Wilson has been writing about flowers, plants, and garden design and trends since 2015. Having already studied introductory garden and landscape design as well as a course in floristry she is currently adding to her list of qualifications with an RHS Level 2 course in the Principles of Plant Growth and Development. In addition to homesandgardens.com and livingetc.com she's written for gardeningetc.com, Modern Gardens and Country Homes & Interiors magazines.