How to grow pampas grass
Discover how to grow pampas grass for an architectural addition to your backyard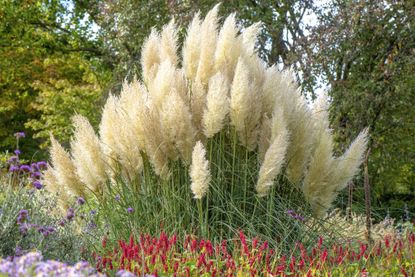 (Image credit: Getty Images)
Discover how to grow pampas grass and you can add this beautifully architectural, ethereal plant to you borders to create dramatic impact. Pampas grass was hugely popular in the 1970s, after which it became something of a garden cliché, but happily, this most beautiful of grasses is making a comeback and is an on-trend plant for backyards now.
Why grow pampas grass? This drought-tolerant, disease-resistant, fast-growing perennial grass has fabulous, feather-shaped flowers at the end of long stems that make it the perfect focal point – or if you are growing ornamental grasses in your garden, it will make a wonderful addition.
'Pampas has managed to throw off its suburban image and reinvent itself as the ornamental grass du jour. Its popularity has been building for a while now and this transformation means these feathery plumes are officially having a moment. It's easy to jump on the trend and add one to your garden, either snapping up a plant at the garden center or online,' says garden expert Sarah Wilson. 'Alternatively try growing one from seed indoors as now (February to April) is the time to do it. They're easy to grow and in no time you'll be picking your own to dry.'
A word of warning: pampas grass self-seeds, can grow up to 10ft very quickly, and in some states, it is classified amongst other invasive plants and is banned; once in, the self-seeding means it is also really difficult to get rid of – so do think carefully – and check local laws – before planting it. Below, our expert offer advice on how to grow pampas grass successfully, including controlling growth and safe planting.
How to grow pampas grass
Growing pampas grass is fairly easy, but there are many considerations to ensure it's a successful addition to your garden. The best time to plant pampas grass is from spring through to mid-June, to allow young plants to establish before winter.
1. Find the best place to plant pampas grass
Pampas grass likes a sunny spot, though it will grow – not quite as happily – in dappled shade, which means it is most successfully grown in zones 7 to 11, though there are hardy varieties that can cope with the climate in zone 6.
Pampas prefers well-draining, moist soil, and needs plenty of space around it – if you are planting pampas as a hedge or as garden privacy ideas, leave at least 6 feet between each plant.
Pampas is tolerant of winds – it looks beautiful swaying in a gentle breeze – and tolerates salty conditions, too, making it a good addition to a coastal garden.
Finally – an important point – 'pampas is extremely flammable so it's vital, particularly in dry climates or in areas prone to wildfires, to grow it away from fences, barbecue areas, wooden garden furniture and houses or outbuildings,' advises garden expert Melanie Griffiths. 'Consider your neighbors, too: pampas grass self-seeds, so planting it away from neighbors' backyards means it's less likely to appear uninvited in their borders, too.'
2. Grow pampas grass from seed
You can grow pampas grass from seed, sowing the seed into pots indoors from February through to April. Once the weather is warmer, transplant the pampas into your border and water well. Pampas grows fast, so you can expect to it to reach full height within months, though pampas grass grown from seed won't flower for at least two years.
3. Plant out ready-potted pampas grass
If you have bought a pampas grass ready-potted, you have the advantage of a couple of years' growth – and those signature, feathery flowers.
To plant it out, ensure the hole is the same width and height as the plant's root ball, add fertilizer to the hole, put the pampas in, fill the hole with soil, firm down with your foot and water really well.
4. Grow pampas grass in a container
'If you are looking for container gardening ideas, pampas grass is a great option – and in fact, it can be advantageous because its growth will, of course, be limited both in terms of spread and height – though it will still happily self-seed,' advises H&G's garden writer Rachel Crow. 'Again, to grow pampas grass in a container, you will need well drained soil.'
5. Care for and prune pampas grass
Pampas grass requires little care once established, though if you are going through a period of drought it should be watered. When the plant is young, watering it once a month will ensure it grows healthily.
That aside, pruning in late winter or early spring – and dividing – will be the major maintenance you need to do. To prune pampas grass, cut it right back near to the ground to create a neat, domed shape; this will ensure healthy growth for the new season. Take the opportunity to remove dead or damaged leaves.
Once that's done, you can feed the pampas grass – the only time in the year it will need it.
6. Propagate pampas grass to create new plants
If your (female – the most common type) pampas grass is getting too large, or if you want to re-site some of it, you can divide it in spring. First prune the pampas to make the job more manageable, then take a shovel to the center of the plant to divide it in situ. Then simply replant, as you did with the original plant.
Which pampas grass to grow?
The best way to guarantee success is to choose the most common pampas grass (Cortaderia selloana) from a nursery that comes with all the information you need about that particular variety, its growth pattern and preferences. Avoid Cortaderia jubata, which is infamous for its weedy appearance and ability to spread.
Size: It's worth paying attention to the plant's eventual size – some can grow as tall as 12ft, while dwarf varieties are much more suitable for smaller backyards.
Plume color: while plumes are the most common, but you can find pampas with very pale pink ones, too, which can look beautiful.
Lucy Searle has written about interiors, property and gardens since 1990, working her way around the interiors departments of women's magazines before switching to interiors-only titles in the mid-nineties. She was Associate Editor on Ideal Home, and Launch Editor of 4Homes magazine, before moving into digital in 2007, launching Channel 4's flagship website, Channel4.com/4homes. In 2018, Lucy took on the role of Global Editor in Chief for Realhomes.com, taking the site from a small magazine add-on to a global success. She was asked to repeat that success at Homes & Gardens, where she has also taken on the editorship of the magazine.