How to pick strawberries – follow these harvesting tips to ensure you don't damage the fruit or the plant
Discover the best method for harvesting strawberries so you pick the juiciest fruits every time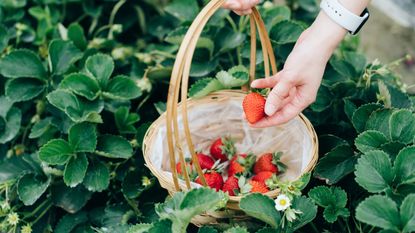 (Image credit: Getty/d3sign)
Strawberries are a classic summer crop and remain one of the most popular fruits to grow at home. Knowing how to pick strawberries properly means you get the best unblemished fruit that can be stored for the longest possible time, and you don't risk your plant's health either.
The methods of how to grow strawberries can be simple to pick up, the plants are fairly reliable and require only a little upkeep to keep providing you with fruit year-after-year. Knowing the right way to identify a strawberry at its peak moment and picking it without causing any damage can be a little trickier to master.
During my time as a kitchen gardener, I grew and harvested lots of strawberries. These were grown for chefs at a high-level restaurant and, while some were used for compotes or coulis, others featured prominently on dessert plates. It was vital that these strawberries were in impeccable condition after being picked.
How to pick strawberries
Strawberries are delicate fruits and bruise easily, so you need to be gentle with them when picking, whatever type of strawberry plants you are growing. Any damage caused to the fruit while picking will limit their lifespan, which will be key for any plans to store strawberries as perfect crops will store better. You want to have a container with you to harvest the berries straight into and gently lay each one in there to avoid damaging them.
Horticulturist and botanical designer Nathan Heinrich grew up on a 5th generation family farm in California that grew strawberries. He explains a best-practice way of how to pick strawberries to ensure you cause no damage to the fruit, or the plants.
'You should be careful when picking your strawberries not to pull on the stem, this can break the plant and cause it to be uprooted in some cases where the roots are not established,' suggests Nathan.
'Pinching the stem with your fingers to sever the berry from the plant, or holding the stem firmly while you pull the berry off are excellent techniques that won't damage your plant.
'You may also use scissors or garden clippers to cut your strawberries off, but try not to let them fall to the ground because they bruise easily.'
Strawberries should always be picked delicately, pinched off and twisted high up the stem, around a quarter of an inch above the top whorl. Hold onto the fruit well as, especially if the plants are in raised garden beds or a container garden, they could have a long drop to the floor.
As well as scissors or clippers, a knife can be used instead of your hands to harvest with. It is always important that any tools used for harvesting strawberries must be clean. A few examples of practical tools that could be used for picking strawberries include the Fiskars Softouch Micro-Tip Pruning Snip available at Amazon or the Fiskars Harvesting Knife available at Walmart.
Nathan Heinrich claims that looking at fruits carefully is the best way to know when to pick strawberries for optimal sweetness and flavor. He advises: 'If you are examining a berry with green, white, or pinkish patches on it that's a clear sign it is not ready to be picked. Once a berry is completely red and with no discoloration, especially where it connects to the stem, it is ready to pick.'
Nathan is a writer, designer, and horticulturist with dual Italian-American citizenship. The son of a 5th generation farming family, Nathan managed one of California's largest wholesale nurseries before starting his own botanical design company which he operated in California and New York for 12 years.
FAQs
Should you wash strawberries right after picking?
Any strawberries picked from the garden should be washed before being consumed. However, any washing of the berries should take place with room temperature water when you are ready to eat them or use them in the kitchen. The strawberries do not need to be washed immediately after picking as this can lead to their rapid decomposition and potential molding.
Should I refrigerate strawberries after picking?
Fresh strawberries picked from the garden will be OK to leave on a counter or in a shady spot for a few hours. If you do not intend to eat or use them the same day as picking, then it is recommended to place them in the refrigerator at a temperature of 35˚F. Do not wash the strawberries before placing them in the refrigerator and leave the tops on the strawberries. If you do wish to store strawberries for even longer, you can wash them and freeze them for up to 3 months.
---
Strawberries are delicious freshly picked off the plant and, when harvested at their peak time, the taste will be unlike any you have ever got in a store. The plants are suitable for most locations and can grow even in small spaces or pots, their versatility makes them worth considering if you are planning a kitchen garden or a fruit and vegetable garden.
Drew's passion for gardening started with growing vegetables and salad in raised beds in a small urban terrace garden. He has gone on to work as a professional gardener in historic gardens across the UK and also specialise as a kitchen gardener growing vegetables, fruit, herbs, and cut flowers. That passion for growing extends to being an allotmenteer, garden blogger, and producing how-to gardening guides for websites.