What can I use instead of peat moss? Experts explain the pitfalls and upsides of these 5 alternatives
We're being urged to avoid using peat moss – but while swapping for a more sustainable alternative is a must, it's problematic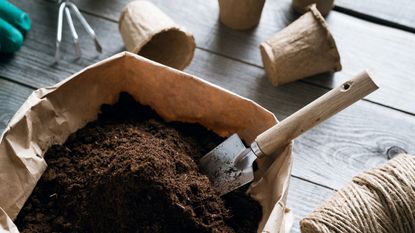 (Image credit: Getty Images)
Sign up to the Homes & Gardens newsletter
Decor Ideas. Project Inspiration. Expert Advice. Delivered to your inbox.
Thank you for signing up to Homes & Gardens. You will receive a verification email shortly.
There was a problem. Please refresh the page and try again.
In case you hadn't heard, gardeners around the world are being urged to stop using peat moss in their gardens. You may rely on peat moss to boost your plants' growth, particularly at this time of year, and be wondering why. Holly Crossley, our Senior Content Editor (Gardens), explains:
'Harvesting peat moss is very damaging for the environment. For starters, it destroys the habitats of flora and fauna that depend on the peatlands. But also, peatlands absorb carbon dioxide from the air, so destroying them can contribute to global warming.
'Because of this, selling peat compost to amateur gardeners is being banned, and as a result, retailers are coming up with alternatives that are more eco-friendly. These consist of materials such as green waste, composted bark, and grit – and the quality of these alternatives is improving as time goes on.'
Over the years, Holly has been an allotment keeper, a professional gardener, and a botanical illustrator. Having worked for Gardeningetc.com for two years, she now writes about plants and outdoor living for Homes & Gardens. Holly has a particular interest in houseplants (of which she has an ever-growing collection), garden design, and the benefits of gardening for mental health.
What is peat moss?
Peat moss is decomposed sphagnum moss that is sold for its ability to retaining moisture in soil much more efficiently than other similar products can. You will often see it included in potting soil or lining hanging baskets, for example. It's added used by gardeners to improve soil health.
Why do gardeners value peat moss?
'Peat moss has been a go-to for gardeners for many years for giving borders and containers a boost, and for seemingly good reason,' says Holly Crossley. 'As it's made from rotted-down plants, it's high in nutrients and it's good at holding onto moisture, too.'
However, since environmental concerns have been raised, producers and gardeners have been looking for peat moss alternatives.
Why is peat moss bad for the environment?
'Ancient peat bogs are marvellous carbon sinks, capturing and absorbing climate-damaging carbon and acting as unique habitats for many rare and endangered plants and animals,' says gardening expert Ruth Hayes.
'These bogs take millennia to form, but minutes to destroy when the peat is harvested for fuel and cultivation, and when this happens, all the trapped carbon is released. So it is right to stop the use of peat when gardening.'
Ruth Hayes is the gardening editor of Amateur Gardening magazine. She has a qualification from the Royal Horticultural Society. Her work for Homes & Gardens and Amateur Gardening, the world's oldest weekly gardening publication, involves matching gardening tasks with each season, covering everything from sowing and planting, to pruning, taking cuttings, dealing with pests and diseases and keeping houseplants healthy. She also spends time testing many of the new products that arrive on the gardening market.
What are the best peat moss alternatives?
The gardening experts at our sister title Amateur Gardening have extensively tested peat moss alternatives. The Editor Garry Coward-Williams, together with H&G's garden expert, Drew Swainston, have this advice.
Garry Coward-Williams has been Editor of Amateur Gardening magazine, sister title to Homes & Gardens and the oldest gardening periodical in the world, for five years. Garry has been a journalist for 37 years, editing a range of specialist titles including gardening photography, field sports and fine wine magazines, and has contributed to national newspapers, too.
Drew is a former professional gardener who has worked in historic gardens for the National Trust in the UK and also as a specialist grower in kitchen gardens, growing vegetables and fruit for chefs. He has also had an allotment which was maintained using no-dig methods.
1. Compost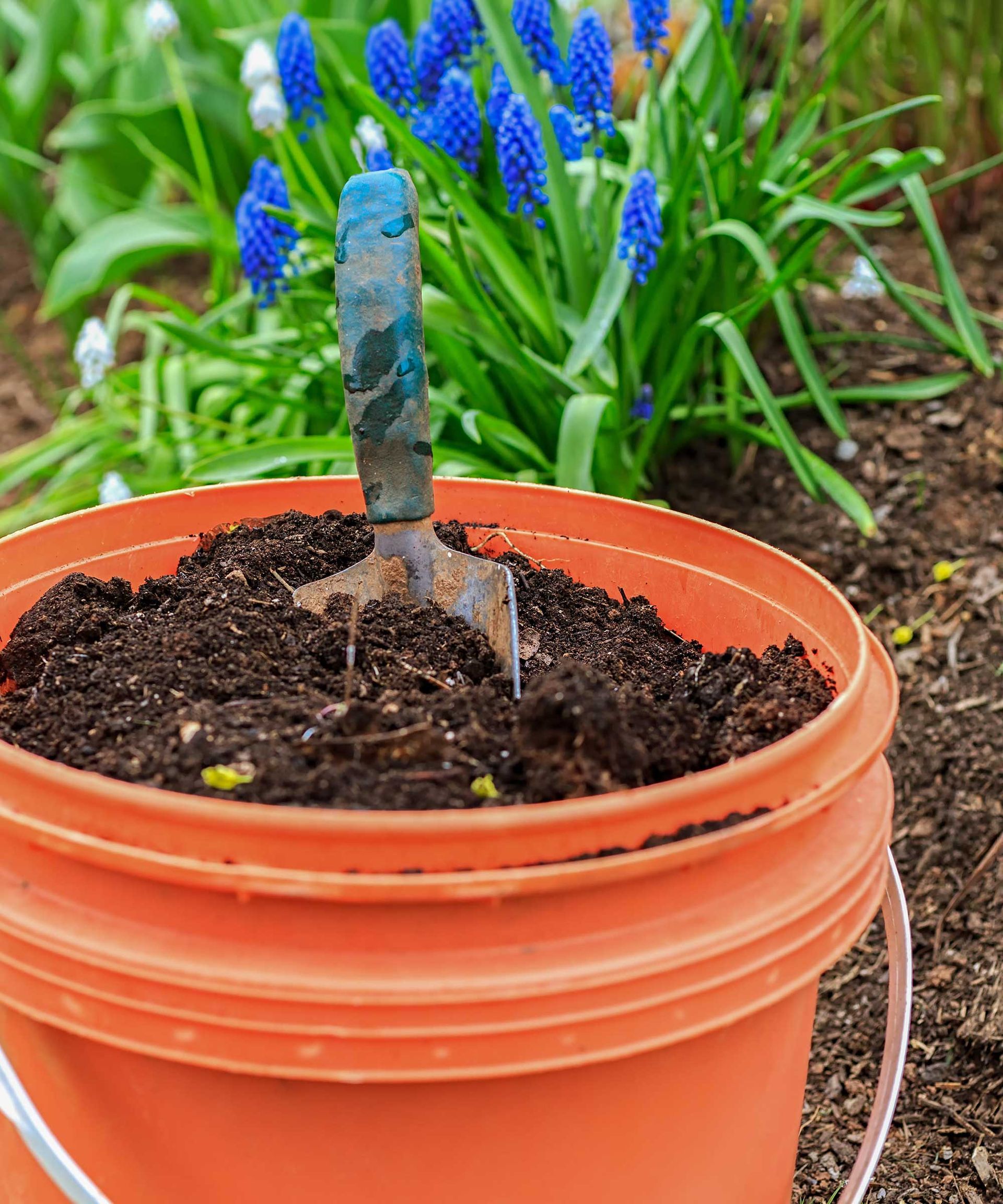 Most of us add compost to improve our soil's nutrient content and drainage as a matter of course, and, of course, it's something keen gardeners can make at home themselves.
'We often hear from readers that there is so much choice of compost for sale (and inadequate signage around it) they find it hard to choose the product they want or need. Further confusion arises with the difference between compost, soil improvers and mulches, so basically, composts are for growing while soil improvers and mulches boost and protect your soil,' says Ruth Hayes.
'Having said that, homemade compost is a great mulch and soil feeder as well as the perfect medium for germinating and growing. We urge everyone to make their own if they can. Even a small garden has room for a compost can and all you need to make wonderful, crumbly, garden-boosting compost is green kitchen peelings, grass clipping and chopped up woody prunings.'
See some of Amazon's best composting buys below, including a wormery for compost.
However, Garry Coward-Williams has these warnings about shop-bought peat-free compost:
'No peat-free multi-purpose compost currently replicates the water distribution and nutrient-holding properties of peat compost, and there is no set recipe for peat-free – every producer has their own unique mix of ingredients that need to be treated differently.
'There is also no guarantee of consistency of content with many peat-free brands because producers have problems sourcing consistent volumes of materials. That is one of the reasons they are shy about declaring the exact mix of contents on the bag. Also, the bags are produced a year in advance to save money – another reason to be coy.
'No producer currently explains on the bag how the consumer needs to use their material compared to how they used peat.
'Some peat-free compost contains green waste, which may contain weeds, micro-plastics and fungal diseases.
'Peat-free compost will also likely cost significantly more than the cheap peat-based compost gardeners were used to buying. Gardeners will also have to invest in buying more plant food to make up for peat-free's current inability to hold on to nutrients.
'Basket and container plants in peat-free compost will have to be fed more (which will be an extra cost) often because peat-free does not have the nutrient-storing properties of peat.
'Choose one brand of peat-free, learn how to get the best out of it and use that brand consistently. Buy in large batches as you currently cannot guarantee consistency in the mix of contents.
Granrosi kitchen countertop composter
The Granrosi kitchen compost bin is the perfect odorless storage container for organic and food waste in your home; the integrated non-smell charcoal filter blocks odor naturally and effectively, leaving your home smelling fresh.
VivoSun tumbling composter
Two separate chambers allow one side to finish composting while leaving the other side available to add fresh wastes; Constant alternation of the two sides will create an uninterrupted stream of nutritious compost.
VermiHut Plus 5-Tray Worm Compost Bin
This worm compost bin it comes with five trays, but additional trays can be added. New components increase air-flow for better compost efficiency, odor removal, moisture control, and to save worms.
2. Coconut coir
'Instead of peat moss, I predominantly used coir-based compost in the gardens where I worked,' says Drew Swainston. 'Coir, or coconut fiber to give it its full name, is made from coconut husks and is very popular as an organic compost. Coir compost has a great water-retention capacity and I found it worked brilliantly as a potting compost.
'However, it does have a lower nutrient make-up than some other alternatives so slow-release fertilizers were added when pricking out seedlings or potting up young plants.'
Garry Coward-Williams adds: 'Unlike peat, coir-based compost does not hold water evenly from top to bottom, so for baskets and containers the top soil may appear to be bone dry at the top but actually the bottom is soaking.
'This also means that the nutrients from the compost and any plant food leach to the bottom too meaning that your plants are not getting the water/nutrients they need.
'If this is the case with your container or basket you need to give it a light watering with extra plant food. All coir-based compost will require extra (probably double) plant food.'
Garry concludes: 'Coir is often shipped across the world from Sri Lanka and therefore may not be the right choice for those wanting to avoid options with environmentally bad footprints.'
3. Bark and wood fiber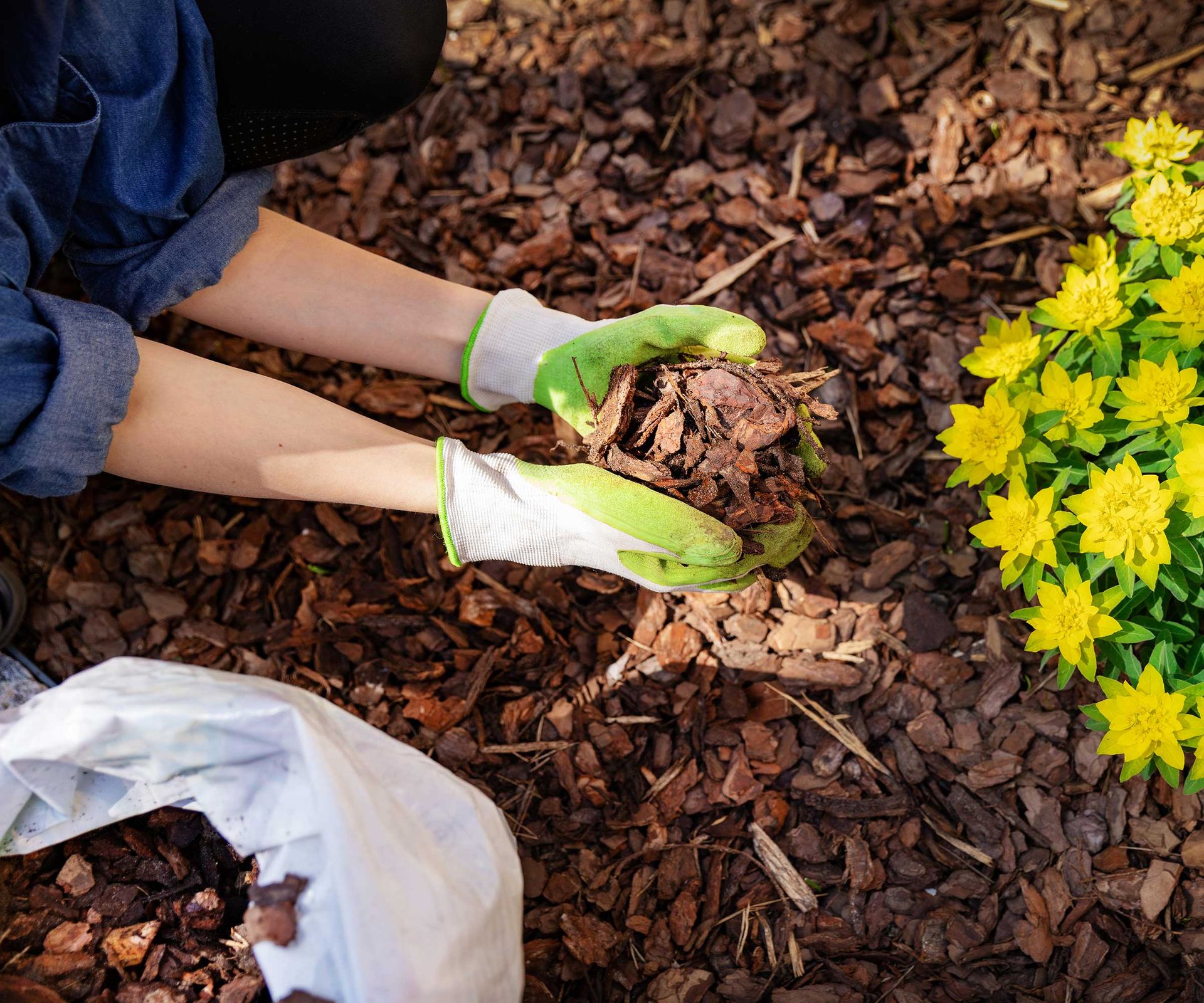 'In my time as a professional gardener I have also used compost made from bark successfully,' says Drew Swainston.
However, Dr Anton Rosenfeld, Knowledge Transfer Officer at charity Garden Organic, says peat alternatives such as coir, composted bark, wood fiber and green waste composts behave differently:
'Plants in peat-free tend to need feeding sooner. Peat composts contain controlled-release fertilizer, but organic peat-frees may need feeding after three weeks, although it varies from brand to brand. Green-waste compost contains a lot of nutrients, but they are released more slowly, especially nitrogen, so they may need an initial boost of feed.'
4. Leaf mold and manure
'Leaf mold, manure, or both are soil improvers,' says Garry Coward-Williams.
Both can be very easy to come by: simply piling up and turning rotting leaves occasionally in your own yard to compost over winter can ensure you have a good supply of a free, sustainable soil improver.
Well-rotted manure can be ordered, either from local garden centers or local farms or riding centers. Note the words 'well-rotted': fresh manure is very acidic and can damage plants, so if you are applying it in spring, allow it to rot down first.
5. Sheep's wool
'Waste sheep wool is another peat moss alternative I've used successfully as a professional gardener,' says Drew Swainston.
Garry Coward Williams is also a fan, though with a caveat: 'One of the more interesting peat alternatives on the market is wool-based. This retains moisture and nutrients, but the key thing here is it actually needs less water than usual – give it more and it will be detrimental to your crop.'
FAQs
How can I make my garden peat free?
Swapping to peat moss alternatives, such as homemade compost, will be your biggest step, but you also need to ensure that the plants you buy from growers aren't in peat.
---
As we have explored, there are many alternatives that will require you to adjust how you garden to ensure you continue to get the best results. For those gardeners who just want to go out and buy a bag of peat-free compost, Garry Coward-Williams has this final advice: 'Forget about the idea of buying cheap. We tested five lesser-known brands of peat-free compost and the results were very poor. So buyer beware. You need to pay the extra, choose a top brand, get to know it and understand how to make it work – then stick with it.'
Sign up to the Homes & Gardens newsletter
Decor Ideas. Project Inspiration. Expert Advice. Delivered to your inbox.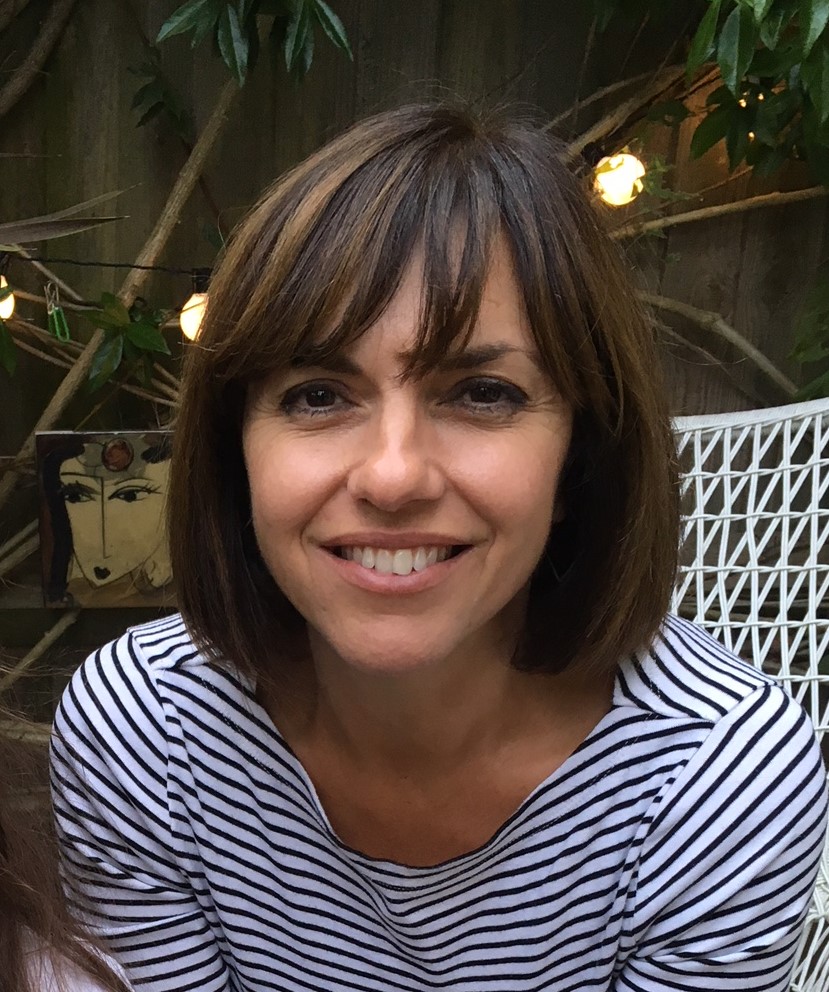 Lucy Searle has written about interiors, property and gardens since 1990, working her way around the interiors departments of women's magazines before switching to interiors-only titles in the mid-nineties. She was Associate Editor on Ideal Home, and Launch Editor of 4Homes magazine, before moving into digital in 2007, launching Channel 4's flagship website, Channel4.com/4homes. In 2018, Lucy took on the role of Global Editor in Chief for Realhomes.com, taking the site from a small magazine add-on to a global success. She was asked to repeat that success at Homes & Gardens, where she has also taken on the editorship of the magazine.