Tree stump ideas – 10 fun and creative ways to give them a new lease of life
Be inspired by these tree stump ideas – and turn yours into the star of the show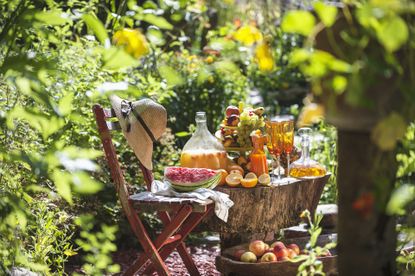 (Image credit: Getty Images)
Sign up to the Homes & Gardens newsletter
Decor Ideas. Project Inspiration. Expert Advice. Delivered to your inbox.
Thank you for signing up to Homes & Gardens. You will receive a verification email shortly.
There was a problem. Please refresh the page and try again.
These tree stump ideas are sure to spark your imagination and help you make an eye-sore into your garden's crowning glory. From simple glow-ups to total transformations, there is no end to the potential of what your tree stump can become.
Tree stump ideas – first steps
The first step for any of these tree stump ideas is to preserve your stump. There are lots of different types of wood preserver but look for something that is waterproof and that is suitable for outdoor use. If you are cutting or hollowing out your stump, ensure that you preserve all the cut surfaces.
'Wash the stumps out with a pressure hose, allow it to dry well for 5-20 days. The humidity level determines how long they take to dry,' advises Tammy Sons horticulturist and CEO at TN Nursery, 'then spray the inside and outside with three coats of wood preserver, 4 days apart to keep it protected for the elements'.
If you want to move the position of your stump, then you can easily dig them out and move them. To do this, 'you need to expose as much root as you can, usually 24 inches below the ground, and use an ax or pruning saw to cut the stump,' suggests Codey Stout, head operations manager at TreeTriage. You can then move the stump to the desired site in the garden.
1. Create a floral planter with a rustic flair
Capitalize on your tree stump's rustic appearance by filling it with floral blooms. While it's a little more complicated than some of the other tree stump ideas, it's definitely worth it.
'Just hollow out the center of the stump, preserve with wood preserver and then add some gravel at the bottom and holes on the sides for drainage. Then add some potting soil. The tree stump can also provide nutrients to the plants,' continues Codey Stout.
Once you've constructed your tree stump planter, your next decision is what to plant.
'The best types of plants to put in them are definitely low-growing ground covers or small types of ferns. Anything else would overwhelm the planters,' advises Tammy Sons horticulturist and CEO at TN Nursery. 'Purple Violets are a creeping lo growing ground cover that reaches very low heights and works excellent for wooden stump planters, while English Ivy plants are evergreen, low growing, and the perfect for year-round greenery'
2. Love entertaining? Convert your tree stump into a garden table
If you love entertaining al fresco, then you'll know that you can never have too many tables. If you have a large tree stump, then this offers the perfect opportunity to create a rustic table that will have guests asking about the table as much as the delicious food and drink you've placed upon it.
Robert Johnson founder of Sawinery, talks us through the steps to create a table from a tree stump:
Let your stump dry out for at least a month. You can dry the stump outside for a few months, then either cover or bring it inside for 2-3 weeks. This waiting process will loosen the bark.
Remove the bark. This step may be a bit tricky depending on your stump. Bark is easily pulled off an oak while you will need tools such as a hammer and prybar for a walnut stump.
Sand it to remove all the little hairs and slivers. You can use different sandpaper grits to sand it until you can run your hand over the stump and it feels smooth. Then, wipe over it with a damp, lint free cloth or a tack cloth to get rid of wood dust.
It is important to seal your stump to prevent it from drying out and to keep it from getting marked on top when you put things down on it. Seal the whole stump 2-3 times. Seal the sides and underside again 1-2 more times while you may need up to 6 coats on the top because it is more susceptible to damage. Because of the open grain, the finish soaks into the top a lot more and requires more coats. Always let your finish dry the recommended amount of time in between coats.
Place several different-sized tree stumps together to provide a space for condiments and cutlery to prevent them from cluttering the main table.
If your tree stump has interesting bark, such as silver birch or Acer, or if you want to emphasize the rustic appearance of your tree stump, then you need to preserve the bark. To do this, treat the whole stump with a wood stabilizer like Pentacryl. Paint over the whole stump and leave to dry.
3. Give your birds a place to bathe by creating a bird bath
You have several options when it comes to bird bath tree stump ideas.
The first is the easiest and cheapest. All you need to do to create a bird bath is place a large, heavy, terracotta plant saucer on top of the stump and fill it with water. Opting for a heavy saucer means that you don't need to secure it to the stump. This makes it easier to clean and refill when needed. It also means that it is easy to replace should it get damaged by frost.
You can even add a solar-powered fountain to transform your bird bath into a water display. The fountain will also help to attract the birds to the new water source.
4. Use your tree stump to make a sundial
Embrace slow living by transforming your tree stump into a sundial. To do this, sand the surface of your tree stump so that it's completely flat, then protect it with a wood preserver. Then you can either install a pre-marked sundial and install that on the surface or you can purchase an independent gnomon (the part of the sundial that casts the shadow) and use the wooden surface of the stump as the base of your sundial.
Then, on a sunny day, wait for midday and line up your sundial so that the shadow is cast at the point you wish to read at 12 o'clock. Secure in place with screws or wood glue depending on the design. You can then mark out the different hours on the wooden base or leave it as it is.
5. Reinvent your tree stump as a fairy garden
This is one of the best tree stump ideas for capturing the imagination and adding a touch of magic to your backyard, it will be a favorite of kids and adults alike.
Start by preserving your tree stump by pressure washing and applying an outdoor wood preserver. Then let your imagination go wild.
Either add a little wooden door to the front of the tree stump or construct an entire miniature home to sit on top of your barren tree stump. You can leave it here, adding just a hint of magic, or go a step further and create a whole fairy garden, complete with miniature plants, little toadstool seats, and other accessories.
6. Transform your tree stump into a safe haven for birds
If you have a tall tree stump, then consider using it as a post for a birdhouse. Elevated off the ground, it provides a safe space for feathered friends. Plus, attaching your bird box to a stump, means that it won't damage a living tree. Nailing bird boxes to living trees can cause damage by introducing fungi that will eventually rot the tree.
If your tree stump has multiple branches, why not add several birdhouses or a mix of birdhouses and bug hotels to create an oasis for your garden's wildlife?
7. Use your tree stump to display container plants
Planted containers can add instant and easy color to your backyard, to a bare corner, a balcony, or a patio, so factor them into your garden ideas as an important element to include. Use tree stumps as a pedestal for a naturalistic way to display your favorite floral arrangements. Vary heights and sizes for added interest and intrigue.
8. Make a beautiful succulent garden
Succulent plants originate from the desert and so thrive in dry and arid climates. This makes them the perfect plant to grow on a tree stump. As with the planter tree stump ideas, hollow out your tree stump and preserve it with a wood preserver. Good drainage is essential for succulents so ensure you've drilled plenty of drainage holes. Then line the base of the hole with gravel. Cover with a loose potting medium – soil designed for succulents or cacti are best. Then plant up your succulents and cover the surface of the soil with grit.
Through rainy periods, cover your tree stump succulent garden with a cloche, or create your own using a large clear umbrella.
9. Use tree stumps to recreate a campfire setting
The cozy garden equivalent of a campfire, outdoor fireplaces are increasingly popular in outdoor dining ideas for those who wish to prolong their al fresco evenings. Many garden designers are being asked to include them in hang-out zones for families with teenagers.
However, no campfire is complete without having somewhere to place your drinks and snacks – this is where discarded tree stumps shine. Not only will this add a touch of rustic flair to your backyard, but they're also a real design feature – and can be adapted to suit any space, no matter your style.
10. Turn a tree stump into a chopping board
If you are after a creative weekend DIY project, then making your own rustic chopping board is a surefire way to make a statement in the kitchen or at outdoor dinner parties.
'Once cut to size, sand it down with an electric hand sander, getting in all the nooks and crannies of the bark,' says interior designer Melanie Lissack. 'Once sanded, wash the wood with warm soapy water and leave to dry. It's advisable to leave your wood indoors untouched for a week or so to dry out.'
'You then need to oil your wood to protect it from food stains. The oil you use needs to be a specific type as your chopping board will be used for food preparation.'
However, if you aren't making your own: 'Be sure you specify for the highest quality wood for longevity,' says Frances Hatton-Brown, head of sales, Gaze Burvill, who favors natural materials, such as oak and other sustainable hardwoods. 'They work well as they complement the exterior aesthetics,' she adds.
FAQs
What can you make out of a tree stump?
There are lots of things you can make out of a tree stump from easy updates such as adding a saucer or mug to transform your stump into a bird bath or bird feeder through to more complicated projects making your own sundial, planter or outdoor table.
How do you make a stump look pretty?
Make a stump look pretty by transforming it into a planter filled with flowers. Opt for a mix of evergreen plants such as ivy interspersed with trailing annual flowers, that will appear to flow from the heart of the tree stump. Alternatively, plant with layers of bulbs that will add constant interest in an ever-changing floral display.
Sign up to the Homes & Gardens newsletter
Decor Ideas. Project Inspiration. Expert Advice. Delivered to your inbox.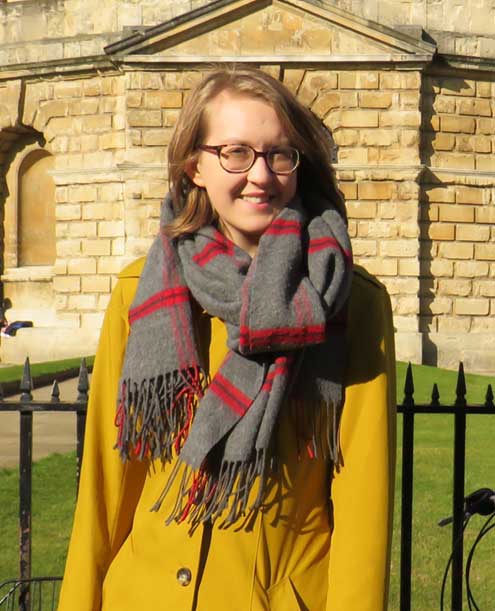 Content Editor and Sub-editor
Having graduated with a first class degree in English Literature, Holly started her career as a features writer and sub-editor at Period Living magazine, Homes & Gardens' sister title. Working on Period Living brought with it insight into the complexities of owning and caring for period homes, from interior decorating through to choosing the right windows and the challenges of extending. This has led to a passion for traditional interiors, particularly the country-look. Writing for the Homes & Gardens website as a content editor, alongside regular features for Period Living and Country Homes & Interiors magazines, has enabled her to broaden her writing to incorporate her interests in gardening, wildlife and nature.