Tour this bright and beautiful country cottage in the Scottish Highlands
Artist Penny Kennedy breathed new life and bright colors into her rural Scottish cottage, turning it into a charming, light-filled home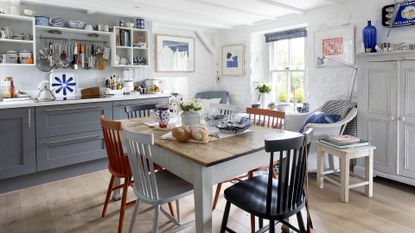 (Image credit: Douglas Gibb)
Penny Kennedy has a happy knack of summoning up magic when she needs it, in a way that rarely happens to others. When she was at a crossroads in her life and faced many difficult decisions, a friend called to say she had found the perfect cottage for her to buy.
Read on to find out how Penny overcame numerous obstacles to buy and restore the pretty three-bedroom Victorian cottage in the Scottish Highlands.
See: World's best homes – tour the globe's most beautiful houses
'I was reluctant to go and see it for many reasons,' says Penny. 'I was just about to put my business and home on the market, which I knew would take time to sell. The cottage already had a closing date and I had no money to buy anything until I had sold.'
See: Kitchen ideas – decor and decorating ideas for all kitchens
After much persuasion Penny went to look at the cottage. 'The instant I drove up the lane onto the golf course and saw the cottage high on the hillside ahead of me, I felt so strongly that this was home,' says Penny. 'It was the perfect size, in the perfect location, facing south with a lovely garden. Inside it was sweet, well cared for, full of character and had immense charm.'
Penny was aware that she couldn't raise the money through any of the usual channels so decided to put in the best offer she could in the hope that her business would be sold in time. It was a long shot but worth a try.
At the very last moment, the day the offers were due in, a friend emailed her to say that he felt that the cottage had to be hers, that he would lend her the money and she could pay him back when her business was sold. 'It was a gesture of supreme kindness, generosity and trust,' says Penny. 'And it changed my life completely as I was able to make an offer on the cottage and it was accepted.'
See: Living room ideas – clever ways to decorate living spaces
Five weeks later Penny got the keys and started to move in her favourite pieces bit by bit. Although delighted to be there, she wasn't in a rush to start any renovations. 'I did, however, need somewhere to design and paint,' she says.
Despite having cut down 14 trees and a huge hedge around the house, Penny didn't have enough garden in which to put a studio. 'I approached the local golf club and asked if I could buy a small strip of land beside the cottage,' she says. The golf club agreed and Penny commissioned architect Colin Smith, from CASA, to draw up the plans for a studio.
'We also drew up plans to remove the water tank from the attic in the cottage to create a sitting room and an upstairs bathroom,' she adds. 'The only bathroom up to that point was downstairs at the back of the house. And I needed some extra storage space in the attic.'
Another important feature on the plans was a new west-facing window in the living room. 'This was to take advantage of the view down the glen and bring light into a rather dark sitting room,' explains Penny. 'Finally we drew up plans to turn the garage into a self-catering studio-cum-spare bedroom with an en-suite bathroom for family, friends and paying guests, which in time I could use if needed.'
After nearly a year of living in the cottage, Penny started the renovations. The first job was to convert the garage so that she had somewhere to live while the rest of the house was being renovated.
The second was to connect the house to the mains water. 'I was tired of the appalling water supply that was fed off the hill behind the house – it took a day to run a bath,' explains Penny. Next all the radiators were replaced, and the water tank, cylinder and boiler were removed. A new combi boiler was installed outside to free up space.
'I employed a local builder, Jo Penfold. She was absolutely brilliant. She made sure everything ran more or less to schedule and was done to the highest standard. Jo brought in all the other trades for the heating, plumbing, electrics and painting. They were a great team and I was sorry to see them all go at the end,' says Penny.
The renovations took about 18 months to complete, during which time Penny was able to escape to her studio to work or into the garden to plant. 'Halfway through the work I decided I wanted a finished house and didn't want to do this again,' she says. 'So I pushed the boat out and had everything completed at once.'
The windows were replaced, floors were ripped up and replaced where needed, a wood-burning stove was installed, a new kitchen, bathrooms and a utility room were all fitted, and every ceiling, wall and door was painted.
'Buying this house was the best emotional and practical decision I have ever made,' says Penny. 'At this period of my life it is so important to be in a place I love. And in this lovely village surrounded by marvellous neighbours, I am home.'
Sign up to the Homes & Gardens newsletter
Decor Ideas. Project Inspiration. Expert Advice. Delivered to your inbox.
Mairi's love of interiors seeps into every aspect of her life from writing interior features for many of our magazines such as Country Homes and Interiors, Homes & Gardens and Period Living to renovating her latest project, a chalet in the French Alps.