Design house: A Colonial Revival home in New Jersey gets a sleek, contemporary renovation
This home has been transformed from a family house into a stylish, grown-up property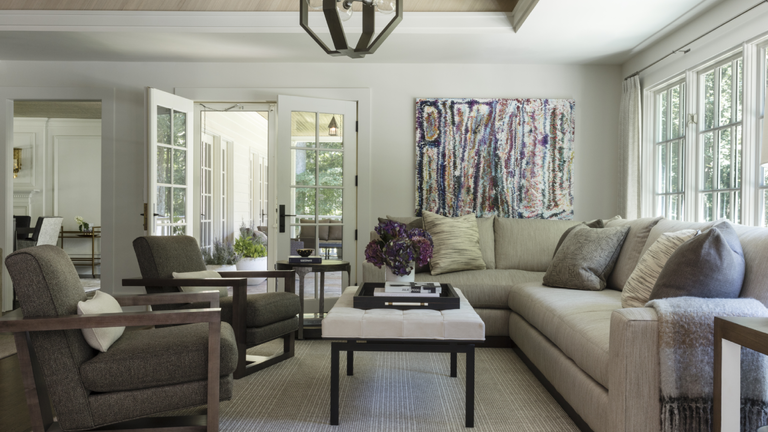 (Image credit: Antoine Bootz)
A 7,000 sq ft Colonial Revival home in Mendham, New Jersey, has undergone a stunning contemporary renovation by interior designer Valerie Grant, architect Dan Encin and kitchen designer Jim Dove.
The former family home was transformed for a couple – whose sons recently flew the nest – into a contemporary, open property with spaces to pursue their various interests such as cooking, entertaining and cars.
Perhaps one of the most interesting parts of this project was that, rather than look for another house better suited to their new lifestyle, the owners chose to completely remodel their existing home.
Overall, the emphasis of the renovation was to focus on quality materials and craftsmanship as well as calm colors which would enhance the natural beauty of the property.
Kitchen and pantry
A complete renovation of the first floor allowed for a larger kitchen and butler's pantry area and this space is, in many ways, the centerpiece of the house.
Designed in collaboration with award-winning Dove Design Studio, the kitchen very much reflects the couple's desire to have a comfortable and welcoming open-plan layout with a relaxed and less formal vibe.
It includes dark-stained floors and dark doors, which contrast with the white shiplap walls, light oak island, white cabinetry and white quartz countertop. The eye-catching architectural light fixtures above the bench seating at the dinner table are also a focal point.
Valerie's interest and keen eye for surface features can be seen throughout the house, but particularly in the kitchen with the oak wood details in the cove ceiling.
Family room
Overall the aesthetic is very streamline but also showcases the owners' collection of art and trinkets they've picked up on their travels over the years.
Other standout details include the chevron oak veneer in the cove ceiling and the cozy soft furnishings.
Bedroom
Calming colors can also be seen in the master bedroom, with gray and biscuit toned wallpapers. Dark wooden furniture has also been used to contrast to this scheme.
Dining rooms
The aim of the project was to form larger spaces suitable for entertaining and the two dining rooms certainly deliver on that front.
One boasts a crisp black and white color palette with neutral soft furnishings and art which adds a warmth to the space, while the other larger room also has a monochrome theme with gold accents and decorative flower arrangements.
Bathroom
To play on the theme of wellness, a new spa-like bathroom was created for the couple, which incorporates neutral and grey tones.
This bathroom is a space that very much takes advantage of the property's natural light and this is particularly handy for the contemporary dressing table, which lives in this room.
Garage and exterior
To accommodate the owner's passion for cars and personal collection, a 2,000 sq ft double-height garage space was created. What's more, the airy room can double up as an outdoor entertaining space when guests come over.
Interior design / Dove Design Studio