8 design tips to steal from a wellbeing guru's Maryland creekside home
Surrounded by peaceful waterscapes and rolling vineyards, this home's design was an exercise in bringing nature indoors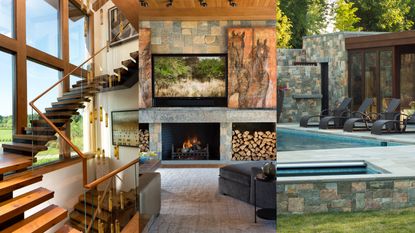 (Image credit: Purple Cherry Architects)
Spectacular surroundings and a design that makes the most of them are key features of many of the world's best homes.
'My clients were medical professionals who sought a waterfront home of tranquility that connected the inside to the outside in a very intentional way,' said Annapolis-based architect Cathy Purple Cherry, explaining her design for this stunning nature-inspired property.
Wellbeing guru and New York Times best-selling author Dr Wayne Scott Andersen spent two years looking for the perfect spot for his home, before settling on this idyllic, 3-acre property on Harness Creek in Annapolis, Maryland.
Andersen and Purple Cherry then spent the following three years creating Aqua Terra, a glass, wood and natural stone oasis complete with a pool, meditation spaces and expansive views across the creek, nearby vineyards and beyond. Purple Cherry gave us a tour, and showed us how she created such a special, serene home.
1. Channel nature through your materials
'The home is flanked by the Chesapeake Bay on one side and a beautiful vineyard on the other side,' said Purple Cherry. 'Thus, we intentionally selected materials that would evoke connections to the environment and created window design and orientations that allowed for maximum indoor-outdoor connections.'
Inside the home, its beautiful surroundings and garden ideas are channeled through the use of overtly natural materials, such as rustically textured natural stones, dark metals and the repeated use of this robust, red wood. Here, it panels the walls of the office, where part of the clients' fossil collection is on display.
2. Bring the outside in with glass walls
Blessed with spectacular vistas of the creek and surrounding countryside, Purple Cherry made sure to make the most of the house's incredible location. 'The clients desired a large entertaining indoor/outdoor space with large scale glass that offered unobstructed views,' she said.
Across the whole house – but particularly notable in the living room – floor-to-ceiling windows allow a sense of continuity with the outside, while double height spaces in some areas allow the view to open right up to the sky. Balancing the use of glass with warm neutrals allows the space to continue feeling intimate.
3. Turn a pool into a meditation space
With the outdoor life being so crucial for the clients, it only makes sense that the home's pool ideas should allow it to become a space for living as much as swimming.
'Outside of the home, the clients' must-have was a glass-case pool house that also serves as a waterside meditation room,' said Purple Cherry. The pool house encompasses sheltered seating spaces and a shower room, and is surrounded by peacefully rolling gardens.
4. Design rooms around your artwork
'The clients also wanted to incorporate unique artistic applications throughout the home,' explained Purple Cherry. 'Over the years, they amassed a beautiful artwork and fossil collection. You can see that many spaces were actually designed around a very specific piece of art – the hallway with the fossil at the end, and the fireplace with horse artwork that hides the television, among others.'
In this living space, a large artwork across multiple panels splits to reveal a TV, while the rusted color scheme and tactile surface is felt across the decor for the rest of the room.
5. Go bespoke for completely unique features
As well as letting an existing art collection lead the design, Purple Cherry saw an opportunity for her and the clients to create their own unique, artistic features.
'The fireplace was inspired by the work of Lew French and every detail was meticulously considered and planned,' said Purple Cherry. 'We sketched the concept, drew the pattern, and hand-selected each stone.'
'There's a stunning hallway that features a fused stained glass interior window by Shakúff,' she added. Here, Purple Cherry's hallway ideas get personal. 'I actually sketched a piece of artwork with pastels and provided it to the glass artist to recreate – the piece is meant to emulate sand, water, and sky.'
6. Create architecturally daring spaces
As well as bespoke pieces, Purple Cherry worked to create striking, unusual spaces across the property. 'The clients also wanted 'areas of wow' throughout the home,' she said. This brief was well fulfilled by the floating glass stairwell, featuring a three-storey, 27-foot chandelier, also by Shakúff.
'The staircase, handcrafted by Gutierrez Studios, is cantilevered off of the wall and with a steel carriage and the treads are 3-inch mitered walnut boxes,' Purple Cherry explained.
7. Create cozy nooks among a large layout
When a sprawling home is set on 3 acres of land, it is of course important to think big – but be sure to leave room among your grand plans for intimate boltholes.
'Personally, one of my favorite spaces is the master bedroom sitting area because it is so inviting,' explained Purple Cherry of her bedroom ideas. 'The fireplace, large-scale glass, and custom built-ins showcasing artwork backlit by LED tape collectively create the coziest of nooks.'
8. Balance privacy and connectivity in a bathroom
When asked to choose her favorite parts of the home, Purple Cherry's unusual bathroom ideas made it a top contender. 'I am drawn to the master bathroom with its unique double-sided floating vanity,' she explained.
'Each side of the vanity island offers a level of privacy, but by incorporating a small vertical space on either side of the mirror, it also ensures connectivity. And of course, I am inspired by all of the spaces that are designed around artwork.'
Architecture & Interior Design / Purple Cherry Architects
Ailis started out at British GQ, where a month of work experience turned into 18 months of working on all sorts of projects, writing about everything from motorsport to interiors, and helping to put together the GQ Food & Drink Awards. She then spent three years at the London Evening Standard, covering restaurants and bars. After a period of freelancing, writing about food, drink and homes for publications including Conde Nast Traveller, Luxury London and Departures, she started at Homes & Gardens as a Digital Writer, allowing her to fully indulge her love of good interior design. She is now a fully fledged food PR but still writes for Homes & Gardens as a contributing editor.