This Yorkshire farmhouse kitchen with colorful cabinetry hides some clever space-saving secrets
Rich color and a bespoke breakfast area beautifully complement the kitchen in this 450-year-old Yorkshire farmhouse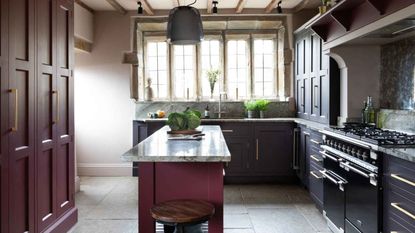 (Image credit: Drew Forsyth & Co)
Looking across the valley to the Yorkshire moors beyond, Wendy Walker and Thomas French knew that their decision to buy the dilapidated farmhouse was right. 'It is the most beautiful spot,' says Wendy. 'We both knew it was where we wanted to spend the rest of our lives.'
Constructed of huge pieces of dressed Yorkshire gritstone, the ancient Yeoman Clothiers farmhouse, dating back to 1575, had not been lived in for 10 years and its most recent renovations were made in the 1960s. Wendy and Thomas began a major renovation of the listed property.
This included wheeling barrow after barrow of clay outside the house as they excavated the floor to prepare it for underfloor heating. 'It was the most laborious job,' says Wendy, 'but we preferred to keep modern additions, such as radiators, to a minimum.'
See: Country kitchen ideas – get the rustic look with our ultimate inspiration gallery
When it came to the gloomy, dated kitchen, they took an equally sympathetic approach. 'We wanted to create a room that was suitable for modern family life with traditional cabinetry that would sit comfortably in a Tudor house,' explains Wendy, who approached local company Drew Forsyth & Co, known for its bespoke, hand-crafted kitchens.
The furniture was made to fit the uneven walls perfectly, maximise storage and work surface, and fit family-size appliances. The colour scheme was chosen by Wendy. 'I love the striking, bold colors because they are also rich and harmonious, and unlike anything I had seen used previously,' she says.
They obtained planning permission to add a new stone mullioned window to introduce more natural light into the room. 'We were able to create an inviting seating area with breakfast table, positioned for far- reaching views across the valley,' says Wendy.
With three children – and a fourth on the way – Wendy is often preoccupied with prepping family meals. 'But when I stop and reflect, I realise how far we have come from the days of mud and hard work and appreciate our kitchen all the more – it's just how I want it to be,' she says.
Read on to discover its five brilliant design secrets.
1. The faux fireplace
The range cooker is built into a faux chimney breast. Flanked by an integrated fridge-freezer on one side, breakfast cupboard on the other, the sink is close by. A larder cupboard is opposite, with cook's table as a bridge between the two sides of the room. A breakfast table with built-in seating completes the design
2. Brilliant bi-folds
Bifold doors here allow unobstructed access to the breakfast cupboard, which contains sockets for small appliances.
Because these are bi-fold rather than standard doors, they don't swing out too far into the room, making them safer and less cumbersome.
3. A mini island
'In a slender space, a narrow island tends to look stingy and as if it might topple over,' explains Drew Forsyth & Co designer Leigh Topping. 'A cook's table, however, with light passing through its base, looks much more balanced.'
Finished with chunky, traditional-style legs, this sturdy table has a granite top to offer preparation and serving space. It also includes drawers, a fitted oak chopping board and tray, with a slatted base for baskets and pots.
'It makes a fantastic, multi-functional centerpiece in the room,' says Wendy.
See: Kitchen island ideas – guaranteed to make a statement
4. Built-in trays
'I went to the stone yard to pick the granite for the worktops as my starting point,' says Wendy, who chose a stone to complement the limestone floor.
She echoed the granite's flecks of deep purple and burgundy in the colors she chose to paint the cabinetry, working with Leigh to create a balance of hues in the space.
Those cabinets hide a wealth of handy features – including pull out trays for serving up tea and cake.
'I didn't want to play it safe,' she explains. 'It is our family home, so why not choose something as wild and personal as we want?' The rich colors enhance the inviting feel of the room, offset by a soft, warm neutral used for the walls.
5. A space-saving banquette
The old kitchen didn't include space for the family to gather for meals, something that Wendy and Thomas wanted to resolve. 'Given the age, character and listed status of the house, we couldn't enlarge the room,' explains Wendy.
See: Country kitchen diner ideas – prepare and eat in a restful rustic space
See: 10 times banquette seating has transformed a small kitchen
Instead, they were able to include a bespoke circular table underneath the new window to make a light-filled spot, complete with fitted booth seating. The seats can be lifted to reveal storage, while open shelves at each end are perfect for recipe books.
Sign up to the Homes & Gardens newsletter
Decor Ideas. Project Inspiration. Expert Advice. Delivered to your inbox.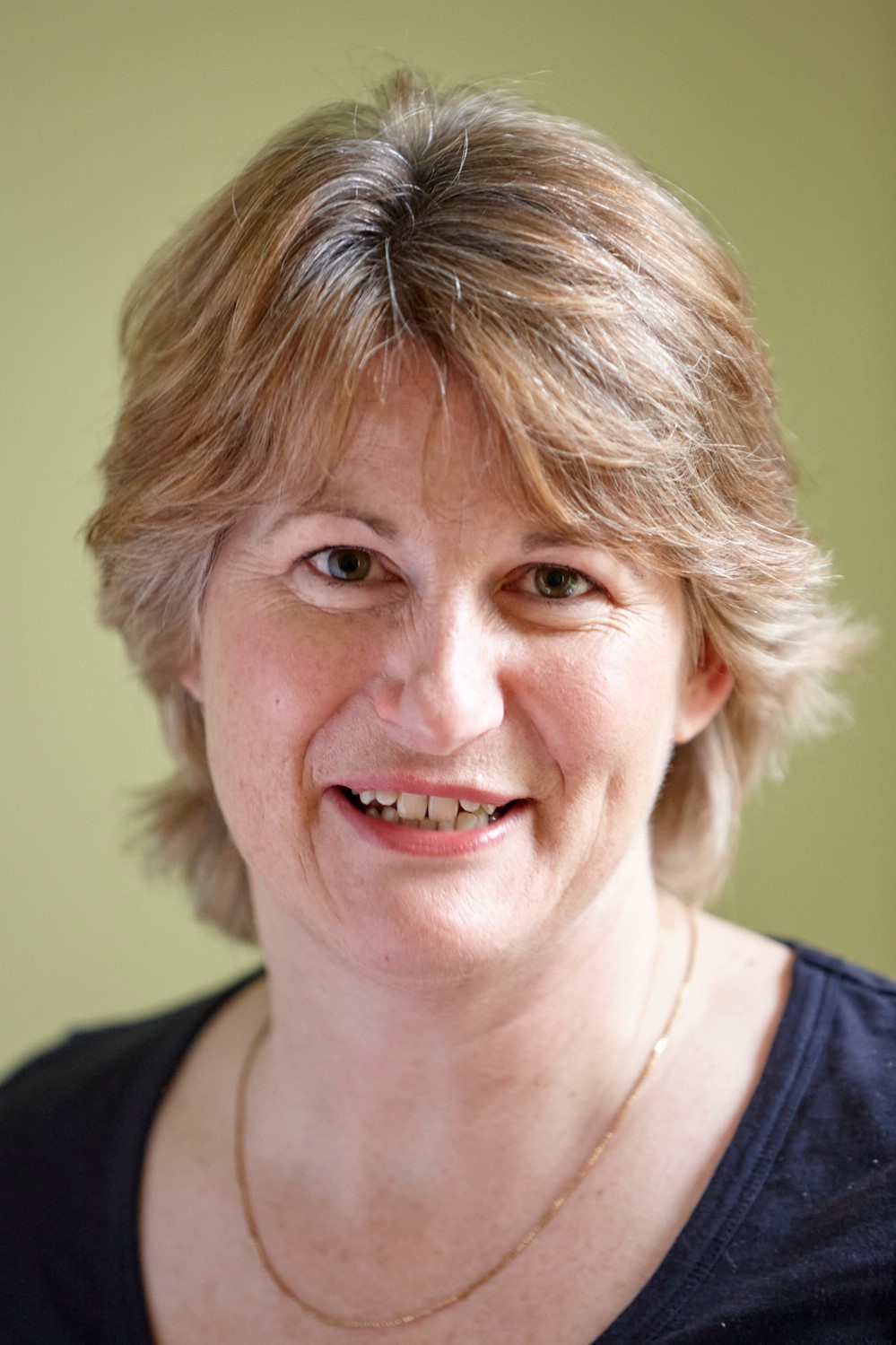 Amelia Thorpe is a specialist interiors and design journalist, covering every topic to do with homes from fabrics, furniture and lighting to surfaces, kitchens and bathrooms.
As the daughter of an antique dealer and a lifelong collector of old cookery books and vintage graphics herself, she also has a particular expertise in antiques, mid-century and decorative arts of all kinds.
Drawn to homes because of their importance in the happiness of our lives and the enjoyment they can bring, Amelia has been writing about the topic for more than fifteen years. She has interviewed some of the most influential designers of our time, from Piero Lissoni, Antonio Citterio, Jaime Hayon and Arik Levy to Nina Campbell and Robert Kime.