This Tuscan villa showcases a natural and neutral modern rustic interior
Set in the rolling hills of Tuscany, this sublime holiday home was decorated in a pared-back manner so it would beautifully coexist with its surroundings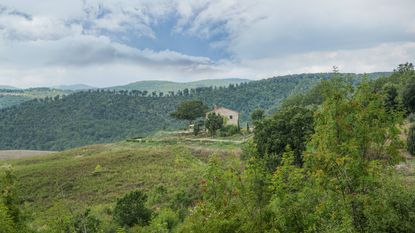 (Image credit: Caterina Rancho)
Appearances can be deceptive, and none more so than in the case of this extraordinary holiday home in Tuscany, undoubtedly one of the world's best homes, which is encircled by breathtaking views. Built a mere five years ago, the stone property could easily be mistaken for a centuries-old farm worker's cottage.
The architects, Isabel Lange and Matteo Zen, worked hard to create authenticity by researching the local vernacular and implementing the period features of old Tuscan villas, such as arched doorways, wooden ceilings and doors and exposed stone walls. Step inside and the interior, designed by Munich-based interior designer Stephanie Thatenhorst, is surprising too. A deliberately minimalist aesthetic firmly places the emphasis on natural materials such as stone, wood and terrazzo and complements them with muted colors, resulting in a wonderfully calm and serene atmosphere.
Stephanie had designed the interior of the owners' previous home in Munich, which was bright and colorful. When the owners relocated to the USA, they wanted a new base in Europe and bought land in Tuscany to build their dream holiday home, and Stephanie worked closely with the architects to achieve this.
'The clients felt that many different colors, textures or materials grab your attention,' says Stephanie. 'They wanted the spectacular landscape to be the focus here, so they were keen to pare the interior right back, using earthy tones and barely any color. It was important that local materials were used in the build, so the rocks that make up the stone walls were found nearby and the wood used is local chestnut.'
Munich-based interior designer Stephanie Thatenhorst is the driving force behind Stephanie Thatenhorst. Her style is defined by two different worlds: one is eclectic, fearless and colorful; one is calm, relaxed and homey, largely because Stephanie has homes in the fast, loud and colorful city, as well as the calm and grounded countryside. Stephanie's motto? 'Always follow your gut and when in doubt go with a strong touch of color,' and this beautiful Tuscan villa certainly showcases her talent.
Living room
The landscape is the focus as soon as you enter the house. Arches draw the eye through the open-plan living space to arched doors leading to a breathtaking view of the terrace, swimming pool and hills in the distance.
The color palette was chosen to complement the stone and wood. A key element is the exposed stone feature walls and Stephanie has teamed them with walls finished in clay plaster. 'I wanted to keep the calm spirit of the house, letting the natural stone stand out, so to provide a calm contrast we used clay on the walls rather than paint,' she says.
Living room ideas revolve around considered details, such as how the black metal beams and lighting link with the metal-framed doors, giving the rusticity of this space elegance.
In the living room, the simplicity of the modern staircase hits the right note, fitting seamlessly into the pared-back aesthetic.
Dining area
Dining room ideas include using pops of color, such as the dining chairs, to draw focus against the serene palette.
Kitchen
Against the rustic backdrop, kitchen ideas include a state-of-the-art, custom-made, stainless-steel kitchen to inject an industrial feel. 'No one would think about putting a stainless-steel kitchen in here but we thought it would look so much more interesting than a wooden one,' says Stephanie. The industrial edge is continued with furniture and lamps that incorporate black steel and tone with the metal windows and doors.
Landing
The walls throughout the house are finished in a textural clay plaster. Hallway ideas include rustic artwork to create an understated focal point.
Bathroom
Bathroom ideas include a mix of old and new with a traditional style tub with modern legs.
Bathroom
Industrial-style pieces bring a contemporary edge to the bathroom.
Terrace
The terrace is the perfect spot to find shade from the Tuscan sun. Oversized wicker pendant lights add to the ambience.
The owners believe the end result is a masterpiece and love to spend time here. They have invited Stephanie and her family for a holiday. 'I don't usually get to experience the houses I design,' says Stephanie. 'It was really special to stay in the house for two weeks. It has such a unique and calm atmosphere – it's a wonderful place to relax.'
Interior design/ Stephanie Thatenhorst (opens in new tab)
Architecture/ Studio Lange (opens in new tab) and Matteo Zen
Photographs/ Caterina Rancho
Interiors have always been Vivienne's passion – from bold and bright to Scandi white. After studying at Leeds University, she worked at the Financial Times, before moving to Radio Times. She did an interior design course and then worked for Homes & Gardens, Country Living and House Beautiful. Vivienne's always enjoyed reader homes and loves to spot a house she knows is perfect for a magazine (she has even knocked on the doors of houses with curb appeal!), so she became a houses editor, commissioning reader homes, writing features and styling and art directing photo shoots. She worked on Country Homes & Interiors for 15 years, before returning to Homes & Gardens as houses editor four years ago.