Creative upholstery ideas for warm and comforting spaces
Discover how a home can become a restful haven with a temptingly tactile sofa, chaise or bed from sofa.com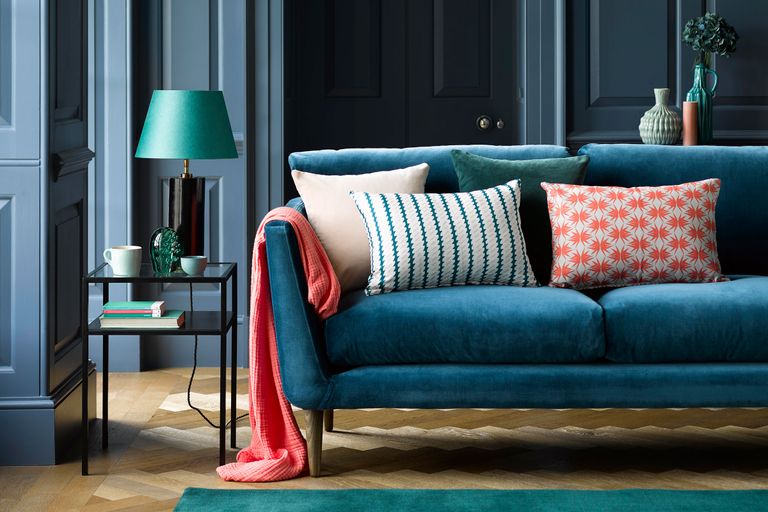 (Image credit: Sofa.com)
In these tumultuous times, having a haven that you can retreat to has never been more important. Where once, the order of the day was a neat and neutral home that proved easy to live with, now we crave colour and comfort. It's not enough for furniture to be functional – it should pull at your heart strings.

At sofa.com you can follow your heart, selecting from a wealth of styles and luxurious fabrics to turn a home into the perfect retreat from the outside world.
Time to hunker down
Create a corner that beckons, a place to sit and dream, to leaf through a good book, to sip your favourite tea. A chaise is a welcoming place to plump down, stretch out your legs and relax. By selecting tactile fabrics that have an inherent warmth of tone, the atmosphere of a room instantly becomes more inviting.
This Bluebell chaise armchair in Butterscotch cotton matt velvet from sofa.com ties together the scheme beautifully.
Create a serene ambiance
Calm and considered interiors will always soothe the soul. A balanced scheme, untroubled by contrasts allows furnishings to co-exist comfortably. By taking the most dominant piece as a starting point, such as sofa.com's Iggy chaise sofa in Squirrel cotton matt velvet, a reflective palette can be built.
Select paint colours in light, toning shades and bring in interest with an intricately patterned rug or complimentary cushions and accessories.
Bring in tactile, sumptuous textures
As winter approaches and the nights draw in, the bedroom's role as a comforting sanctuary becomes ever more crucial. While walls and woodwork can be a subtle backdrop of cool, knocked-back tones that soothe us as we unwind, all the luxurious warmth and texture is directed at the bed.
Go to town with an upholstered velvet bed, its deep, buttoned accentuating the sumptuous texture of the fabric. Leisurely weekend lie-ins have never looked so fabulous.
The Knightsbridge double bed in Dusty Rose cotton matt velvet by sofa.com is the perfect example.
Consider a cohesive look
You want your haven to be uncomplicated, uncluttered and calm and a cohesive scheme in warm blue tones is a great way to achieve this. Start by selecting a sofa with a crisp outline and narrow arms, such as Holly from sofa.com. Next pick out an intoxicatingly dark shade such as Deep Turquoise cotton matt velvet to set the tone for the room.
Take reference from trend forecasters such as WGSN, which has made an electric-blue shade, Aqua AI, as its Colour of the Year, citing its positivity. Accents of coral will bring it to life.
sofa.com has everything you need to make your home a haven this season. Simply select a design, choose the best size for your space and then pick from a range of over 100 luxurious fabrics to create something truly unique. Your piece will then be handcrafted and delivered to your door by their friendly delivery team.
To discover the whole luxurious collection and begin designing your dream sofa, simply visit sofa.com.