5 minutes with... interior designer Veere Grenney
Interior designer Veere Grenney explains how to decorate for the country, and why dark taupe (not brown) transcends all situations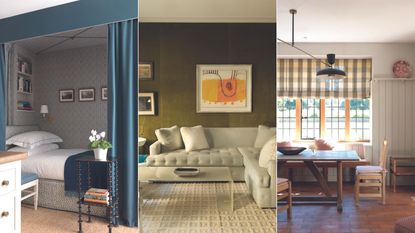 (Image credit: David Oliver)
Sign up to the Homes & Gardens newsletter
Decor Ideas. Project Inspiration. Expert Advice. Delivered to your inbox.
Thank you for signing up to Homes & Gardens. You will receive a verification email shortly.
There was a problem. Please refresh the page and try again.
'Don't be too fancy' is a mantra that interior designer Veere Grenney lives by. It's a surprising statement for the London-based New Zealander, who has been at the forefront of luxury international interior design for three decades.
Veere trained under the original tastemaker Mary Fox Linton, and later was a director at Sibyl Colefax and John Fowler before launching his own company in central London 17 years ago.

We asked him to take five minutes out of his busy schedule to ask him about his aesthetic, inspirations – and favorite room color ideas.
Originally born in New Zealand, Veere Grenney travelled to London during the 1970s. Initially trading in antiques on the Portobello Road, he then began working for interior designer Mary Fox Linton in 1981. By the early 1990s Grenney had risen to become a Director at Colefax and Fowler, resulting, in 1996, in the launch of his own eponymous interior design firm. From sprawling country estates in Oxfordshire to a Caribbean beach house, his refined aesthetic can be found in a diverse selection of international residential homes and his portfolio is widely regarded as awe-inspiring.
What is your preferred decor style?
'I love my home in the countryside. It's a Palladian folly that's layered with straw matting and room for dirty Wellington boots and all the accoutrements of woolly dog ownership.
'It has a notably different feel to that of my apartment in the city, which is a 6th-floor apartment in central London with mirror-like lacquer-painted walls. This is because city and country living means very different things to me, and, I imagine, to other people too.
'For me, a country bolthole is somewhere that I escape to on the weekends when I'm looking to unwind and, ultimately, be at my most comfortable and relaxed with friends.
'It needs to be practical and allow for activities like lolling around and watching TV. What does this mean in terms of the decorating? Well, if you have a great big dog and children visiting then you don't want fine silk fabrics on all the furniture, white lacquer everywhere, or an intricate, delicate carpet on the floor.
'This is fine in town, for what I'd refer to as "city living", and where the environment can dictate a more rarefied and slick interior, but these things might actually run the risk of making people feel uncomfortable in an out-of-town home.'
What informs your design choices?
'For the country, you're best to let practicality inform your design choices. An approach that naturally includes curating the right furniture. I started my career as an antique dealer (I had a stall during the 1970s on London's Portobello Road) so I have an eye for beautiful furniture and accessories.
'A country home should of course include such beautiful things, but it should also be peppered with pieces that denote practicality, as well as quality. If everything is too fancy then it starts to feel like a fruitcake with too much sugar in it. Feel free to mix furniture from a different era or style. If your eye tells you that it will sit well in the room then trust that instinct.
'Indeed, for the majority of us, a country look doesn't imply that of a stately home. It's a more casual aesthetic. Look to include beautiful oak or Tudor-style furniture, both of which work particularly well when curating an English country idiom.
'If it's a piece with a few bruises and bashes, then that's even better! I have a round rosewood table in my country folly which I bought in 1978. It cost me £120 ($150) and it took me 6 months to pay for it. It's an incredibly simple design and it sets the right tone in the folly. Whilst this is an antique piece, it's good to be aware that there are a lot of companies out there selling reproduction copies of nice furniture styles.
'You can mix one or two of these copy pieces which denote another eye and then let the genuine pieces anchor the scheme. Creating the look, but for less.'
What is your go-to color for chic style?
'Even if you don't have a lot of money then working a paint color into a space is a great way to set the tone. I tend to encourage people to be brave with color, however, if you are looking to include a color that is a 'fail safe' then don't overlook dark taupe.
'It's the color of the earth, and as such is a forever favorite. Whatever you do, just don't call it brown. People won't be keen if you call it brown. But honestly, whether it's in a city or a country setting, nothing looks chicer than dark taupe walls with off-white or antique furniture.
'[Interior designer, 20th-century tastemaker and the owner of Colefax & Fowler] Nancy Lancaster once said every room should have black in it, but she might have very well said brown as it does the same thing. If you anchor a space with this lovely hue then you'll have the chicest room you've ever seen, whether it's in town or the country!'
Sign up to the Homes & Gardens newsletter
Decor Ideas. Project Inspiration. Expert Advice. Delivered to your inbox.
Rory Robertson has a long-standing history working across the interiors industry. Rory studied Interior Architecture at the University of Edinburgh, and later, Theatre Set Design and Architectural Illustration at The Rhode Island School of Design on America's East Coast. Rory's foray with the editorial world started a decade ago at Livingetc magazine, a title to which he regularly contributes today. Specializing with a deep-seated appreciation for historical homes and interiors, Rory often travels far and wide to be inspired by unique properties with a fascinating history.