Boho nursery decor – 10 inspiring ways to embrace a modern Boho look
Our Boho nursery decor ideas can help to create a beautiful nursery in the home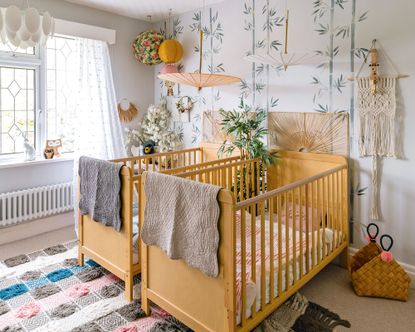 (Image credit: Future)
Boho nursery decor ideas allow for you to be super creative as there are no set rules. A Boho inspired scheme is defined by an eclectic mix of varying styles, making it ever-changing and unique. A Boho look is often described as unconventional and relaxed, rich with culture and history, and typically embraces elements such as the natural world, texture, pattern and print.
When designing and decorating a nursery, you want the room to be a relaxed, calming space that reflects your personal style, as well as ensuring to pick design elements and nursery ideas that can stand the test of time as your baby grows.
A nursery and Bohemian decor ideas go hand in hand. Perfect for gender neutral nursery ideas, from soft neutrals, to bold prints, calming murals to striking wallpaper ideas, Boho décor can be adapted to suit your individual style; with key elements ensuring the overall Boho scheme is relaxing, calming and carefree.


Boho nursery decor – 10 design ideas for a laid-back look
If you are wanting to create a Boho inspired scheme in your nursery then look no further for some beautiful inspiration, as we explore our top Boho nursery décor ideas.
1. Wow with wallpaper
Wallpaper ideas are a great way to add personality to a room. Whether you want to make a subtle statement through a neutral print, or be big and bold with vibrant colors and patterns, there are many options that can coordinate with a Boho inspired theme.
In this nursery by Lucie Ayres from 22 Interiors , the gorgeous House of Hackney wallpaper creates an uplifting vibrancy in the room. Ayres describes the process of designing this client's home as, 'adding organic forms and warmth throughout' and 'doing a bold, really fun nursery'. The finished result is described by Ayres, 'we went bold with ochre accents, driven by the playful House of Hackney wallpaper and the Armadillo rug. It's fun and unexpected – not your typical pastel-hued nursery'.
With the dark brown closets beautifully complementing the yellow scheme, finished with added pieces such as the leather pouf and cozy white chair, the use of beautiful prints, contrasting textures and references to natural world embody the key elements of Boho décor.
2. Take inspiration from nature
Boho style often takes inspiration from the beauty of the natural world, whether that be through plants, botanical prints or using natural materials such as wood, rattan and leather. Bringing the outdoors inside is a great way to create a relaxing, inviting space, ideal for a nursery.
In this scheme, the bold botanical wallpaper is softened by the hanging canopy, with the natural color palette used creating a timeless appeal.
3. Hang a ceiling canopy
A great way to add soft, inviting texture, a ceiling canopy is an elegant addition to a nursery space. Whether you choose a calming, neutral color, or a design that boasts a striking print or pattern, a ceiling canopy can create a beautiful statement in a nursery.

The canopy does not necessarily have to be hung over the crib, they also work well hung in corners of a room, like above, creating a cozy, sheltered play area.

4. Add a rug for soft comfort
Layering contrasting materials and textures is a typical feature of a Boho inspired scheme, with rugs being a simple and easy way to create this effect.
Moroccan bedroom rug ideas are often used in Boho décor. Rich in intricate pattern, color and detail, each rug can tell a story, with there being many distinct styles available. Even if a Moroccan rug is not your preferred rug of choice, adding any rug to a nursery adds a layer of warmth and texture, enhancing feelings of calm and relaxation.
In this nursery in the San Francisco rental home of Lorla Studio founder, Laura Hur, there were tight restrictions on what she could do with her home, with no painting on the walls allowed for example. Lorla states, 'this project became almost exclusively about furnishings and décor details... the more art that we hung, and textiles that we brought in, the more this rental felt like home'.
By creating texture and depth through the rug, beautiful greenery and decorative pieces, the overall result in this nursery embodies a serene Boho feel.
5. Create texture and contrast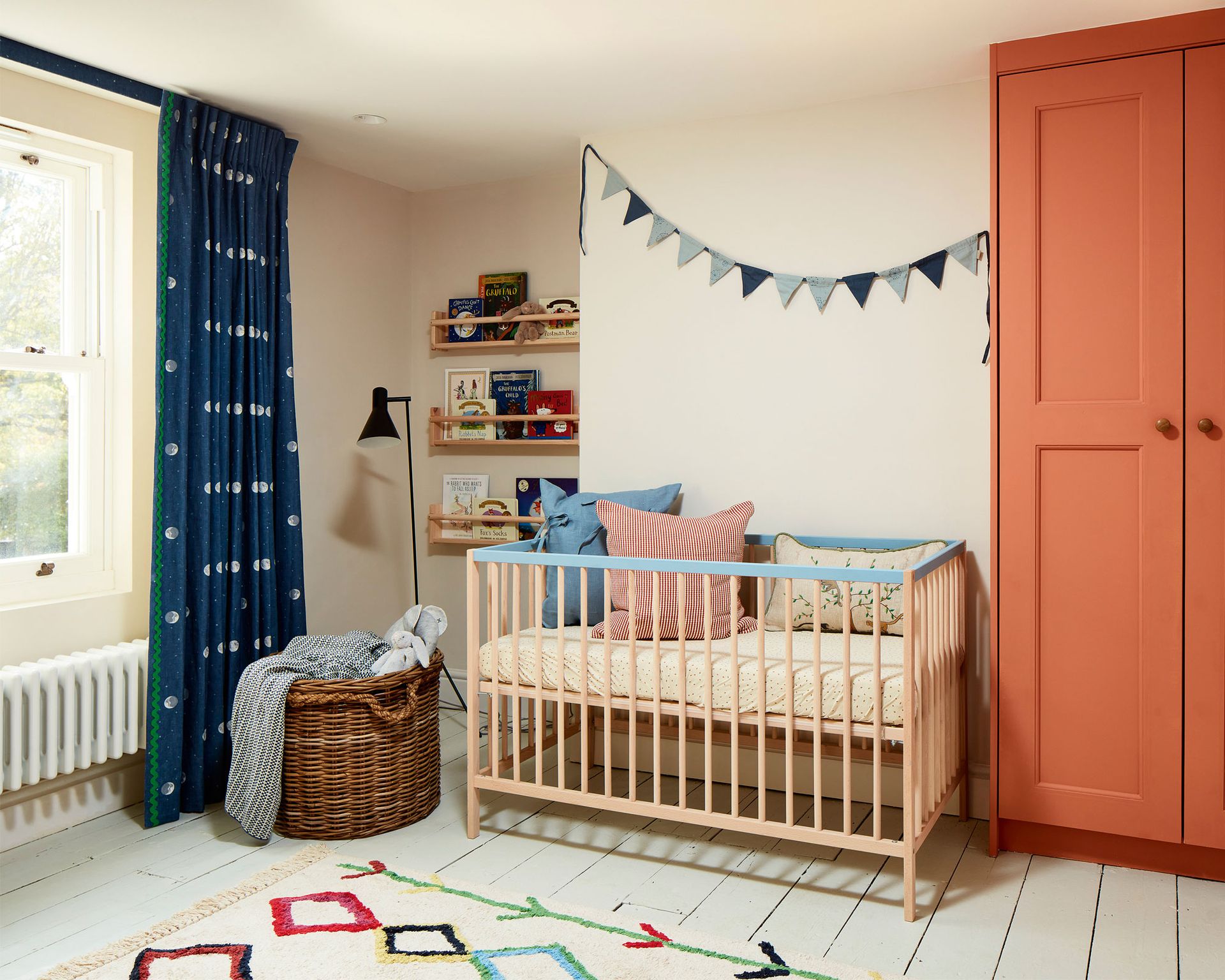 Using contrasting materials, textures and colors can create a room full of personality and charm. Using these contrasts in a nursery, whether that be through paint, soft furnishings or clashing patterns, can elevate a scheme to truly reflect your personal style. For more inspiration on contrasting colors, see our color wheel guide.

In this room, the warming orange paint used on the wardrobe creates an elegant contrast between the blue curtains and blue accent on the crib, with accessories such as the bunting and the rug uniting the contrasting elements together into one stylish baby boy nursery scheme.
6. Make a statement
The essence of Bohemian décor is unconventional and unique, so why not use your nursery to make a stylish statement.

In this nursery, the all white scheme has been beautifully disrupted by the tropical cacti wallpaper on the ceiling. Even though the wallpaper print is bright and bold, this nursery still retains a sense of calm and elegance, with finishing touches such as the ceiling canopy, pendant light and multiple rugs creating a soft, relaxing atmosphere.
7. Decorate with unique accessories
For many, a Bohemian style embodies an eclectic mix of objects and artefacts collected from travels and trips from around the world, creating a unique atmosphere that mixes styles, cultures and history.
Decorating a baby girl nursery with a mix of toys, decorative accessories and prints will always make the space feel homely. If you still have old toys or personal items from when you were a child, displaying them in your baby's nursery creates a beautiful connection and story, and helps with organizing a nursery. Older items mixed in with new pieces creates a unique, nostalgic appeal, and these finishing touches are what make the whole scheme come together.
8. Be bold with color
Yes you are designing and decorating the nursery for your baby, but as they are too young to have an input, why not be bold and use a wallpaper or paint color that you've been wanting to try in the home for ages - an ideal opportunity really.
In this nursery by Christine Lin from Form + Field, she states that, 'in this space, we wanted to evoke a bright and cheerful aesthetic, so it was essential for us to get this right. Botanicals are back in a big way for this year, so we found an enduring style that we believe will be a timeless addition to this nursery'.
This beautiful botanical wallpaper could be used in many different rooms across the home, and provides a timeless backdrop in the nursery that can grow with the space for years to come.
9. Create a relaxing seat space
The nursery is just as much a space for you as it is for your baby, and creating a relaxing seat space is a must.
This inviting, hanging hammock chair, defined by a tactile macramé style, embodies a relaxed, Boho vibe. Not your typical lounge chair, the hanging chair adds a truly unique element to the room, with the soft swinging element perfect for when resting and feeding with your baby.
If a hanging chair isn't quite what you're looking for, having a lounge chair with lots of blankets and cushions will create a cozy seat space rich with warmth and texture.
10. Use a calming color palette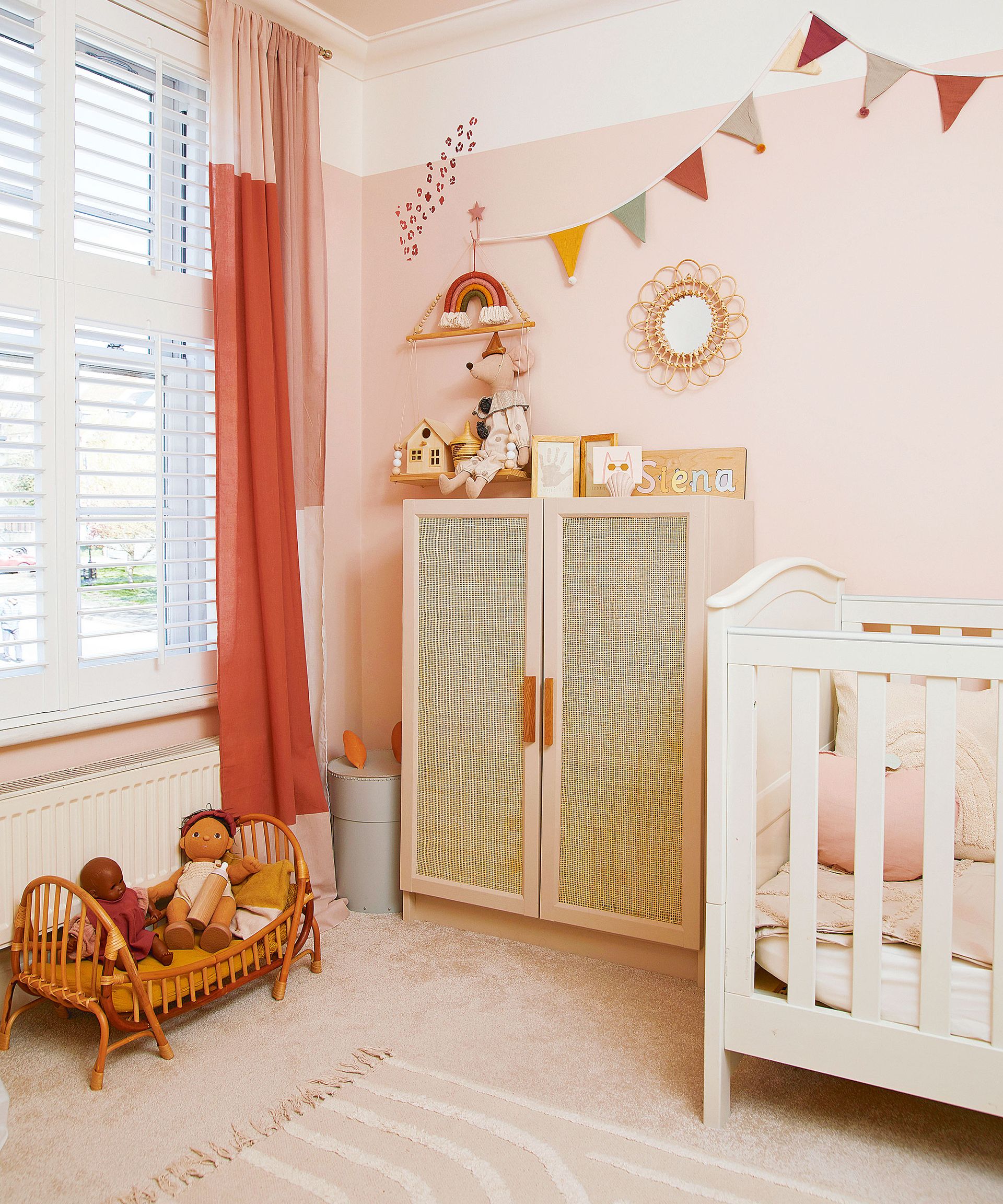 Picking calming colors to decorate with in the nursery will elevate the relaxed Boho style even further.
Warming neutrals and earthy color palettes are often associated with Boho décor, taking inspiration from the colors of plants and flowers. These colors are perfect for a nursery as they enhance feelings of relaxation and can stand the test of time as your baby grows into childhood.
In this room, the pale pink scheme makes the space feel light and bright, with the soft cream carpet and rug adding to the light and airy feel. Finished with a gorgeous pink rattan cabinet and decorative accessories in darker shades, the end result is both uplifting and playful.
What are the key elements of a Boho nursery?
When considering Boho nursery décor, the key elements of every scheme should be: inspiration from the natural world, contrasting textures, prints and patterns and unique color palettes.
Boho décor will always be fluid, and there is no right or wrong way to style your nursery, but factoring in this key elements into your design will ensure this relaxed, inviting style will be at the forefront.
Sign up to the Homes & Gardens newsletter
Decor Ideas. Project Inspiration. Expert Advice. Delivered to your inbox.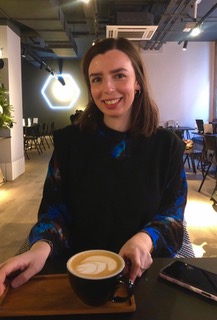 Zara joined Homes & Gardens in February 2022 as a Content Editor. After studying English Literature at University, she worked as an Ecommerce Website Editor, Content Writer and Buying Intern at multiple independent businesses within the luxury retail and lifestyle sectors. Her role at Homes & Gardens unites her love, experience and passion for the world of design and desire to create inspiring written content. She enjoys nothing more than discovering new trends, brands and products, whether that be in fashion, interior design or lifestyle.