Designer Profile: Eva Sonaike
Interior prints and accessories designer Eva Sonaike shares wise learnings gleaned from 13 years of building her distinctive brand with its luxury African aesthetic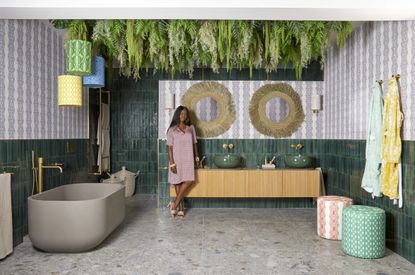 (Image credit: Anna Stathaki for Eva Sonaike and CP Hart)
Eva Sonaike's brand of vibrant interior textiles and accessories was born from a desire 'to bring homes to life with color' and in celebration of a vibrant African aesthetic.
Launched in the UK in 2009, her products have been stocked at Selfridges, Liberty and Fenwick and are now sold internationally through boutique stores in countries including Australia, France, South Africa, USA and Hong Kong.
She describes her signature interior design look as 'African, specifically west African: a look of luxury modernism with a high dosage of color' and she references the way in which being born and raised in Germany and finding joy in her Nigerian heritage has inspired her to fuse those cultural influences and create the sort of uplifting products she wanted but was unable to source for her own home.
Today, as well as selling soft furnishings including cushions and rugs, Eva Soniake also designs wallpaper and fabric ranges and has collaborated with other interior specialists including bathroom experts C.P. Hart and the design course Domestika to bring her colorful aesthetic to a widening audience. She occasionally offers interior design for private clients and has another exciting but as yet top secret collaboration due to launch in 2022.
From fashion to interiors
Eva Sonaike's first career was as a journalist. After studying for a BA in Journalism at the London College of Printing and an MA in Fashion Journalism at the prestigious London College of Fashion, she worked with German national television across different networks, then spent six further years as a Fashion Editor in print editorial at titles such as German Elle, In Style and Focus.
The shift in focus from fashion to interiors came whilst refurbishing her own London Docklands apartment. Eva found it challenging to source luxurious homeware with a rich African aesthetic and when she set about designing her own fabric for cushions the spark was ignited for her business venture.
'My husband and I are both of African descent, and we aspired to high end, quality products to our taste but there was not much on the market that I found appealing. I created a really small collection of cushions for my flat and when my friends all loved them I started to think maybe I could start a small business on the side,' Eva explains. 'In hindsight, setting up a business was a very brave thing to do. I was young and had quite a stable career in journalism and was really busy, enjoying my job but I wanted to work more creatively.'
Building a business
Researching the essentials for her business began during six months of maternity leave. 'As I journalist I knew how to research, which was invaluable as I had to find out everything myself.'
She sourced a printer to print her designs and a factory to make up accessories. A business contact introduced her to the buyer at Selfridges who put in her first ever order, and then came the leap of faith.
Through 2009 and 2010 Eva worked hard to secure other stockists. There were many highs and lows. 'We knocked on so many doors and I got more rejections than acceptance.'
Her tenacity was rewarded with listings at Liberty and Fenwick as well as boutique shops but as Eva goes on to explain, 'then the style aesthetic changed to "British floral" and I had a really tough few years, trying keep the business afloat. I was doing everything myself from blog writing to marketing to designing to sourcing and managing production. I think many people would have given up.'
Eva believed that presence at trade shows would be pivotal to success and tenaciously followed her instincts. 'It was much more challenging back then in terms of finding information and getting exposure. There was no Instagram or social media to speak of so you had to really work hard to get your work seen.'
She goes on to say, 'I knew I wanted to be an international brand and to see my products globally and I knew from my experience as a journalist that trade shows were key. My first show was the ICFF in New York in 2012. It was a really interesting learning curve. I flew out there by myself and set up everything on my own but it was worthwhile because I had a very successful show and ended up being stocked in lots of boutiques across the US. In 2012, I went to Maison & Objet in Paris – my dream show – and that was a really significant way of reaching a global audience.'
Her instincts proved right and her range now features fabrics, wallpapers, pouffes and luxurious rugs, adhering closely to that original DNA.
'Inspiration for new collections is always from west Africa. For me it's the most inspiring place. I didn't grow up there but I still consider it home to a certain extent. When I go "home" I feel my most authentic self. There is so much inspiration. It is full of positive energy, color, design, movement and I still feel passionate about taking this inspiration to the world stage,' says Eva.
Eva's business wisdoms
Stay true to your original aesthetic
'I never go with trends, I do what I like and it works. You need to be aware of trends for marketing and in language you are using, but I think you should never compromise your authenticity; you should always try to be true to yourself. When it comes to my design I have a very clear style. As a designer or creative you go through phases but my signature style of an African story will always be the same.'
Don't be afraid to tell your story
'I was 32 when I launched my business. Back then I didn't have the confidence levels to reach out to certain press and buyers – I had imposter syndrome – whereas if I could turn back time I would reach out to everyone.'
Control growth
'I think it's really important to control the growth of your business and to never compromise purely for financial gain. I've got a really great team. We are a team of three and we are really close. My superpower is my eye for design and color but, like most business owners, I spend 80% of my time running the business and 20% working creatively which means I always have so much energy and ideas for the designing. I'm really happy with my product selection right now and your stockists are a great confirmation that you are doing the right thing.'
Base business on your passion
'The most fundamental thing is to have a passion for whatever you are creating – to live and breathe it. I am extremely passionate about what I am doing; I read about interiors in my spare time. If you have a love for a subject there is never a switch off point.'
Never stop learning
'You need to build a deep understanding of your industry… I'm still learning all the time about my field. I had no business background and had to teach myself everything the hard way but I can now consider myself a business woman.'
Interiors editor and brand consultant, Kerryn Harper-Cuss has worked on four interior magazines and edited three of these, most recently The English Home, where she was Editor-in-Chief of both its UK and US editions for almost 12 years. She now writes for a number of high caliber publications, moderates design seminars and is particularly delighted to pen profile features on world-class interior designers for a regular slot on the Homes & Gardens website.