Designer Profile: Irene Gunter
An eye for architectural line, an appetite for a challenge and a fresh, contemporary design aesthetic underline Irene Gunter's approach to homes for clients around the world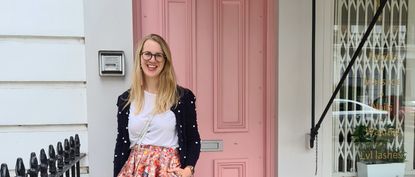 (Image credit: Irene Gunter)
Crisp, luxurious yet comfortably contemporary are the signature notes of interior design by Irene Gunter created for her international clientele. From the Gunter & Co offices in London, she and the team of 12 she leads offer full interior architecture and design services and relish working on a diverse range of properties.
Completed projects include an English country mansion, a Cote D'Azur seaside property and a contemporary Villa in Dubai, multiple London townhouses – in Chelsea, Belgravia and Notting Hill – as well as an architect-designed new build in Wimbledon.
Here we consider Irene's design sensibilities, her career path and the power of word of mouth.
Style Aesthetic
The studio portfolio of Gunter & Co gleams with homes that are filled with light and are rich with architectural detailing and textural interest. Comfort plays an important role too. Her aesthetic might be best described as 'softened modernity', with European and mid-century influences a strong but subliminal undercurrent.
Inspiration is derived from myriad elements: from modern art to classical architecture to travel. Irene has a keen desire to seek beyond the time-honoured resources and expects this of her team.
When asked if her studio has a signature she immediately says, 'Yes, definitely! Being curious and never resting on your laurels is a big one.'
She employs only those who are 'naturally curious and look beyond a well-known small London market for different routes, sources and influences of inspiration.'
Formative influences
Belgian-born and educated to Masters' Degree level before training at the renowned Inchbald School of Design, Irene's upbringing undoubtedly had a formative influence upon her design sensibility. Raised in a family of interior lovers, with a mother and sister who pursued architectural studies and a father who developed properties at the weekends, Irene was always immersed in the world of contemporary design.
'My background and my upbringing have definitely helped shaped how I see the world and how I approach my projects but it's not something that has been conscious,' Irene says.
'In Belgium – in terms of design and interior design – it is definitely much more modern (than in the UK). There is Vincent Van Duysen; there is Axel Vervoordt; there are lots of names that have become big international designers admired across the world who are known for a pared back, almost monasterial design style that is very calm, soothing and serene but very contemporary.
'My aesthetic is definitely not at that extent of minimalism but I can appreciate that compared to the average British designer the designs from Gunter & Co definitely have a more modern take to them. Even if we're working in a grade II listed traditional house you'll still feel that it has been touched with a fresh perspective.'
Journey into design
Irene Gunter talks – and thinks – quickly, articulating thoughts warmly and precisely. Her ability to assimilate information at speed – as well as her relish for grasping a challenge – has been central to her career.
Upon graduation, she was directly approached for a role as the sole interior designer at a London property development company but had just months to get up to speed.
'The company interior designer who was going on maternity leave trained me intensively – I think maybe for two months – and then it was just me, the Chelsea clients, builders with lots of questions and Youtube,' Irene reveals. 'It was very, very much learning on the job. The company had a director, a PA, a project manager and me, so in terms of design and understanding what I was doing, I had to make it up as I went along.'
Four years in that first role afforded a powerful education into on site management, the demands of construction, and considerations of interior architecture. 'I was on site twice a week with the AV guys, with the plumbers, with the electricians, figuring it all out and I definitely still feel the benefits from that now. As a designer I'm very much driven by understanding how everything is built and how it works with the building,' Irene says.
She goes on to add: 'Having been 23 and dealing with all that responsibility set me up for quite a good journey in this industry. I guess I've got this kind of little bug inside me that likes a challenge; I'm up for a fight and it gives me lots of satisfaction to be able to problem solve.'
Professional achievements
Irene next sought a more creative role in a bigger studio which had eight existing designers. With experience beyond her professional years, she found herself quickly promoted to design manager and was project managing her own projects. The launch of her own studio was precipitated just two years later when two clients (including her first boss) approached her directly about private work.
She decided the time was ripe, but knew she would have to work hard and smart. 'I'm not British, I didn't grow up here, I definitely didn't go to any private schools, I don't have that network of connections, so any enquiry that came in I pursued with a lot of gusto and enthusiasm. I guess being responsive and professional made us stand out and brought us to where we are now, which is a position where about 50% of our work is word of mouth and where clients say they are incredibly happy with the service as well as the aesthetic.
'As an interior designer you don't necessarily always get recommended on your look – there are plenty of people out there who are very talented and can do beautiful things – it's also about the delivery of that end result and the journey that takes you there. That's why we focus so much on a professional service and do what we say and say what we do,' says Irene.
When asked for her proudest professional achievement she reveals it is having so many repeat clients. 'We see people we worked for two or five years ago and they want to take us along on the journey of finding their next family home, even advising what to buy, making sure that it's got the right bones to achieve what they want to achieve. That is something I'm very proud of because there is no greater testament than that.'
Current projects
At the time of writing the studio was expanding further, with the recruitment of a head of procurement. Projects underway include a Chalet on Lake Tahoe, a Surrey Estate, a Surrey Country House and a Villa in South Kensington
Interiors editor and brand consultant, Kerryn Harper-Cuss has worked on four interior magazines and edited three of these, most recently The English Home, where she was Editor-in-Chief of both its UK and US editions for almost 12 years. She now writes for a number of high caliber publications, moderates design seminars and is particularly delighted to pen profile features on world-class interior designers for a regular slot on the Homes & Gardens website.