Designer Profile: Turner Pocock
Known for using bold color and pattern accents Turner Pocock's lesser known talent lies in their passionate focus on service and practicality and in making the process of refurbishment fun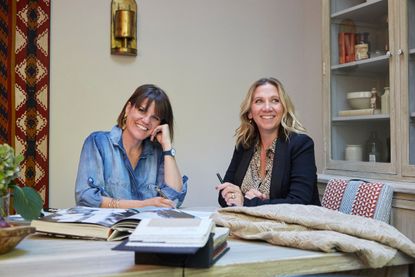 (Image credit: Turner Pocock)
Creative energy, dynamic pragmatism and life-affirming humor exude from Emma Pocock and Bunny Turner at every moment of conversation. It's obvious that they love working together, love working with clients and remain absolutely driven in the interior design business they co-founded 15 years ago.
Launched from the kitchen table in Emma's home in 2007, Turner Pocock now has offices in London and Geneva in Switzerland and operates with a team of 12, including project managers and interior architects, although one should also mention Zola the dog who features on the website, too.
The diverse portfolio of projects spans London townhouses, warehouse conversions, country cottages and alpine chalets as well as notable product collaborations including the smart Turner Pocock range of upholstered seating with Lorfords and a Bobbin furniture collection with Chelsea Textiles.
Here we explore the Turner Pocock approach, Bunny and Emma's design aesthetic and their journeys to a prominent position in the interiors industry today.
Turning up the color dial
When Bunny and Emma launched their business they were amongst those at the very forefront of turning the dial back towards a celebration of color.
'Turner Pocock grew from a period in design history when design was very beige and neutral. At the very highest end of the design industry it seemed as though the goal was to make environments as interchangeable as possible, so some designers were working with high end clients who were global travellers and wanted to recreate the "Four Seasons" experience at home, whether they were in London, Paris, the Middle East or Asia,' says Bunny. 'That felt very foreign to Emma and I, so when we started there was an instinctive move towards color and pattern which was quite grounded in our traditional English upbringing, aesthetically speaking.'
She goes on to say, 'I don't think we saw ourselves as having a style as such because we very much take our brief from our clients – and always have done – and believe very passionately in creating authentic homes that put the client at the center of what we are doing. There is a Turner Pocock aesthetic but it's very led by the client so every project has a different style but there are consistent elements for sure.'
Style Aesthetic
'Pattern, color, comfort and a sense of authenticity in homes are important to us. Our clients' homes don't feel like show homes and I think that comes, in part, from curating the interiors so that they feel plausible and that they might have been collected over time,' Bunny explains. 'We mix antiques and we mix pieces from different periods so that it feels like you've inherited things over the course of your life that make sense to you.'
To these consistent ingredients, they add an almost evangelical approach to joinery, storage and the often-unseen essentials that make home life run smoothly.
As Emma reveals: 'We are deeply practical. We both have families, we both hate mess, we both want our houses to look gorgeous but they have to be so practical to be able to achieve that and we really, really work on that for clients. It's why we are so obsessed with joinery because that's how we make everything look gorgeous but work hard. So I think that practicality is very much part of our style of business, actually, even though it's not a "style" as such.'
'Yes,' says Bunny, 'I think our houses have to be work horses for the clients that live in them not show spaces.' 'Or work horses not show ponies!' Emma laughs.
The final 10%
Whilst detailed planning and in-depth assessment of a client's lifestyle underscore every project, 'finishing' to its full potential is something the duo feel equally passionate about.
'It's that last 10% of a project that makes it most successful,' Emma reveals, going on to explain: 'Stopping an interior looking too curated means filling it up enough with personal, authentic details. Our most successful projects are the ones where our clients let us do that and you suddenly get it from looking very "just done up" to really starting to feel like a home.'
Turner Pocock achieve this by arranging and adding to the sentimental pieces clients already own, sourcing thoughtful additions or even imbuing resonance completely from scratch in the case of second homes. 'It is wonderful when you are allowed the freedom to finish a project properly, and the art goes a long way to doing that as well,' Emma says.
Journey into design
Bunny and Emma's specific routes into interiors have enhanced their abilities to balance both the big picture and great attention to detail with the final finishing flourishes. Emma studied fashion at University before enrolling at the KLC School of Design, whilst Bunny studied at the Courtauld Institute of Art and then worked for several years as assistant to a London property developer, assisting in the build planning, budgeting and project management for properties valued up to £18 million ($24 million).
Making design a pleasure
A shared work ethic has always been pivotal to their success and creating chemistry with the client is also a key part of their business approach.
'We want it to be a comforting relationship and I think our strengths are that we are very professional but make the process fun,' Bunny says. 'We take our role in a project very seriously but we don't take what we do too seriously.'
Emma agrees: 'Yes, doing up your home is supposed to be a pleasurable experience. So when we meet with clients it's important that every stage is enjoyable. It's much more gratifying if you can go into a meeting with your interior designer and have a bit of a laugh and get to know them a bit personally rather than feeling like you are with your accountant or bank manager in a boring meeting, because what's the fun in that?'
'Equally doing up your house is also the single most expensive thing you'll ever do in your life, so you need to trust that the professional services you are receiving are the best out there,' Bunny adds. 'It's one of the reasons why we don't want to grow the team size further because being a team of 12 means that Emma and I can be intimately involved with every project and every client.'
Emma goes on to say: 'The process is so much about synergy: we're all in that relationship for two or three years. So we really, really DO take the time to get to know every client and pose very detailed questions in our early design meetings so that we can make their homes not only look great but function really effectively day to day.'
Bunny adds: 'The most gratifying thing about lockdown was receiving messages from clients who said to us, "I can't tell you how grateful we are; the house really works for us, it's amazing that even in lockdown all of us can be together and we still enjoy living in it", and that is the greatest compliment we could ever receive.'
Note: Turner Pocock has also just launched it's TP Caring Spaces initiative, a charity that uses their design expertise and industry network to transform utilitarian community spaces into havens for carers and patients. One of the first projects has been a staff break room at Guys & Thomas Hospital in London.
Interiors editor and brand consultant, Kerryn Harper-Cuss has worked on four interior magazines and edited three of these, most recently The English Home, where she was Editor-in-Chief of both its UK and US editions for almost 12 years. She now writes for a number of high caliber publications, moderates design seminars and is particularly delighted to pen profile features on world-class interior designers for a regular slot on the Homes & Gardens website.