How to make pomander balls – and a gorgeous display idea
Make an orange pomander arrangement in under an hour with this easy step-by-step guide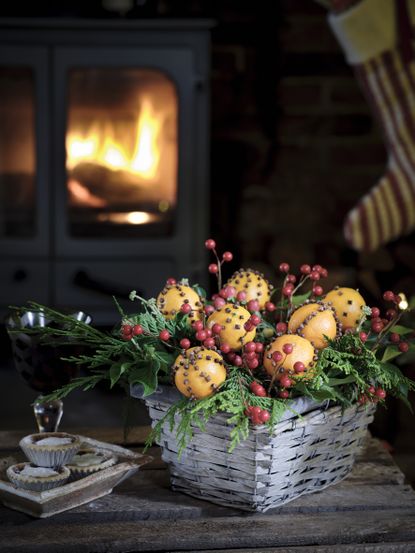 (Image credit: Future)
Bring seasonal scent and style to your home and make an orange pomander balls for a festive arrangement. Introducing color, fragrance and festive greenery, orange pomander balls are perfect for Christmas.
Making an orange pomander arrangement is really easy to do in just a few simple steps. And our display idea can be used to introduce other ingredients such as apple crafts or other festive flower arrangements.
Created with some florist store staples and food store buys, you can look outside and forage hedge and trees for ingredients, too, for this most fragrant of Christmas table centerpieces.
How to make an orange pomander arrangement
You will need:
A small crate, box or even a serving bowl
Wire – we used florist's wire strips but chicken wire would do
Skewer
Small oranges or satsumas
Cloves
Faux or real berries
Greenery – we used ivy and conifer
1. Make a wire grid
Create a grid in your arrangement vessel by interlinking the wire strips. Wedge, tie or secure in place so that it is secure. If using fresh flowers another bowl for water will need to be inserted first.
2. Make the pomanders
Make up the orange pomanders by pushing the cloves into the oranges. If needed use a skewer to make an incision hole before pushing in the cloves. We arranged our cloves in decorative patterns for an ornamental idea. Finally make an incision at the base with the skewer and push the orange onto the lolly stick.
3. Layer up foliage
Take the box or vessel and begin to add the foliage. Mix the varieties up for even cover.
4. Fill and cover
Use the foliage to completely cover the wire grid and add fullness to the arrangement.
5. Add the pomanders
Introduce the pomanders to the arrangement, placing them at various positions within the arrangement. An odd number is usually more pleasing to the eye.
6. Bring in some berries
Use faux or real berries to introduce some color. Position at intervals across the arrangement.
7. Check for gaps
Towards the end of the making session, check for any holes or gaps and fill with spare greenery.
8. Place in your home
Enjoy the scent of color of your orange pomander arrangement in your home.
How long do orange pomanders last?
Orange pomander balls usually only last around three to four days in a heated room, though you can help them last longer by putting them in the refrigerator or outdoors overnight or when you're out for extended periods. After that, they will start to rot. You can dry orange slices for a more low maintenance arrangement or put your finished oranges into a paper bag and in a cool room to allow them to dry, though their charm is somewhat diminished by this.
What are orange pomanders used for?
Orange pomanders are used as Christmas decorations and to make your home smell good for Christmas now, but were once used in Europe in the Middle Ages to scent the home – and were even worn by people to make themselves smell nicer. They were also thought to ward off bad spirits and negative feelings.
Creative Director, Stylist, speaker, published author of books Home for the Soul and Gardens for the Soul and Style Editor at Future, Sara has been creating commercial and editorial images and content for favorite interiors and lifestyle brands for over 25 years, including Country Homes, Ideal Home and Homes & Gardens.