What is replacing carpet? 5 more on-trend ways to cover your floors
Designers weigh in on whether carpet is still on trend and the chicer options you should probably be going for instead...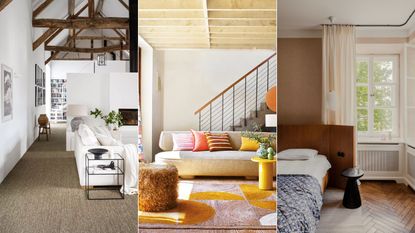 (Image credit: Fibre/Future/Colombe)
Sign up to the Homes & Gardens newsletter
Decor Ideas. Project Inspiration. Expert Advice. Delivered to your inbox.
Thank you for signing up to Homes & Gardens. You will receive a verification email shortly.
There was a problem. Please refresh the page and try again.
Anyone who knows anything about interior design will notice that the love for carpet is waning, it's being replaced by sleeker, hard floors that lend themselves better to the wear and tear of everyday life.
We understand why carpet has been the go-to flooring choice for such a long time, carpets are cozy, they add warmth and it is so nice to feel a soft surface underfoot, but it's also not a super practical choice, it can be expensive and doesn't work all that well with the interior design trends of today. So it's no surprise its reign is slowly coming to an end.
We spoke with interior designers about their favorite flooring choices, and what they think is replacing carpet. From sleeker natural carpet ideas that look more like a hard floor than traditional carpet to classic wooden options, to new trends like concrete and terrazzo, here are some more practical and on-trend alternatives to carpet.
What is replacing carpet?
We are all aware carpet is no longer the way to cover your home's floors, in fact, carpet has been getting a bit of stick recently for not being the chicest of options. So if carpet, the once go-to choice for most bedroom flooring and living room flooring, is on the out what's on the in?
'In the ever-evolving world of interior design, traditional carpets are increasingly being replaced by a combination of sustainable flooring options and creative alternatives,' explains designer Jennifer Davis. 'We always love the timeless beauty of hardwood floors or engineered wood floors. Luxury vinyl flooring (LVT) has come a long way with its design and options. It has become increasingly popular due to its quick installation, great price point, and durability. Tile and concrete flooring are also options that shouldn't be overlooked. They are incredibly durable and easy to care for. Just don't forget the rugs crafted from natural fibers like jute, sisal, and wool to add warmth and texture to layering over the hard surfaces.'
'Wall-to-wall carpeting, although once celebrated for its warmth and comfort, is increasingly being recognized for its health and hygiene drawbacks,' adds designer Kati Curtis. 'The vast expanse of fibrous material provides a haven for dust, allergens, and bacteria, trapping these particles deep within its weave. These trapped particles not only mar the carpet's appearance but can also contribute to a deterioration in indoor air quality, potentially triggering allergies and other respiratory issues. Humid climates or accidental spills can lead to the retention of moisture within the carpet, fostering a perfect environment for the growth of mold and mildew. The shift towards other flooring options signifies not just a change in style, but a change in how we perceive our own health and utilize our living spaces.'
1. Polished concrete
Concrete sounds very industrial, and yes it does lend itself well to that unfinished, edgy vibe, but there are so many colors and finishes available now it can work really nicely with other styles too. In this beach house designed by Raili Ca, the hard flooring makes sense practically, but aesthetically it also lends itself to that laid-back, bohemian bedroom vibe. As with any hard flooring you can soften the look with a large area rug too.
'In our projects with extremely hot weather, salty air and sand, polished concrete is the go-to. In this Baja home, we poured concrete throughout, and added as many washable rugs as possible throughout to warm up the spaces.' explains the studio's founder Raili Clasen.
Raili Clasen was previously a fashion executive, working with well-known brands like Quiksilver and Paul Frank. She then went on to co-found hip housewares brand, Alice Supply Co. Then the move into the interior design business came naturally after several of her successful home projects.
2. Area rugs
You get the same softness and coziness as a carpet but with an area rug, you have far more flexibility and versatility. A colored or patterned carpet for example seems like a bit of a commitment, and there's the potential it will overwhelm a room, but with a rug, you have the opportunity to bring in some character on a slightly smaller scale – like a feature wall or a large piece of artwork. Plus, you can always pull it up and switch it out as rug trends or your style changes.
Rugs are also more flexible in terms of the shapes and lines that they can add to a room. A wall-to-wall carpet is just that, wall-to-wall, but with a rug, you can create 'zones', allude to more space, and play around with a room's floor plan. Yogesh Chaudhary, director of Jaipur Rugs explains that 'As well as having the advantage of being able to be moved and rotated around a home, rugs are able to define a particular space, whereas carpet fills a room, rugs can segregate one space from another.' You can also ground furniture by placing it on top of the rug and using a rug to anchor a room, which can be ideal if you are dealing with a small square footage.
'A popular look in many bedroom designs right now is to place a large area rug under a bed in a bedroom space with wood floors,' explains designer Kathy Kuo. 'An area rug that's slightly larger than the bed itself helps to ground the bed as an anchor piece, and it's also a great way to add color, texture, and warmth to a room without the somewhat dated look of wall-to-wall carpeting.'
If you love the sink-in feeling of a carpet, recreate that by going with a hile pile rug, or something like sheepskin – these feel so gorgeous underfoot when you step out of bed. Or for something more hardwearing, choose a classic jute rug and then layer it with a smaller softer rug if you want to up the coziness.
Interior design expert Kathy Kuo founded her eponymous home store in 2012 – and it has since gone on to be an e-commerce destination for luxury furniture and decor essentials from a variety of beloved home vendors. Kathy and her store specialize in styles like French Country, Coastal Beach, and Modern Classic while offering interior design services to their clients.
3. Tiles
Tiles have of course been a popular flooring choice for softer spaces if you live in warmer climes forever since they can keep a room feeling extra cool, but we are starting to see them seep into homes the world over. It may seem like a slightly unusual flooring choice for rooms that you want to feel soft and inviting, but we aren't talking ay old tile here, you want tiles that have texture, and warmth or add a touch of the unexpected to a room.
Designer Tamsin Johnson often uses tiles in the bedrooms and living rooms of her projects, they are such a chic alternative to carpet and are the perfect contrast to all the soft furnishings going on elsewhere in the room. The terracotta, almost brick-like, tiles used here work wonderfully to add even more texture to the neutral living room. If you are after a less rustic look we have also seen some very cool spaces that use checkerboard tiles or you could choose a very simple slightly glossy terracotta tile for that Med-vibe that everyone is after right now.
4. Hardwood flooring
Wooden flooring is as classic as carpet, it's more durable, easier to clean, and gives a sleeker, more aesthetically pleasing finish. Plus, you have so much choice in terms of tones and patterns. We are seeing more and more parquet flooring being used in bedrooms and living rooms – you get far more interest and texture than you would with a carpet.
'The shift from carpet to wooden floors isn't just a passing fad; it's a dynamic transformation that offers homeowners a multitude of benefits,' explains Jen and Mar, co-founders of Interior Fox. 'Not only does it provide a cleaner, more contemporary aesthetic, but it also allows for greater flexibility in design choices. You can easily change the look of a room with area rugs, while still showcasing the sleek flooring choice underneath.'
'Patterned wood flooring is fast overtaking carpet as a flooring choice,' agrees designer Gray Walker. 'My favorite is the chevron because it's clean and classic.' We very much agree – chevron is the perfect layout for wooden flooring in a bedroom or living room because it adds that extra layer of texture and pattern but doesn't dominate the space.
Designer Irene Gunter adds, 'My 'go-to' for flooring is always natural materials, such as engineered oak. I never use laminates and when clients choose wooden flooring for their bedroom, we usually recommend underfloor heating and some perfectly placed rugs.' Yes, always throw down a rug to add that layer of warmth if you go for wooden flooring in a more lived-in space like a bedroom or a living room.
5. Natural carpet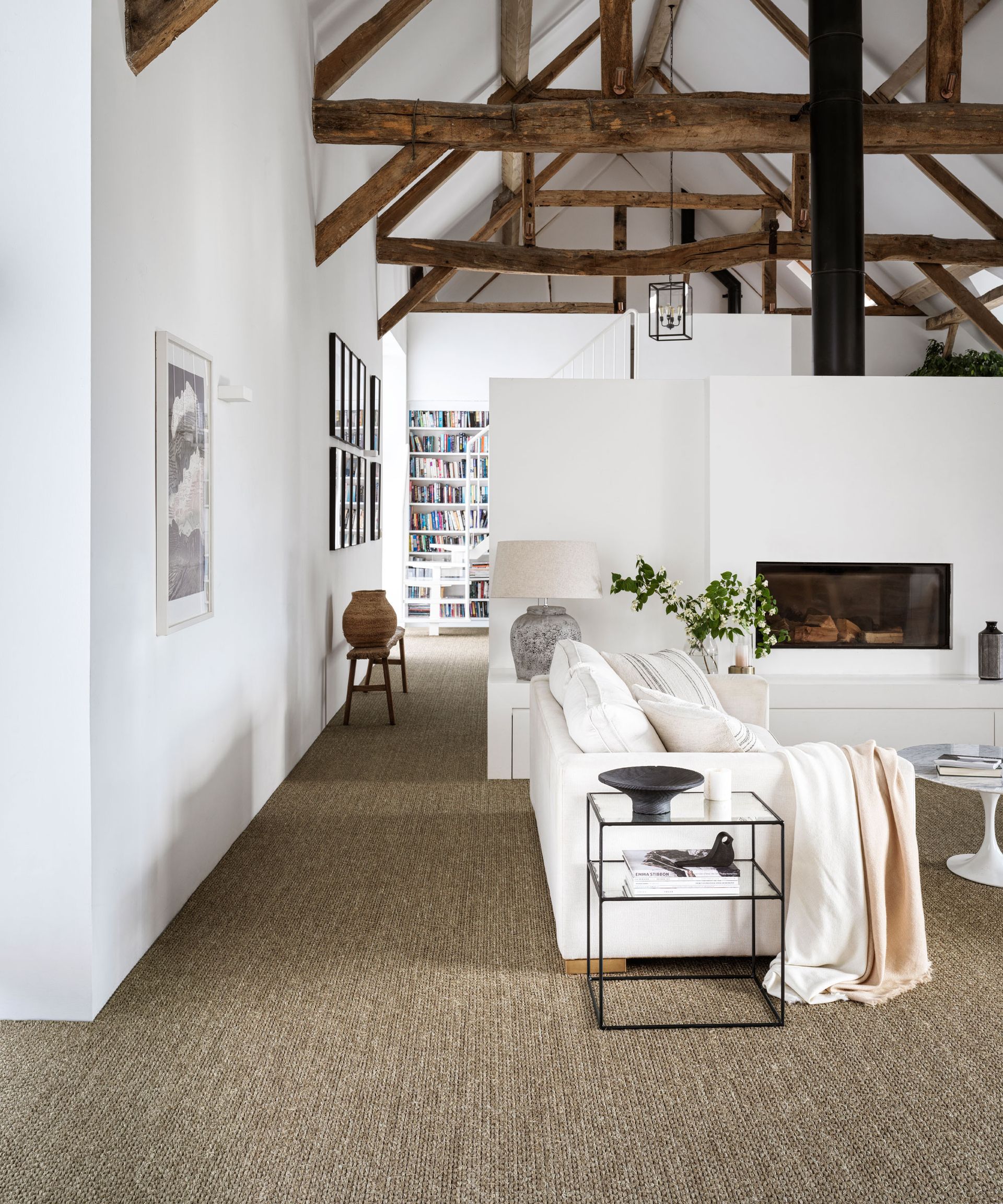 Not exactly replacing carpet, more the most on-trend way to do carpet. We see these natural carpets made from jute, coir, and boucle to be more like hard flooring anyway they are such low piles. This style of carpet is hardwearing, easy to clean, and obviously very aesthetically pleasing – it would work perfectly if you are after a rustic, minimalist style. Plus you can layer them up with rugs just as you would do with wooden flooring.
'Carpet may have been a perennial favorite in bedrooms, but flooring options like cork, sisal, or jute are frequently being used instead of traditional wall-to-wall carpet,' explains designer Bethany Adams.
Kathy Kuo agrees that 'There are always going to be homes where carpet makes sense, whether or not it's 'on trend.' That said, I think in more modern homes, you're seeing less and less when it comes to wall-to-wall carpet; and when you do see it, it's usually in a flat weave that has a more rustic or bohemian feel than a high pile or a shag.'
FAQs
Is carpet still on trend?
Yes, in short carpet is still on trend. It's such a classic flooring option it's always going to be, but it's more about what form of carpet is on trend. Right now carpet trends are all pointing towards natural carpets. Sleek and minimalist they add a ton of texture to a room and are way more hardwearing and easier to maintain than other types of carpet.
---
It seems that carpet is being replaced in favor of more long-lasting hard flooring options like stone, tile, and wood. We are sure this is in part down to practicalities, but as with anything in interior design trends, it has a lot to do with aesthetics too. Carpet can be a bit fussy, a bit heavy almost, and most on-trend styles lean towards clean, more minimalist spaces, so naturally it is getting moved out in favor of these sleeker flooring options.
Sign up to the Homes & Gardens newsletter
Decor Ideas. Project Inspiration. Expert Advice. Delivered to your inbox.