Rug trends – the latest looks for feature floors
Discover the latest rug trends, including what colors, materials and styles are popular with interior designers right now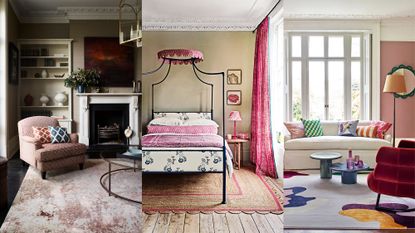 (Image credit: Jennifer Manners / Future)
Are you searching for the latest rug trends? If so you're in the right place as we've rounded up a host of the latest looks that are making waves in the interior design world.
Rugs are an easy way to bring warmth and softness to hard floors, but they are also a fabulous way to add color, texture and to express your personal style.
Available in a dazzling array of materials, weaves, colors and patterns, there's a rug to suit all tastes, from versatile, neutral rugs to use as a base for a layered scheme, to vibrant feature rugs that double as artwork.
Whether you're looking for a living room rug, a bedroom rug, or simply want some inspiration on the latest interior design trends, read on to find out what colors, materials and ways of displaying rugs are popular with interior designers right now.
Rug trends
As we look forward to 2023 nature continues to be a driving force within rug trends and interior design in general, with natural materials, rustic textures and earthy colors dominating. We're also noticing an increasing number of brands investing in rug collections made from recycled materials as well as homeowners opting for antique designs and those handcrafted using traditional methods.
In terms of feature rugs, punchy geometrics, abstract designs and intriguing shapes show no sign of abating and we're seeing borders and edging growing in popularity as a way to bring a decorative flourish to pared-back spaces.
1. Natural fibers
With the urgent need to reduce our impact on the environment, many homeowners are increasingly opting for sustainable, natural materials. Spun from plant fibers, materials such as Jute, sisal, coir and seagrass are both biodegradable and renewable, plus they offer a beautiful array of tones and textures that bring a wonderful organic feel to interiors. Due to their flatweave composition and durability, rugs made from these materials work well in busy areas with high footfall such as kitchens and living rooms. Above, a Jute dining room rug brings essential texture to the neutral, rustic scheme.
2. Geometric rugs
We're seeing geometric rugs everywhere right now, and it's easy to see why, as they are wonderfully versatile. Small-scale checks are great for bringing easy-to-live with color and pattern, while larger-scale abstract designs such as this from Tate & Derby make a wonderful focal point.
'Geometric designs used on rugs certainly isn't a new concept, this season we're seeing lots of large-scale geo pattern repeats in bold but earthier tones. In terms of trends, shoppers seem to be seeking color but with a gentle nod to nature,' says Jo Bailey, deputy editor of Homes & Gardens magazine.
3. Borders
From designs with scalloped edges to checkered borders, rugs with decorative flourishes around the perimeter are a great way to add gentle pattern to a scheme. We're also seeing interior designers use the motif as a clever visual device to add depth and draw attention to certain aspects of a room.
In this master bedroom by Salvesen Graham, the scalloped rug adds a quirky twist to the traditional scheme but also helps draw the eye to the grand bed, helping make the room feel more cozy and intimate.
4. Corlorful Kilims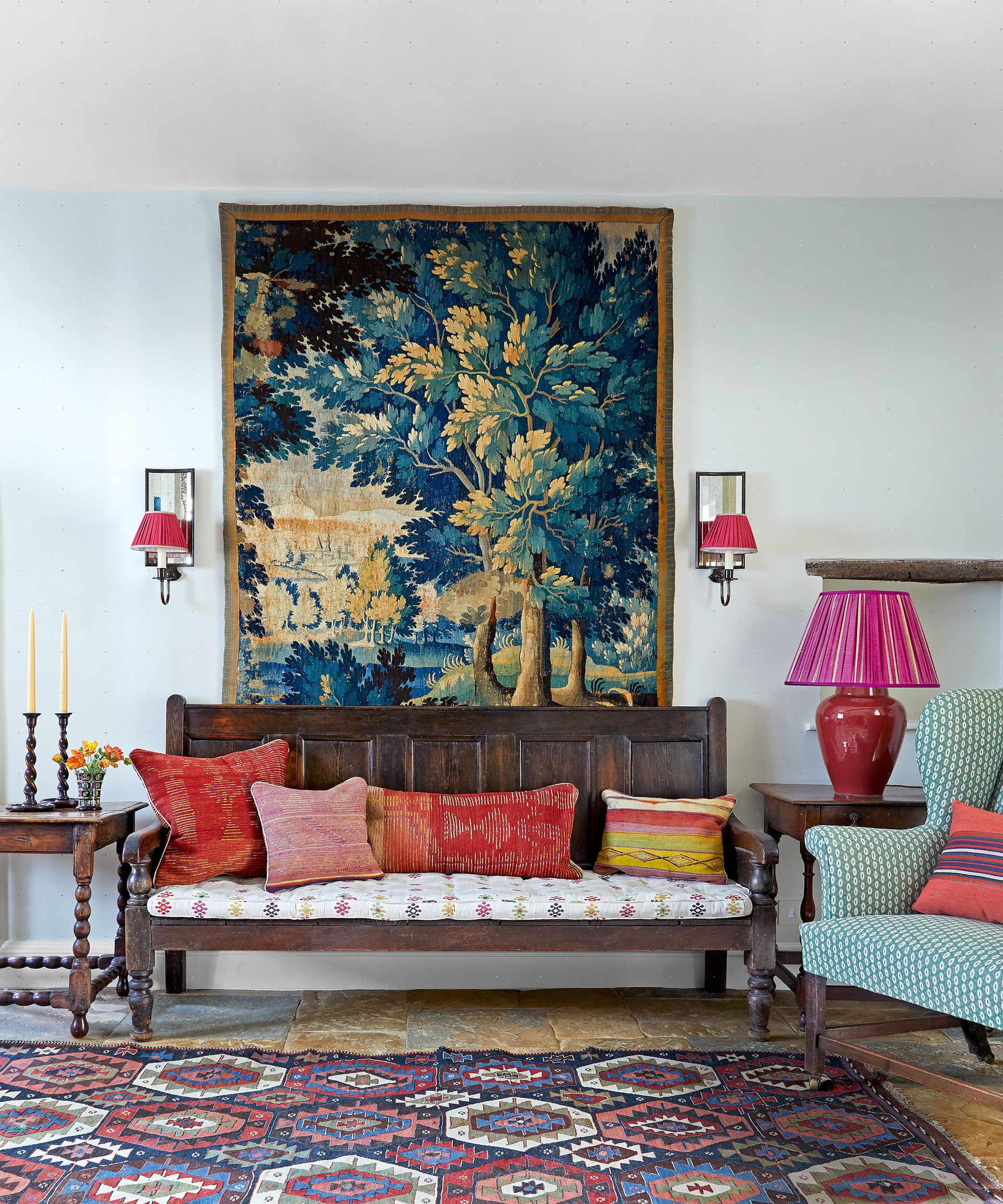 Woven from wool by nomadic tribes across countries including Turkey, Iran, Afghanistan and Turkmenistan, traditional kilim rugs are loved for their vibrant colors and geometric patterns. They make a great focal point in a neutral room but as they encompass a huge array of tones they would also complement a variety of decorating palettes.
5. Berber rugs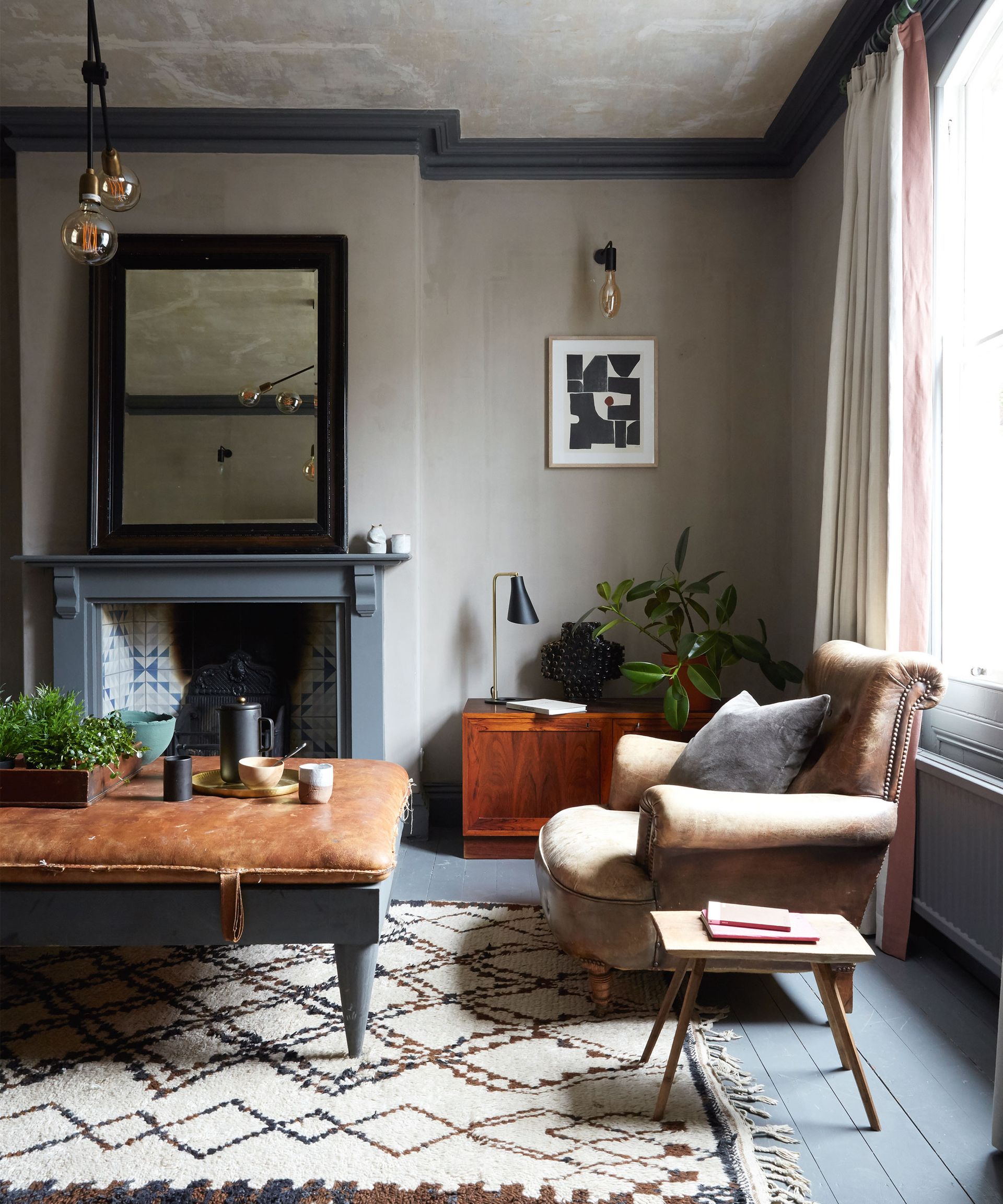 In a market saturated with mass-made designs, many homeowners are turning to handmade rugs to bring unique character into their homes. Made using traditional techniques by the Berber nomadic tribes in Morocco, authentic Berber rugs are completely unique. While no two are the same, similarities can be traced in the designs of each tribe such as the Beni Ourain designs which are characterized by loose geometric patterns, shaggy deep pile composition and neutral tones.
Souad Larusi, a Berber rug and textile specialist and owner of Larusi Rugs, suggests the attraction of the textiles lies in their story. 'Techniques and patterns are handed down from mother to daughter and patterns differ between the various tribes and sub-tribes. That is integral to the structure and design of the rug and it's not something that can be simply added on by slipshod copying, as happens with so many imitation rugs.'
6. Antique rugs
Displaying exquisite handcraftsmanship and often unrivaled in quality, antique rugs are enduringly popular among interior designers and homeowners looking for traditional decorating ideas, but they can work wonderfully in contemporary settings, too.
'Due to their beautiful colors, we often use antique rugs as a starting point for our schemes. We find that it helps to build a client's confidence in their decision-making as they can envisage the color scheme from the beginning,' says Henriette von Stockhausen, founder of VSP Interiors.
'I also use a lot of wallpapers and antique rugs in bathrooms and kitchens which some people find quite surprising, but I feel that these rooms in particular need attention to create a feeling of warmth. Together with fine art and picture lights over fireplaces, these elements help to give a softness to the room.'
7. Neutrals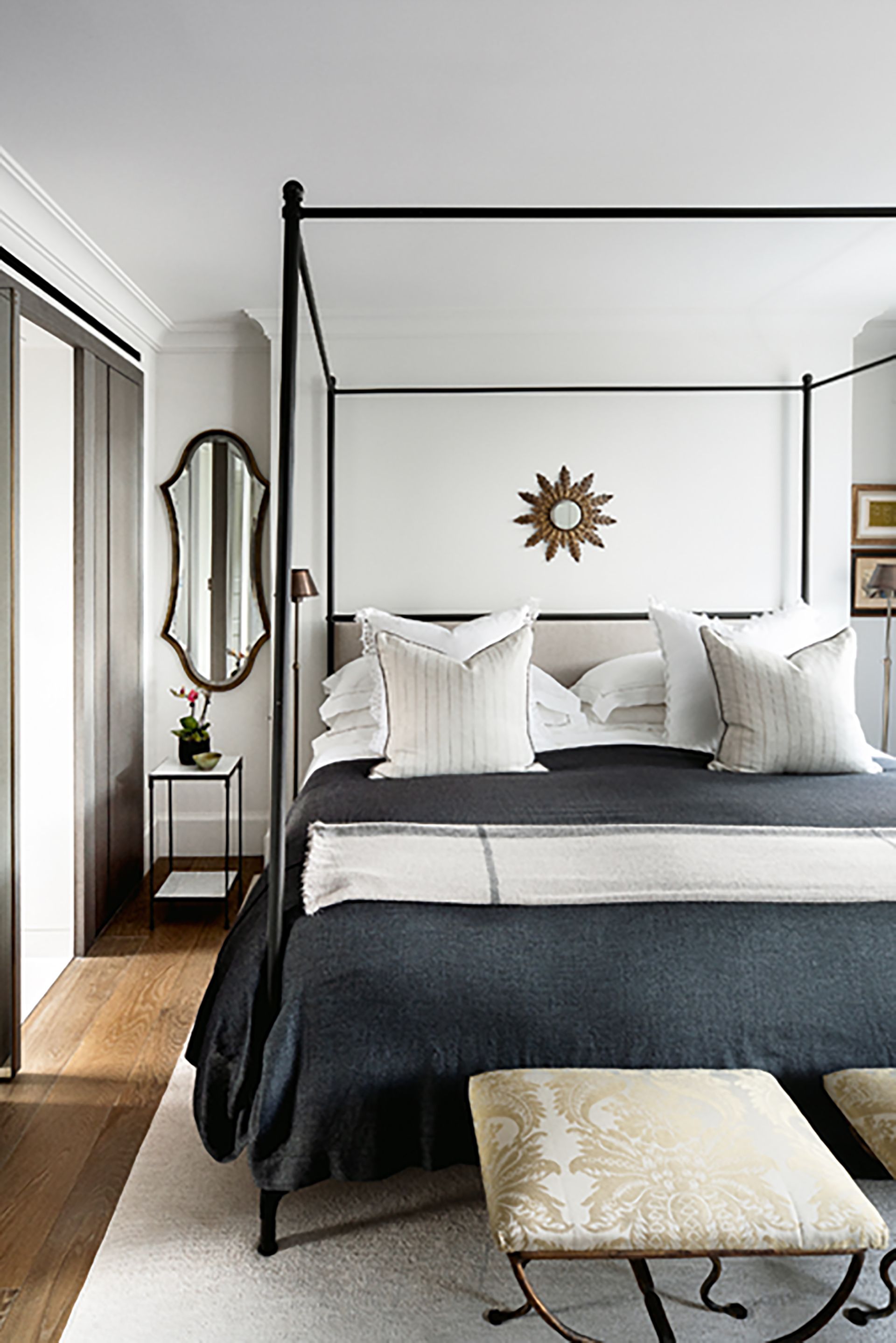 Decorating with neutrals is on-trend right now, but the beauty of them is that they never really go out of fashion. Opting for a neutral rug makes a versatile foundation for a room as it can work with so many different looks – layer it with a subtle array of warm neutrals for a calming, sophisticated look, or use it as a blank canvas for layering brighter colors and patterns.
'Our neutral colors are selling really well. They work in pretty much any space and can evolve with the consumer over time, as tastes and trends change,' says Caroline Cockerham, CICIL's co-founder.
8. Outdoor rugs
As more people embrace outdoor living, weatherproof outdoor rugs made from synthetic materials are growing in popularity to help make the garden feel like an extension of the home.
'We have found a big uplift in the numbers of rugs bought for use under outdoor dining tables, outdoor sofas and as a bridge connecting gardens and the interior of the house,' says Tasha Green, founder at Weaver Green. 'People are looking for performance materials that are weatherproof, practical, easy to clean and that look great.' Made from recycled PET, these rugs from Weaver Green are an eco-friendly way to bring color and softness to a patio plus are machine washable.
9. Rugs in the kitchen
'A rug is a great way to add elements of texture, color, and pattern to a kitchen which is often full of hard surfaces and straight angles. It softens the feel of the room, adds warmth and comfort, and helps with acoustics by lessening the impact of sounds,' advises Nani Marquina, founder and designer at nanimarquina.
Placing a kitchen rug or runner alongside the run of cupboards near the sink also helps protect the floor, catching any spillage to prevent a slippery surface. 'Choose a rug that is easy to clean and care for, I would recommend a flatwoven surface in a durable construction. New fibers like recycled PET bottles feel remarkably soft to the touch, difficult to tell apart from a wool rug, are both easy to clean and care for and very durable,' adds Nani Marquina.
10. Luxurious texture
Texture is an important way to bring depth and interest to otherwise neutral schemes. Inspired by the Red Rocks of Sedona, Arizona, which are thought to contain mystical healing powers, this hand-knotted rug by Jennifer Manners boasts beautiful variations in tone and gentle abstract patterning making it a fabulous textural backdrop for a calming living room.
'The Pioneer collection is hand-knotted from Himalayan wool with bamboo silk (100 knots). The silk reflects the light and therefore changes the appearance of the rugs throughout the day, bringing further life and intrigue to the six inspiring designs,' says Jennifer Manners.
11. Statement stair runners
Hallways can easily be overlooked when it comes to interior decor, but increasingly we're seeing interior designers treating them in new and exciting ways. As the first space guests see when entering your home they make a fabulous space for showcasing your personal style. Here, interior designer, Lizzie Green added a vibrant stair runner idea to bring a playful twist to a traditional hallway.
Are jute rugs out of style 2022?
With the growing need to decorate more sustainably, rugs in natural materials such as jute, sisal coir and seagrass continue to be popular in 2022. As well as being biodegradable and renewable, natural fibers offer beautiful variations in tone and texture that are a fabulous way to bring the beauty and calming qualities of nature into the home.
How do I choose a good rug for my home?
It can be tempting to be swayed by rug trends, but these can come and go, so when buying a rug for your home it's important to think about longevity and choose something you really love, especially if it's for your forever home. What room the rug is intended for will have a big impact on the design you choose. For busy areas that receive high footfall like hallways and kitchens choose a durable rug like a flatweave made from wool or jute. Alternatively, for bedrooms consider thicker rugs with a deep pile that will bring softness and warmth to the space.
Sign up to the Homes & Gardens newsletter
Decor Ideas. Project Inspiration. Expert Advice. Delivered to your inbox.
Pippa is Content Editor on Homes & Gardens online contributing to Period Living and Country Homes & Interiors print issues. A graduate of Art History and formerly Style Editor at Period Living, she is passionate about architecture, creating decorating content, interior styling and writing about craft and historic homes. She enjoys searching out beautiful images and the latest trends to share with the Homes & Gardens audience. A keen gardener, when she's not writing you'll find her growing flowers on her village allotment for styling projects.