4 steps I take to choose kitchen fixtures with the perfect patina
They bring depth, character and soul to my clients' kitchens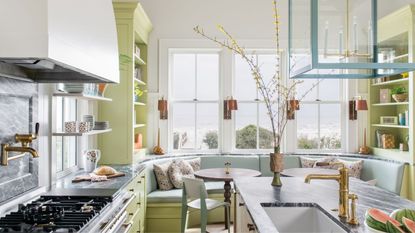 (Image credit: Cortney Bishop)
Sign up to the Homes & Gardens newsletter
Decor Ideas. Project Inspiration. Expert Advice. Delivered to your inbox.
Thank you for signing up to Homes & Gardens. You will receive a verification email shortly.
There was a problem. Please refresh the page and try again.
Fixtures always have bold potential to elevate the aesthetic of a kitchen, turning it into a space of beauty and luxury.
Choosing the right kitchen fixtures, such as kitchen faucets, can be transformative to the space, but with the huge range of finishes and patinas can make it hard to decide which might be best for your space.
Here, I explain my processes and preferences for choosing fixtures with patinas, finishes and colors that will bring character and authenticity to your space.
Which metal: warm or cool?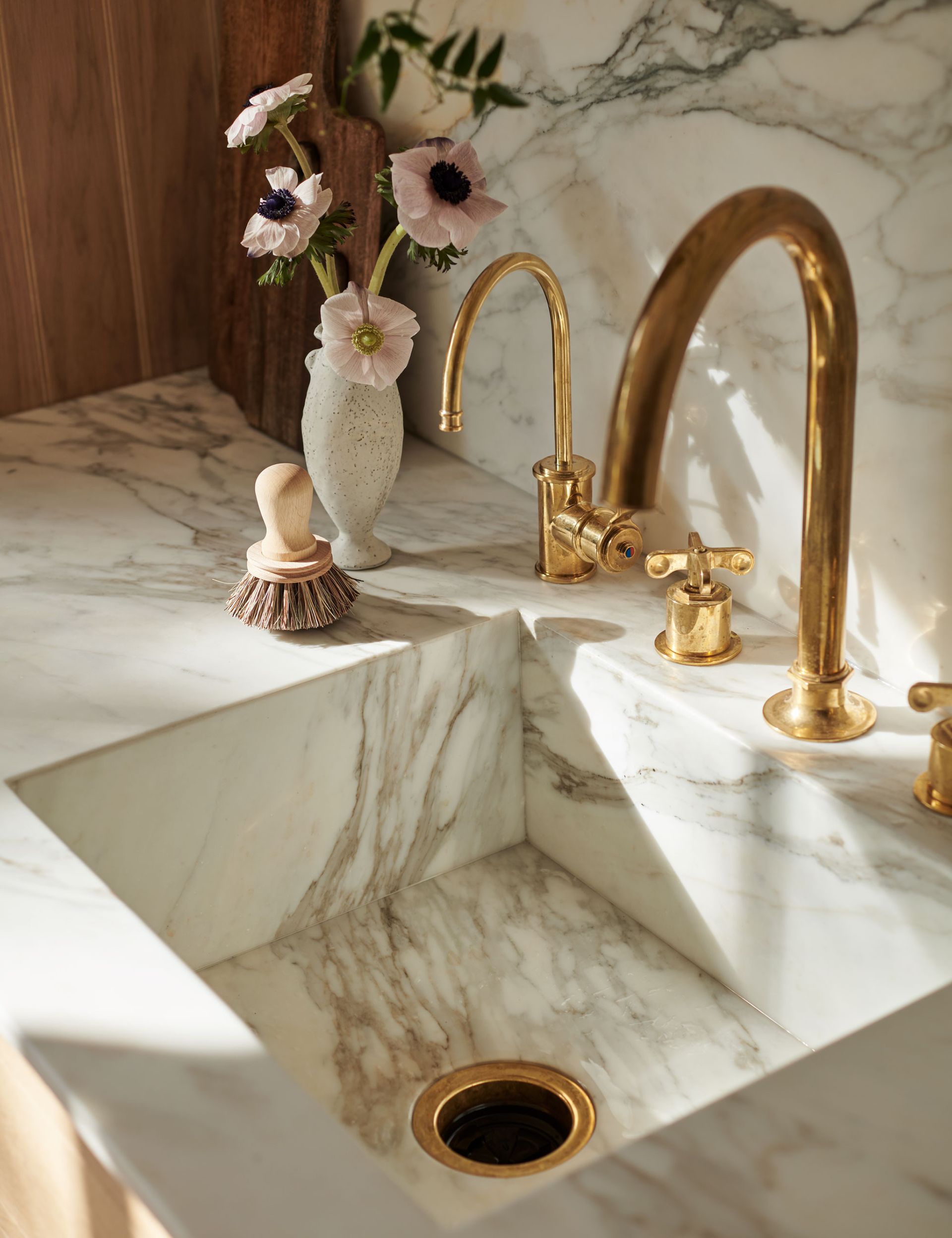 When it comes to metals, unlacquered brass and polished nickel are particularly captivating.
Brass is renowned for its durability and the range of golden and amber hues it offers. The shine and patina on a brass fixture can transform a dull kitchen into a luxurious environment reminiscent of baroque Europe.
On the other hand, polished nickel brings a sleek sparkle and a cool, streamlined, and modern sensibility. Both metals create distinct looks and contribute to the visual harmony of kitchen design.
Understand the power of patina
Understanding patina and finish, and their effects on color schemes and overall feel, is essential for mastering the kitchen space!
The finish of a fixture refers to the final surface treatment or coating applied to protect the material from damage or corrosion. Finishes play a fundamental role in determining color, aesthetic, and texture, making them crucial elements in any room's success.
Patina, in particular, is a specific type of finish that develops as a thin layer on certain materials, such as metal, through natural processes like oxidation or corrosion caused by moisture or oils.
Personally, I appreciate the beauty of naturally-created patina, which occurs when a metal surface is left unlacquered. This natural patina generates color variations and textured effects, infusing a sense of romance and aged rusticity into the space. This type of finish, known as a 'living finish', adds organic luxury to any environment.
Avoid synthetic patinas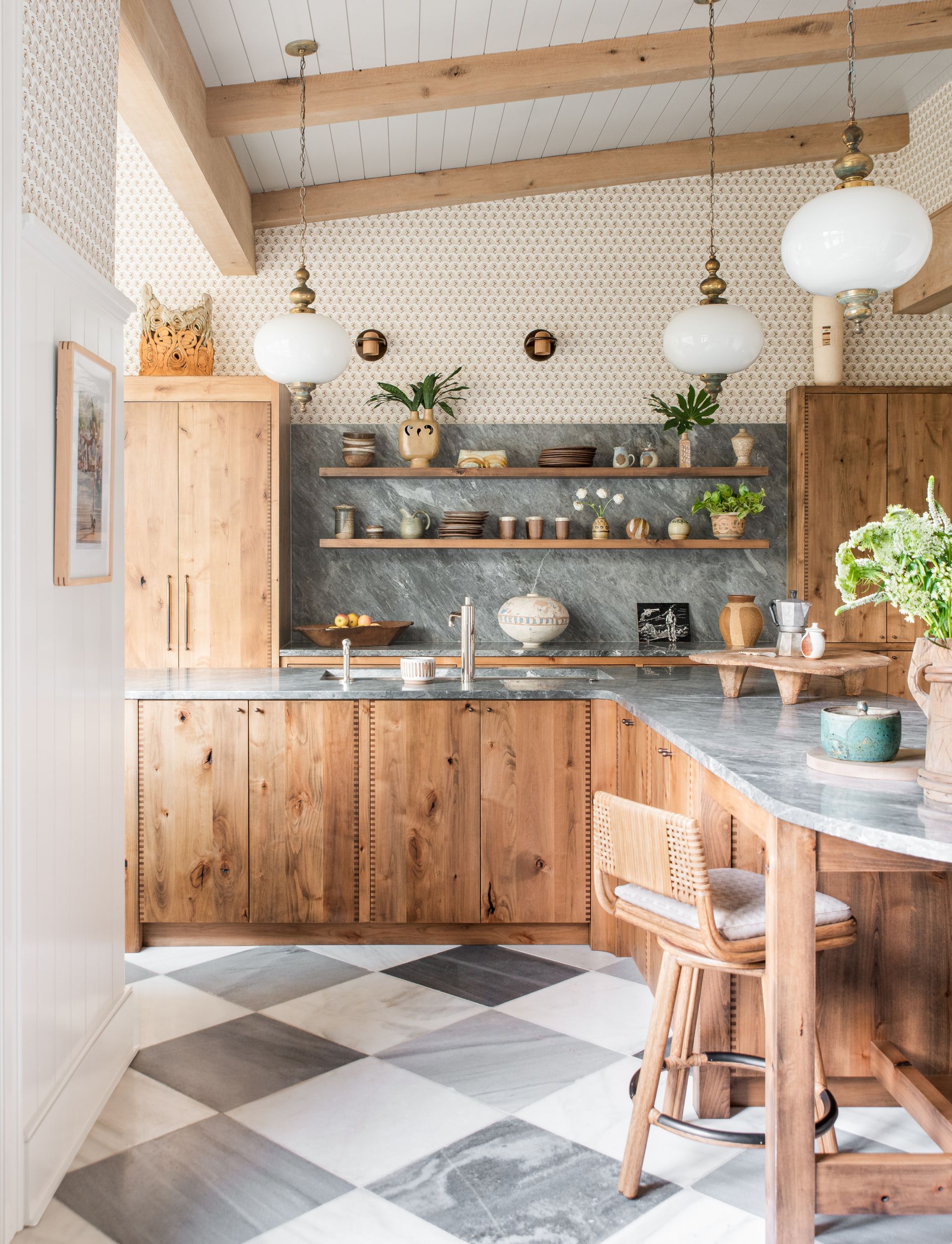 I recently worked with a client who was hesitant about using unlacquered brass due to concerns about its living finish. They were considering opting for synthetically patinaed fixtures, where manufacturers use chemical processes to artificially generate oxidation and darkening.
However, in my experience, these synthetic productions often fall short and fail to achieve the visual impact that naturally patinaed metals offer. There is something incredibly beautiful about allowing a fixture to absorb the effects of its environment and develop a unique patina specific to the household.
Not only does the fixture look better, but it also gains more soul. For example, unlacquered brass reacts to the oils from hands, fingerprints, water splashes, and the surrounding air, resulting in a perfect blend of rich golden colors and textures.
Consider the authentic character of unlacquered finishes
There are numerous fixtures available in unlacquered treatments. One that stands out is the Canteen Faucet from Waterworks in brass (above). It not only features an intriguing and dynamic shape but also incorporates a stunning wooden layer on the handle, adding an extra touch of earthiness.
When opting for an unlacquered finish, it is essential to conduct research and determine the types of colors and patinas the chosen metal will naturally produce.
Additionally, caring for unlacquered metals may require specific considerations. Generally, wiping them down regularly helps manage the rate at which the patina develops, avoiding the use of acidic or harsh cleaning agents that could corrode or react with certain metals. It is also advisable to use a soft cloth or sponge and avoid abrasive scrubbers that may scratch or remove the patina buildup.
Embracing the natural patina that develops on unlacquered kitchen fixtures allows for a unique and authentic aesthetic. The depth, character, and soul that come with a naturally aging metal creates an organic sense of luxury in the kitchen. Something that expresses a sense of old-world integrity and glamor.
Taking some time to research the evolving beauty which comes from natural patina and the range of metals available can transform your approach to design, using your own soulful living environment to bring out color and warmth in your fixtures over time is the ultimate design victory.
Sign up to the Homes & Gardens newsletter
Decor Ideas. Project Inspiration. Expert Advice. Delivered to your inbox.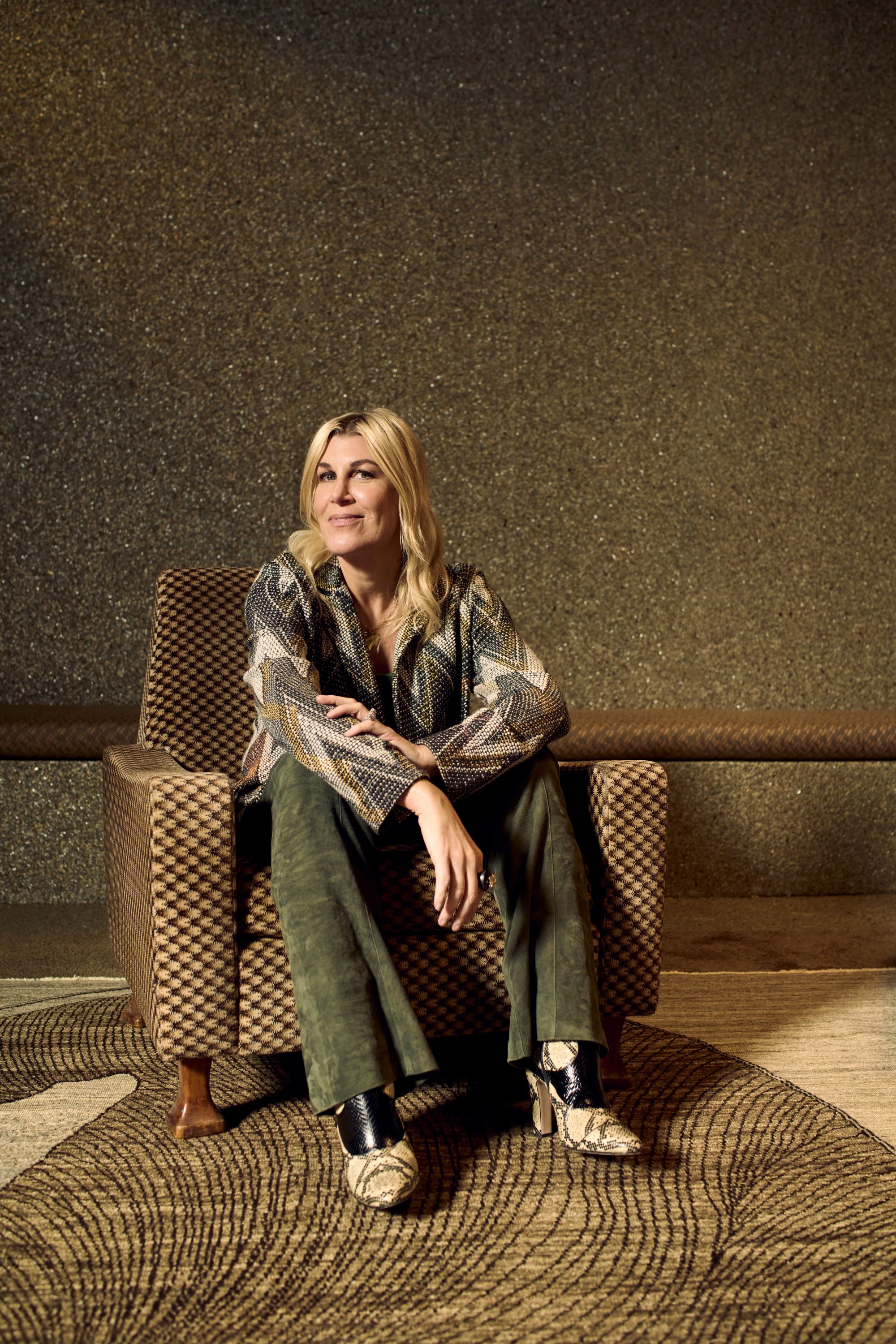 Cortney Bishop, principal design and owner of Cortney Bishop Design, founded the full-service interior design firm in 2007. She holds a BBA in business marketing from the University of Georgia, and pursued her design career by blending her passions for travel, art, fashion and music. Her wide-ranging talent and innate ability to mix patterns and hues has resulted in a robust portfolio of diverse, inspiring residential and commercial projects, each reflective of a client's lifestyle, personality and aesthetic. Cortney regularly contributes to Homes & Gardens.