How to store pot lids – 10 best ways to organize lids for good
Want to know how to store pot and pan lids? We've got you covered!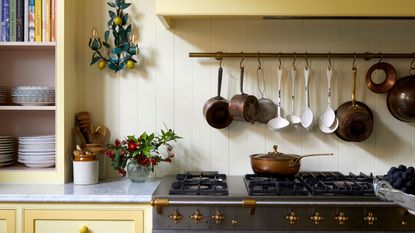 (Image credit: Future PLC)
Pot and pan lids have always been notoriously tricky – and annoying – to store, until now.
Unlike plates and bowls, whose uniform shapes mean they helpfully stay put when you pile them up, pan lids' raised handles, domed tops and different sizes mean that when you're organizing pots and pans, stacking them is a precarious activity.
However, whether you're looking for new ways to store pot lids while organizing kitchen cabinets or organizing kitchen drawers, you'll love the 10 clever hacks we've found to keep them neat. We have a ton of expert tips to keep those pan lids organized, too.
How to store pot and pan lids
Before you start to look at how to store your pot lids, it's worth considering how many you actually need to store. 'No two kitchens are the same, but whatever the size of yours, you have to question how many pans and lids you can use at any one time,' says professional declutterer and organizing expert, Nicola Lewis from Thisgirlcanorganise.com.
'If you have a five-ring hob, that's probably a maximum of three to five pans a day during the week. So, review how many you want to keep and store, and get rid of the others before you start. Always declutter first, organize second.'
Nicola runs Thisgirlcanorganise.com and is a professional declutterer and organizer. For the last six years, she's enjoyed helping transform the lives of countless clients for the better, by organizing and decluttering their homes, both in person and virtually. She offers tips and advice on Instagram @thisgirlcanorganise
1. Store lids in the pans they belong to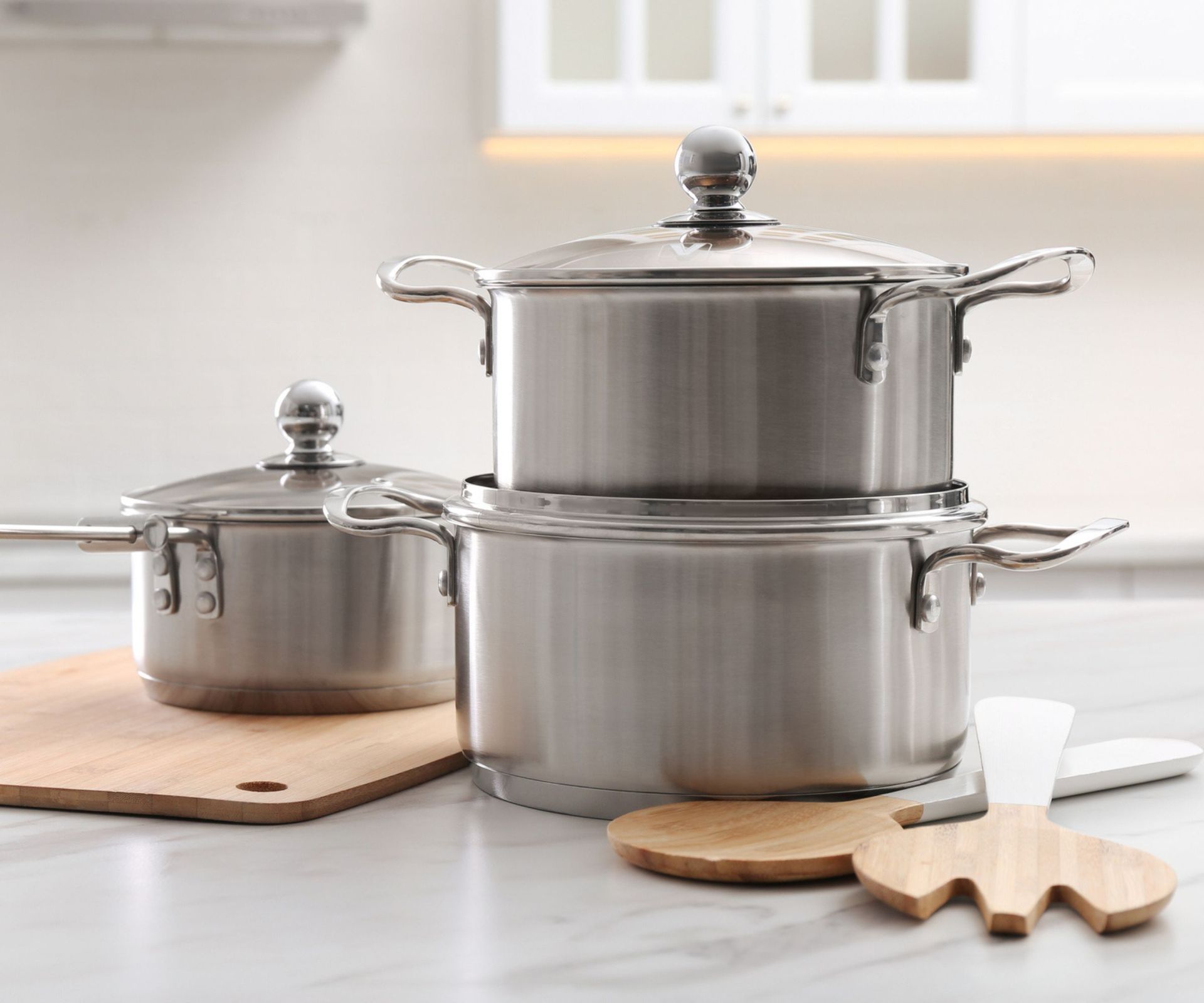 A lid without a pan isn't much use, so stop them from going astray by keeping them in the same place, says professional organizer Jenn Jordan from Orjenise. 'If you have a small number of pans, simply place the lid upside down on top of the pan, then stack the next pan on top; and repeat.
While this method may not suit smaller spaces or kitchens with lots of pans, if you have deep drawers or cabinets, it's a really simple but effective solution as it keeps everything together.'
To stop pans from scraping against each other, slip a pan protector, at Target between each lid and the pot on top.
Jenn is a professional organizer, known as Orjenise (@Orjenise on Instagram). She loves nothing more than helping people declutter overstuffed closets, piles of paperwork accumulated over years, or spare rooms that have become storage spaces. She can also help in more serious cases where there is hoarding behavior.
2. Fix a rack to the inside of a cabinet door
'When space is an issue and if your cupboards are suitable, you can use a specially-designed pan holder rack, at The Container Store (above) on the back of your doors,' suggests Jenn Jordan. Similar to a magazine rack, these are usually made of chrome metal and can be slotted over the door, screwed on, or fixed with adhesive strips.
'If your lids are heavy, you may need to use additional adhesive to ensure the holder doesn't fall off. Something like No More Nails, at Amazon will keep it in place.'
3. Turn cabinets into drawers with inserts
'The problem with stacking pan lids in cupboards is that they're difficult to access,' says interior designer Jackie Hoyte from Decorbuddi.com. 'So, invest in a clever pull-out drawer-style lid holder that sits in your kitchen cabinet and rolls in and out for easy access when you need it.'
The Container Store has both plastic and chrome pull-out lid holders, to suit all budgets, and they are also available at Amazon.
Chrome Roll-Out Lid Holder
This chrome roll-out lid holder stores six lids, and reviews say it glides out smoothly for easy access.
Jackie is an interior designer with Decorbuddi.com, and has over 16 years of creative experience, offering both bite sized interiors advice as well as designing a range of projects from small flats and starter apartments to large family homes.
4. Store pot lids in a plate rack
Repurpose a draining rack or plate rack to hold pot lids instead. 'If you have plenty of space inside a cupboard, a rack is a great option,' says Jenn Jordan. 'These are usually made of wood, bamboo or metal and can also be used to store baking trays and chopping boards.'
The Sanno organizer from Amazon (above) works brilliantly.
5. Hang pot lids
When space is tight, look up for pan lid storage, suggests Jackie Hoyte. 'People often forget about the ceiling when looking for places to store things in a kitchen, but it's the ideal spot,' she reveals. 'Suspend a metal pot rack, at Wayfair on chains from the ceiling, then hang pots from hooks below it, and place lids on top of it, keeping them organized without taking up precious room in your cabinets.'
6. Use stick-on pan lid holders
It's possible to buy specially-designed individual pan lid organizers which stick to the inside of any cupboard door. 'These Joseph Joseph pot lid holders, at Amazon, are fantastic,' reveals Nicola Lewis. 'You simply stick the holders on using the adhesive strip on the back, then slot each lid in. Depending on how many lids you have, you may need to put them on a couple of different doors, but they're a great solution.'
7. Extend your pan lid storage options
Nicola Lewis suggests using an expandable rack for your pan lids. 'These are brilliant placed within a pan drawer as you can open them up or close them down, altering the depth for different-sized lids. Some are also big enough to store lids at the front and pans at the back of the same rack.'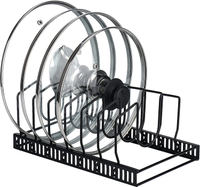 8. Store pot lids on hooks
Got timber kitchen units? Make a pilot hole with a nail and then screw in some large hooks (such as these smart black hooks from Amazon) underneath your upper cabinets. You can then simply slot the handles of your pot lids through them.
9. Use a peg board to display pot lids
Useful for hanging everything from tools in the garage to sewing supplies in the craft room, wooden peg boards can also be useful for storing and displaying utensils and pot lids in the kitchen, says Jackie Hoyte.
'Peg boards are sheets of timber with evenly-spaced holes into which you can push little wooden pegs or dowels to hang things from. As well as being practical, they can be painted to match your kitchen décor scheme,' she explains. 'To store your lids on one, imagine your pot lid is a clock face and place two pegs either side of it, at the 4pm and 8pm positions. This way, you'll be immediately able to see where all your lids are at a glance.'
10. Hang pot lids from rails
Hanging rails aren't just good for utensils – they can be used for pot lids too. But don't worry if your lids have knobs rather than handles – simply slot them in the gap between the wall and the rail, to hold them in place. Browse different-length hanging rails, at Ikea.
Where to store pan lids
Cabinets and drawers are the obvious places to store pan lids, but with a little ingenuity you can also store them on walls, from hooks, behind doors and even hanging from the ceiling!
FAQs
How do you organize pot lids in a drawer?
Create a sliver of space in your pan drawer for your lids with this easy hack. 'Take a small spring-loaded tension rod, available at Amazon, and place it a few inches from the front of the drawer, anchored in by the sides of the drawer. Your pot lids can then simply slide into the space between the rod and the drawer front,' explains Jenn Jordan.
How do you store pot lids in a cabinet?
One of the easiest and cheapest ideas is to find a box or basket just the right size to keep all your lids together in your kitchen cupboards. Anything from a shoebox to a plastic trug will do.
'I like to stack all my pans, then put the lids in a separate box and keep it beside them within your cabinet,' explains Nicola Lewis. 'Once your lids have a home, everyone in the house will know where they live, and it will simplify things no end, eliminating stress in the kitchen.'
How do you store lids with Command Strip Hooks?
Create your own pan lid holders with Command Hooks, at Target. These clever self-adhesive hooks will stick to walls or cupboard doors and can be removed without leaving a mark. 'Measure the circumference of your pot lid, then take two hooks and stick them at an angle that distance apart, so that the lid slots down between the two, and they're held in place,' says Nicola Lewis. 'It's much cheaper than buying a custom-made holder.' You can also place hooks the regular way and hook your pan lid handles over them.
Are pot lids recyclable?
Whether your pan lid is recyclable depends what it's made from, and what recycling facilities are in your area. Lids made from stainless steel, copper or cast iron should be accepted by your local recycling depot; whereas Pyrex glass may be less likely.
What can I do with old pot lids?
Don't throw your old pan lids away! If you're sure you can't recycle them, you could take them to a thrift store or charity shop, or check out Pinterest for a whole host of ideas for upcycling and repurposing pan lids, from using them to make bird feeders, wind chimes, lighting, wall hooks, children's musical instruments, and even clocks.
Sign up to the Homes & Gardens newsletter
Decor Ideas. Project Inspiration. Expert Advice. Delivered to your inbox.
Jenny has been a features and lifestyle journalist for over 20 years and writes about homes and gardens for a range of national newspapers and magazines. Jenny writes about organization, decluttering and storage for Homes & Gardens.