How to organize cables – 10 ways to keep them neatly contained and under control
Clear your desktop of unsightly tangles with these top tips on how to organize cables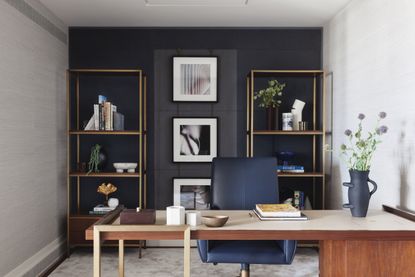 (Image credit: Qatari Diar/Alexander James)
Sign up to the Homes & Gardens newsletter
Decor Ideas. Project Inspiration. Expert Advice. Delivered to your inbox.
Thank you for signing up to Homes & Gardens. You will receive a verification email shortly.
There was a problem. Please refresh the page and try again.
Our tech-heavy lifestyles mean that cable clutter has become a real 'thing', particularly in home offices, where our desks play host to charging docks, monitors, speakers, and more. There's nothing like unsightly tangles to disrupt creativity and flow, so if you want a workspace that's as inspiring as it is functional, we'd advise getting to grips with how to organize cables.
If you're organizing a desk to be sleek, streamlined, and easy to use, cable management should be top of the agenda. The tidier you keep them, the more productive your working environment will feel – plus it's better for your tech, too.
Streamlining is the best place to start. As well as finding clever ways to disguise cables in constant use, you'll need to get a little creative with home office storage ideas to keep them neatly contained and well-organized when they're not – unless you want to spend hours separating your headphones from your charging cord, that is. Fortunately, we've done the hard work for you.
How to organize cables
If your cables, cords and wires are out of control, fear not. Below, we've listed a number of home office organizing tips and creative solutions for containing and organizing cables and cords, as well as a few handy tips for cutting back on them, too.
1. Start with a clear out
If you're anything like us, you've likely gathered a fair few cables over the years. And chances are you actually need very few of them. Before you start organizing, a good declutter is required. Start by unplugging everything and gently separating each cord and cable (don't pull too hard or you'll damage them). If any appear broken or frayed, set them aside. Work out if any belong to devices you no longer own, and set those aside too.
Any you don't recognize? They're probably safe to part with. If you're not sure, store them somewhere out of the way. If you don't need them in the next 12 months, you know you're okay to get rid.
2. Ditch duplicates – safely
Next, work out how many of the cables you have left you actually need to keep. The best way to do this is to categorize them first by use. Do you need eight of the same type, or can you double up? Set yourself some limits; one charger cable and USB cable per member of the household, for example.
Bear in mind that cables shouldn't just be tossed in the trash, it's not great for the environment. Instead, seek out the best place to recycle them – metal recycling centers will usually take them, but call ahead to make sure. Any that still works, think about donating to a local school, library, or charity, or offer out to friends and family.
3. Switch to wireless
It may sound obvious, but have you checked whether any of your electronics have a wireless setting? Many often do, and it's a quick and easy way of eliminating cables. The fewer you have to manage, the better.
4. Label them
Unplugged your computer by mistake and lost yourself an hour's worth of work? We've all done it. Labeling is an effective technique with any organization task, but particularly so when it comes to cords and cables when you don't know exactly what goes where. Rather than writing names, which can look messy, use different colored cord ties, or tags like these ones, from Amazon, to help make things clear.
'Label both ends if you can, so you can see what goes where, and remember to add labels to new cables that come into the home, too. It's also helpful to label power adapters that come with different devices, as they tend to look alike,' advises Lucy Searle, Global Editor in Chief, Homes & Gardens.
Lucy Searle has written about interiors, property and gardens for over 30 years, starting within the interiors departments of women's magazines before switching to interiors-only titles in the mid-1990s. Lucy is a serial renovator and also owns rental properties in the UK and Europe, so brings first-hand knowledge to the subjects she oversees. She has extensive knowledge when it comes to cleaning, decluttering and organizing, and with a busy family home with a dog this comes in very handy.
5. Group by function when in use
A great way to tame an unruly set of wires behind the desk or at your feet is to group them together according to the devices they serve, and direct them toward an outlet. Plastic sleeves, like these from Amazon, adhere to the back of your desk and even down the legs, if required, keeping cables contained neatly, efficiently, and most importantly, out of sight.
6. Invest in a 'media-friendly' helpers
If you're investing in a new home office desk idea, consider one with media-friendly components such as in-built charging stations, cable outlets, and power strips, to help you keep your cables under control.
'If upgrading your desk is not an option, use a cable management box to hide power strips, adaptors, chargers, and cords. Many cable organizing products on the market have a beautiful aesthetic and are still extremely functional', says professional organizer Michelle Urban, owner of The Organized House.
Choose a design that combines form and function, such as this one, available on Amazon, to keep your desk looking stylish, as well as streamlined.
7. Keep the floor clear
If you're pulling out plugs every time you move your feet, it's time to do something about it. Get chunky cables up off the floor by mounting a power strip to the underside of your desk, as far towards the back as the length will allow. If you're a fan of more 'minimalist' desk designs or have multiple power strips to organize, consider investing in a storage tray that sits just beneath the desk and keep them all in there.
'Command hooks or cable clips are great for keeping smaller wires and cords off the floor, charger wires for example. Attach them to the back of your desk, or underneath, depending on your set up – it works well for your nightstand, too,' advises home organizer Mary Jo Contello, owner of Organized by MJ.
8. Coil cords and cables – the right way
When not in use, the best way to avoid any unwanted tangles is to coil cords of any size into a neat circle and secure them before putting them away. Those extra two minutes will save you at least double that when you come to find them further down the line.
Be conscious not to use any method that puts too much pressure on the area where the cable connects. These are prone to bending and breaking, leaving exposed wires which makes them unsafe to use. To ensure this doesn't happen, consider investing in cable protectors.
9. Implement a sensible storage system
Depending on the size of the cables and wires you're storing, and the size of your desk, you'll want to invest in some clever storage solutions to keep cable clutter under control.
'Cutlery organizers, drawer dividers and bins all work well, and offer easy access. Be sure to measure up beforehand to maximize space. Label each section, and store items by category so you can grab what you need quickly,' says Carly Campbell, the organizing guru behind successful blog, Mommy on Purpose.
10. Transport cables in clear, zip-lock bags
If you're taking headphones, laptops or chargers out with you, don't put them straight into your rucksack – you'll be amazed how quickly those knots can form! Tie them up then pop each one into its own clear, zip-lock bag.
How do you store lots of cables?
Rather than dumping them all in your designated cable drawer or box, consider using some of the storage products professional organizers swear by, such as a cutlery tidy, drawer dividers or honeycomb organizers (usually used for organizing a sock drawer) to keep multiple cables neatly separated. Toilet roll holders or compartmentalized cardboard boxes also work just as well. Don't forget to label, for extra clarity.
What is the proper way to organize cables?
The key to avoiding a jumbled mess of cables is to tie them individually. Wrap each one loosely around your hand, then twist the cord around the middle a few times, being careful not to put too much pressure where the cable connects. Use cable ties or velcro wraps to hold them in place and label them all individually so you know its function.
Ideally, you'd use organizers to keep them separated, but if you're storing multiple cables in one place, such as a bin or drawer, place each one into a clear, zip-lock bag. That way, they'll stay separated, even if they happen to unravel.
Sign up to the Homes & Gardens newsletter
Decor Ideas. Project Inspiration. Expert Advice. Delivered to your inbox.
For 10 years, Tara King worked as a Content Editor in the magazine industry, before leaving to become freelance, covering interior design, wellbeing, craft and homemaking. As well as writing for Ideal Home, Style at Home, Country Homes & Interiors, Tara's keen eye for styling combined with a passion for creating a happy – and functional – family home has led to a series of organization and cleaning features for H&G.