Easter table decoration ideas – pretty ways to decorate an Easter table
Embrace the new season with pretty Easter table decorating ideas, simple floral arrangements and clever makes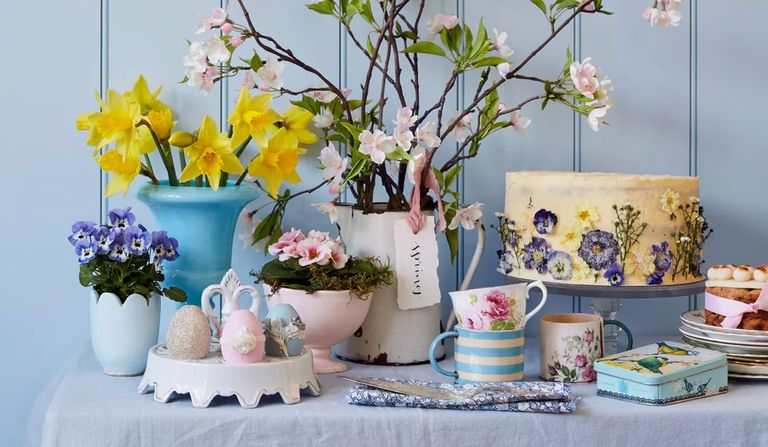 (Image credit: Future)
These Easter table decoration ideas celebrate the magic of the season. So, whether you are hosting or just celebrating an Easter meal as a family, fill your home with scented bulbs and fresh blooms, botanical bakes, floral prints, pretty pastel accessories and elegant vintage finds to create an Easter table that's the centerpiece of the weekend.
For all our Easter decorating ideas, from makes to decorations, don't miss our dedicated guide.
Easter table decoration ideas
These pretty Easter table decoration ideas range from quick but cute table settings you can put together in minutes to makes that take a little longer. One thing they all have in common: they're all alluringly pretty.
1. Layer place settings
'The tablecloth is the star of the show and sets the tone for the whole table,' suggests Seb Bishop, CEO, Summerill & Bishop. 'Add a charger plate, beneath a slightly smaller plate and follow with the napkins, matching them with the tablecloth, and place them over the plate.
'Glassware comes next with white wine on the far left followed by red and water. Our last tip is crucial, now that everything is set, don't forget to live in the moment to absorb it all. It's a special thing to be surrounded by those you love.'
2. Decorate eggs for a pretty place setting
For an individual place setting idea, why not paint and decorate eggs? It's an old tradition at Easter time and fun to do. To make one like this, choose a leaf or flower – this is a parsley leaf – and attach it onto the egg. Then using water based or acrylic paints, stipple on color and leave to dry. Then remove the leaf and you have your design. Use a simple tag for the name or just write straight onto the egg.
3. Tie a place setting posy
'Choose a handful of seasonal flowers and foliage, preferably those which are semi flat-sided so that they rest on the napkin with their faces looking up,' says florist Kitten Grayson.
'Here I used Ammi Black Night Sweet Peas and Wiltshire Ripple Diablo foliage. If you are using fresh flowers, make sure to have a little bud vase placed nearby to pop them into once the meal begins. Alternatively, dried flowers are a lovely option as they act as a special keepsake beyond the meal.'
See Kitten Grayson's Easter flower arrangement step by step to create a table full of Easter blooms.
4. Make pretty Easter place cards
Easter table place cards are such an easy idea and lovely to make. This one complements the vintage tablecloth and china perfectly. Using thin card, cut the shape, 10 x 10cm is a good size, then fold in half.
Then either use a flower stamp, or if you want to, hand-draw the design from the tablecloth, write the name on, then punch a small hole on one side and carefully push a tiny flowerhead or two through.
See: Easter recipes – for family and friends to enjoy
5. Make a simple Easter centerpiece
Pleasingly simple, but with wonderful impact, this floral centrepiece has been created using a deep, round serving bowl. Fill the vessel with flowers taken straight from their pots – we used white narcissi, but small tulips or a mix of spring blooms would have equal appeal.
Disguise the soil with pale sphagnum moss (from florists), and your focal point is complete.
See: How to make an Easter wreath – an easy step by step guide
6. Layer up china in pretty pastels
When creating Easter place settings it's always best to layer patterned plates with plain to help make each design shine. Don't be afraid to lay pretty pieces on industrial tables – it all contributes to an eclectic look.
Pastel pink and pale duck egg blue provide the key color accents for this delightful table setting.
On table from top left: Ice Green Poole Pottery plate, find similar at Etsy
7. Have an Easter afternoon tea
Lift spirits by serving a vintage-inspired afternoon tea. For a pretty yet rustic spread, lay a painted table with potted bulbs and mix and match vintage plates and teacups. Add a floral flourish by decorating bakes with edible flowers, piling them up on a beautiful handcrafted pedestal cake stand, and serve with vintage cake forks and block-printed napkins.
8. Pile up painted eggs for a table centerpiece
Decorate eggs in different ways and display grouped on a platter or use them to style place settings. Using blown or craft eggs, coat with PVA then cover with glitter and fabric scraps, or paint and attach pressed flowers, lace or floral stamps. Alternatively buy beautiful hand-decorated eggs from Betty & Violet.
9. Create a floral display
A beautiful carrot cake topped with orange cream cheese frosting and dried edible rose petals, baked by Spring Bake, makes a pretty showpiece set on a handmade stand.
Add instant cheer by pinning up seasonal artworks, such as Unity Coombes' mini duck and rabbit paintings and vintage-inspired floral scented sachets from The Blueberry Patch.
10. Dress up an Easter breakfast table
Lay a pretty table for Easter morning by mixing and matching vintage and floral china, playing with scale of pattern. Juxtaposing polka dots and stripes with chintz floral patterns, the contemporary ceramics of Virginia Graham bring a playful modern twist.
Photography/Helen Cathcart
Styling/Ali Brown