Easter craft ideas – elegant, easy makes
Now is the perfect time to try these sophisticated Easter craft ideas – from gorgeous centerpieces to quick floral arrangements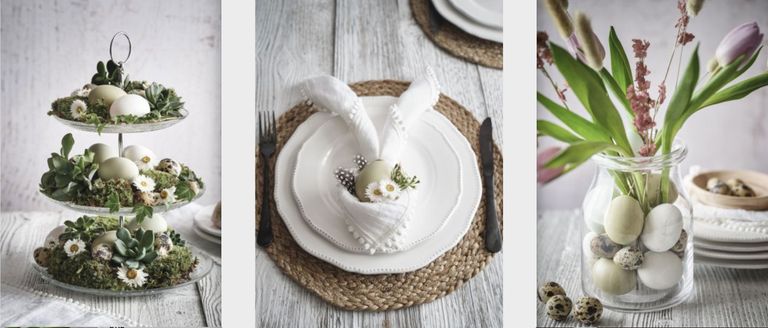 (Image credit: Future)
When you hear the phrase 'Easter craft ideas', you may think lolly pop bunnies or cupcake chicks... but ours are for adults-only because we believe that Easter + craft can result in some pretty sophisticated finishing touches.
Below are our favorite Easter craft projects, along with some simple step-by-steps. None will take you long to create, for many, you may already have the ingredients you need – and all, we think you will agree look beautiful.
For more Easter decorating ideas – many of which involve very little effort for huge impact – don't miss our dedicated gallery.
Easter craft ideas
These are just some of our favorite Easter craft ideas – but we will keep adding them so don't forget to come back for more inspiration.
1. How to make an Easter basket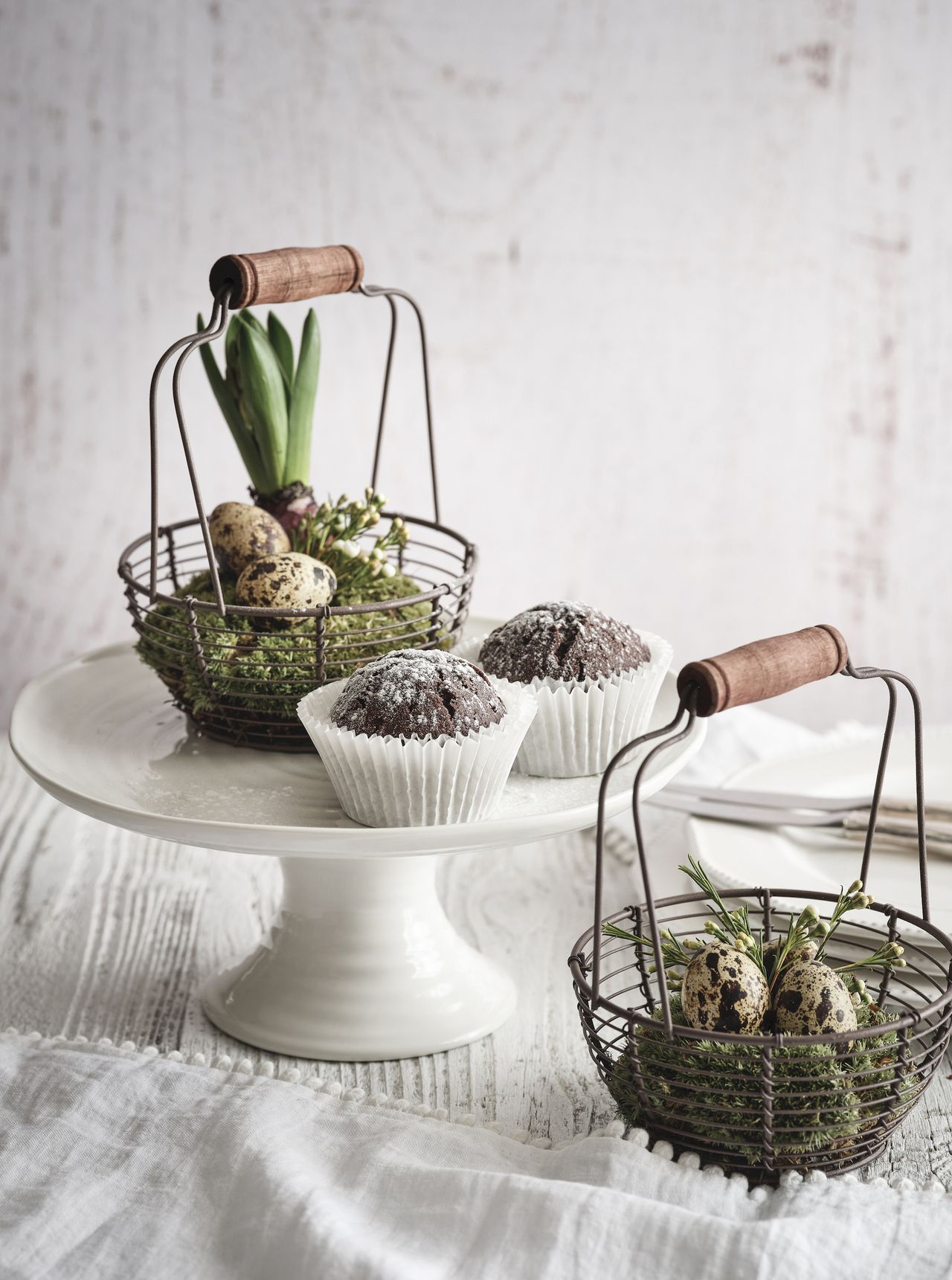 This simple Easter craft can be put together in moments. A vintage-style metal basket, or a traditional wicker version, is perfect for bulbs and other seasonal goodies. You could even use them for egg hunts, then style up as a cute place setting.
How to make our Easter basket
1. Arrange a mound of bun moss and quail's eggs with a sprig of wax flower.
2. A hyacinth bulb in the moss will gradually bloom.
3. For a sweet treat, swap the quail's eggs for chocolate.
Baskets and vintage cutlery, for similar try eBay. Napkin, Nordic House. Plates, Sainsbury's. Cake plate, Sophie Conran for Portmeirion
2. How to make an Easter garden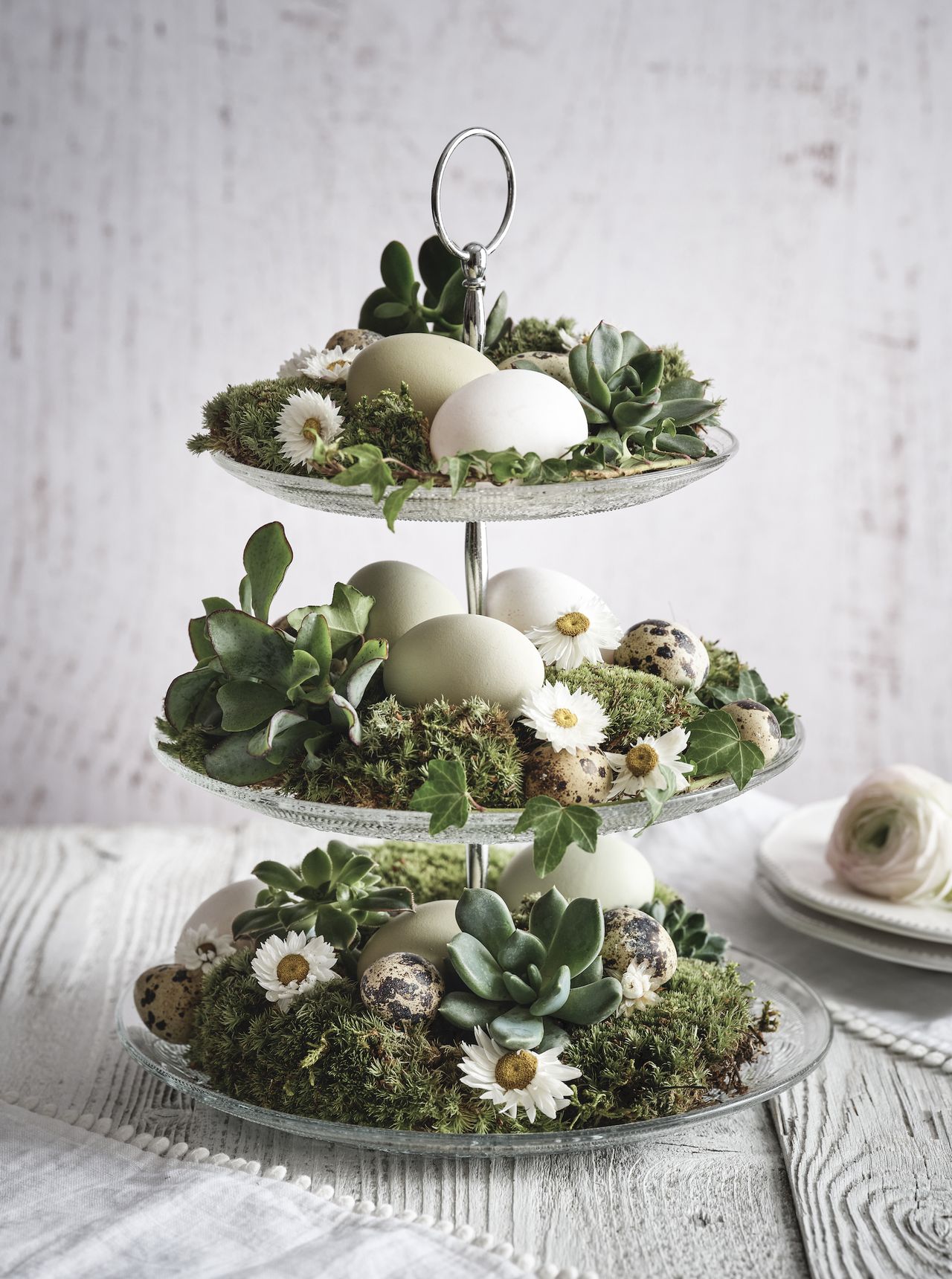 An Easter garden can live indoors and if the weather is wet – as it often can be at Easter – it's a wonderful way to bring greenery indoors.
How to make an Easter garden
1. To create this arrangement, first take some well-watered bun moss and cover the plates with spaced out mounds.
2. Insert succulents in the gaps between the moss, then make some depressions and nestle different types of egg in them.
3. Cover any gaps in the greenery with dried daisies.
4. Finally drape ivy trails around the edges.
5. To keep the daisies fresh, remove and spritz with water, wait until dry then replace.
Napkin, Nordic House. Vintage cake stand, for similar try eBay. Plates, Sainsbury's. Dried daisies, Atlas Flowers
3. How to make an Easter centerpiece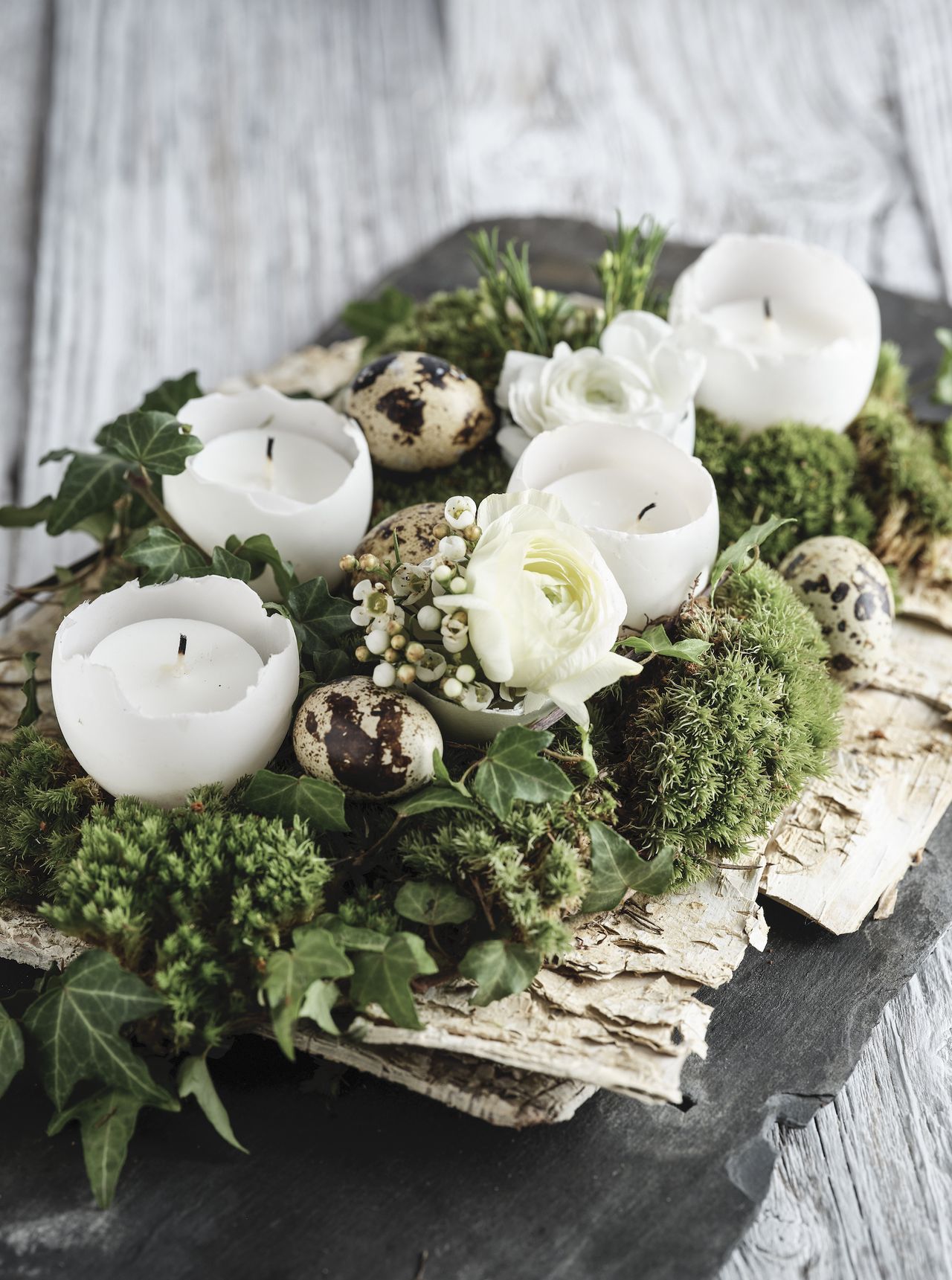 This arrangement looks lovely all year; simply add quail's eggs to make an Easter table center.
How to make our Easter centerpiece
1. Place tree bark on a platter – we used a slate tile – and dress it with mounds of bun moss secured with a hot glue gun.
2. To create the eggshell candle holder, carefully remove the top of the shell, clean it and fill with moss. Pop a tealight inside.
See: Easter table decorations – more ways to decorate a table this Easter
4. How to make an Easter table setting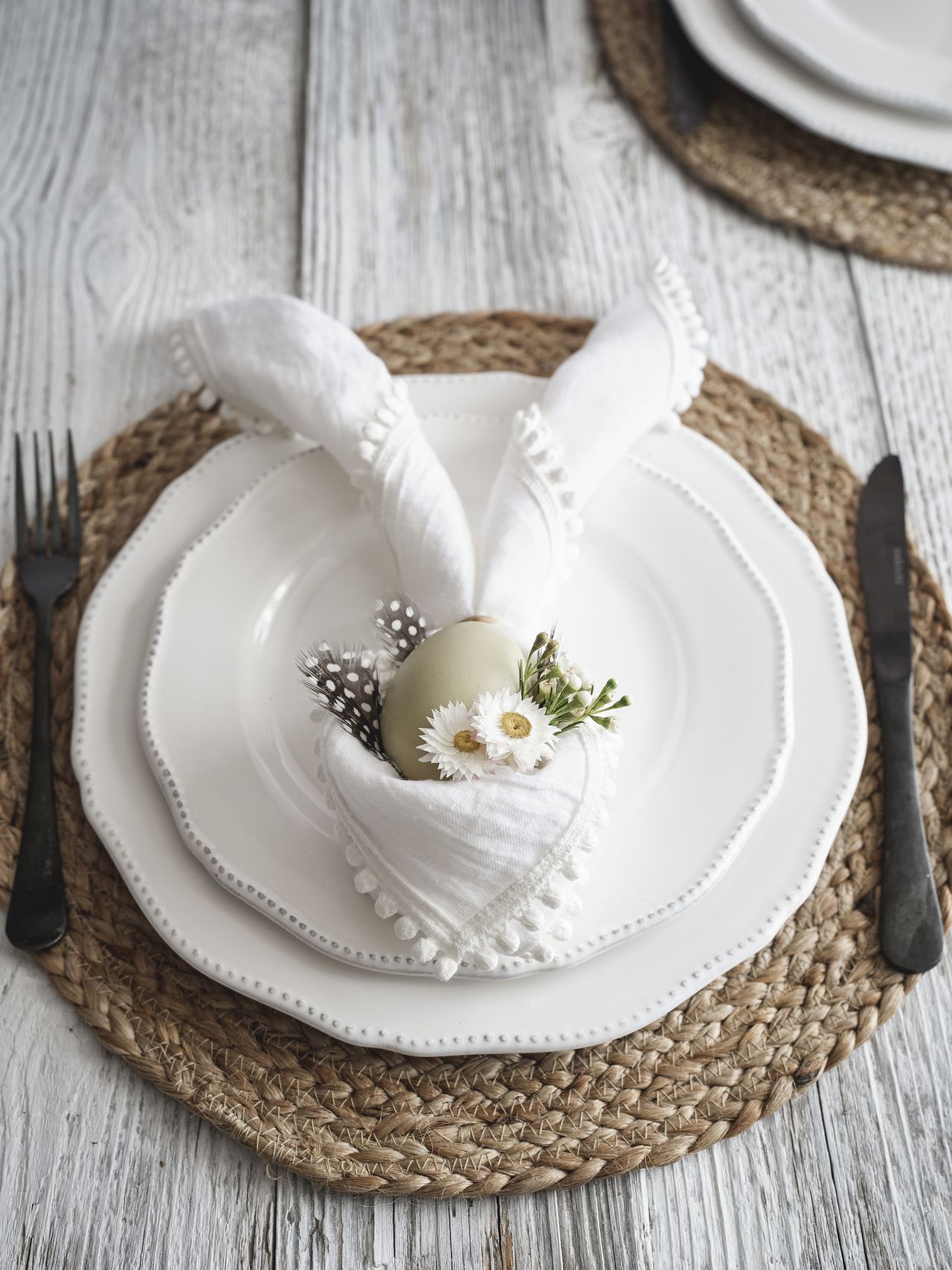 This cute table setting is so easy to create – and it looks very sweet!
How to make an Easter place setting
1. To make a rabbit's ears napkin roll, fold it in half, corner to corner, to create a triangle.
2. Roll up from the widest edge towards the central corner.
3. With the point facing down, pull the two ends to meet and tie a quarter of the way from the bottom.
4. Position on a plate, insert an egg, feathers and flowers, and shape to look like ears.
Place mat and napkin, Nordic House. Cutlery, Amara. Plates, Sainsbury's. Dried daisies, Atlas Flowers
5. How to make a seasonal wreath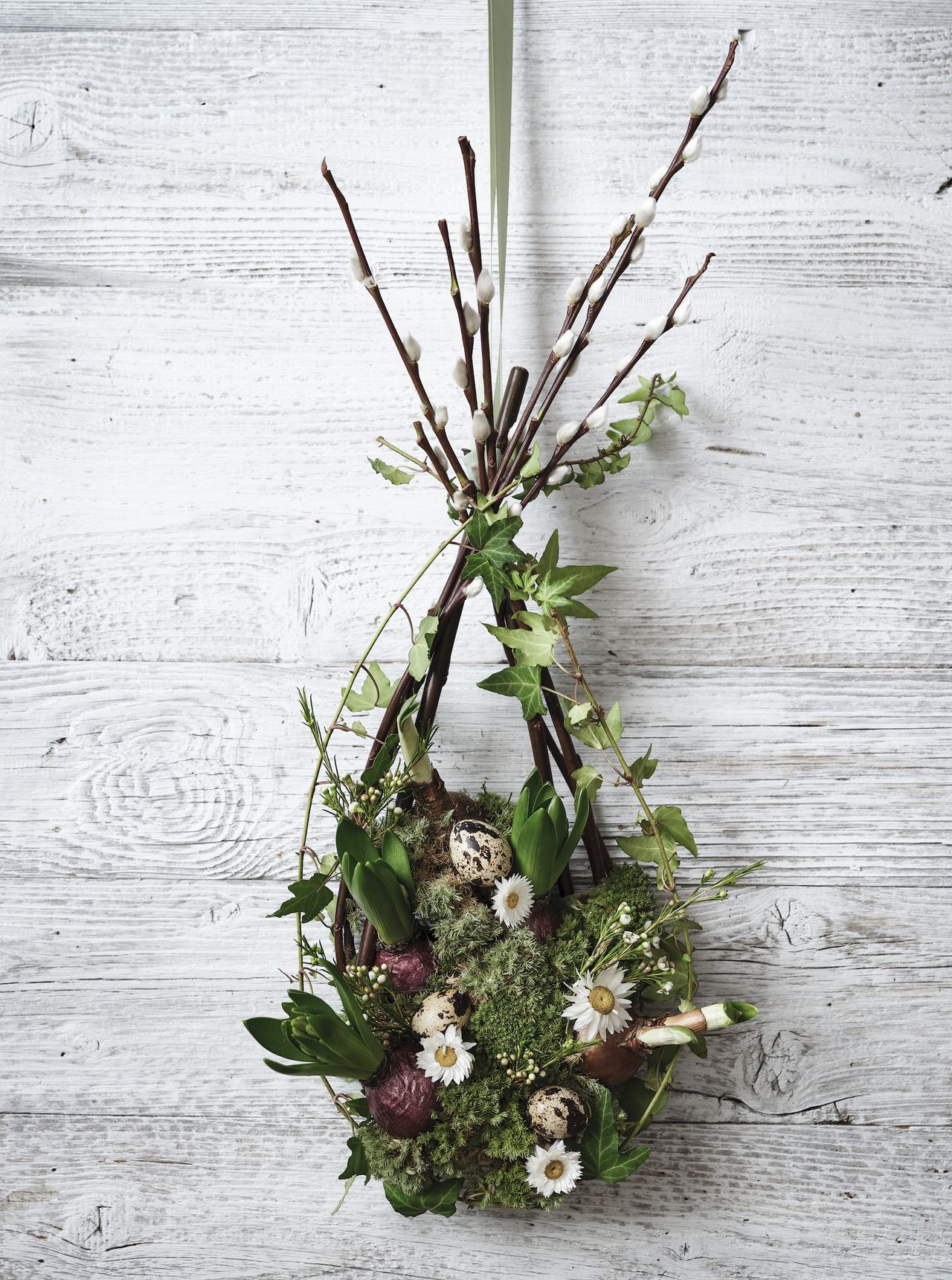 This spring wreath was made with both dried flowers and fresh cut foliage, using bent twigs as the framework – it's so easy to recreate at home with foraged finds from your own garden.
See our guide on how to make a living spring wreath – in four easy steps.
6. How to make an Easter flower arrangement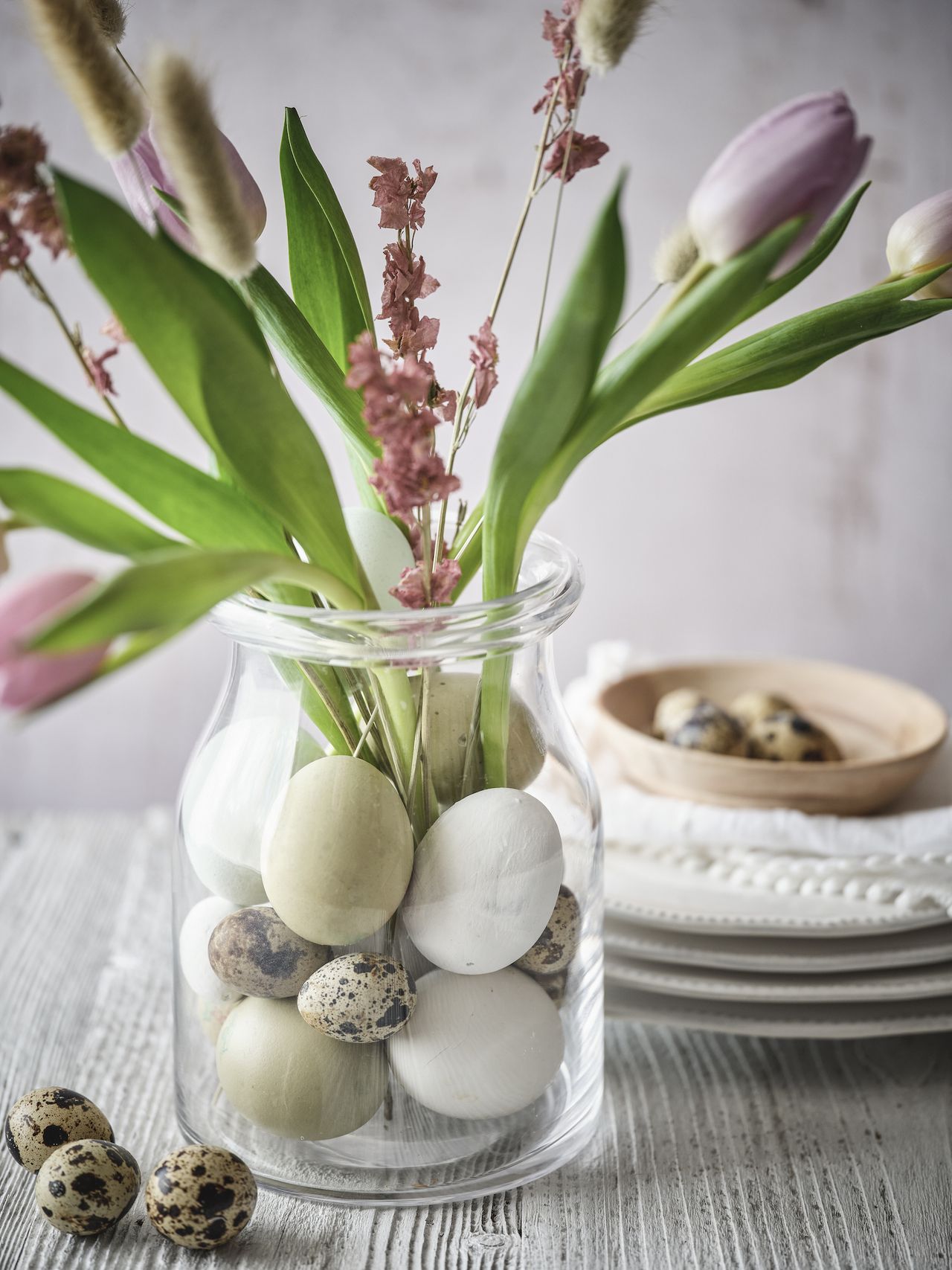 This simple idea can be used to decorate your Easter dining table, windowsills, mantelpieces or as something lovely to look at on a working-from-home desk. It's easy to recreate and the fresh and dried flower mix brings a modern spin to the arrangement, too.
How to make our Easter flower arrangement
1. To make, gently place and position the eggs – try a mixture of hen's and quail's –inside a glass vase.
2. Using seasonal flowers, dried flowers and grasses, ease the stems between the eggs. Narrow and straight stems will make this easier.
3. Remove and replace the fresh flowers when needed or choose flowers which dry elegantly over time.
4. When the eggs are nearing their best-before date, they can be retrieved and eaten!
Vase, Ikea. Plates, Sainsbury's. Napkin and wooden bowl, Nordic House