Party food recipes – for the perfect winter occasion
Alice Hart shares a superb selection of savoury and sweet recipes for glamorous winter get-togethers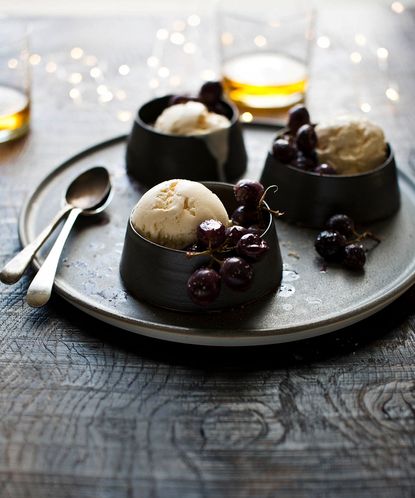 (Image credit: Laura Edwards)
The most successful party food tends to be slightly out of the ordinary but delicious and relatively light. Heavy, awkward-to-eat dishes or anything involving too much last-minute preparation should be saved for another time.
Amongst our favorite New Year recipes, these have been created to fit all these criteria, with the lychee martinis a refreshing way to get festive celebrations rolling. The savory dishes are versatile and can be served in greater quantities as starters, rather than canapés, while the whisky ice cream and roast grapes would also make a fabulous pudding at a more intimate dinner.
Beetroot-cured side of salmon
Serves 20 as a canapé or 8 as a starter
Make this up to three days ahead for an easy and impressive starter or party platter. The quality of the fish is key, so buy a very fresh side of salmon and ask the fishmonger to trim it neatly and remove any pin bones.
Ingredients:
For the beetroot-cured salmon:
1.2kg very fresh side of salmon
2 tbsp fennel seeds1 tbsp black peppercorns
175g light soft brown sugar
115g rock salt
Small bunch of dill, chopped
1 large beetroot, scrubbed and coarsely grated
For the roast beetroot:
12 baby beetroot (the Candy Stripe variety is pretty), scrubbed and stalks trimmed
2 tbsp olive oil
2 tbsp balsamic vinegar
4 thyme sprigs
Salt and black pepper
Buttered soda bread, to serve
Method:
1. Check the salmon thoroughly for bones and use tweezers to remove any that the fishmonger has missed. Lay the fish out flat, skin-side down, in a non-metallic dish.
2. Roughly crush the fennel seeds and peppercorns using a pestle and mortar. Mix with the sugar, salt and half of the dill in a bowl, then stir in the grated beetroot. Spread all over the flesh of the salmon, tucking a little underneath the fish too. Cover with clingfilm and weigh down with a baking tray filled with a couple of tins of beans or similar. Chill for at least 24 hours, or up to 3 days.
3. Brush off the marinade, rinse the fish very briefly under cold water and pat dry with kitchen paper. Sprinkle with the remaining dill and chill.
4. Pre-heat the oven to 190ºC, gas mark 5. Wrap the small beets loosely in a sheet of foil, adding the olive oil, vinegar and thyme sprigs along with salt and pepper before scrunching the foil edges to seal. Place on a baking tray and cook for 50 minutes to 1 hour, until the beets are tender. Cool slightly, then cut into quarters.
5. Meanwhile, lay the salmon on a chopping board, skin-side down, and slice very thinly, at a 20-30 degree angle to the board, starting from the thinner tail end and working towards the thicker part.
6. Serve the salmon on a board or platter with the roast beetroot and buttered soda bread. Offer horseradish sauce on the side, if you like.
Sichuan pepper and salt squid with plum dipping sauce
Serves 16 as a canapé or 4 as a starter
As soon as the squid is cooked, serve as individual nibbles with a few peppery salad leaves and a spoonful of plum sauce, or on a large platter beside a pile of forks.
Ingredients:
For the plum sauce:
1 shallot, peeled and finely chopped
1 tbsp groundnut oil
4cm piece ginger, peeled and finely grated
1 garlic clove, peeled and crushed
300g fresh or frozen plums, stoned and chopped (or a 400g tin, drained and stoned)
1 star anise
2 tbsp soft brown sugar
1 tbsp rice wine vinegar
1 tbsp dark soy sauce
For the squid:
100g cornflour
100g plain flour
2 tbsp Sichuan pepper, crushed
1 tbsp black peppercorns, crushed
2 tsp sea salt, plus extra to sprinkle
450g squid, cleaned (ask your fishmonger to do this) and cut into 3cm tubes
1 litre sunflower or vegetable oil, for frying
2 spring onions, trimmed and finely sliced
1 red chilli, finely sliced
Method:
1. To make the sauce, gently fry the shallot in the oil until soft. Add the ginger and garlic, cook for 1 minute, then stir in the plums, star anise and sugar and simmer for 5 minutes. Stir in the vinegar and soy sauce. Briefly blitz with a handheld blender.
2. For the squid, mix the cornflour and plain flour with both types of pepper and the salt in a large bowl, then set aside. Line a tray with kitchen paper and have more salt ready to sprinkle over the cooked squid.
3. Heat about 7cm of oil to 180ºC in a deep saucepan or wok. If you don't have a thermometer, a cube of bread should brown in 20 seconds when the oil is hot enough.
4. Coat the squid well with the flour mixture and fry in batches for 2 minutes or until crisp. Use a slotted spoon to lift out, then drain on kitchen paper and sprinkle with salt.
5. Serve scattered with spring onions and chilli, with the plum sauce on the side.
Lychee martinis
Makes 4 small cocktails
Strong and sophisticated, this fragrant drink is a real crowd pleaser and is certain to lend your party the right note.
Ingredients:
8 tinned lychees in light syrup, 150ml of the syrup reserved
Large handful of ice cubes
200ml good-quality vodka
30ml white vermouth
Method:
1. Put 1 lychee into each of 4 coupe cocktail glasses, then place in the freezer for 20 minutes until very cold.
2. Put the remaining lychees into a cocktail shaker or large, lidded jar, together with the lychee syrup, ice, vodka and vermouth.
3. Shake well for 20 seconds, then strain between the chilled cocktail glasses.
Pea fritters
Makes about 20
Harissa spiked yoghurt is a wonderful accompaniment to these crunchy bites. Use a Parmesan-style hard cheese to make the dish truly vegetarian.
Ingredients:
250g yellow split peas
100g frozen peas, defrosted
½ red onion, peeled and finely chopped
Handful of fresh mint, chopped90g Manchego cheese
1 small egg, beaten
Finely grated zest of 1 small lemon
3-4 tbsp chickpea (gram) flour3 tbsp olive oil
Handful of pea shoots or watercress
For the harissa yoghurt:
200g Greek yoghurt
1-2 tbsp lemon juice, to taste
Salt and black pepper
1 tbsp rose harissa
Method:
1. In a large pan, add enough water to cover the split peas. Bring to the boil, skim off any scum, then simmer gently for 45 minutes.
2. Towards the end of the cooking time, turn the heat down and stir often, as the split peas will become very thick, absorbing the cooking water. Add the defrosted peas and crush roughly with a potato masher. Leave the mixture to cool (it will become even thicker).
3. Meanwhile, season the yoghurt with the lemon juice, salt and pepper. Marble the harissa through and set aside while you cook the fritters.
4. Mix the cooled peas with the onion, mint, 60g of finely grated Manchego cheese, the egg, lemon zest and chickpea flour. Season generously with salt and pepper.
5. Heat the oil in a large, non-stick frying pan. Drop in heaped teaspoons of the mixture, patting it down with the back of a spoon to form fritters. To avoid overcrowding the pan, you may have to cook in batches.
6. Fry for 2 minutes on each side, until golden brown. Transfer to a platter and top with shavings of the remaining Manchego and small dollops of harissa yoghurt, finishing each fritter with a pea shoot or a sprig of watercress.
Salted caramels
Makes about 60
These soft, velvety morsels can either be served as they are or coated in chocolate for an extra-decadent treat.
Ingredients:
1 tsp vegetable oil
200ml double cream
70g salted butter, cubed at room temperature
¾ tsp vanilla bean paste1 tsp sea salt flakes
175g golden syrup
220g caster sugar
150g dark chocolate, roughly chopped (optional)
Method:
1. Line a 23cm square baking tin with foil and grease lightly with the oil. Heat the cream and 30g of the butter in a small saucepan with the vanilla and half of the salt until it begins to boil. Remove from the heat, cover and set aside in a warm place.
2. Gently heat the golden syrup with the sugar in a heavy-based saucepan, stirring to melt the sugar. Once the sugar has dissolved, stop stirring and only swirl the pan from time to time to prevent hot-spots forming. Attach a sugar thermometer to the pan and boil the syrup until it reaches 155ºC/310ºF.
3. Remove from the heat and immediately stir in the warm cream mixture to form a smooth toffee sauce. Return the pan to the heat and boil steadily until the mixture reaches 127ºC/260ºF.
4. Remove from the heat and take the thermometer off the pan. Stir in the remaining butter until the mixture is smooth, then pour into the oiled tin and set aside for 15 minutes. Scatter with the remaining sea salt and leave to cool completely. Carefully lift the caramel out of the tin and peel away the foil. Slice into little squares with a sharp knife.
5. Serve the caramels as they are or covered in chocolate. To do this, melt the chocolate in a bowl set over (but not touching) simmering water, or in the microwave. Drop in the caramels one by one, then retrieve them with a fork, allowing the excess chocolate to drip off before placing on a wire rack to set. The caramels will keep for a week in an airtight container in a cool place.
Sign up to the Homes & Gardens newsletter
Decor Ideas. Project Inspiration. Expert Advice. Delivered to your inbox.
Alice Hart is a food writer and recipe developer, working across a wide variety of media, from magazines to books. Alice's recipe books are based on wholesome produce and seasonal eating, and while she takes a balanced approach, using wholefoods and vegetables wherever possible, she also finds joy in an excellent cake. Alice is also invested in sports nutrition and is a Level 3 personal trainer, a seasoned endurance sports competitor and a trained chef.