Sweet recipes – to delight the senses
From winter berry tarts to a buttery pear cake, Alice Hart's delightful sweet treats are perfect to share at home or give as gifts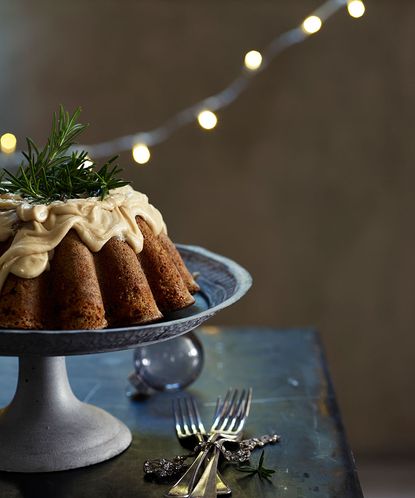 (Image credit: Emma Lee)
A kitchen filled with the scent of sweet spices, berries, citrus, butter and caramelized sugar is a comforting thought, even in summer. In these sweet recipes, fragrance and flavor are more important than appearance, so don't hold straight edges and perfect icing in too high regard.
Jam biscuit sandwiches will appeal to adults and children alike, while spiced gingerbread mittens look adorable and are deliciously moreish. A Nordic-style wreath, a buttery pear cake and an army of miniature whoopee pies are surprisingly simple to make but wonderfully impressive. For those of you who prefer not to turn your hand to baking, try the pomegranate and black cherry jellies, which make lovely Christmas gifts.
Match these sweet recipes with our honey recipes for the perfect spread.
Snowflake jam sandwich biscuits
Makes about 20
These delicate biscuits require a bit of effort, but the results are beautiful. I like to make them in a variety of sizes, filled with different types of jam, such as ginger and red plum.
Ingredients:
175g unsalted butter, softened
200g golden caster sugar
2 large eggs
1 tsp vanilla paste
425g plain flour, plus extra for rolling
1 tsp baking powder
¾ tsp fine salt
6 tbsp jam of your choice
Method:
1. In a large bowl, beat the butter and sugar together until pale. Whisk in the eggs, one at a time, followed by the vanilla paste. In a separate bowl, sift together the flour, baking powder and salt. Tip this mixture into the wet ingredients and combine with a spatula to form a soft dough.
2. Divide the dough into four and shape each piece into a disc. Wrap each disc in cling film and chill for 1 hour, or up to 3 days, to firm up.
3. Pre-heat the oven to 180°C, gas mark 4. Line two large baking sheets with non-stick baking paper. Dust a worksurface generously with flour. Take one disc of dough and, leaving the others in the fridge, roll out to a thickness of about 1-2cm. Using a 7.5cm round biscuit cutter, stamp out 10 circles, dipping the cutter in flour to prevent sticking.
4. Using a palette knife, carefully transfer the biscuits to a baking tray, leaving space between them to allow for a little spreading. Using a 5cm snowflake-shaped biscuit cutter dipped in flour, stamp out snowflakes in the centre. Repeat the process with a second disc of dough.
5. Roll out a third disc of dough, but this time do not stamp out snowflakes, then repeat with the remaining dough disc. You should now have 40 biscuits in total: 20 stamped with snowflakes: 20 unstamped.
6. Bake for 8-10 minutes, until lightly golden. Allow to cool and firm up on the baking sheets for a few minutes, then transfer to wire racks to cool completely.
7. Spoon a scant teaspoon of jam of your choice over the centre of the unstamped biscuits, spreading it out evenly. Top with the stamped tops, pressing down gently so the biscuit doesn't snap or crumble. Dust with a little sifted icing sugar to finish.
8. The filled biscuits will keep for up to 3 days in an airtight container in a cool place, or can be frozen for up to 3 months.
Pomegranate and black cherry jellies
Makes about 60 cubes
The pomegranate juice in these delectable jellies is just sharp enough to stop them being too sweet. Roll them in sugar just before serving or they will absorb it.
Ingredients:
14 sheets fine leaf gelatine
320ml fresh pomegranate juice
340g caster sugar, plus 75g extra to coat
560g black cherry jam
Method:
1. Line a 20 x 20cm tin with cling film; it should reach at least 3cm up the sides. Put the gelatine leaves into a bowl of cold water, one by one so that they don't stick together, and leave to soften for 5-10 minutes, then drain and squeeze out any excess water.
2. Meanwhile, in a medium saucepan, combine the pomegranate juice with the sugar. Bring to the boil over a medium-high heat and cook, stirring, until the sugar dissolves.
3. Add the jam to the pan. Bring the mixture back up to the boil, stirring well, then cook for about 4 minutes, until syrupy and slightly thickened. Remove the pan from the heat, add the drained gelatine leaves and whisk until dissolved.
4. Pour through a fine sieve then transfer to the lined tin. Chill for at least 3 hours, until set. The jelly can be covered and left in the fridge for up to 2 weeks at this stage.
5. Just before you want to serve the jellies, put the remaining sugar in a shallow bowl. Cut the fruit jelly into 3cm squares and toss in the sugar to coat.
Pear and rosemary Bundt cake with sharp lemon icing
Makes one large cake
Add as much lemon juice as you like to this icing to reach your desired flavor.
Ingredients:
200g salted butter, softened, plus extra for greasing
4 firm medium pears, peeled, cored and cut into 2cm cubes
2 tsp finely chopped rosemary leaves, plus sprigs to decorate
375g golden caster sugar
420g plain flour, plus extra for the tin1bsp baking power
1tbsp bicarbonate of soda
4 large eggs. at room temperature
Finely grated zest and juice of 1 lemon
2 tsp vanilla extract
240ml natural yogurt
For the icing:
200g unrefined icing sugar, sifted
25g salted butter, melted
Method:
1. Melt 30g butter in a large frying pan and sauté the pears and chopped rosemary over a medium-high heat, stirring as little as possible, until the pears turn golden brown.
2. Add 25g of the caster sugar and continue to cook, stirring occasionally, until the pears are browned on all sides and any liquid has evaporated. Tip into a shallow bowl to cool.
3. Pre-heat the oven to 180°C, gas mark 4. Butter and flour a 23cm fluted tin or a 25cm Bundt or wreath tin, tapping out any excess flour. Sift the 420g flour, baking powder and bicarbonate of soda into a mixing bowl.
4. In a separate bowl, beat the remaining 170g butter and 350g sugar together using a wooden spoon or a stand mixer, until light and fluffy. Still beating, add the eggs, one at a time, followed by the lemon zest and vanilla.
5. Stir half the flour mixture into the butter mixture, then add the yogurt. Gently stir in the remaining flour mixture until only just combined. Fold in the cooked pears.
6. Transfer to the prepared tin and bake for 1 hour 10 minutes for a solid tin or 45 minutes for a Bundt-style tin; cover with foil if it seems to be browning too quickly. When cooked, a skewer inserted into the centre of the cake will come out clean and the golden top will spring back when lightly pressed. Cool in the tin for 10 minutes, then turn out onto a wire rack and allow to cool completely.
7. To make the icing, combine the icing sugar and melted butter with enough lemon juice to make a thick or a slightly runnier icing, as preferred. Spoon onto the top of the cooled cake, allowing it to run down the sides if you have made the icing slightly thinner. Decorate with fresh rosemary sprigs.
Spiced Christmas mittens
Makes 24-30
If nozzles and piping bags are off-putting, try using a bought tube of 'writing icing' to decorate these spiced, gingerbread biscuits. The dough is a forgiving one and will keep its shape in the oven as long as it is chilled and rested before rolling and shaping.
Ingredients:
400g plain flour, plus extra for rolling
1 ½ tsp baking powder
½ tsp bicarbonate of soda
2 tsp ground ginger
1/2 tsp ground mixed spice
1 ½ tsp ground cinnamon
90g salted butter
120g dark brown soft sugar
1 large egg
150g treacle
1 tsp vanilla bean paste
1 tsp finely grated orange zest
200g royal icing
2 tbsp orange juice
Method:
1. Sift the flour, baking powder and bicarbonate of soda into a large bowl. Add the ground ginger, mixed spice and cinnamon and mix well to combine evenly.
2. In a second mixing bowl, beat the butter and sugar together until light and fluffy. Beat in the egg, treacle, vanilla bean paste and orange zest. Gradually add the dry ingredients, whilst mixing with a wooden spoon to form a dough. Divide the mixture in two, flatten each into a disc, wrap in clingfilm and leave in a cool place for a minimum of 2 hours or overnight. If the dough is not rested properly it will be too sticky and won't hold its shape in the oven. It can be chilled at this stage for up to 4 days.
3. Preheat the oven to 180°C, gas mark 4. Line two large baking sheets with non-stick parchment paper. Take one portion of dough, leaving the rest for another day if you like. Lightly flour a work surface and a rolling pin. Roll the dough out to the thickness of a pound coin. Flour the cutter to stop it sticking and stamp out biscuits, as close together as possible. You can also cut biscuit shapes out freehand with a sharp knife.
4. Transfer carefully to the lined trays, leaving 3cm between biscuits to allow for spreading. Bake for 8-10 minutes, or until very lightly browned. Set aside to cool and firm up on the trays for 5 minutes then cool completely on wire racks before icing. Repeat with the remaining dough to make 4 trayfuls, or keep the second batch of dough chilled and make another two trays of biscuits up to 4 days later.
5. To decorate the biscuits, put half or all the royal icing sugar in a mixing bowl, depending on whether you've made one or two batches of biscuits, and stir in half or all the orange juice to make a thick, shiny icing with no lumps.
6. Spoon into a piping bag fitted with a tiny round piping nozzle (size 1 or 1.5 is ideal). You can use a plastic food bag with a tiny corner snipped off, but the results won't be as precise. Decorate with designs of your choice and leave to set before serving.
Gingerbread whoopie pies
Makes 16, once sandwiched together
These slightly misshapen but incredibly delicious ginger-spiked pies are a far easier alternative to French macarons. They require little skill or time, making them perfect as a Christmas project to bake with children.
Ingredients:
340g plain flour
1 tsp baking powder
2 tsp ground ginger
120g slightly salted butter, softened
220g dark muscovado sugar
2 large eggs
1 tsp vanilla extract
250ml buttermilk
For the filling:
225g full-fat cream cheese
60g salted butter, softened
120g unrefined icing sugar, plus extra to dust
2 rounds of stem ginger, drained and finely chopped
Method:
1. Pre-heat the oven to 180°C, gas mark 4. Line two baking sheets with parchment. Sift the flour, baking powder and ground ginger into a bowl. In a separate bowl, beat the butter and sugar together with an electric whisk for a few minutes, until stiff and pale. Gradually beat in the eggs, until well combined.
2. Add the vanilla extract to the buttermilk and, alternating with the flour mixture, stir into the butter mixture until fully combined. Spoon rounded teaspoons of the batter onto the prepared baking sheets, allowing space for them to spread. Bake for about 15 minutes, until the puffed tops spring back when lightly pressed. Leave on the baking sheets for 5 minutes, then place on wire racks to cool.
3. Beat the filling ingredients together, then spread a rounded teaspoon of the filling on the flat side of one pie half, then sandwich together with another half. Dust lightly with icing sugar before serving.
Danish spiced almond wreath
Makes 1 large wreath
This sweet, yeasted wreath is a pretty variation on a traditional Nordic bake.
Ingredients:
100g blanched almonds
7g pack or scant
1 ½ tsp fast-acting dried yeast
200ml lukewarm milk
½ tsp fine salt
550g plain flour
3 large eggs, lightly beaten
60g golden caster sugar
140g unsalted butter, softened plus extra for the tin
50g dried apricots
1 tsp fennel seeds, crushed
For the topping:
250g icing sugar, sifted
3-4 tbsp lemon juice
30g toasted flaked almonds
Method:
1. Preheat the oven to 190°C, gas mark 5. Spread the almonds out on a baking tray and roast for 6-8 minutes, until golden. Let cool then roughly chop.
2. Switch the oven off. Mix the yeast with the lukewarm milk and set aside for 5 minutes. Put the chopped almonds, salt and plain flour in a large mixing bowl. Make a well in the centre and add the yeasted milk and eggs. Mix well with a wooden spoon to form a 'shaggy' dough.
3. Knead the dough for 10 minutes by hand or for 5 minutes in a stand mixer fitted with a dough hook, until soft and smooth. Place the soft butter and sugar on top of the dough and set aside in a warm place for 20 minutes.
4. Knock the now-risen dough back, kneading in the butter and sugar. Once the dough is smooth, form into a ball in the bowl, cover with clingfilm and chill for 24 hours to develop the flavor. If you don't have time for this slow rise, let the covered dough rise in a warm place for 1 ½ hours.
5. When ready to bake, preheat the oven to 180°C, gas mark 4. Butter a 25cm (10 inch) diameter, wreath-shaped tin. Bring the dough up to room temperature for 30 minutes, if necessary. Lightly knead the chopped apricots and fennel seeds into the dough. Form into a ring shape and place in the buttered tin. Cover with clingfilm or a damp tea towel and leave to rise for about 45 minutes – 1 hour, until the dough reaches the top of the tin.
6. Bake for 40-45 minutes, until golden, risen and firm. Cool upside down in the tin for 15 minutes before turning out and cooling completely on a wire rack.
7. Put the icing sugar in a mixing bowl and stir in enough lemon juice to take the consistency to that of double cream. Spoon this icing over the cake and watch it drizzle down the sides. Scatter with toasted flaked almonds before the icing sets.
Winter berry star tarts
Makes 6 individual tarts
Replace the compote in these tarts with good-quality jam if you're short on time.
Ingredients:
For the pastry:
100g blanched hazelnuts
400g white spelt or plain flour, plus extra for rolling
200g salted butter
120g golden caster sugar
4 egg yolks
1-2 tbsp iced water, or as needed
For the filling:
1 tbsp orange juice
3 tbsp cornflour
100g light muscovado sugar
1 small cinnamon stick
2 pared strips of orange zest
500g mixed frozen berries, such as raspberries, blueberries, blackberries and cherries, defrosted icing sugar, to dust
Method:
1. Stir the orange juice, cornflour and 4 tablespoons water in a small saucepan until smooth. Stir in the light muscovado sugar, cinnamon stick, strips of orange zest and berries. Cook over a medium heat, stirring, for 10-15 minutes, until thickened. Let cool then remove the cinnamon stick and the strips of orange zest.
2. To make the pastry, preheat the oven to 190°C, gas mark 5. Spread the nuts out in a roasting tin and roast for 5-6 minutes, shaking the tin halfway, until golden.
3. Finely grind the nuts in a food processor, then add the flour and sugar and whizz. Add the diced butter and process using the pulse button until the mixture resembles rough breadcrumbs. Add the egg yolks and 1 tablespoon water to the flour mixture and blitz again until it just begins to come together. Feel the pastry; if it is dry, add a little more iced water and blitz again.
4. Bring together lightly on a work surface to form a smooth pastry. Divide the pastry into a two-thirds-size piece and a one-third-sized piece. Wrap both pieces in clingfilm and chill for at least 30 minutes or up to 3 days.
5. Preheat the oven to 200°C, gas mark 6.
6. Divide the large portion of pastry into 6. Roll or press each sixth into a 13cm (5 inch) disc and use them to line six, round 10cm (4 inch) diameter pie tins. Leave the pastry sticking up proud of the tins, ready to form a seal when the lids are added. Spoon the cooled filling into the lined tart cases. Divide the small portion of pastry into 6. On a floured surface, roll each sixth into a 12cm (4.5 inch) circle on a floured work surface. Using small star-shaped cutters, stamp stars out of the middle of each circle in singles or in a pattern, being sure to leave a minimum 2cm border free around the edge.
7. Lay one of these tops over each pie and crimp the pastry edges together to seal tightly. Bake the tarts for 8 minutes, until beginning to color. Reduce the oven to 180°C, gas mark 4 and bake for another 15-17 minutes, or until the pastry is golden brown. Cool slightly or completely and dust with icing sugar before serving.
Styling/ Tabitha Hawkins Photographs/ Emma Lee
Sign up to the Homes & Gardens newsletter
Decor Ideas. Project Inspiration. Expert Advice. Delivered to your inbox.
Alice Hart is a food writer and recipe developer, working across a wide variety of media, from magazines to books. Alice's recipe books are based on wholesome produce and seasonal eating, and while she takes a balanced approach, using wholefoods and vegetables wherever possible, she also finds joy in an excellent cake. Alice is also invested in sports nutrition and is a Level 3 personal trainer, a seasoned endurance sports competitor and a trained chef.