Summer pasta recipes – satisfyingly light pasta dishes
A spread of simply perfect summer pasta dishes, special enough for entertaining, or just plain delicious day-to-day…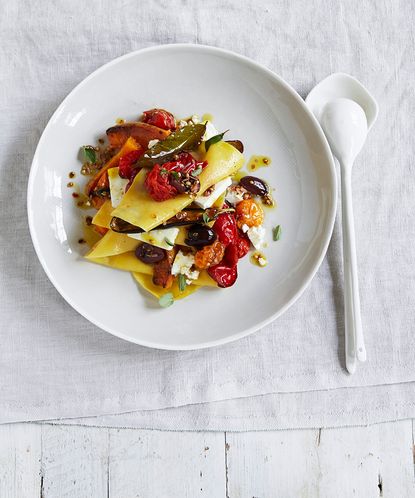 (Image credit: Jan Baldwin)
Sign up to the Homes & Gardens newsletter
Decor Ideas. Project Inspiration. Expert Advice. Delivered to your inbox.
Thank you for signing up to Homes & Gardens. You will receive a verification email shortly.
There was a problem. Please refresh the page and try again.
Pasta, that fail-safe stand-by when time is short and the cupboard is bare, shouldn't be forgotten in the summer months, or when a more celebratory supper or lunch is called for. The recipes here are elegant and, save for the enjoyable work of making your own fresh, herb-filled pasta handkerchiefs, simple to put together.
If your obsession with Italian recipes is boundless (like ours), you can't go wrong.
All rely on excellent, summery ingredients; many call for a generous hand with good butter or olive oil to add a luxurious touch, elevating them beyond the everyday and into the realms of special occasion.
Summer herb malfatti with a herb-butter sauce
Malfatti, meaning 'badly made', are ragged handkerchiefs of pasta, here rolled out with delicate herb sprigs for flavor and beautiful effect. The cooked pasta only needs a simple sauce of nut-brown butter, lemon juice and extra herbs.
Serves 6-8 – makes 1kg fresh pasta
Ingredients:
550g tipo 00 pasta flour, plus extra for for dusting and rolling
6 medium eggs
A pinch of salt
2 handfuls pretty, fresh and delicate herb sprigs, such as dill, parsley, chervil, coriander, plus extra sprigs and leaves to serve
100g unsalted butter
1 small lemon, juice only
60g mature pecorino, finely grated (optional)
Edible flowers, to serve (optional)
Method:
1. To make the dough by hand, tip the flour out onto a work surface in a pile. Make a 'hollow' in the centre so that the flour forms a 'doughnut' shape. Crack the eggs into the centre, add the salt and beat the mixture with a fork, gradually incorporating the flour to form a soft, smooth dough.
Knead for 8-10 minutes until smooth and elastic. Alternatively, combine the flour, eggs and salt in the bowl of a food processor fitted with a dough hook. Once combined, knead on a low speed for 5-8 minutes until smooth and elastic. Form into a disc and wrap in clingfilm. Set aside to rest for 30 minutes.
2. To use a pasta machine (the ideal method), attach the machine to a sturdy work surface. Divide the dough into six equal pieces. Working with the machine on its widest setting, pass the dough through the lightly floured rollers 2-3 times. Fold in thirds, turn 90 degrees and pass through again. It is normal for the surface to look dimply at first.
Repeat this rolling and folding 8-10 times until smooth, dusting lightly with flour if the dough becomes sticky. Decrease the width of the rollers and pass the unfolded pasta through, decreasing the rollers after passing the dough through until it is at the thinnest setting. Try not to overly flour the dough as it needs a little tackiness for the herbs to stick.
To roll the pasta out by hand, divide the dough into six even pieces. Working with two pieces at a time (keep the other pieces covered in clingfilm to prevent them drying out), roll the dough out on a lightly-floured surface (use extra flour or fine semolina), rotating each round regularly until each piece forms an even, 2.5mm thick circle (try to mainly flour the underside of the dough, leaving the top as tacky as possible).
Top one sheet with herbs, cover with the second sheet, floured surface upwards, and continue to roll the dough out until it is thin enough to just see the herbs showing through. Rest the finished sheet on a dry tea towel or hang from a clean broom handle or pasta dryer while rolling out the remaining dough.
3. Cover the rolled sheet and set aside while you repeat with a second sheet. Top the first sheet evenly with herb sprigs, cover with the second sheet and, widening the rollers by three notches, pass through the machine again, putting the rollers up by a notch each time, stopping at the second-thinnest roller setting (any thinner and the pasta may break around the herbs).
Lay the finished sheet out on a tea towel or hang from a clean broom handle or pasta dryer. Repeat three times to use the remaining pasta dough and herbs.
4. To make malfatti, cut the herb-filled pasta sheets into misshapen, palm-sized squares, not being too exact. Raggedy is good.
5. Melt the butter in a large frying pan set over a medium heat, until foaming and then golden-brown. Remove the pan from the heat, season well and add the lemon juice and a generous seasoning of salt and pepper.
6. To cook the pasta, bring a large saucepan of water to the boil and add two generous pinches of salt. Add the pasta and cook for 3-4 minutes, until soft, but still with a little bite. Remove with a slotted spoon and drain in a colander. Immediately add to the butter pan, tossing to mix gently. Serve with grated pecorino, if liked, and extra herb sprigs, torn herbs and edible flowers.
Lobster and squid ink fettucine
For the picture, we used custom made, variegated, fresh squid ink pasta, but any plain, fresh pasta or dried, squid ink/plain pasta will do. The black colour simply creates extra luxury and drama.
Serves 4 as a starter or light main
Ingredients:
4 cooked lobster tails, cracked and roughly chopped, plus claw meat
1 banana or eschalion shallot, finely chopped
120ml dry white wine
100ml best-quality Champagne vinegar or white wine vinegar
250g dried squid ink fettuccine or 500g fresh squid ink fettuccine
120g salted butter, cubed
A bundle chives, finely chopped
1 tsp finely grated lemon zest
100ml fresh lemon juice
Method:
1. Put the chopped shallot, white wine and vinegar in a large, deep frying pan set over a medium heat. Simmer down until there is only about tablespoon of liquid left in the pan.
2. Meanwhile, cook the pasta in plenty of boiling, salted water according to pack instructions, until al dente. Drain the pasta, reserving half a mugful of the cooking liquid. Set aside.
3. Reduce the heat under the frying pan to low and add the butter, one cube at a time, whisking constantly until it's all incorporated. Turn off the heat and add the chives, lemon zest and juice. Fold in the lobster meat and season well.
4. Add the drained pasta with a few tablespoons of reserved cooking water, tossing to coat in the sauce.
Cavatelli Salad
Use any short, durum wheat pasta in this easy salad and be careful not to overcook it; an al dente texture will stand up well to both the pesto dressing and being served cool.
Serves 4
Ingredients:
100g pine nuts, toasted until golden
2 handfuls fresh, soft summer herbs, such as mint, basil, parsley and dill
120ml extra virgin olive oil
2 tbsp lemon juice
2 courgettes, trimmed and shaved into delicate ribbons with a vegetable peeler
1 large fennel bulb, trimmed and very finely sliced (with a mandolin for preference), fronds reserved
350g dried cavatelli pasta or similar shape
400g tin or jar chickpeas, drained
300g jar tuna in olive oil, drained and flaked
Method:
1. To make the pesto, blitz two-thirds of the pine nuts with the fresh herbs (reserving a few for garnish), olive oil, lemon juice and seasoning to taste.
2. Put the finely sliced fennel in a bowl of iced water for 10 minutes to firm up. Drain well and pat dry with a tea towel. Cook the pasta in plenty of boiling, salted water, according to pack instructions. Cool if serving as a salad.
3. Stir through pesto then gently toss with the dried fennel, courgette ribbons, chickpeas and tuna finishing with reserved pine nuts, fennel fronds and any extra herb leaves and sprigs from making the pesto.
Fig, Parma ham and gorgonzola pappardelle
This is an unusual, but incredibly successful combination of ingredients relying on the balance between salty gorgonzola, sweet fig, a touch of lemon and hot chilli. Feel free to adapt this to suit your tastes, leaving the Parma ham out to make it vegetarian, adding a little more – or no – cream, or swapping the chopped rosemary for torn basil leaves.
Serves 4
Ingredients:
1 tbsp olive oil
10 ripe figs, trimmed and quartered
1 red chilli, deseeded and finely chopped
2 rosemary sprigs, leaves stripped and finely chopped
1 lemon, finely grated zest and juice
2 tbsp single cream (optional)
50g walnuts, lightly toasted and roughly crushed
100g gorgonzola cheese, chopped
350g dried pappardelle pasta or other long pasta shape such as tagliatelle
12 sheets Parma ham, torn (optional)
2 tbsp snipped micro herbs or cress, to serve
Method:
1. Put the olive oil in a large, deep frying pan set over a medium heat. Add the figs and chilli and cook, stirring every now and then, for 3 minutes or so. Reduce the heat to low and add the rosemary, lemon zest and juice and the cream (if using).
2. Warm through for a few seconds and stir in the cheese, most of the walnuts, a very little salt and plenty of black pepper, being careful not to break up the figs too much.
3. Cook the pasta in boiling salted water, according the pack instructions and drain, reserving a few tablespoons of the cooking water.
4. Return the pan to the heat. Add the pasta and half the reserved cooking water and mix through carefully. If needed, add a little more water to thin the sauce slightly –it should coat the paste strands but not be claggy and thick. Add salt and pepper to taste.
5. Serve straight away with the reserved walnuts scattered over, the Parma ham (if using), draped in and around and the micro herbs or cress scattered over to finish.
Malfadine with artichokes, pea, clams and white wine
Tiny, tender artichokes are essential here, so if you can't find any, substitute best-quality artichokes hearts in oil, drained well and tossed through the cooked pasta and sauce at the end with the torn parsley leaves. This can also be made with pappardelle or fettuccine.
Serves 4
Ingredients:
400g fresh, baby artichokes
1kg fresh clams, scrubbed clean
Extra virgin olive oil, to taste
4 large garlic cloves, sliced or chopped
1 bunch flat-leaf parsley, stalks chopped, leaves chopped
A small glass dry white wine
150g peas, fresh or defrosted frozen
350g dried malfadine pasta
Method:
1. Put the juice of the lemon together with the squeezed halves into a bowl of cold water.
Peel the artichokes down to their hearts, paring away any tough outer petals, then slice off the tops, leaving only the tender parts (none should be old enough to have formed a hairy choke in the middle.) Halve any larger ones. Pop the prepared artichokes into the lemon water.
2. Bring a pan of water to the boil. Drain the artichokes then simmer for 4-6 minutes, until just tender to the point of a knife. Drain well.
3. Sort through the cleaned clams. If there are any that aren't tightly closed, give them a sharp tap; discard any that don't close.
4. Cook the pasta in boiling water with a good pinch of salt according to pack instructions, until al dente, then drain.
5. Meanwhile, put a deep frying pan with a lid (a flat baking tray can act as a lid) on a high heat and, when hot, add 4 tablespoons of olive oil. Add the artichokes, garlic, parsley stalks and a good pinch of salt and pepper, then stir continuously for 2-3 minutes. Just as the garlic starts to colour, add the clams and white wine.
6. Give the clam pan a shake, add the peas and put on the lid. After 3-4 minutes the clams will start to open; keep shaking the pan for 3-4 minutes more until all of them have opened. Take the pan off the heat and discard any clams that have remained closed.
7. Add the pasta to the pan of clams along with the chopped parsley leaves, a drizzle of olive oil and salt and pepper to taste. Stir or toss for a minute to give the pasta a chance to absorb the sauce slightly before serving.
Open lasagne with roast Mediterranean vegetables, feta and oregano dressing
Lasagne, but reinvented for a special summer supper with a delicate dressing, sweetly roasted vegetables and salty slabs of feta cheese. This is dinner party-worthy.
Serves 4
Ingredients:
2 red peppers, sliced into thick strips, leaving the core behind
4 small aubergines, halved or 1 standard aubergine, thickly sliced
600g butternut squash or firm pumpkin, peeled, deseeded and cut into wedges
6 fresh bay leaves
200g baby plum tomatoes (red and yellow)
About 100ml extra virgin olive oil
1 ½ tsp coriander seeds, toasted and crushed
1 garlic clove, crushed
A pinch dried chilli flakes
A small handful fresh oregano, roughly chopped
2 tbsp best-quality sherry vinegar
A large handful Kalamata olives, stoned
12 fresh lasagne sheets (about 320g)
200g feta cheese, drained and sliced
Method:
1. Preheat the oven to 200°C, gas 6. Divide the peppers, aubergines, squash, tomatoes and bay leaves, well spread out, between two large oven trays. Drizzle with 2 tablespoons of olive oil. Stir to coat lightly and season well with salt and pepper.
2.Roast the vegetables in the centre of the oven for about 35 minutes, until they are cooked through. Remove from the oven, cover loosely with foil and set aside.
3. Mix the remaining olive oil with the coriander seeds, crushed garlic, chilli flakes, oregano, olives and vinegar to make a dressing. Season to taste.
4.Cook the lasagne sheets in plenty of salted, boiling water according to pack instructions. Drain well and toss with a little oil to prevent sticking.
5.Artfully drape and layer the pasta on each plate with the roasted vegetables and the feta, then drizzle over the dressing to make open lasagnes.
Photography/Jan Baldwin
Recipes/Alice Hart
Sign up to the Homes & Gardens newsletter
Decor Ideas. Project Inspiration. Expert Advice. Delivered to your inbox.
Alice Hart is a food writer and recipe developer, working across a wide variety of media, from magazines to books. Alice's recipe books are based on wholesome produce and seasonal eating, and while she takes a balanced approach, using wholefoods and vegetables wherever possible, she also finds joy in an excellent cake. Alice is also invested in sports nutrition and is a Level 3 personal trainer, a seasoned endurance sports competitor and a trained chef.