Italian recipes: indulge in these warm and hearty Italian dinner ideas
From succulent roasts to robust seasonal vegetables and rich desserts, Alice Hart shares the comfort food of one of her favourite cuisines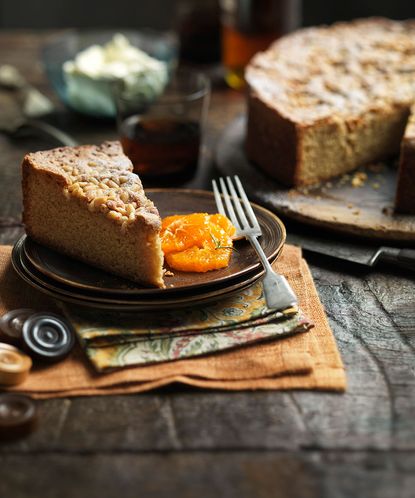 (Image credit: Jonathan Gregson)
Italian recipes aren't all about summery, sun-drenched tomatoes, peppers and aubergines; one of the many virtues of Italian cooking is its versatility and its truly seasonal nature.
Seasonality doesn't just refer to the winter-friendly ingredients, adjusted cooking methods are just as important as we travel through the year. Hence, these hearty recipes are full of slow-cooking, roasting and braising to bring out the sweetness in winter vegetables and the tenderness in heftier meat cuts.
If these Italian dishes are making you wish you were on your own little vacation, then why not bring the summer lunch recipes into your own home to get you one step closer to that holiday feeling?
Slow roast shoulder of pork with fennel seeds and chili
Be warned: this pork takes over five and a half hours to cook, but, as with most slow roasts, it demands minimal attention form the cook and the results are truly stunning.
Serves 8
Ingredients:
2 kg pork shoulder, bone-in, skin on (and scored by butcher)
1.5 tbsp sea salt
2 tbsp fennel seeds, lightly crushed
1 tbsp chilli flakes
2 red onions, halved
2 carrots, peeled and halved lengthways
2 sticks celery, halved
1 bulb garlic, skin on, broken into cloves
A handful of bay leaves
600 ml water or chicken or vegetable stock
Method:
1. Preheat the oven to 220°C, 425°F, gas 7.
2. Score the pork skin into 'thin stripes' with a very sharp knife or scalpel. Rub the sea salt, fennel seeds and chilli flakes well into the cuts.
3. Place the pork, skin-side up, in a roasting tray and roast for 30 minutes, until the skin of the pork has started to crackle. Turn the oven down to 170°C, 325°F, gas 3, cover the pork with a double layer of foil and roast for a further 4 and a half hours.
4. Take out of the oven and baste the meat with the oil in the bottom of the tin. Transfer the pork to a chopping board. Spoon all but a couple of tablespoons of fat out.
5. Add all the vegetables, garlic and bay leaves to the tray and stir them into the fat. Place the pork back on top of everything and return to the stove without the foil to roast for another hour. By this time the meat should be meltingly soft and tender.
6. Carefully move the meat to a serving dish, cover again with tinfoil and leave to rest while you make your gravy. Spoon away any fat in the tray, then add the water or stock and place the tray on the hob. Bring to the boil and simmer for a few minutes, stirring, until thickened and dark. Sieve, pushing down on the veg in the sieve and serve with the pork [and the roast radicchio].
Scallops with sage, pancetta, black pepper and capers
Try to buy a whole piece of smoky pancetta and slice it yourself; the pre-cut lardons sold in packets won't have quite the same heft.
Serves 4 as a starter with bread
Ingredients:
2 tbsp fruity olive oil, plus extra to finish
100g pancetta in the piece, sliced into generous lardons
12 large scallops, with roe if possible, taken out of shell and cleaned
1-2 tbsp capers, rinsed and drained
1 tsp crushed black peppercorns
Small handful sage leaves
1 lemon, halved
Good, rustic bread, to serve
Method:
1. Heat 2 tablespoons olive oil in a large frying pan, add the pancetta and cook until crisp. Remove from the pan with a slotted spoon and set aside.
2. Add the scallops (with roe, if present) and sear over a high heat for about a minute on each side, until golden.
3. Throw the capers, black pepper and sage into the pan, along with the reserved pancetta. Cook for a minute more. Add a good squeeze of lemon juice and drizzle with good oil to finish.
4. Serve with crusty bread and chilled white wine.
Roast radicchio with garlic and thyme
Roasting radicchio (or chicory) heads makes them sweet with nutty, caramelised edges.
Serves 4-6 or 8 if with pork shoulder
Ingredients:
3 whole radicchio heads, bases trimmed
Olive oil, plenty
Handful of thyme sprigs
6 garlic cloves, left whole and unpeeled
1 tbsp red wine vinegar
1 ball smoked mozzarella, drained
Method:
1. Preheat the oven to 190°C, 475°F, gas 5.
2. Slice the radicchio into 6 wedges each.
3. Drizzle generously with olive oil in a baking dish or roasting tin and scatter with the thyme sprigs, garlic cloves and plenty of seasoning.
4. Roast for 30 minutes, until the edges have browned, then drizzle with vinegar and serve as an accompaniment to the slow roast pork.
Roast turbot with salsa verde and pumpkin
You can vary the salsa herbs – try adding a little tarragon or a more generous amount of coriander or chervil.
Serves 4
Ingredients:
For the roast pumpkin or winter squash:
600g winter squash or pumpkin, peeled, deseeded and cubed
3 tbsp olive oil
Large pinch dried chilli flakes
For the salsa verde:
3 garlic cloves, peeled
2 tsp capers, rinsed
2 tsp red wine vinegar
2 large handfuls fresh herbs including parsley, mint and basil
150ml extra virgin olive oil
For the fish:
4 x 175-200g turbot fillets
4 sprigs rosemary
4 tbsp olive oil
Method:
1. Start with the squash. Preheat the oven to 220°C, 425°F, gas mark 8. Spread the cubed squash or pumpkin out on a baking tray and coat with the oil, chilli flakes and plenty of salt and pepper. Roast for 30 minutes, turning halfway, until soft and browned.
2. To make the salsa verde, blitz the garlic, capers, vinegar and herbs in a food processor, gradually pouring the oil in to form a thick, green sauce.
3. Put the turbot fillets and rosemary in a roasting tin, well-spaced apart. Drizzle with olive oil, season well and roast for 5-8 minutes, depending on the thickness of the fish.
4. Serve the roast fish and rosemary sprigs with the salsa verde spooned over and the roast squash or pumpkin alongside.
Osso bucco with gremolata
No winter Italian collection would be complete without a hearty osso bucco recipe. This version includes tomatoes (many don't) and is the perfect make-ahead dinner party dish for the colder months. Make it the day before, or even in the morning, and simply reheat gently before serving with the vibrant gremolata and your choice of mash, polenta or risotto.
Serves 4-6
Ingredients:
For the osso bucco:
40g plain flour 6 veal osso bucco (around 1.6 kg)
3 tbsp olive oil
2 carrots, diced
3 celery sticks, diced
2 onions, diced
4 cloves garlic, chopped
2 tbsp tomato puree
200ml white wine
400ml veal or beef stock
1 x 400g tin chopped tomatoes
2 bay leaves
For the gremolata:
3 garlic cloves, finely chopped
Large bunch parsley, finely chopped
2 lemons, finely grated zest only
Method:
1. Put the flour on a plate, season liberally with salt and pepper and spread out. Coat the osso bucco in the seasoned flour, dusting off any excess.
2. Put the olive oil in a large casserole dish and set over a medium-high heat. Add the floured veal, being careful not to overcrowd the pan (if the casserole isn't big enough, sear the veal in two batches). When golden on all sides, remove the osso bucco to a plate, lower the heat and add all veg to the pan.
3. Cook, stirring often, until soft, but not highly coloured – about 10 minutes. Stir in the tomato puree and cook out for a minute, then add the white wine and simmer down until reduced by half. Add the stock, chopped tomatoes and bay leaves and bring up to a gentle simmer. Return the osso bucco and any collected juices to the casserole, cover and cook over very low heat for 3-3.5 hours, until the veal is extremely tender, but not falling apart.
4. To make gremolata, combine all the ingredients, cover and set aside in a cool place until needed. Serve the osso bucco with wet polenta, mashed potatoes or a classic white risotto, sprinkling the gremolata over to finish.
Pine kernel torte
An easy, after-dinner or teatime cake. If you do want to serve it for tea, you could split it horizontally and fill with whipped cream or mascarpone and fig jam.
Serves 8-10
Ingredients:
100g pine nuts
175g unsalted butter, softened, plus extra to grease the tin
175g light brown soft sugar
3 eggs
1 tsp vanilla extract
60ml Vin Santo, plus extra to serve
200g plain flour, sifted
1 tsp baking powder
Finely grated zest of 1 lemon, finely grated zest only
300ml double cream, softly whipped, to serve
Sliced tangerines, rosemary and honey, to serve
Method:
1. Preheat the oven to 220°C, 425°F, gas 7. Butter and line a 23cm (9 inch) diameter, springform cake tin.
2. Preferably with an electric mixer or an electric handheld whisk, beat the softened butter with the sugar until fluffy and light. Beat in the eggs, one by one, adding a spoonful of flour to stop the mixture curdling. Briefly whisk in the vanilla extract and Vin Santo then gently fold in the sifted flour and baking powder, along with 40g pine nuts and the lemon zest. Pour into the cake tin, smooth the top and scatter with the remaining 60g pine nuts.
3. Bake in the preheated oven for 40-45 minutes, then leave to cool in the tin for 15 minutes. Turn out onto a wire rack and cool completely.
4. Serve with whipped cream and a glassful of Vin Santo. Sliced tangerines, marinated for a few minutes with a little chopped rosemary and honey make a lovely addition.
Proper tiramisu
I say 'proper' because it isn't diluted with inauthentic double cream; whipped eggs and mascarpone provide all the richness and air needed. Try to make the tiramisu a good few hours ahead of time, to give the layers a chance to soften and mellow.
Serves 6
Ingredients:
400ml strong espresso, hot
50ml rum or amaretto
150g golden caster sugar
3 eggs, separated
500g mascarpone, at room temperature
100ml marsala
200g Savoiardi biscuits
50g cocoa, sifted
50g dark chocolate, finely grated
Method:
1. Pour the coffee into a dish and stir in the rum or amaretto and 50g caster sugar. Divide the biscuits into two batches and, taking the first batch, dip each biscuit briefly into the coffee mixture, turning to coat, then put straight into the base of one of 6 individual serving glasses or a communal serving dish, to form a base layer.
2. Whisk the egg yolks and 100g caster sugar together with electric beaters for 8-10 minutes, until thick and pale. Fold in the mascarpone, spoonful by spoonful, until incorporated, then swiftly whisk in the marsala, trying not to lose any volume. In a separate bowl, whisk the egg whites until stiff. Fold the mascarpone mixture into the whipped egg whites.
3. Spoon half the mascarpone mixture over the soaked biscuits (assuming you are using a large serving dish, if using individual dishes, spoon a twelfth of the mascarpone mix into each), lightly dust with cocoa, then repeat the layers using the second batch of sponge fingers and mascarpone. Finishing with cocoa and a layer of finely grated chocolate. Chill for at least 6 hours or overnight before serving.
Food styling/ Alice Hart
Photographs/ Jonathan Gregson
Sign up to the Homes & Gardens newsletter
Decor Ideas. Project Inspiration. Expert Advice. Delivered to your inbox.
Alice Hart is a food writer and recipe developer, working across a wide variety of media, from magazines to books. Alice's recipe books are based on wholesome produce and seasonal eating, and while she takes a balanced approach, using wholefoods and vegetables wherever possible, she also finds joy in an excellent cake. Alice is also invested in sports nutrition and is a Level 3 personal trainer, a seasoned endurance sports competitor and a trained chef.