16 world-class living rooms from the Andrew Martin Interior Designer Review
These extraordinary living rooms from 10 designers, each featured in the much-awaited 2020 edition of the Review, are the inspiration you need for your remodel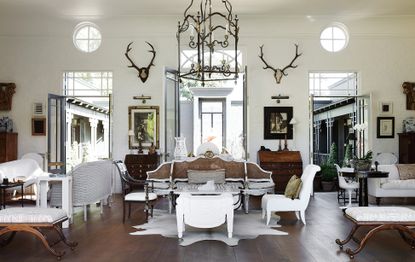 (Image credit: Stephen Falcke/Andrew Martin Interior Designer Review Vol.24)
It's the moment all interior design buffs have been awaiting: 2020's Andrew Martin Interior Designer Review, the bible of interior design, has just been launched.
The Review, which has been dubbed the Oscars of the design world, celebrates the globe's 100 greatest interior designers. Now, in its 24th year, 2020's edition celebrates the talent of world-class designers on an international stage – and we've been given a preview with an extract of the best living rooms in the book, which we are sharing with you, below.
Martin Waller, who founded Andrew Martin in 1978, pioneering world-class textile and furniture design, says in the foreword: 'Design theorist Tony Fry explains, "design gives material form and directionality to the ideological embodiment of a particular politics". Architecture and design have always been political. Both Versailles and The White House were concerned with a vision of power, national identity and cultural pre-eminence. The Bauhaus and Modernism were both underpinned by political aspiration.
'China's re-emergence as a superpower is projected both by the futuristic design of its spectacular high rise skyline and the embrace of its traditional heritage. Feminism, punk, diversity have all shaped design and been shaped by it. This idea that design is a proactive agency means that designers have a particular responsibility.'
Keep scrolling to see our edit of some of the most beautiful living rooms featured in the Review and to find out about the designers featured. For more living room pictures, go to our inspiring gallery.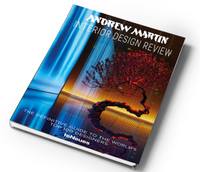 Andrew Martin Interior Designer Review Vol.24, £45
Volume 24 of the Interior Design Review Book features works from the world's top 100 interior designers of 2020. From clean-line purity to the ultimate maximalist explosion, it delivers the most renowned, innovative, and exceptional interior design of the past year. Richly illustrated with over 1,000 colour photographs and with 500 pages of the latest interior styles and trends, this annual publication-now in its 24th year-continues to be dubbed 'the Bible of interior design'.
1. Kit Kemp
Kit Kemp of Kit Kemp Design Studio (London) is founder and creative director of Firmdale Hotels London & New York.
Work is residential, retail and hospitality. Current projects include a new build hotel in Tribeca, New York, Warren Street Hotel, a new build office and residential high rise in Soho, London, the creation of textile collections and a lighting collection.
Recent projects include the Bergdorf Goodman store in New York and two large residential projects in the UK, the publication of Kit's third book, Design Thread and the redesign of suites and rooms at Firmdale Hotels in London and New York.
Design philosophy: the devil is in the detail.
2. The Private House Company
Yvonne O'Brien of The Private House Company (Johannesburg, South Africa) specializes in luxury interior design in South Africa and internationally, including primary and secondary homes, safari lodges and boutique hotels. Current projects include two new residential homes in Johannesburg as well as a refurbishment of a lodge in Zimbabwe.
Recent work includes refurbishments at Londolozi Game Reserve in South Africa, a private lodge in Limpopo, a new build in the Steyn City Estate in Johannesburg and a secondary seaside home in a luxury estate in KwaZulu-Natal, South Africa.
Design philosophy: sophisticated, warm and inspired by the subtleties of nature and natural light.
3. Pippa Paton
Pippa Paton of Pippa Paton Design (Oxfordshire, UK) runs her boutique interior design and architecture studio, specializing in the sympathetic transformation of period Cotswold homes for contemporary living.
Current projects include a Grade II listed Cotswold manor, several Oxfordshire village houses and a London townhouse.
Recent work includes a Grade II listed estate and a variety of village houses and barns, all in the Cotswolds.
Design philosophy: respect the past to create the future.
4. Studio Ashby
Sophie Ashby of Studio Ashby (London, UK) specializes in interior architecture and interior design in the UK and overseas, working predominantly on private homes and luxury residential developments.
Current projects include a seafront home in Brighton; a sprawling townhouse in Belgravia, a young family home in South Kensington and a pied-a-terre in Regent's Park, all in London.
Recent work includes a lateral penthouse in Covent Garden, a private residence in Holland Park and a Grade II star listed Edwardian and Arts & Crafts house in Hyde Park, belonging once to J. M. Barrie and where he wrote Peter Pan.
Design philosophy: driven by beauty, discovery and the potential for telling stories.
5. Stephen Falcke
Stephen Falcke of Stephen Falcke Interior Designs (Johannesburg, South Africa) specializes in residences, boutique hotels and lodges.
Current and recent projects include a ski lodge in Whistler, Vancouver, an apartment in Amsterdam, a house in Israel and many projects around South Africa.
Design philosophy: eclectic, traditional with a modern edge.
6. Liz Caan
Liz Caan of Liz Caan & Co (Newton, MA, USA) offers full service interior design, specializing in creative transformations from ground up renovations to smaller redesigns.
Current projects include an ocean-front family compound on idyllic Cape Cod, a New Hampshire lakeside estate and the completion of various residences in and around Boston, MA.
Recent work includes a charming and historic Vermont farmhouse, a luxury pied-a-terre in New York City and a family estate in Cambridge, MA.
Design philosophy: liveable, curated spaces with ageless energy
7. Elicyon
Charu Gandhi of Elicyon (London, UK), a Kensington-based design studio, creates interior couture for discerning clients around the world.
Current projects include a substantial house in Chelsea, a private yacht and a villa in the South of France.
Recent work includes apartments in One Hyde Park, a large penthouse in Dubai and a heritage property in Knightsbridge.
Design philosophy: curated, crafted, considered, characterful.
8. Philip Mitchell
Philip Mitchell of Philip Mitchell Design (Canada & USA) specializes in interior architecture, design and decorating across North America, the Caribbean and Europe for both residential and hospitality projects.
Current projects include a contemporary cottage in Northern Canada, a new condominium in the Caribbean, an apartment on the Upper East Side, New York and the restoration of an important historic Gothic home in Nova Scotia.
Recent work includes a ski lodge at the Yellowstone Club, Montana, a restored Art Deco apartment in Nice and an Island family compound on the East Coast of Canada.
Design philosophy: creating comfortable, layered living spaces that reflect the unique personalities and lifestyles of each client.
9. Michael del Piero
Michael Del Piero of Michael Del Piero Good Design (Chicago, USA) offers a full service interior design firm with studios in both Chicago and the Hamptons working nationwide on projects ranging from ground-up construction to historical renovations.
Current projects include a private seaside residence in Palm Beach, a family compound in Bridgehampton, NY and the renovation of an urban industrial space to serve as a primary residence in Chicago.
Recent work includes a private residence in Savannah, a lakeside country home in Fond Du Lac, and the completion of a modern barn in Amagansett.
Design philosophy: rooted in classics, guided by architecture, dynamic in style.
10. Greg Natale
Greg Natale of Greg Natale Design (Sydney, Australia) specializes in luxury architecture, interior design and lifestyle products, working in residential, commercial and hospitality globally.
Current projects include a verdant rooftop restaurant in Brisbane, a major harborside residence in Sydney as well as the global headquarters and staff campus for the Cotton On fashion group in Melbourne.
Recent work includes the new Greg Natale flagship store in Sydney, a large family home in Melbourne's premiere suburb of Toorak as well as new lines of wallpapers, furniture and decorative cushions available worldwide.
Design philosophy: tailored, layered, liveable luxury.
Lucy Searle has written about interiors, property and gardens since 1990, working her way around the interiors departments of women's magazines before switching to interiors-only titles in the mid-nineties. She was Associate Editor on Ideal Home, and Launch Editor of 4Homes magazine, before moving into digital in 2007, launching Channel 4's flagship website, Channel4.com/4homes. In 2018, Lucy took on the role of Global Editor in Chief for Realhomes.com, taking the site from a small magazine add-on to a global success. She was asked to repeat that success at Homes & Gardens, where she has also taken on the editorship of the magazine.