Adam Sandler buys a surprisingly 'modest' LA home – we take a look
Despite costing $4 million, the home is a surprisingly modest choice for the comedy actor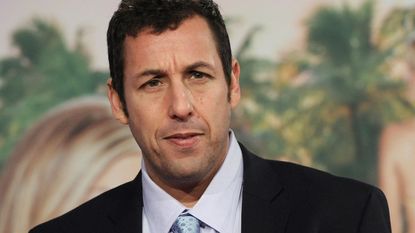 (Image credit: Alamy)
Celebrities have never been shy about building up their property portfolios, and comedy actor Adam Sandler is no different. Having already purchased over $40 million of LA real estate with his wife, Jackie Sandler, the couple has just purchased yet another LA Pacific Palisades home.
With a modest 1,840 square feet, the home set the couple back $4 million, a relatively small sum in comparison to what the couple usually pays for a property with their portfolio including some of the world's best homes. Despite the home having been recently remodeled, it is yet to be seen if the couple will change up the space yet again, with Sandler recently gaining a reputation for 'flipping' his properties.
Here, we take a look at the low-key property.
The home features a humble three bedroom ideas and two bathroom ideas, a world away from the star's three existing luxury condos, and the larger Pacific Palisades mansion which the couple bought from Hollywood star Kurt Russell and his wife Goldie Hawn in 2004 for $12 million.
Set on a quiet corner of a quaint cul-de-sac, the traditional ranch-style home dates back to 1947 but has recently been reimagined with a new kitchen added to the property and fully renovated bathrooms.
The home also benefits from an attached two-car garage and a small amount of unassuming land with a cement patio and stone fireplace proving the perfect foundations for curating idyllic backyard ideas.
How long the existing property will survive, however, is unknown. Given the out-of-character style of the home for the Sandlers, and the fact that the purchase came with the approved plans for a much larger 7,600 square foot, two-story home with a basement, it is likely the couple will have their eyes on a demolition very soon.
For now, however, the property stands as a rather unassuming, quiet bungalow.
The white wood-shingled home features lines of charming grid windows framed by blue shutters, matched by the blue front door. The expansive grass front lawn is a little lacking in front yard landscaping ideas but separates the home from the sidewalk nicely.
Once inside the property, the space is dominated by spacious living room ideas featuring statement white fireplace ideas with black brick surround and ornate crown molding, and white millwork. These details continue into the comfortable dining space, with a crystal-style chandelier creating an opulent focal point for the space.
The kitchen ideas have recently been remodeled, with sweeping stone countertops and all-white, Shaker-style cabinetry complementing the property's ranch-style architecture.
There is no shortage of kitchen storage ideas in the space either with elongated, ceiling-height cabinets making use of the vertical height provided by the tall ceilings and brand-new stainless steel appliances fitted throughout.
Chiana is a junior writer for Homes & Gardens having joined Future plc as a new graduate in 2022 after achieving a 1st class degree in Literature at university. She first became interested in design as a child after spending her summers helping her parents redecorate her childhood home. As a long-time reader of Future's homes titles, Chiana is constantly finding new inspiration at work as she focuses on emerging trends, how-to's, and news pieces.