Drew Barrymore releases 'Beautiful Kitchenware' – and it's the dreamiest drop to date
Starting today, shoppers can score Beautiful Kitchenware— a gorgeous kitchen collection sure to leave everyone green with envy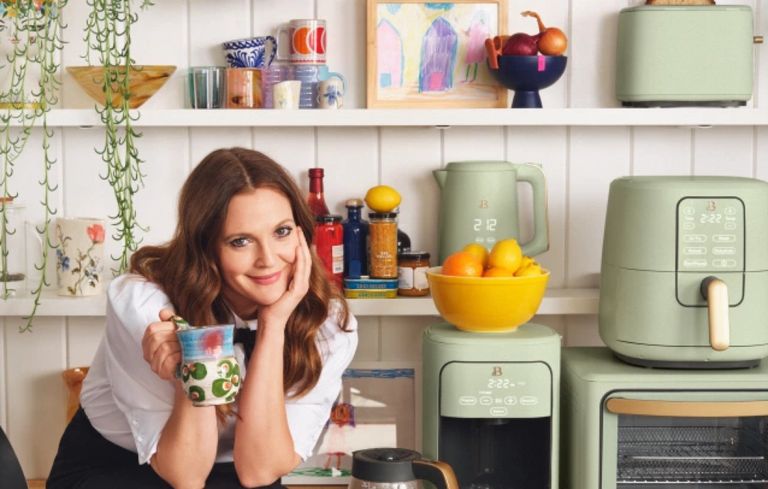 (Image credit: Walmart)
This just in: Drew Barrymore's latest business venture: Beautiful Kitchenware – or 'Beautiful by Drew,' is the dreamiest drop to date and the one collection you need to shop. 
Created alongside Made by Gather founder and CEO Shae Hong, this is a beautifully-designed, high-performance line perfect for small kitchens. The items are elegant, come in contemporary colors and modern silhouettes, with innovative touchscreen technology for kitchenware that stands out on any countertop. 
And today – in honor of St. Patrick's Day – Barrymore is offering a sneak peek and early release of her favorite colorway: sage green. 
Available immediately for purchase, this gorgeously green collection offers everything from the best air-fryer to the best tea kettle. 
Lastly – and perhaps the most exciting news of all – the collection will continue to expand and add new color palettes in the weeks to come. 
So whether you're looking to implement a monochromatic color scheme with this gorgeously sage green palette or mix-and-match for a bold, bright display, the choice is yours. In the meantime, here are six items we think should be topping your list. 
1. Cook healthily with this gorgeously green air-fryer
2. Make a morning brew in this chic coffee maker
3. Blitz in this beautiful blender
4. Try this timeless toaster
5. Invest in this exceptional air-fryer oven
6. Add this reliable one-touch kettle to countertops