Best hard water kettles: 7 terrific tries for every stovetop
The best hard water kettles? We found 7 ultimate limescale resistant kettles for making hot drinks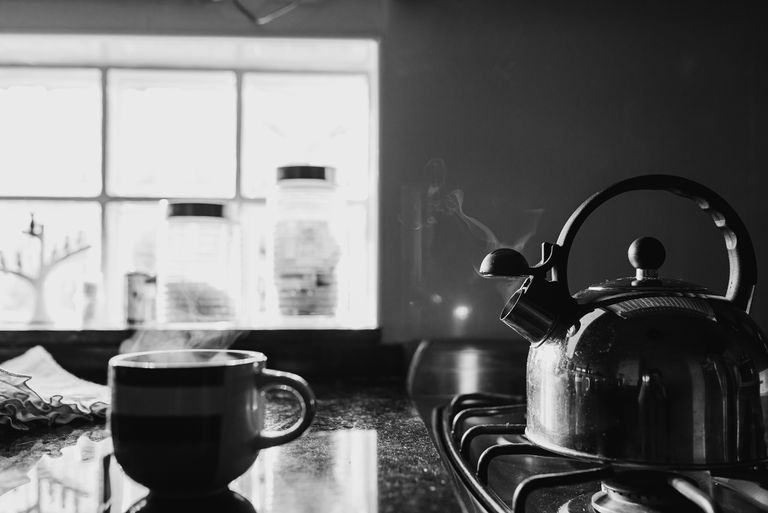 (Image credit: Getty Images)
Skimming a list of the best hard water kettles might not be the sort of thing you have done before, but that is more than okay. Here, we are judgment-free and here to help.
Like most of us, you have bought kettles without a second thought your entire life. After all, they are pretty run-of-the-mill, aren't they? Those simple utilitarian devices that boil water are all the same — right? Wrong.
While any old kettle can boil water, all hard water kettles are not all made equal. There are features and functions to consider, such as their quality, filters, temperature controls, or something as plain as their appearance.
Yes, in short: some kettles are designed better than others, and worst of all? Who has the time to sort through pages and pages of kettles? Not us.
With a million other things throwing your way, the one upside is: our team is here to help.
The Homes & Gardens team has gone ahead and stacked up one choice verse the other and has found the best hard water kettles on the market.
The 7 best hard water kettles
1. Cuisinart 1.7-liter Electric Kettle in Stainless Steel
The best hard water kettles: the best overall option
Specifications
Capacity: 1.7L
Quiet boil: N/A
Filter: Yes
Features: Temp presets, filter, 360° base, boil-dry protection, keep warm mode, concealed heating element
Reasons to buy
+Temp pre-sets+Concealed heating element+Boil-dry protection+Fast-boiling
Reasons to avoid
-Expensive-Bland design
Let's start off with the negatives - this is a $100 kettle, which is probably more than you ever considered spending. Also, it is, in our opinion, rather bland, and bordering on clunky/ugly. Why then, is it top of our list?
Well, part of its low curb appeal is the plethora of busy-looking buttons crammed into the handle. While they might detract from its looks, they provide the controls for six - yes, six - different preset temperatures, fulfilling all of your hot drink needs, from green and oolong tea to black and even French press coffee.
If that wasn't enough, its 1,500-watt power means it'll bring things up to a boil nice and swiftly, and built-in boil-dry protection will automatically switch it off if it's empty, to prevent damage.
Throw in a Keep Warm mode to maintain the selected temperature for up to 30 minutes, a filter to prevent any stray limescale from entering your mug, and a concealed filter for easy cleaning, and this is the only kettle you're ever going to need.
2. T-fal BF6138 Balanced Living 4-Cup 1750-Watt Electric Kettle
The best hard water kettles: a suitable solution for smaller spaces
Specifications
Capacity : 1L
Quiet Boil: N/A
Filter: Yes
Features: Filter, 360° base, concealed heating element, automatic shut-off, variable temperature
Reasons to buy
+Compact size+Powerful+Removable anti-scale filter+Concealed heating element
Reasons to avoid
-Color choice not for everyone-Can't set precise temperatures
We personally rather like the striking green and black color scheme of this compact travel kettle, though we must admit it's unlikely to match the decor of most kitchens. That's okay though, as it's designed to travel around with you, thanks to its smaller than average size.
While its one-liter capacity might not be enough for a large group, it should be plenty enough for most scenarios, especially with its impressive 1,650-watt heating element, which is also concealed for easier cleaning and descaling.
Despite its penchant for the adventure it still manages to squeeze in variable temperature controls too, although you won't be able to set anything too specific beyond low for white tea, medium for green tea, and boiling for black tea.
A removable scale filter collects impurities and can easily be rinsed, while the standard auto shut-off feature is also present for further peace of mind.
3. Breville BKE820XL IQ Kettle
The best hard water kettles: for people who love organization
Specifications
Capacity: 1.8L
Quiet Boil: N/A
Filter: Yes
Features: Temp presets, filter, 360° base, boil-dry protection, keep warm mode, concealed heating element
Reasons to buy
+Minimal design+Five temps presets+Scale filter+Double-sided water level indicator
Reasons to avoid
-Expensive-1-Year warranty
This Breville kettle is even more expensive than our $100 top pick, so it won't be for everyone. For us though, it's one of the best looking, minimal kettles on this entire list - despite the fact that it offers five preset temperature controls, boil-dry protection, and a keep-warm function.
This clean design is all thanks to its base, which houses all of the buttons and controls. Unlike the Cuisinart one above, this means that the kettle body itself is free from messy clutter and buttons. An added bonus for left-handers is its double water level indicator window, which is a nice, thoughtful touch.
Its 1.8-liter capacity is one of the largest on this list, and a removable scale filter makes it easier to keep on top of pesky limescale to boot.
The main downside is its one-year warranty. We would like to see at least two years, especially given a few reviews that mention durability issues close to two years after purchasing.
4. COSORI Electric Gooseneck Bluetooth with Variable Temperature Control Pour Over Kettle
The best hard water kettles: the best option for tech lovers
Specifications
Capacity: 0.8L
Quiet Boil: N/A
Filter: No
Features: Temp control, ap controls, filter, boil-dry protection, keep warm mode, concealed heating element
Reasons to buy
+Bluetooth controls+Precision temp controls+Easy to clean+Baby formula mode
Reasons to avoid
-Steeper price point-Smaller capacity
If it wasn't for its smaller 0.8-liter capacity, this could very well be our number one choice of the kettle, thanks to its funky gooseneck spout design, and clever tricks.
This particular model is Bluetooth enabled, which means you can control its various settings from the comfort of your phone. These functions include setting precise temperatures for your hot brew of choice, keeping the water the same temperature for up to 60 minutes, and even scheduling when you want your water to boil, ensuring your morning coffee can fill you with caffeine ASAP.
Its concealed heating element and stainless steel innards, combined with a large opening for easy cleaning, make it hard water-resistant too. With other features including a baby formula mode and a counterbalanced handle for easier pouring, this is likely to be the best kettle you'll ever own - as long as you don't need to brew too many cups in one go.
5. Bodum 12019-16US Ottoni Electric Water Kettle
The best hard water kettles: an aesthetically appealing choice for design lovers
Specifications
Capacity: 1.7L
Quiet Boil: N/A
Filter: Yes
Features: Filter, 360° base, boil-dry protection, concealed heating element
Reasons to buy
+Stunning design+Removable filter+Easy to clean+Concealed heating element
Reasons to avoid
-No temperature functions
This stunning kettle is a modern water boiler disguised as a more traditional stovetop kettle, and will definitely catch the eye of anyone that happens to stroll past it.
Crafted from shiny, durable stainless steel, it's simple enough to use, with no extra temperature controls or features, beyond a built-in light and automatic shut-off.
If you're not fussed about the lack of tech options though, it'll serve you well, and it's resistant to hard water troubles too, thanks to a built-in spout filter, concealed heating element, and easy to clean innards.
It might have more beauty than brains, but it won't break the bank at $60. If you want your kettle to make a statement, and aren't a hardcore tea or coffee aficionado, then look no further.
6. T-fal C76220 Specialty Stainless Steel Dishwasher Safe Whistling Kettle
The best hard water kettles: the most affordable option
Specifications
Capacity: 3L
Quiet Boil: N/A
Filter: No
Features: Stovetop, dishwasher safe
Reasons to buy
+Hassle-free+Dishwasher safe+Huge capacity+Affordable
Reasons to avoid
-Not electric-Takes a while to boil
That's right, we've included a non-electric kettle in the list, and with good reason. This stovetop kettle might hark back to simpler times, but that's no bad thing. The simpler the design, the less can go wrong, and it's got a huge three-liter capacity for larger gatherings, which dwarfs every other rival on this list.
It'll take longer to boil water over your gas or electric stove, especially given the larger volume of water it can hold, but its stainless steel build and lack of electrical parts mean that you can whack it in the dishwasher for regular cleaning, keeping those limescale worries at bay.
The best part? Its old fashioned steam whistle. Just remember to take it off the heat once it's boiled - there's no fancy auto-off function here - and it should offer you many years of solid service, even if it's only used for big occasions.
7. Dezin Electric Kettle, 1.5L
The best hard water kettles: the most budget-friendly option
Specifications
Capacity: 1.5L
Quiet Boil: N/A
Filter: No
Features: 360° base, boil-dry protection, keep warm mode, concealed heating element, large glass window
Reasons to buy
+Slick design+Built-in LEDs+Limescale resistant+Easy to clean
Reasons to avoid
-No temp presets-No filter
For less than $25, this smart little kettle looks and performs better than it has any right to at this price point.
Immediately drawing your attention with its huge double-sided glass panels and LED lights, it easily lets you see the water level while looking attractive in the process.
It doesn't have any fancy temperature presets, but it will automatically turn off once boiled, and a keep-warm function will allow water to continue simmering away if you fancy.
It doesn't have a spout filter, but it shouldn't have too much limescale build-up on the inside, thanks to all that glass, and its heating element is concealed, making for an incredibly easy clean-up if a limescale attack does occur.
If you're not a fan of the pale blue paint job then we'd recommend the equally attractive black model, which will look just as appealing on your kitchen counter.
How long should a hard water kettle last?
How long is a piece of string? Sorry, not very helpful, we know. It is however very difficult to put a life expectancy on anything these days, let alone a kettle. It all depends on various factors - is it well made?
Does it have solid components? Are you in an area that has particularly high levels of hard water and therefore subject to more kettle-damaging limescale?
All these factors and more will determine how long your kettle will last - but you can do your best to squeeze out at least a few years of use with regular cleaning, and just being careful with it in general.
What makes a good hard water kettle?
The nasty scaling you see in most kettles is caused by hard water, which contains higher levels of calcium or magnesium. As a kettle boils, insoluble calcium carbonate will form as a result, spreading across the insides. This is what we call limescale, which will stick around until cleaned, and can shorten the life expectancy, and performance of the heating elements.
With that all said, a good hard water kettle will be one that has covered heating elements for easier cleaning - the coil itself won't be covered in limescale, just the inside of the kettle itself - along with some form of filter to contain any small bits of limescale inside, so they don't end up swimming around in your Earl Grey.
Why should I buy a hard water kettle with temperature presets?
If you're serious about your tea and coffee, then a hard water kettle with temperature presets will be an absolute godsend. Contrary to popular belief, there's more to making tea and coffee than just mixing things with boiling water. Both tea and coffee can actually burn at too high temperatures, affecting the final taste, which can include bitterness.
Different teas such as herbal, black, and white, to name a few examples, all have optimum brewing times at different temperatures, to achieve the best results and maximum flavor.
A kettle with different presets for each type, or an adjustable temperature setting will therefore provide the optimum tea drinking experience. Some of them will even keep the water simmering hot for a pre-set time if you plan on knocking back more than one cup in a shorter period of time.
What's the best way to descale a hard water kettle?
One of the best ways to eradicate limescale is by dissolving it using a mild acid solution. Enter the humble bottle of white vinegar.
Fill the kettle with a solution made up of equal parts water and vinegar, and let it soak for an hour. Once that's done, boil it, unplug the kettle, and leave it sitting there for around 20 minutes. Pour it all out, rinse the kettle thoroughly, and you should be good to go.
You can add more vinegar to the mixture if the limescale is being particularly stubborn, or by strong, purpose-made de-scalers, but for most people, the vinegar method should be more than enough to achieve victory, especially if you repeat it a few times.
Brittany Romano joins Future as their U.S. Shopping E-commerce Editor, residing on the Upper East Side in New York City. Originally hailing from Connecticut and a graduate of New England College, Brittany started her career as a freelance fashion market assistant at Marie Claire. She later joined AMI, where she designed a highly profitable commerce vertical. Noted for her award-winning content, she's covered everything from celebrity beauty hacks to the most lavish home decor; Brittany has maintained her penchant for the finer things in life.
If a genie granted Brittany one wish, it would be for Kelly Wearstler to bring her vision to life and transform her living space, but until then? You'll find Brittany continuously evolving her chilled-out sophisticated style, shifting her attention to eclectic pieces (with a hint of retro), grounded by a rich understanding of history, focused on functionality, luxury, and quirkiness.
Find her on Instagram @Rammmyyy