5 expert design tricks – to make tiny kitchens pack a punch
These clever ideas work brilliantly in larger kitchens, too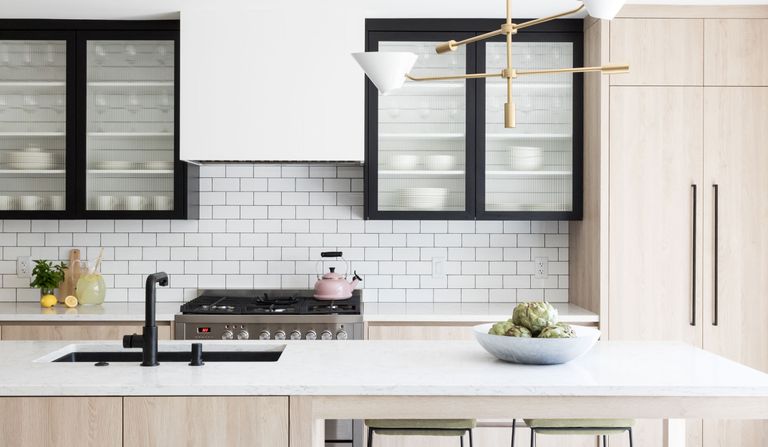 (Image credit: Ema Peter for Gillian Segal)
By Lucy Searle
We are always keeping our ears and eyes open for design tricks – particularly for tiny spaces, and especially in that most hard-working of rooms, the kitchen. And, if these tricks can help you create a space that not only functions well but looks fabulous, too, it's a win-win, as far as we're concerned.
While researching for our small kitchen ideas gallery recently, these were some of the best expert design tricks we came upon. Try them out in your remodel or upgrade – you'll be surprised at the impact small changes can have.
1. Prioritize drawer space over cupboards
The Vancouver-based designer Gillian Segal specializes in bringing modern eclectic glamor with a laid-back feel to her spaces. She is very much in favor of drawers over cupboard space in a kitchen - a smart small kitchen storage idea that maxes out your storage.
'If I could recommend one thing to accomplish in your kitchen, it would be to try to maximize drawer space as much as possible,' she says. 'Cupboards can look beautiful, but drawers go much further storage wise.'
Interior designer Emma Sims-Hilditch of Sims Hilditch continues, 'A 1290mm/50in wide drawer will likely allow you to store all your pans in one readily accessible space rather than delving into the back of a cupboard to retrieve a heavy casserole dish.'
2. Make open-plan work harder with suspended shelving
Suspended shelving is perfect for enhancing space in a small kitchen – especially one that opens on to a living space or where walls have been partially removed.
An eye-catching addition, they bring functionality as well as a decorative flourish to a kitchen. Hanging shelves from ceilings enables curated collections to be displayed in a central position, as in this scheme by Roundhouse.
'It is important to utilize every inch and that's where suspended shelving like this really comes into its own,' says designer Allison Lynch.
If you are going to hang suspended shelving in a tiny kitchen, glass shelves and slimline frameworks will allow as much light as possible to pass through the display. Lighting the suspended shelving will ensure your display is highlighted at night, too.
See: Lighting ideas for small kitchens – ways to brighten up a dark room
3. Think: streamlined cabinetry
A streamlined design with cabinetry in pale colors will help a tiny kitchen feel larger, but consider some often over-looked design elements that can have a big impact on the room's finished look.
'It's probaby best to run tall units up to the ceiling or just below if they have coving,' advises Tiffany Duggan of Studio Duggan. 'Stumpy units with a meter or more of empty space above in a high-ceilinged room look very unbalanced and it is usually better to fill the empty space with more cupboards, which can be used for storing those infrequently used items such as vases, jugs and terrines.'
Disguising appliances behind panels – or on the back-side of a kitchen island will help the room feel sleeker and more streamlined, too. Gillian Segal continues, 'I prefer panel-ready appliances versus stainless steel dishwashers and fridges.'
And if your tiny kitchen is the only space for seating for dining? 'Try to design your kitchen to have bar stools across from each other or around a curve rather than lined up all in a row. This allows for better conversation flow.'
See: How to plan a layout for a small kitchen – top tips to make the most of your space
4. Plan storage zones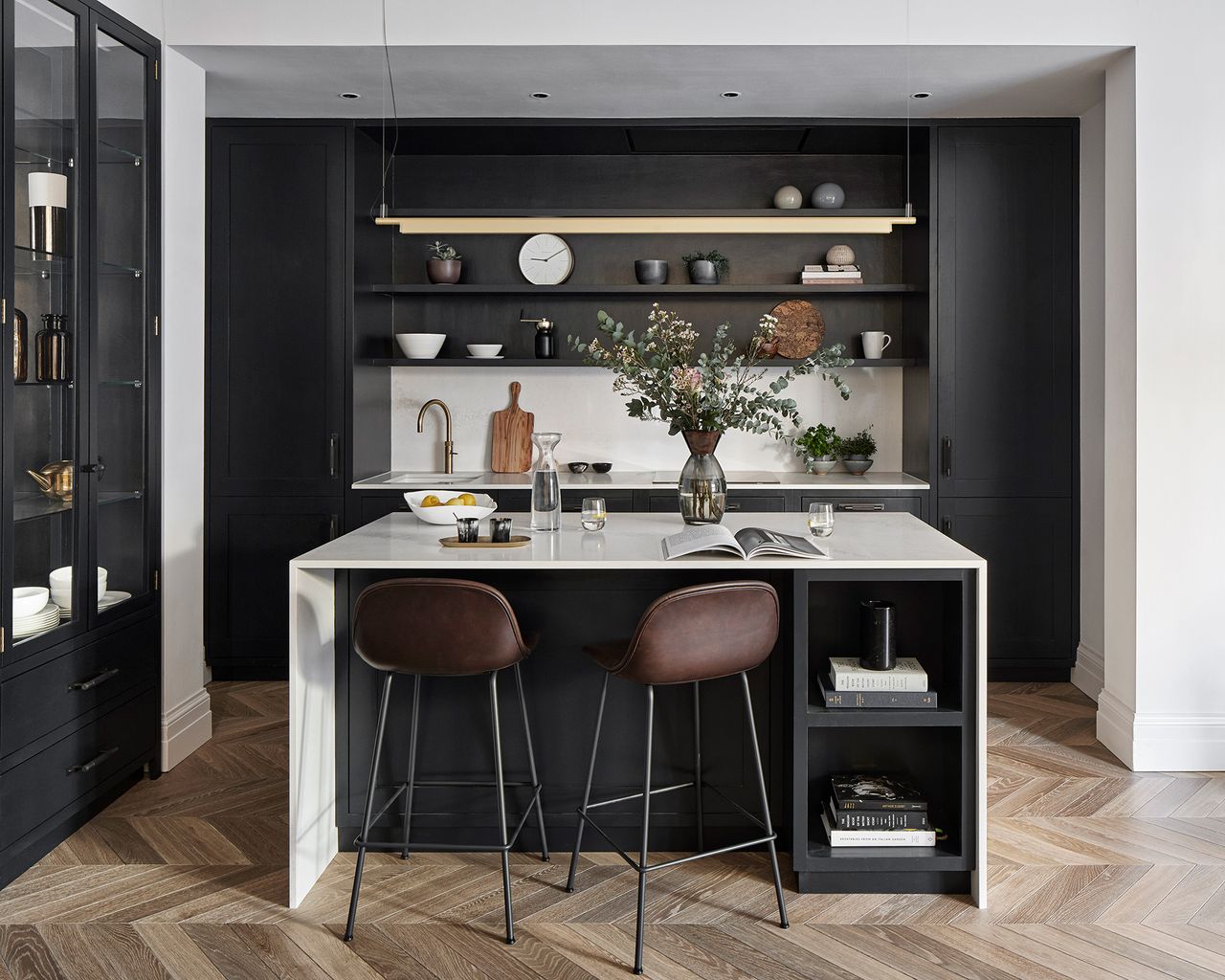 A tiny kitchen needs storage that's very carefully planned if it is to work well. That may mean all dishware in one part of the kitchen, nearest the dining area or dishwasher, or all pots and pans in another, next to the oven or hob.
'Make use of every inch of space, especially in a smaller room,' continues Emma Sims-Hilditch. 'While base unit cupboards are typically 540mm/21in deep, you might add more shallow ones at 380mm/15in deep to make use of space on the "non-working" side of an island, behind bar stools, or for items used occasionally.'
Gillian Segal adds a clever tip that's perfect for keen cooks: 'Incorporate an appliance garage – adding deeper cabinets to store and hide your appliances to create a cleaner countertop is a must.'
5. Pay attention to detail to boost character
Design detailing is important in a tiny kitchen because it may be your best opportunity to boost its character. The detailing might be cabinetry materials or hardware – 'Select fun cabinet hardware; it is jewelry to the space and can go a long way when it comes to adding detail and interest to neutral as well,' suggests Gillian Segal – or it could be a beautiful floor or countertop material.
For real impact, think about investing in a copper sink and worksurface. With its patina and gentle color, it introduces a soft glow. 'Aged copper is quite incredible to look at and its reaction with water makes an ever-changing surface that's not only practical but dramatic,' says deVOL's Helen Parker of this kitchen (above) designed by Sebastian Cox.
My first job was writing a DIY column for a magazine for the over 50s (which seemed a long way off back then). I then moved to a DIY magazine as deputy ed, then freelanced my way around the homes departments of most women's magazines on the market before working on Your Home and Family Circle magazines as homes editor. From there, I went to Ideal Home magazine as associate editor, then launched 4Homes magazine for Channel 4, then the Channel 4 4Homes website before going back to freelancing and running a social media business (you can see where I had kids from the freelancing gaps!). I was tempted back to the world of big business by the chance to work with the great team at Realhomes.com, where I was Global Editor-in-Chief for two and a half years, taking it from a small website to a global entity. I've now handed the reins of the website to our American managing editor, while I take on a new challenge as Editor-in-Chief of Homes & Gardens.